Elderflowers. Nettle. Rosehip. We're used to drinking flowers in the form of infusions, but swallowing them whole? Don't be surprised if rose petals are served at Noma in Copenhagen or sweet peas at Lyle's in London.
Noma is at the forefront of the movement to bring flowers into food. A recent menu featured edible seasonal flowers such as chrysanthemums and roses in every single dish. It seems that wherever we go to eat nowadays from California's Napa Valley to Melbourne, from Stockholm to London, petals will be strewn on our plates.
The trend for eating wild – foraging what is fresh and local – has given blooms a new life. The restaurant Faviken in northern Sweden is set within a secluded farming estate and its chef Magnus Nilsson cooks with what he finds outside the kitchen door. He forages for the prettiest field flowers to use as the top layer in a delicious tartare made of ox heart and bone marrow. In -California, at -Meadowood, the three-Michelin-starred restaurant in the Napa valley, Christopher Kostow also picks flowering herbs and seasonal blossoms from his restaurant garden and the surrounding grounds. Neither uses flowers as mere decoration; they expect flowers to be eaten.
In London, James Lowe uses flowers to great effect. Formerly head chef at St John's Bread & Wine, he opened his own restaurant, Lyle's, in Shoreditch earlier this year. On my last visit I ate the most exquisite hand-chopped steak tartare, which he had strewn with mustard flowers. The dish looked like a painting and the slightly peppery mustard flowers were a perfect counterpoint to the raw meat. Now that sweet peas are in season, he is pairing sweet pea flowers, shoots and peas with a Ticklemore goat cheese. Aesthetically stunning and quite delicious.
"The important point about using edible flowers is that they are part of what I think truly seasonal food is," says Lowe. "I like to think that seasonal food means putting what's available outside on the plate. People always tell me that my food becomes more feminine in the spring and summer . . . it's exactly the sort of food you want in the summer – lighter, more elegant and exciting."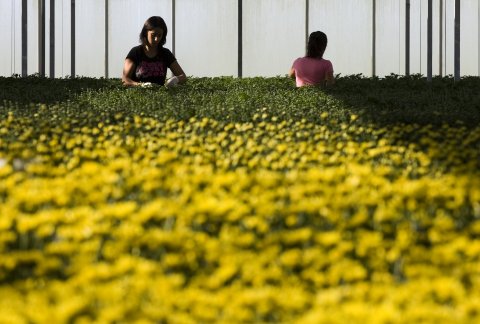 Although we tend to regard them as more ornamental than edible, flowers have been used in cuisines all over the world for centuries. They are either distilled, candied, crystallised, made into jams or used as an edible garnish. Yet these days they are more likely to be an integral part of the dish.
In Tudor England they were the height of fashion, used to make sweet tarts that were all the rage then. But flowers gradually fell out of favour until the 1980s when nouvelle cuisine brought them back. Big and showy blooms were de rigueur: pansies brought brilliant colour to the plate, while nasturtiums added spicy flavour.
The aesthetic appeal is obvious, particularly to Asian cuisines. In April, when the cherry trees flower, the Japanese salt-pickle the blossom (sakura) to cook with rice, decorate sweets or infuse as a delicate tea for weddings and other special occasions. The Chinese, meanwhile are particularly fond of rose and osmanthus. As Fuchsia Dunlop, an expert on Chinese cuisine, explains: "The Chinese crush rose petals with sugar to make a sweet stuffing for all kinds of pastries while the tiny, yellow and very fragrant osmanthus flowers are made into a preserve and used as a stuffing in pastries, or added to sweet soups or other sweet dishes."
In the Middle East and North Africa, roses and orange blossom are commonplace. Once distilled, they produce fragrant waters that are used for both sweet and savoury dishes. In Morocco, sweet-spicy tagines are laced with orange blossom water while in Iran and the Arabian Gulf, rice dishes are often finished with a sprinkling of rose water. In Sicily, ice-cream makers soak -jasmine flowers in water overnight, which they then sweeten and freeze to produce one of the headiest sorbets I have ever tasted.
Flower cookery can be time-consuming. Ben Shewry, the young chef at Attica in Melbourne, harnesses the sour taste of oxalis in desserts. "In winter we pick about 2,000 of them a day, and then pick all the petals off and serve them in a -little pile with a sweeter ingredient. The petals act as acid in lieu of citrus or vinegar. And they have a great texture. Super labour-intensive though, it takes a few people about three hours to accomplish this job."
Shewry grew up eating flowers in New Zealand. His mother picked wild nasturtiums from the sides of the country roads for use in salads. "I have a fairly strong dislike for nasturtium flowers to this day."
Whether or not the vogue for flowers is a passing fad remains to be seen. In countries with a long history of such cookery, such as Bulgaria, the tradition will continue. Bulgarians have just celebrated the 111th year of the rose festival in Kazanlak. And there will never be a time when saffron, the vivid red stigmas of the crocus flower and the most expensive spice in the world, will be out of fashion, at least not in the Arabian Gulf, the Maghreb and Iran. The same can be said of salep, a fine powder ground from dried orchis tubers used in the Middle East to thicken ice cream. Nor can I imagine a time when Italians will tire of eating courgettes flowers when in season, dipped in a light batter and fried. Nor would Sicilians ever get bored with adding capers, a flower bud, to almost anything and everything.
As for me, the tart taste of flowering sorrell always brings back memories of my childhood in Lebanon. I remember my grandmother showing us how to pick and eat wild herbs. She never knew she was ahead of her time. Back then foraging was natural to all Lebanese mountain folk.