When US Senator, and former presidential candidate, John McCain met with India's newly elected prime minister Narendra Modi earlier this month, he joked, "You have the greatest expectations since the Second Coming." The comment hardly overstates the euphoria in India today: Indians do not hope for an economic miracle from Modi – they assume it will happen and they are impatiently checking their watches wondering when, to borrow Modi's campaign slogan, the achche din (good days) will be coming.
It may take a while, or so said Arun Jaitley, India's minister of finance, minister of defence and Modi's long-time ally, as he presented the country's annual budget last week. Jaitley alluded to the prime minister's landslide victory in May. "The people of India have decisively voted for a change. The verdict represents the exasperation of the people with the status-quo. India unhesitatingly desires to grow," he said. But he also tried to quell expectations. "This is the beginning of our journey, not the end."
Investors and economists, both foreign and domestic, watched and live-tweeted the rollout of the budget, waiting for the sound of India's gilt doors swinging open. Instead all they could hear was the door cracking slightly ajar.
The stakes for those watching are high. After India's record growth for the first decade of the 21st century, with GDP touching 9% in 2010-11, the economy has stalled in the past four years, and with strict regulations hampering foreign direct investment and notorious amounts of red tape to untie, the idea of investing in India has been perceived by many as a risk-riddled enterprise.
There was one state, however, that offered a slightly easier path to foreign investors: Gujurat, India's western state of 60 million people, known for its entrepreneurial diaspora and its business-friendly chief minister who delivered a higher rate of growth than the national average in his 10 years in charge from 2004-2014, Narendra Modi.
The promises Modi put on the table during the campaign are alluring: 100? new smart cities, a bullet train between the major ones, a cleaned up Ganges River, tax reform, and an end to black money. During the campaign, the politician from Gujarat chided the incumbent Indian National Congress, who in 60 years in power had failed to bring economic prosperity to India. "You give me 60 months and I promise you a life of happiness and peace," Modi said at a rally this January.
Until the budget was released last week, it was anyone's guess how Modi would prioritise his promises. Jaitley's 44-page budget offered the most concrete clues about this government's direction. The verdict ran the gamut from optimism to feelings of déjà vu, but most could agree on one thing: India is slowly – and finally – opening itself up to the rest of the world. Jaitley announced he would be raising the limit on FDI in two key sectors, defence and insurance, from 26% to 49%. Separately, plans to allow foreign investment into India's enormous railway infrastructure were announced. While he estimated that GDP would hover at around 5.5 % for the upcoming year, Jaitley said he aimed for an increase to about 7-8 % in the next three to four years.
There was one, loud, false note. Jaitley did not mention plans to remove the now-controversial retrospective tax laws, which were established during the previous government's rule and permitted it to claim taxes on past deals. One of the most high-profile targets was the UK telecom giant Vodafone, who in 2007 acquired an Indian telecom -company, Hutchison Whampoa, to create Vodafone India. Under the new law, Vodafone would be required to pay back taxes on that deal and today, Vodafone and India are still in international arbitration over the $2.5 billion the Indian government believes it is owed.
Some, including those who spoke favourably of Modi during the campaign, expected more. "This budget essentially blew an opportunity to reset the so-called 'India story' in the eyes of the world. Instead of declaring that India is again open for business after a disappointing past few years under the previous Congress-led government, the first Modi budget suggests tentativeness and confusion," said Sadanand Dhume, an Indian scholar at the American Enterprise Institute.
On the other hand, creating a climate for investment is about more than enacting laws, Modi's way of governance has proved that it is serious about getting rid of the bugbears that have haunted India's reputation in the business world in recent years: corruption and red tape. When Modi was sworn in as India's 15th prime minister on May 26, he floated a new motto: maximum governance, minimal government.
On his first day in office, he created an investigative team of former judges and regulators to start hunting down the estimated $2 trillion of black money that is stashed as concealed assets overseas. Last month, Jaitley, announced that Switzerland would share with Delhi a list of Indians holding black money – a statement that the Swiss did not confirm.
Politically, his fellow world leaders have been scrambling to make nice with Modi, despite the fact that many have shunned him in the past. The US had denied Modi a visa in the aftermath of the bloody Hindu-Muslim riots that occurred in Gujarat under his watch in 2002. Now, Barack Obama has issued a formal invitation to him to visit Washington in September.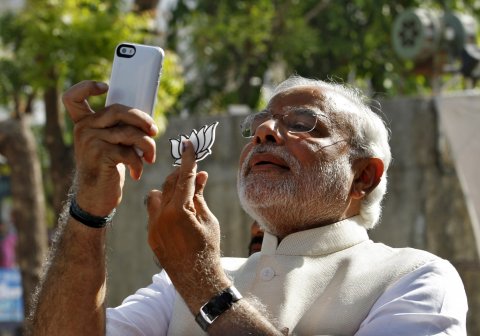 Modi has assured a nation frustrated by government ineptitude that India will gain so much respect under him that the country will no longer be spoken of being in second or third place in Asia – the world will soon be India's.
"I want to make the 21st century India's century. It will take 10 years, which is not very long," he said after his victory, alluding to a desire for two terms as prime minister.
MR DEVELOPMENT
For a politician who for many years has not been able to shake off the adjectives "polarising", "divisive", "authoritarian" or "communal", Modi is today basking in a rare, almost universal hagiographical glow. "It is as if India is beginning again," a prominent Indian columnist, Santosh Desai, wrote in the Times of India. The Guardian said that Modi's victory "may well go down in history as the day when Britain finally left India".
That people – voters and investors alike – have faith in Modi's ability to turn the economy around, may be because his own rags-to-riches story reveals a ruthlessness of ambition. While many predicted that Modi's Bharatiya Janata Party (BJP) would triumph over an increasingly lacklustre coalition government led by the Congress party, few foresaw the crushing defeat that the 63-year-old Modi would hand to the incumbents, who have ruled India for 49 years. The BJP won an absolute majority of 282 seats in the lower house of parliament – the best any party has done since 1984.
Two months on, the corporate signs congratulating Modi have mostly been removed in Ahmedabad, Gujarat's most populous city and its de-facto capital. Teenagers still wear Modi shirts and swap stories about where they were on May 16 when Modi's victory was announced. Gujarati tourists are routinely stopped in their travels across the country and interviewed like celebrities: "Tell us what our future looks like," they are asked, "Tell us all the things that Modi has done in Gujarat that he will do for the rest of India."
Modi, whose popularity right now exceeds even that of Gujarat's other proud son, Mahatma Gandhi, is India's first prime minister to be born after Independence in 1947, as well as the first from the economically and socially marginalised group known as the other backward castes. His supporters see him as an economic visionary, a strong politician who is unafraid to muscle India towards prosperity and out of the shadow of its over achieving Asian sibling, China. But a significant number, including some of Modi's supporters, are warning that a new India is coming but it may not be the one people expect.
Achyut Yagnik, the co-author of Ahmedabad: From Royal City to Mega-city, says that the key to Modi is in understanding Gujarat's mercantile culture. "As long as Gujaratis are making money, they couldn't care about the government or what the government does," the 71-year-old Yagnik says. Throughout his campaign, Modi seemed to embody the belief that government functions best when it steps aside and lets the market help society reach its potential.
Among the companies Modi persuaded to invest in his state were Ford Motors (who announced a $1 billion factory in 2011) and PSA Peugeot Citroen. India is now the world's second largest car market (after China). Given Modi's Gujarat roots and his positive experience with foreign investors there, Yagnik expects Modi to open up India's economy. "He is also trying to take credit for everything good in Gujarat and he has silenced anyone who will challenge him on this," Yagnik said.
Business leaders in Ahmedabad see it another way. Ramesh Mehta, a man in his late forties, who runs an industrial cleaning company, said that Modi has streamlined government functions in Gujarat by placing many of them online and by shortening the approval process for contracts. He even implemented a rule, he told me, that a piece of paper in the Gujarat government is never allowed to be touched by more than five people. Since moving to New Delhi, Modi has masterminded a clean up of the notoriously convoluted and inefficient bureaucracy, starting by organising a mass de-clutter and sanitisation of government offices.
However Modi's love of large construction projects, which reshape a city's landscape, create jobs, and promote tourism have a darker side. Bachchan, who is in his early 40s, believes only the elite will benefit from Modi's rule. He grew up along the Sabarmati River, which cuts through Ahmedabad and along whose banks Gandhi started his ashram and launched his non--violence movement.
In 1997, the city government of Ahmedabad began building a 10-km promenade on both sides of the river. The project was accelerated and completed during Modi's tenure and he has often cited it as an example of Gujarat's successful development model. As a result of the riverfront construction, Bachchan and 3,500 other families were forcefully resettled into units far outside the city.
"Modi took us away from our land and from our livelihood and put us into this prison," Bachchan says. Hari Prasad is his real name but since he grew his hair in the style of the Indian actor Amitabh Bachchan, the nickname stuck. Bachchan, who is Hindu, lives on one side of the housing colony known as "Hindustan". On the other side is a row of Muslim homes known as "Pakistan". Violence often breaks out, he says, unemployment is high, and few children graduate from high school. He would like to leave the area but has little choice.
In today's Ahmedabad, Bachchan finds himself priced out. His home is so far outside the city centre that he cannot afford the daily transportation into the city. And yet while Bachchan blames Modi for his displacement, he also voted for the BJP. This is a testament to Modi's overweening victory – even those who have not benefited from Modi's policies (or have been adversely affected by them) still fell in line. "I believe in Modi," Bachchan says. "I am a Hindu, after all."
Most residents of Ahmedabad have not seen or heard about residents like Bachchan. The city's problems are at its fringes, hidden away from the -middle-class gaze. India's booming middle class, would rather not be reminded about the country's 70 million who lack electricity or the 363 million who, as of 2012, live below the poverty line.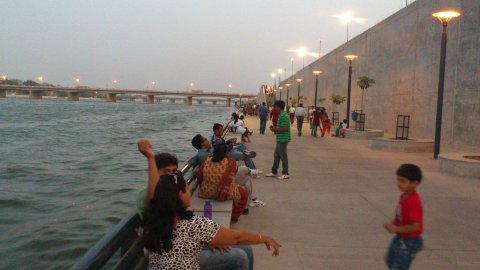 Meghna Desai, a 26-year-old lawyer in Ahmedabad, meets her friends every morning at the Sabarmati riverfront promenade to jog. The promenade has a wide walking path, ample trash cans, and bright lanterns. Desai, who also voted for the BJP, says that walking with her girlfriends without any male accompaniment early in the morning was something few women could enjoy elsewhere in India. "This is to his credit," Desai says. She does not need to explain who she means.