As Scotland prepares to make its decision about independence from the United Kingdom, so the English are preparing their own cultural break with tradition by opening whisky distilleries from London to the Lake District in the face of one obvious question: why on earth would you buy English whisky when you can buy Scotch?
Though the idea of an English dram seems curious, real whisky aficionados may be more receptive to the idea. The whisky world has been open to newcomers for some time. Whisky is now made in a number of countries beyond the heartlands of Scotland, Ireland and the United States including India, South Africa, Australia and, most notably, Japan. Practically every European country has a distillery these days.
Despite the extended timescale of production – whisky has by law to be matured in a barrel for three years and a day – there are now seven English distilleries in or about to come into production. The English Whisky Company and Adnams in Norfolk, Hicks and Healey in ­Cornwall and the London Distillery in Battersea are up and running. Others like The Cotswolds Distillery, East London Liquor Company and The Lakes Distillery are about to begin.
Lakes Distillery, which aims to produce one million bottles a year, looks like the most ambitious project to date. Managing director Paul Currie has good whisky genes. His 89-year-old father, Harold, a former managing director of Chivas-Seagrams, set up the award-winning Isle of Arran Distillers with Currie's help in the 1990s – the first legally made dram on Arran for more than 160 years.
Currie was sure there was potential for distilling in Cumbria. "It's a perfect location both from the point of view of landscape and environment. We've an outstanding source of water in the River Derwent, which runs through the peaty slopes of Scafell Pike and is known for its turbidity. And with 15m tourists visiting the Lake District every year, tourism will be a big part of the business." They should be making their own contribution to that with a projected 50,000 visitors a year – the multimillion-pound distillery, Currie says, will employ around 35 people.
While they wait for the Victorian farmhouse next to Bassenthwaite lake, which will house the distillery and visitors' centre, to be converted and for their own single malt to be released in autumn 2017, they have already released a blended whisky called The One made from whiskies from all over the British Isles. It is already available in six export markets and should be in 20 by the end of next year.
The trailblazer for English malt whisky was the English Whisky Company at St George's ­Distillery in Norfolk, which was set up in 2005 as a smallscale retirement project for farmer James Nelstrop, who was then in his sixties. The idea isn't as bizarre as it sounds, according to his son Andrew, 42, who now runs the business. "The big advantage was that we had our own barley and a good water from the Breckland aquifer which is England's largest underground freshwater supply. We don't add anything to it or chill-filter it. Making whisky is like making beer, then distilling it. If you can make good beer you can make good whisky."
Although it started off quite conventionally, the company has become increasingly adventurous, experimenting with different grains and maturing whiskies in different types of casks. "Some work and some don't," says Nelstrop. "We know there are some that will never see the light of day." They planned originally on getting 1,500 visitors a year – they currently get around 40,000 and sell 60,000 bottles annually to a largely English clientele.
For the team behind the crowd-funded ­London Distillery Company, a fascination with history has driven the project. "We looked back to when whisky was last made in the UK and what type of ingredients they'd have been using," says 32-year-old founder, Darren Rook, who used to work for the Scotch Malt Whisky Society.
"Distillers' yeasts weren't introduced until the 1920s so they'd have been using brewers' yeasts. We've been playing around with old ale yeasts – there's one called Orange Esters that gives this extraordinary, marmalade character to the spirit." Probably the most experimental of the new wave of English distilleries, they're waiting until they have enough consistent base spirit to work with and are then going to age it simultaneously in different casks, some north of the border, he says.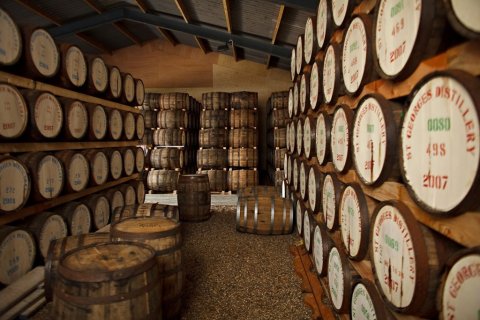 But isn't age – or the lack of it – the big problem with English whisky? Not according to Nelstrop. "Everybody thinks they want a 12- to 15-year-old whisky but it only needs to be that age if it's maturing in the north of Scotland. What takes 10 years in Scotland takes us six or seven in Norfolk."
The type of wood that's used can also play a part. "In Scotland you have to use oak casks. We're playing around with the idea of chestnut and maple and quite a lot of new wood," says the Lakes' Currie.
Adnams, which is based in Southwold in ­Suffolk, has followed a similar route, using new barrels instead of the used bourbon or sherry casks that are normally employed in the industry. "They cost six to seven times more but it means your whisky is ready as soon as you can legally release it," says head distiller John McCarthy. "If you used secondhand casks that might not be the case."
"You come across whiskies that taste unbelievably mature at five years old," comments whisky writer Charles MacLean, author of Malt Whisky: The Complete Guide.
It also helps that the fledgling distilleries are dealing with a younger, much less hidebound consumer than in the past – one who is also into craft beers and is much more open to different flavours. "There's a lot of interest in trying something different whether it's whisky, wine or beer," says Paul Currie. "It's much easier to market a product than it once was. When I started at Isle of Arran in the 1990s there wasn't the internet. Now with whisky writers and bloggers it's much easier to reach the consumer."
Isabel Graham-Yooll, spirits buyer for fine wine merchants Bordeaux Index, agrees. "Anything new is hugely in demand among whisky collectors and their knowledge levels are very high. In the past it wasn't in the interest of multinationals to talk about provenance because they were sourcing materials from all over the place. Now it's becoming quite acceptable to talk about terroir in terms of whisky."
Interestingly, the recent boom in high-priced premium gins is helping many fledgling whisky­-makers realise their dreams. As it needs no ageing, it can be released as soon as it's ­distilled, providing an income while the slumbering whisky casks mature.
London Distillery is already producing the well-regarded Dodds while The Lakes' gin, which will be infused with botanicals including juniper from the Lake District, will appear in the autumn. Adnams is making a whole portfolio of spirits and liqueurs, only producing whisky by chance when they found they had some spare capacity. They've found their single malt, released last autumn, has been a bestseller for them, already selling out of the 4,000 bottles they made.
Other distilleries are boosting cash flow with ingenious plans to get well-heeled whisky aficionados to part with money up front. The Lakes Distillery has created two levels of investment – a Founders' Club that can be joined for £595, which entitles members to one of the first bottles to be released, together with a limited-edition bottle for each of the next 10 years, and a Connoisseurs' Club whose 60 members pay £12,000 for the privilege of having a whole named cask.
The Cotswolds Distillery is offering punters a similar opportunity for a rather more modest £2,995. (So far they've sold two "with a lot more interest coming in weekly".) Worth it? "Buying a cask of whisky is always a fun investment but it's very hard to call at this stage what its value might be in 10 or 20 years' time," says Bordeaux Index's Graham-Yooll cautiously.
But Mark Reynier, the former owner of Bruichladdich distillery on Islay, which was sold to Rémy Cointreau two years ago, has a word of warning for wannabe whisky distillers. "A lot of people are looking at the industry with pound signs in their eyes without looking at the cost of bringing a product to market. There's only so much room for farmhouse distilleries before the market is flooded."
Billy Abbott, a spirits specialist at The Whisky Exchange, disagrees, pointing as evidence to the several hundred micro-distilleries that have started successfully in the US. "I don't think we'll see anything like that here but we could be talking in terms of tens rather than single figures. The difficulty will be getting people to come back for a second bottle. The issue for distillers is 'can you create a consistently good product?' The guys that can't will fall by the wayside."
What seems certain is that the tiny fledgling English whisky industry is unlikely to trouble the Scots, with their £4.3 billion export market, and that England's distillers will not be looking over their shoulder at their Scottish neighbours for inspiration. "They're not trying to be Scotch, nor should they be," says whisky writer Dave Broom, author of The World Atlas of Whisky.
"They are trying to be English. Comparisons are therefore pointless and, to be honest, dangerous. They have a freedom to experiment which Scotch distillers either feel they don't or are not permitted to have. We live in exciting times."