Late one night in the maze of wooden houses beneath Istanbul's ancient city walls, an old man rose from his bed, scrawled a suicide note, and gulped down a bottle of pesticide. For months Ismet Hezer had watched his neighbours in the close-knit neighbourhood of Tokludede crumble under intense pressure to sell their homes, which were earmarked to be demolished as part of an 'urban renewal' scheme. Residents had been kicked out, and others had sold up at knockdown prices to government-linked developers who told them they would otherwise be nationalised.
Just two days earlier the local authority had sent Hezer a letter threatening that he and his family would be evicted from the house he had owned for 45 years. "They want to take my children's nest from their hands," read his spidery script in the note found in his pocket, addressed to a prosecutor.
He singled out the people he blamed for his dilemma: Mustafa Demir, the mayor of the local Fatih Municipality, and Recep Tayyip Erdoğan, the Turkish Prime Minister and leader of the Justice and Development party (AKP). "These people are responsible for this death, please do what is necessary," he wrote.
Tokludede is among a clutch of neighbourhoods on the front line of a ­profit-driven development surge that some fear will tear the heart out of Istanbul's old city. It also forms part of a wider drive to transform the city, which critics claim is lubricating a system of political patronage that is helping Erdoğan tighten his grip on Turkey after 11 years in office.
In the coming days, the Turkish premier is widely tipped to entrench his power further by becoming the country's first directly elected president in polls due on August 10th.
A key plank of his campaign is the $100 billion-worth of infrastructure and development spending currently slated for Istanbul alone. A decade of investment and economic growth has helped turn the city into a vibrant cultural hub with a thriving art and cultural scene, and which was this year named the world's most popular tourist destination by users of the website Trip Advisor
At a ceremony on July 25th to open a high-speed trainconnecting Istanbul to the capital Ankara, Erdoğan again touted his government's development agenda. He said: "We are now a country which makes its dreams come true."
Projects include plans to cut down thousands of acres of forest to make way for the world's largest airport, a road tunnel that will pump traffic into the city's historic core, and an artificial Bosphorus to run parallel to the original, flanked by 100 square miles of new developments. The government claims the projects are part of an effort to turn Istanbul into a "global city".
Critics counter that it will irreversibly damage its cultural heritage and transform it into a polluted, water-starved megalopolis. "This is being done in the name of modernisation, but the truth is that Istanbul's history and also its future is being destroyed," says Mücella Yapici, head of the city's Chamber of Architects. "It's being done at such a pace that it's impossible for the city to resist."
Last December, two years after Hezer penned his suicide note, his plea to a prosecutor seemed prophetic. Demir was arrested, as both he, Erdoğan and many other key players in Istanbul's development boom became embroiled in the largest corruption scandal in ­Turkey's history.
On December 17th, along with other officials at Fatih Municipality, which covers Istanbul's touristic centre, Demir was held on allegations he illegally awarded construction permits. Erdoğan himself was accused of forcing a group of businessmen – part of a consortium that had won the tender to build the airport ­– to raise $450m to buy a failing media group, ensuring it remained in government-friendly hands. In return, the group were to be rewarded with ­construction contracts.
Other investigations alleged corruption and bribery between government officials and developers in other projects around Istanbul. In a series of tapped phone calls supposedly held on the day of the first arrests and later leaked online, voices alleged to be those of Erdoğan and Bilal were heard discussing how to dispose of tens of millions of dollars hidden in their homes.
A spokesman for the prime minister did not respond to questions sent by Newsweek regarding the allegations, and the outsized role the prime minister allegedly plays in development projects. Questions to Fatih Municipality regarding alleged corruption there also went unanswered.
In public statements, the government claims that the investigations amounted to an attempt at a coup d'etat by a religious movement long-allied to Erdoğan and with deep roots in the judiciary and police. "It is highly likely that an illegal group within the judiciary could manipulate some facts by laying plots, and use them for their own benefit," says Osman Can, a retired rapporteur to Turkey's Constitutional Court and a member of the AKP's central committee.
Critics, while generally not disputing that the investigations were politically motivated, claim that they none the less exposed an organised system of construction-based corruption geared towards cementing Erdoğan's political power. "The government is using the construction and real-estate sectors to build a financial castle to secure its future," claims Aykut Erdoğdu, an opposition member of parliament.
EUROPE'S MEGACITY
"Can you even imagine an airport like this? Is there anything like it in the world?" says Nail Bostanci, 42, a farmer whose land is being compulsorily purchased to make way for one of the grandest of Erdoğan's projects. Bostanci gestures across a landscape larger than Manhattan island covered with pristine forest and pitted with 60 lakes created from former coal mines, and points to a row of hills 16km away that will mark the airport's far boundary. On June 7th, at a ceremony to mark the start of construction work, Erdoğan described it as "not just an airport but a monument of victory and self-confidence".
Both its location and size have been deeply controversial. At 7,600 ­hectares, the land allotted would make it more than six times the size of London's Heathrow. The government claims it will handle 150m passengers a year by 2050. By contrast, Atlanta International Airport, which handles 95m passengers, covers just 1,625 hectares.
In April, an environmental report highlighted "massive loss of biomass and flora" associated with the project, and warned that its construction would reduce the flow to reservoirs providing water to the city. The report, issued by Turkey's Environment and Urban Planning Ministry, nevertheless concluded there was "no better place" to build it.
Critics dispute this, and claim that – along with the canal and a third Bosphorus bridge currently under construction – the airport project is part of a broader scheme to allow the development of vast swathes of forest.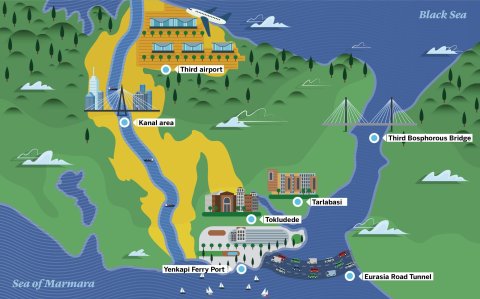 "There's lots of money there," says Ali Yildirim, from the campaign group Northern Forest Defence. "It's a good climate, and there's very beautiful seaside. The construction companies have been pressing the government to open up this area for 20 years. They want to run the economy through the construction industry, and these projects are a huge part of that plan."
Meanwhile, even as construction work has begun, details of the airport project remain hazy. No architectural plans have been published, and even the elevation at which the runway will be built remains undecided, confirmed a spokesman for Turkey's Transportation Ministry, which is overseeing the project.
According to Erdoğdu, these details are being hidden after the contract was awarded in order to facilitate cost-cutting in favour of the airport construction companies. The Transport Ministry spokesman claimed the process was in line with accepted practice for other Build-Operate-Transfer projects.
Construction has played a key role in fuelling an economic boom in Turkey over the past decade. With the economy now slowing, many observers believe the government is pushing the sector even harder to prop up growth. In the first three months of 2014, building permits were issued for 63m square metres of floor space, an 89% increase on the same period last year.
Meanwhile, housing sales dropped by 10%. Mustafa Sonmez, an economics writer and columnist for several Turkish newspapers, is among many warning that a housing bubble may be developing. "We're now at a point where if they insist on this construction growth model, they will damage Istanbul more and more and unfortunately they have no other plan," says Sönmez. "They know no other way of growth."
Yapici, the head of the Istanbul Chamber of Architects, says the government has slashed planning regulations in order to ease checks on development.
Major projects now routinely proceed without detailed plans being made public. "This is a new method specific to Turkey," Yapici said. "All we get are these simple pictures that almost a child could draw. They publish them in the press, say how wonderful it will be, make speeches about it, and that's how they legitimise it."
As a member of a group called ­Taksim Solidarity, Yapici was prominently involved in mass protests that took place last summer to protect a central city park against one such controversial project. Following the protests, Turkey's chambers of architects were stripped of most of their statutory powers to oversee ­development.
Yapici, who is 63 and suffers from diabetes and heart problems, is currently on trial along with other members of Taksim Solidarity, on charges of setting up and running a criminal organisation. If convicted, she faces up to 30 years in prison.
"I don't care about myself, I'm getting old and my situation is unimportant," she said in a recent interview. "But for all the young people, and for future generations, what's happening is incredibly sad."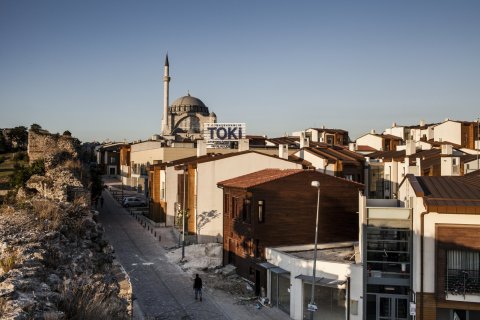 MEDIA BACKING
According to allegations emerging from last year's graft probes, the industry plays a political role far beyond that of fuelling the economy. One investigation, based on 15 months of tapped phone calls targeting a clutch of pro-government businessmen, suggested Erdoğan personally used big-ticket construction projects as a lure to force them to do his bidding.
A 252-page police report detailing the now-thwarted investigation, a copy of which was obtained by Newsweek, claimed Erdoğan last year pressured the heads of several major construction firms to raise at least $450m cash to buy a failing media company.
In recent years, Erdoğan's allies have bought up sections of the Turkish media, much of which was once virulently opposed to the Islamist-rooted AKP. Many have now become mouthpieces for government propaganda after falling into new ownership. The Turkuvaz Media Group, which includes Sabah, one of Turkey's top daily newspapers, and ATV, a television station, had been bought in 2008 by Çalık Holding, a company whose CEO at the time was Erdoğan's son-in-law.
Turkuvaz had been posting large losses and Çalık had been looking to offload it since 2012, and was receiving interest from several foreign media conglomerates. According to the police account, during two meetings with businessmen at his home in July last year, Erdoğan set in motion a plan whereby the group would create a pool of funds to buy Turkuvaz in order to prevent it falling into foreign hands.
The names of those allegedly involved reads like a Who's Who of Turkey's ­government-linked oligarchy, whose firms have profited in recent years from the more than $100bn-worth of public contracts awarded by the AKP. Nepotism in the awarding of tenders has long been one of the most visible signs of corruption in Turkey, and in the AKP's years a coterie of construction firms has risen up around it.
"If I was a businessman, I would do everything I could to be part of this group," said an official at Turkey's Treasury, speaking on condition of anonymity. "There's no way anyone can fail, there's no way anyone can be out of business. One day you're dealing with projects worth $1m, the next day you're a $10bn company."
Those allegedly involved in the media group purchase include members of the consortium that had earlier won the right to build the €22bn airport. The business was eventually purchased by Zirve Holding, a company set up by the Kalyon Group, a member of the airport consortium. According to the police investigation, Zirve was a front for the deal.
Over the weeks following the alleged meetings with Erdoğan, the businessmen were recorded wrangling with officials at a state bank in an effort to secure loans to raise the funds, and discussing how to disguise the transfers. They also talked about sharing out upcoming infrastructure projects, including a high-speed train line and a second runway for an existing Istanbul airport, as a reward for donating the money.
One businessman, Ibrahim Cecen of IC Holding, who contributed $100m towards the purchase, promised to contribute a further $50m if he was brought in on the new airport project, according to the police report. In their conversations, Erdoan himself was euphemistically referred to as "the Gentleman" and the "Big Boss". As the deal progressed the men spoke of the pressure they were under to come up with the money, and their fear of the deal being made public.
"How does the public accept this? How does it not get out?" Huseyin Aydin, an official at Turkey's state-run Ziraat Bank, asked Nuri Ozaltin, one of the businessmen who allegedly took part in the purchase, in a conversation allegedly recorded in November last year.
"Is Kalyon the kind of group that can buy a newspaper worth one billion with three other people? I don't think they're that big."
"If this government goes [these companies] are finished," Aydin added. "Yes, they're finished," Ozaltin replied.
Zirve Holding bought Turkuvaz Media Group last December. It has said it purchased the company using loans from state banks, but has not revealed which banks, or the size of the loans.
All the companies involved, and the government, have denied the claims in the police report. The investigation was dropped after the prosecutor who launched it, Muammar Akkas, was removed from his post when it became public on December 25th.
On that day he had ordered the arrest of several suspects in it, but police forces refused to enact the orders.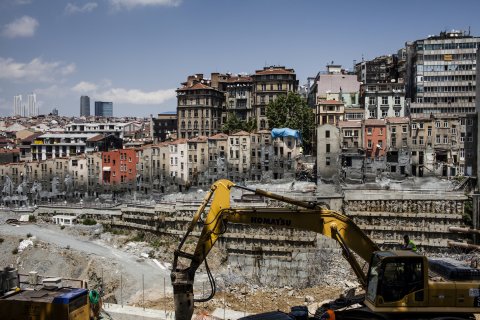 CLEARING THE WAY
The same kind of cronyism allegedly behind the transformation of Istanbul's environs may also be wreaking havoc in its historic core, where ancient rundown neighbourhoods lie on prime real estate, offering a goldmine to developers.
In July last year an employee at Fatih Municipality, in which lie the bulk of Istanbul's Ottoman and Byzantine architectural treasures, handed a dossier of documents to a prosecutor detailing how local administrators had overseen the illegal destruction of historic heritage for profit.
Azat Yalçın, who was fired from his job as an urban planner after ­whistleblowing, declined to be interviewed because he has been reinstated after winning a legal challenge against his dismissal. Public servants are prohibited from speaking to the press in Turkey without authorisation.
Newsweek obtained copies of the documents he leaked, however, and a transcript of his allegations to the prosecutor. They describe how ancient protected buildings had been destroyed to make way for modern replacements; part of a contract to redevelop ­centuries-old market gardens beneath the city walls was handed to the wife of one of the municipality's directors, and materials for construction projects were changed after tenders were awarded in order to boost developers' profits at public expense.
In Süleymaniye, an area of Ottoman wooden houses that lies at the feet of a famous mosque of the same name, residents were pressured out by having street lighting cut and roads blocked so developers could buy up and raze their homes, Yalçın claimed. The fate of Süleymaniye mirrors that of Tokludede and other historic neighbourhoods in the area.
In 2009 Sulukule, another neighbourhood under the city walls that had been home to Istanbul's Roma community for 500 years, was forcibly bought up and turned into luxury villas built in a faux-Ottoman style, and its former inhabitants shunted to tower blocks on the edge of the city.
Nepotism in the awarding of contracts may also be affecting some of the city's most treasured monuments. Last year, a team of archaeologists and experts tasked with restoring the Church of Christ Pantokrator, the second largest of the city's Byzantine monuments, was dismissed and the contract re-awarded to Taşyapı, a firm with no background in restoration.
The company's CEO was arrested during the corruption scandal last December on allegations - since dismissed – that he colluded with state officials to change zoning plans elsewhere in the city. Government-linked contractors have been criticised for insensitive or ahistorical work undertaken on other Byzantine monuments, including the Stoudious Monastery, a fifth-century ruin currently being converted into a mosque, and the Palace of the Porphyrogennetos, which is being restored for an as-yet-unknown purpose.
Many archaeologists complain that such works take place amid secrecy and often damage the very monuments they ostensibly aim to preserve.
"I'm supposed to teach my students about Byzantine Istanbul," says Alessandra Ricci, a professor of Byzantine archaeology and history of art at Istanbul's Koc University, "but I don't think there will be much left to teach them about in the years ahead."
WHITE AS SNOW
When the AKP swept to power in 2002, it was on a platform of fighting corruption. The acronym by which the party refers to itself, AK Partisi, plays on the Turkish word ak, meaning white, or clean. In its early years the government passed landmark anti-corruption legislation as part of a push for EU membership.
This included creating a parliamentary body to audit the books of ministries, and a law ensuring greater transparency in public procurement. Since then much of this progress has been nullified. Legislation on awarding public tenders has been amended 30 times, increasing secrecy, according to a spokesman for monitoring group Transparency International. The government has also moved to blunt the powers of the Court of Accounts, the main body for overseeing the financial activities of state-run entities.
In his office in Ankara, Erdoğdu, the opposition politician, takes from the shelf the increasingly slim annual reports on the most controversial of these: TOKI, Turkey's mass housing administration.
In 2012, Erdoğdu published a report alleging TOKI had misused $400m worth of assets. During the AKP years, the formerly obscure housing authority has been placed under the prime minister's personal control and granted powers to acquire, rezone and dispose of private and public land. In the past decade it has built more than half a million homes and controls a real estate portfolio worth 14bn Turkish lira ($7bn).
While it is officially a not-for-profit body, its critics claim it is the linchpin in a corrupt system for rezoning and developing valuable land, and then siphoning assets and profits to government allies.
"TOKI has the power to change city plans all across Turkey. It can designate park land as shopping centre land, and make it's value go up 1,000 times," says Erdoğdu. "It is the conduit by which the government takes valuable public and privately owned property and transfers it to AKP-linked companies."
Among its most prominent ventures is Maslak 1453, a residential, business, and shopping complex in Istanbul that will feature a huge shopping mall, billed as the largest development of its kind in Europe. Its name commemorates the year the city was captured from the Byzantines by Ottoman Sultan Mehmet the Conqueror, and it is being built in partnership with a firm owned by Ali Ağaoğlu, Turkey's eighth-richest man.
Both Ağaoğlu and TOKI lay at the heart of one of one of last year's quashed corruption probes. Those arrested on allegations of bribery over the dispensing of construction permits were Ağaoğlu himself, and several officials and TOKI and as well as others working under the Minister of Environment and Urban Planning, Erdogn Bayraktar, as well as the minister's son.
Forced to resign days later due to his own implication in the scandal, Bayraktar called on Erdoğan himself to follow suit, adding that: "a large part of the zoning plans in the investigation dossier were done with the instruction of the prime minister". He later retracted his comments.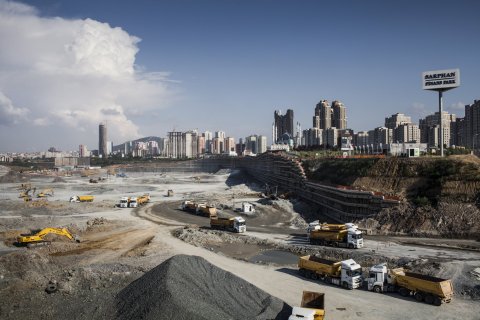 THE DEVIL YOU KNOW
Seven months after the scandals erupted, it seems a majority of Turks are unfazed by the scandal, as polls suggest Erdoğan will secure more than 50% of the vote to post a first-round victory in the upcoming presidential election.
A community where debate over the prime minister's development agenda is intense is Agacli, which lies on the site of the new airport. Here, the government is threatening to use a law originally designed for situations of national emergency to appropriate villagers' homes and farmland.
In January the villagers blocked roads in protest at the price they have been offered for their land, which they claim is far below market value. Even here, however, both the airport and the government's broader development agenda continue to draw strong support among a large section of the community. "I think it's a good thing for the village and it's a good thing for Turkey. Everyone should support it," said Osman Kilic, 49, a shopkeeper.
Like many people in Turkey, he remembers the days when the country lacked infrastructure and services, and when corruption in government was a given. "When I was a child I had to walk for three hours to get to school," he recalled. "Now in the same place there's a bus every hour."
Asked about the alleged graft behind Istanbul's development, he said: "I want development, but of course I don't want it to come with corruption," adding that he didn't believe the government's claims that the allegations were fake. "But these things need to be proved," he added. "As long as it's just rumour, then you're accusing people without proof."
Whether the graft claims will be effectively investigated remains to be seen, however. All the prosecutors originally investigating the allegations have been removed, police officers involved have been sacked or reassigned, and courts have dismissed several of the cases.
Instead, the government has set up a parliamentary commission to look into the allegations against four former government ministers implicated in the scandal.
"MPs from opposition parties will be in the commission," says Can. "Once this commission carries out its duties, it may refer those concerned to the Constitutional Court in the case that there are elements of crime." Meanwhile, the AKP has made little effort to distance itself from most of the businessmen involved, and most of the state officials allegedly involved remain in government posts.
"At the moment no one is afraid of courts, because there is no possibility of going to jail," says Erdoğdu. "They know that no one can touch the government, and there's effectively no rule of law in Turkey at the moment on this issue."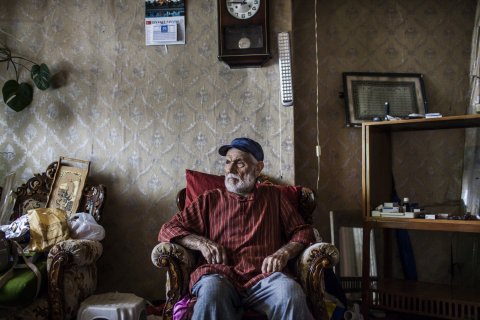 In Tokludede meanwhile, Ismet Hezer, who drank the pesticide, is still alive, although the community he fought to save has disappeared. Shortly after his suicide attempt, a neighbour heard him groaning and alerted paramedics who rushed him to hospital. Today, he and his wife are the last family left in the neighbourhood, which has been completely demolished in preparation for the new building. He still refuses to leave his home, even as luxury villas and hotels rise up around him.
"I will stay here until I die and they can carry my body out," said the 78-year-old, as he sat with his wife and a former neighbour drinking tea on a patch of grass beneath the city walls.
That day, he had received another ­letter from the municipality warning him that he will have to renovate his own home himself, or see it nationalised. He does not have the money to do so.
"No one can make me leave. They'll have to kill me."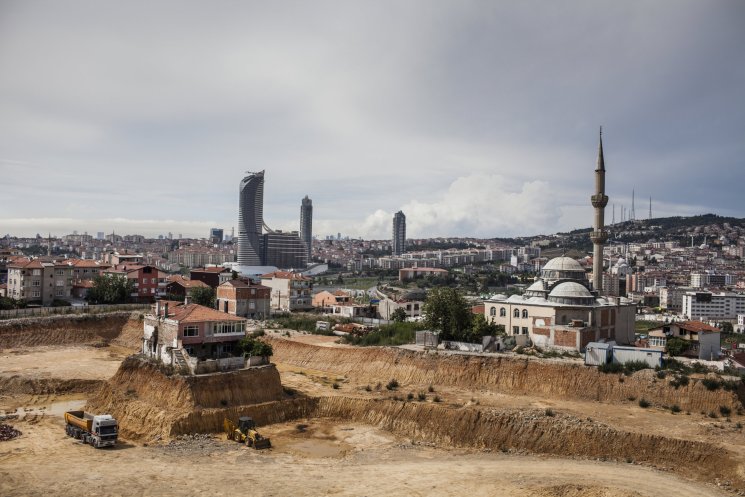 In Focus
The Turkish prime minister's bid to turn his capital into a futuristic 'dream city' spells disaster for residents
Launch Slideshow

13 PHOTOS
Correction: This article referred to Osman Can as "Constitutional Court judge". This has now been amended.