In a grim government compound 40 km from Vienna, five young Syrian men are huddled together examining the screen of a battered mobile phone. Beside them is a rickety plastic chair with a glass of sweet, amber-coloured tea perched on top, a vestige of Arab domesticity. This day is like any other: the young men pore over family photographs and talk incessantly of home as they wait for the residence permits that will allow them to start their lives here in Austria.
"Internet and talk," says one of them, gesturing around the bare dormitory. "There is nothing else." This compound could be anywhere; as it happens, it borders a quiet village with manicured gardens, picket fences and residents who keep to themselves – a far cry from the war-ravaged Syrian towns these men have abandoned. For the past few weeks, the village of Muthmannsdorf has been a place of surreal limbo, where they wait for the life of freedom they believe Europe holds. It has been hard won.
Murat is an ethnic Turkmen from Damascus, a 28-year-old with striking green eyes and prematurely white-flecked hair. The photo everyone is admiring is of his daughter, three-year-old Aya. Murat fled from Syria with his parents, wife and daughter in August 2012, when Bashar al-Assad's army started dropping barrel bombs around their home in the southern suburbs of Damascus. Murat knew that even if they survived, he would be forced to join the army and might never see his family again. They drove to Tripoli in Lebanon, where they boarded a boat to the port of Mersin on the southeastern coast of Turkey, and then travelled on to Istanbul. There, with no official refugee status, no passport and no right to work, Murat left his pregnant wife and child in the care of his elder brother and set out for the more promising cities of Europe. Crossing to Greece one night in a rubber dinghy, he began a seven month odyssey during which he entrusted himself to a mafia of people smugglers, risked clandestine border crossings and Balkan police patrols and now, finally, confronts the stony face of Austrian bureaucracy. After weeks on the road, it's time to wait.
Around 2.8 million Syrians have fled their homeland since conflict broke out in their country three years ago, and, while most are living in camps in Turkey, Jordan and Lebanon, those who can afford the journey are headed to Europe. I am in Austria to meet Murat and his friends, who made their way here overland from Greece, having traced their route, with the luxury of an EU passport, from the Turkish-Syrian border to Istanbul, then Athens and finally Vienna. At every stop I have encountered young Syrian men armed with their families' savings and a few contacts in their mobile phones, relatively undaunted by the dangers of capsizing boats, impenetrable asylum procedures and the lack of any common language with the officials and smugglers who control their fate. Many of these men left Syria to avoid joining either the Islamic State rebels or Assad's army, escaping without the passports that they could only claim by alerting the authorities to their presence – and subsequent absence. Many of them have left families behind. "The journey is too difficult for women and children," says Khaled, a small, hoarse man in his late thirties. "We barely made it ourselves."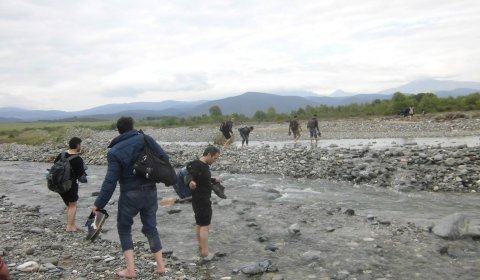 Khaled left his town of Jarabulus in northern Syria when it was taken by the now-notorious extremist group, Islamic State (formerly ISIS). Mohamed, a swaggering 19-year-old, was living in a Palestinian camp in Daraa, southern Syria, when it was overwhelmed by clashes between the Free Syrian Army and Assad's troops. Mahmoud is a stocky Kurdish painter from Afrin, near Aleppo, and Ashraf, a gentle, bespectacled pharmacist, is from Idlib, 16 km east of the Turkish border. Both left to avoid being enrolled in Assad's army; equally unwilling to join the rebels, they had no choice but to escape over the Turkish border.
These men are middle-class Syrians driven from formerly unremarkable lives to strike out on a remarkable journey. They are not natural adventurers but ordinary men used to the comforts of home, the convenience of urban life and the dignity of a modest but regular income; it is hard to imagine them trekking through the forests of Europe for days on end and hiding in fields from police. And yet, this is what they have done to make it this far.
ANTAKYA, Turkey
On the motorway just outside Antakya airport there is a large signpost for HALEP (Aleppo), a reminder of Syria's proximity and how it was once normal to drive casually over the border just 20km away. Turkey now has around 760,000 Syrian refugees, although this number is uncertain and, until recently, many Syrians entered Turkey undetected over what they call the "Titanic" or the tiny stream crossed by a trampled barbed wire fence near Kilis, the previously unguarded border that is now closed. The authorities give all Syrians a hazy "guest" status, allowing them to stay in the generously-stocked but overcrowded new camps in Reyhanli and Kilis on the border, or to rent property if they have private means. They are not, however, allowed to work, and the political instability in Turkey makes them feel dependent on the whim of an increasingly unpredictable government and vulnerable economy.
There are around 30,000 Syrian refugees in Antakya, a Byzantine city of 200,000 Arabs, Turks, Kurds and Armenians. A mix of Abrahamic minorities for over a thousand years, Antakya (or "Hatay") is uniquely suited to receiving new arrivals, particularly the many Alawite Syrians who came here at the beginning of the war. Those who live here often compare it to pre-war Damascus and it does have a very Arabic feel, particularly the ancient warren of the medina: baking sandstone houses, narrow streets overhung by fig trees and vines, the odd goat, and children darting through heavy wooden doors open to the hurly burly of family life within. In shops and cafes, Arabic is liberally scattered through conversation, and Turkish has the harsh aspiration of the south-eastern accent and Arabic mother tongue.
Antakya is one of the areas in south-east Turkey where Syrian refugees have established themselves in large family groups and started to settle down. Many complain, however, that they are resented and overcharged by locals, and in recent months there have been violent attacks by nationalist Turks on newly-arrived Syrians, particularly those who have started businesses. Refugees without money sleep on park benches, occasionally receiving clothes and food from Turks sympathetic to their plight. Those with money rent apartments and spend hours in cafes and bars, looking for work online or simply catching up with friends back in Syria. The more active of these café-dwellers are known as "fixers", Syrian men with good contacts who help foreign journalists get safely over the border, most of them working on retainer for big agencies like Reuters, Associated Press and the BBC. It is in one of the most popular bars in Antakya that I encounter the fixer crowd and begin my journey.
At 10pm, the rooftop Baruti Bar in the Old Town is a riot of coloured lanterns, noisy chatter and a booming playlist of 1980s hits that clash horribly with the intermittent Islamic call to prayer. I sit at a low table with three Syrian men: Ahmet, Jamil and Walid, all fixers. We order some beers and popcorn, and somehow manage to hold a conversation over the din. Like most Syrians abruptly forced to leave their homes, these men had fairly ordinary occupations before the war. Walid worked as a government inspector – hard to imagine given his jaunty ponytail and elaborate cigarette holder. Jamil was studying tourism management and Ahmet worked as a shop assistant in a mall in Aleppo. Walid and Jamil organised protests in the early days of the revolution in their home towns and briefly joined the rebels before becoming disillusioned by the disintegration of the opposition. Now they earn money risking their lives to get journalists over the border into the complex war zones of Syria, with the support of their old contacts in the milder rebel forces.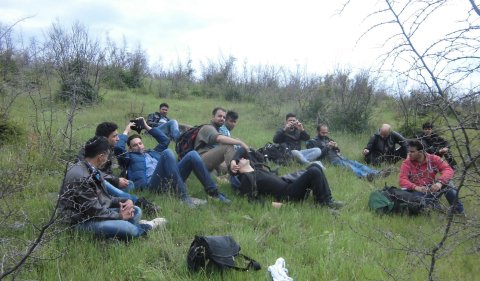 Walid shows me some shrapnel under the skin of his right arm, and above his eyebrow. He also has a bullet lodged in his calf, a "parting gift" from a sniper on the road to Aleppo. Nevertheless, business is brisk, and the three men are clearly willing to take big risks. When I mention that I'm interested in following Syrians getting smuggled out of Turkey into Europe, Walid and Jamil have plenty of contacts for me – their "fixing" works both in and out of Syria, and they know most of the smugglers in Turkey well.
"My brother just paid a Turkish smuggler €10,000 to get him to London with a fake ID and visa," says Jamil, off-hand. "It was easy. Once he got to Heathrow, he threw away his visa and claimed asylum. Now he lives in Ealing, and my sister will follow him soon."
Ten thousand euros is a lot of money, but it gets results, and Jamil's brother is lucky – only 50 Syrians have been officially accepted as refugees by the UK under the Syrian vulnerable persons relocation scheme, established in January. Most Syrians cannot afford the cost of getting as far as the UK, which may be part of the reason for the relatively low number of Syrian refugee applications (460 in the first quarter of 2014, compared to Germany's 5,385, for example.) Most Syrians heading for Europe have to make complex and dangerous journeys, mainly overland, starting with the crossing from Turkey to Greece, the traditional gateway to Europe. The usual port of departure from Turkey is Izmir, on the Aegean coast, south of Istanbul, from where they cross to one of the Greek islands – Mytilene, Samos and Chios are the nearest, most popular destinations. Some used to cross via the river Evros on the Turkish-Greek land border, but this route has become impassable since November 2013, when the Turks built a barbed-wire wall. Now the Bulgarian border is becoming a popular alternative.
Sea crossings are dangerous and – like everything in the murky world of smuggling – open to both negotiation and exploitation. Migrants pay different amounts depending on the type of boat, and the Turkish smugglers, ever businessmen, have raised their prices for the summer season, when passage is easier and demand higher. A place on one of the smallest boats, little more than dinghies with motors and most liable to capsize, used to cost around €600 in winter. "Now it is high season, so boat places are €800-€1,000," says Walid, who sometimes acts as a middleman for Syrians paying the smugglers. "In summer the smugglers can charge more, just like for tourists."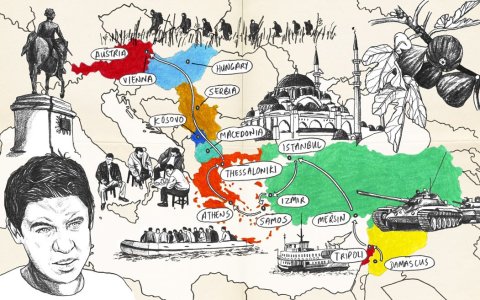 Bigger boats, usually around €800-€1,000 in low season, are now double that price. If the Syrians are lucky enough to avoid Turkish coastguards and reach the islands, they present themselves as asylum seekers to the Greek police and are usually detained for a week or so in a camp before being transferred to Athens, where the next leg of their journey begins.
I learn these details gradually as I listen to the fixers' stories, and through the Syrians I later track down, many of them scarred by the dangers of the journey. Most Syrians I interview – including fixers – know of someone who drowned during the sea crossing to Greece. It is impossible to verify numbers, since most people cross at night to avoid the coastguards and disappear without trace, but the UNHCR has officially recorded 70 deaths in the Aegean so far this year. Sea crossings are growing at an alarming rate, more than doubling between 2012 and 2013, with 4,700 recorded just in the first three months (the low season) of 2014.
Living in Turkey myself, and having met well-integrated Syrians here, I am initially surprised by this overwhelming determination to get to Greece. The impression I get from speaking to those who left was that Turkey was too close to home for them, both geographically and psychologically. Yes, cities like Antakya and Gaziantep (another town close to the Syrian border) are relatively easy to adapt to, with familiar culture, food and language, and friends and family close by. Nevertheless, the war was also close. "It is like Syria, but it is not Syria," says Zakarya, a 26-year-old in Antakya. "If I am not in my home in Syria, I want to be far away, in Europe."
The man I am tracing, Murat, had successfully traversed half of Europe en route to Amsterdam when he was caught by police in Austria, fingerprinted and registered as a formal refugee applicant. Now he has reconciled himself to a new life in Vienna, and is learning German in preparation. Until his refugee status is confirmed and residence permit granted, his family must wait in Istanbul.
ISTANBUL, Turkey
The cultural and business capital of Turkey, merely a passing point for Europe-bound Syrians, is the last stop for those families who can afford to go no further. On every corner of Taksim Square, grubby, henna-haired children run up to passing tourists, asking in Arabic for money as their parents wait nearby. These are the Roma families from Syria and northern Iraq. In the cafes and shops in central Beyoglu, educated Syrians, who can speak English, serve tourists more efficiently than Turkish-speaking locals, or act as guides and translators for rich Arab tourists.
Here, tourism provides more possibilities for work than in the more provincial cities of Gaziantep and Antakya in the South East. Jobs are still hard to come by, however, and most Turks who employ Syrians off the books pay badly, knowing that the refugees are working illegally. Many of these Syrians eventually seek out the smugglers who run well-known and extremely profitable businesses from houses and hotels in the seedy district of Aksaray, to negotiate the border crossings to Greece or Bulgaria.
Murat's story is typical: having arrived safely in Istanbul with his family and with ten years of experience as a tailor with a fabric business back in the bombed-out suburbs of Damascus, he failed to find a decent job after an 18-month search. Reluctantly, he moved on. "I have beautiful memories of Istanbul," he will tell me later in Austria.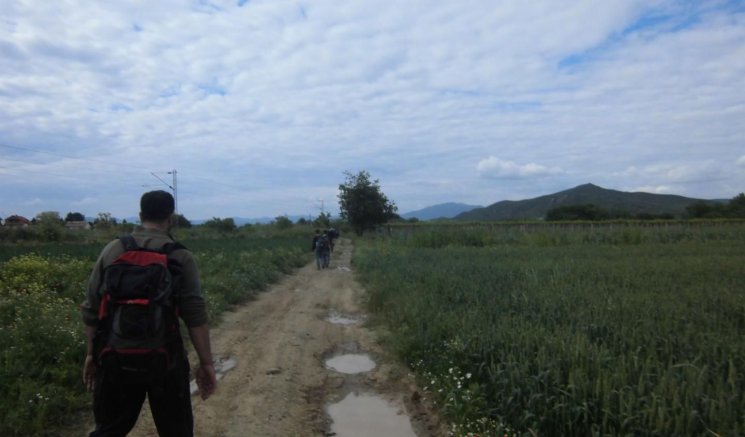 I go to visit his wife, Balkiz, their children and the various family members left behind in Pendik, a characterless suburb near Istanbul's second airport on the Asian side of town. Balkiz is a cheerful, attractive 22-year-old woman who gave birth to her second daughter, Raya, three months ago, when Murat had just arrived in Athens. Like her husband, she is an ethnic Turkmen, and her mother, meticulously covered by hijab and a long sleeved coat, is Russian-born, white-skinned and blue-eyed. They welcome me, with plates of watermelon and profuse thanks for my visit, into the tiny flat they share with seven others in a high-rise building. The two women talk to each other in Russian, occasionally shouting to the children in Arabic – a heady mix that soon confuses me. Luckily, Balkiz also speaks fluent Turkish. It is odd to listen to her dramatic account of life in Syria, interspersed with her mother's insistent Russian interjections, as we sit in this bland, suburban setting. I struggle to picture Balkiz and her mother trying to lead normal lives in a neighbourhood threatened daily by bombs, while Murat worked in his tailor shop down the road. I ask her a generic question: "What was home like when you left?"
In answer, Balkiz gets out her phone and finds some harrowing footage of a hospital near their house in Damascus. "It's difficult to watch," she warns me as she hands the phone over. I nod, business-like, but within a couple of minutes the images of amputated children, brains spewing over operating tables and gibbering, staring faces have become too much – I have to look away.
Intrigued by the moans and shouts coming from the phone, three-year-old Aya scrambles into my lap to watch. Horrified, I hurriedly cover the screen and try to mute the phone, but Balkiz laughs at my panic. "Don't bother – she's seen it in real life already."
I must be visibly appalled, because Balkiz tries to explain how normal the suffering was, the way the stench of blood lingered for days in the streets around the house after an attack, becoming more a source of vague annoyance than shock. When the bombs stopped, sometimes, it was a puzzle rather than a relief – who was getting the upper hand, they wondered? Constant bombing quickly became factored into daily activities. So life was still – remarkably – liveable, for a while. What finally forced them to leave?
"We heard about our neighbours who refused to join Assad's soldiers. They were shot."
Unwilling to face the same choice, Murat gathered his family and made for the airport. When they found the road out of the city blocked by tanks, they turned around and drove straight for the Lebanese border.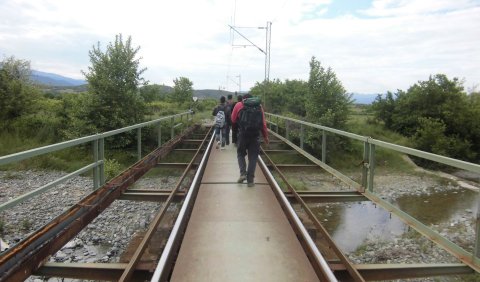 It is at this point that I realise just how unwilling the family must have been to leave home, if Murat's enrolment-or-death was the final straw. When I ask Balkiz what kind of life she expects in Austria, she gestures to the children. "I want it for them," she says, picking Aya up and smoothing her hair. "Good schools, nice life. That's it."
I ask her how she envisages Vienna – what will daily life be like? She looks at me blankly. It is clearly a question she hasn't thought much about. "I don't know. Murat says it is beautiful. He says it is better even than Sweden. It is warmer."
While I am waiting to board my flight from Istanbul to Athens, I witness first-hand the raw desperation of a soon-to-be separated Syrian family. While a furious, gesticulating man shouts in accented English and occasional, frustrated Arabic at the Aegean Airlines employees manning the gate, his wife and children weep quietly in their seats nearby, surrounded by luggage.
It transpires that this Syrian man had accidently booked himself onto a different flight and refuses to be parted from his family – they can not complete the journey without him. He cannot afford to buy new tickets, so they are stuck. His wife is anguished but proud, turning her tear-streaked face away from the concerned passengers who stop to offer condolences as they queue to board the plane, and hugs her children to her as though to fend off inquisitive stares.
On board the plane 10 minutes later, suddenly cheers break out – the family are triumphantly making their way down the aisle, having apparently persuaded Aegean Airlines staff to let them all board the half-empty plane. Here is one happy Syrian family, off on the first leg of their journey.
ATHENS, Greece
Like Istanbul, Athens has always been a hub of trade and a kind of people-traffic junction. Today, it is a disconcerting mix of ancient splendour and modern sprawl: the iconic hill of the Acropolis overlooks ghettoised districts where migrants wait miserably for the authorities to decide their fate. The Piraeus, ancient base of the unconquerable Athenian navy, is now notorious for the shiploads of refugees that arrive almost daily, and nearby Patra houses overcrowded detention camps, strictly off limits to journalists.
As I drive into the centre of Athens from the airport early in the morning, I see a seemingly unending queue snaking beside the walls of an imposing governmental building – the Ministry of Public Order in Katehakis, as I later found out. African and Middle Eastern men and women stand patiently in line in the morning sun, supervised by khaki-clad military police. These are the migrants waiting to be interviewed and assessed by the Greek government, and they come every single day. Some remain in the city for years, having eventually given up on receiving official asylum status, and many, exhausted by the struggle to keep a family together with no income and constant battles with Greek bureaucracy, make use of the government's offer to be sent back to their original point of departure, be that Afghanistan, Somalia, Eritrea or Syria.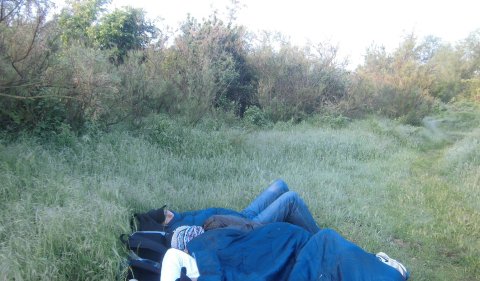 I arrive in Athens on the day of the annual UNHCR press conference, at which the refugee agency makes a cursory mention of the improvements in the Greek refugee processing system, while insisting that there are still "persistent deficiencies" to address. Many of the recommendations are patently not going down well with the assembled Greek audience, especially the "re-adjustment of the state budget provisions" to increase funding for asylum seekers. Others, such as the insistence that there should not be "pushbacks" (forced returns of arriving boatloads of refugees back to their place of departure) are less controversial.
Walking down the main street in Attica, the main ghetto district for Syrian and North African migrants, is like walking through any modern Middle-Eastern town – every few paces is a phone or DVD shop with Arabic posters in the window, or a cafe emitting Arabesque music and shisha smoke. Inside, Egyptian and Moroccan men sit smoking and tapping on smartphones – these are the smugglers who arrange the Syrians' crossing from Greece to Macedonia and beyond, using a network of Serbian, Kosovan and Hungarian colleagues.
It was in a cafe like this one that Murat arranged his journey into Europe, teaming up with some Syrians he met on the boat from Izmir to the Greek island of Samos, from where he got to Athens. Malik, the Syrian doctor I have arranged to meet, asks me not to give his real name and not to mention his field of medical expertise, because this would easily give him away to the Syrian army unit from which he fled "by a miracle", he says. Malik is officially MIA in Syria, and he wants to keep it that way to protect the family he left behind there.
Initially unwilling to talk, Malik and his friends soon cheer up at the thought of someone interested in their journeys and the dangers they faced. One of them, the unfortunately-named Jihad, shows me some footage he took on his iPhone of his sea crossing from Egypt to Athens, a sickening six-minute film of lurching waves and miserable Syrians huddled together under blankets in the stern of a wooden fishing boat. "After this was a terrible storm – we thought we would die," he says. In desperation, the Syrians sent out an SOS that was ignored by a nearby Italian coastguard, before they were eventually rescued by a Greek ship and taken to Athens. There, having been kept in a camp for 20 days, like Murat, they were given a card allowing them to remain in Greece for six months, and left to their own devices.
After a few coffees in the smugglers' cafe, the Syrian men invite me to the one bedroom basement apartment they rented for €400 between five of them – they later found out the going rate was around €150, but apparently Greek landlords have the same business-like approach to migrant lodgers as Turks. Malik is painfully apologetic about the state of the dank, unfurnished rooms in the apartment: "It is not nice. I am sorry."
The men have been stuck in Athens for months, and are fed up. I catch them just in time – they are preparing to leave two days later. They have already tried several times to board flights to European cities from Athens airport with fake IDs and visas, only to be turned away by seasoned passport control agents. A friend of theirs tried 16 times before giving up and leaving Greece surreptitiously, by foot. "By the end, all the security guys at the airport knew him," says Malik, laughing. "They treated him like an old friend. That is when he decided to go over land."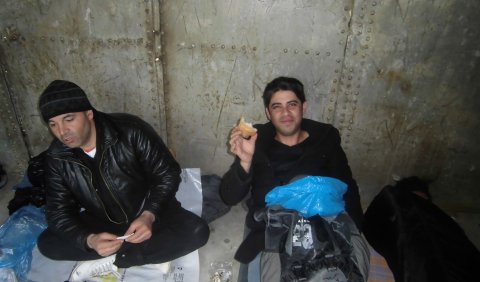 By the end of my afternoon I realise two things – first, that only relatively well-off Syrians can afford the thousands of euros in smuggling costs and fake documents to get to Europe, and second, that there is an entrenched hierarchy of target destinations. The original Europe-bound trail-blazers three years ago conducted careful online research of the relative asylum and family reunification policies of each EU country and chose their final destination accordingly. The list has, at this point, become legend among the huge network of Syrians streaming westwards and the rough order is as follows: Sweden, the Netherlands, Germany and Austria, followed by more distant countries like the UK or less economically attractive or hospitable countries like Spain and Italy. The Syrians I speak to are particularly evangelical about Sweden, because of the citizenship granted after a few years of residence, and the free education there. Asylum applications – Syrian and otherwise – to Nordic countries have gone up 22% in the last year, and Sweden alone received 54,300 requests in 2013. Some Syrians however, put off by its distance and climate, prefer the idea of relocating to the Netherlands, where citizenship is less forthcoming but family reunification is arranged after only a few months. Because of this, many single men head straight to Sweden, while those with families (like Murat) aim for the Netherlands.
The 56,400 Syrians officially seeking asylum in 2013 was the largest number recorded by a single country in the industrialised world since 1999, and Greece, as the first port of call for Europe-bound migrants, is struggling. I interview an inhabitant of Chios, one of the most popular island stopovers for migrants coming from Turkey, who tells me that the ex-mayor of the island has taken it upon himself to hand out ferry tickets to Athens, because of the sheer number of migrants arriving every day. On arrival in Chios, these people present themselves to the police as asylum seekers and are then put into a temporary camp – essentially a concrete container holding a maximum of 110 people. When I ask Murat later about the Samos camp he was held in and ask him to compare it to his current, Austrian camp, he looks at me as though I am mad.
"This is heaven compared to that camp. Barbed wire around the walls, horrible. I wanted to go back to my family."
Instead, however, he continued to Athens and tried unsuccessfully to get on a flight to Europe for nearly five months. Eventually, he got together with four friends and made a deal with a nameless Egyptian smuggler in one of the cafes of Attica. Two days later, they set out for Europe on a three-week journey that involved trudging through Balkan forests and rivers, crossing borders by night and getting rides in the cars of Serbian and Hungarian smuggling sub-contractors. Now, exhausted and more homesick than ever, Murat is at the last stage of his journey.
MUTHMANNSDORF, Austria
As I step out of the train station at the nearest town of Wiener Neustadt, there is a Syrian reception party waiting for me, keen to take my bags and delighted to have a visitor. When I suggest getting a taxi to the camp rather than waiting for the bus, there is a buzz of excitement among the men, like school children given an unexpected treat. "We get €40 a month," explains Ashraf, the gentle pharmacist from Idlib. "We usually walk, sometimes take the bus, but never a taxi!"
At the compound in Muthmannsdorf, I see what the remaining budget is spent on. As we sit down on assorted plastic chairs in the dormitory, Khaled insists we take one of the bread sticks being solemnly passed around the group while 19-year-old Muhamed carefully brews tea. Ashraf passes around the glasses. Sugar, tea and bread sticks have become the stuff of great ceremony: these men, unused to the role of host usually performed by their wives and mothers, are touchingly keen to provide proper hospitality. When I produce the box of Turkish Delight I had brought from Istanbul, there are delighted exclamations. As the men settle down, first shy, then growing in chatty confidence, I get the overwhelming impression that today is a very special occasion in the otherwise empty calendar of migrants waiting for their residence permits.
Murat shows me photos he has taken of his journey on foot across the borders of Macedonia, Kosovo, Serbia, Hungary and finally Austria. Some of them elicit bursts of laughter from the group – Murat looking glumly out from under a plastic bag in the rain, another man picking his way across a river with blistered feet, a huddle of men making peace signs in a field of wheat – "We had just escaped from the police. We were so happy!"
Later, speaking privately to me, Murat is more serious about the journey. "It was very, very hard. The cold, the rain, I nearly gave up. The smugglers left us in Serbia, we thought we would be sent back to Greece. I became very scared of the police."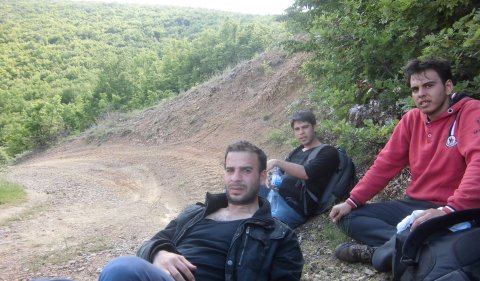 When I suggest a walk in the idyllic Austrian countryside near the camp, there is a surprisingly lukewarm response from the group. "I have had enough jungle!" says Ashraf emphatically in English, but smiling. Soon enough, however, the group warms to the idea of cherry-picking and Muhamed, the boldest, leads us to a nearby orchard.
It is surreal to watch these Syrian men wandering through the picturesque Austrian village, stopping to look at farm animals, laughing at a barking dog. "Shut up Bashar!" they shout. This is clearly an in-joke. Murat, more serious, turns to me and says: "This dog is better than Assad. He hasn't murdered millions." The village is apparently deserted, although we do pass one elderly man going to collect his post. "Hello!" shouts Muhamed, waving. He receives a watery smile. When I ask the group about how they have been received by the locals, I get a mixed response. Ashraf is all smiles – "I like them. They are kind." Khaled and Murat are less positive – "I don't think they like us. But they do not say so."
Murat is more homesick than the others, talking to his wife on Skype as often as the patchy Internet in the camp allows, and missing the life he had in Istanbul. Yet he is optimistic, when he remembers to be. "I will learn German. My children will come. We will be happy here."
The men do not discuss the challenges of integrating into a very different culture – perhaps they have not fully anticipated them. There seems to be a paradox in the companionship of these Syrians. Their closeness is what brought them here – they could not have reached Austria without the web of contacts and advice from family friends helping them at each stage of their chequered journey, and the moral support they gave each other along the way. Yet their closeness is also what might keep them from integrating, a barrier against the strangeness of a completely new way of life – a very mixed blessing.
In a war that will continue for years, if not decades, there will be many more Murats making their way to Europe, and their future is unclear. They will need all the help they can get.