In 2007, the head of the FBI's Cyber Crime Fraud unit, Leslie Bryant, issued a stern warning to Americans: "You can go to Vegas. You can go to Atlantic City. You can go to a racetrack. You can go to those places and gamble legally. But don't do it online. It's against the law."
Four years later, with much fanfare, the U.S. Department of Justice (DOJ) unsealed sweeping indictments against the online poker industry's Big Three—PokerStars, Full Tilt Poker and Absolute Poker. The companies, all located offshore, were hit with a raft of charges, including wire fraud, bank fraud, money laundering and operating in the U.S. in willful violation of the Unlawful Internet Gambling Enforcement Act (UIGEA).
A mere eight months later, on the Friday before Christmas Eve 2011, then-U.S. assistant attorney general Virginia Seitz quietly issued a 13-page legal opinion that changed everything. She reinterpreted the federal Wire Act of 1961, which, until that time, had been viewed by U.S. courts—and the DOJ's own Criminal Division—as prohibiting all forms of online gambling.
Seitz's opinion found that only wagers on a "sporting event or contest" were prohibited by the Wire Act ("wire" is interpreted as extending to the Internet). The effect was to lift a long-standing federal ban on non-sport betting on the Internet, such as poker and slots—some of the most popular and profitable games online—razing the foundation of the UIGEA, passed by Congress in 2006.
The opinion was issued in response to requests from the states of New York and Illinois to rule on whether proposed lotteries using the Internet to sell tickets would violate the Wire Act. But it ended up having much broader implications. The only federal restriction Seitz preserved was the ban against online betting on such events as horse racing or March Madness. Otherwise, she found the states were allowed to decide individually if they wanted to offer online gambling within their borders or team up with other states.
For Seitz, reversing 50 years of legal precedent came down to the placement of a comma. In the key passage of the Wire Act, the description of the ban on gambling over state or international lines applies to "bets or wagers or information assisting in the placing of bets or wagers on any sporting event or contest, or for the transmission of a wire communication which entitles the recipient to receive money or credit as a result of bets or wagers, or for information assisting in the placing of bets or wagers."
The first comma, for Seitz, was crucial. The question, she said, boiled down to whether "sporting event or contest" modified each instance of "bets or wagers" or only the instance it directly followed. She decided the former, writing, "We conclude that the [DOJ] Criminal Division's premise is incorrect and that the Wire Act prohibits only the transmission of communications related to bets or wagers on sporting events or contests."
She also noted that on the same day as the Wire Act was enacted in 1961, Congress passed a separate law regulating other forms of gambling, supporting the view that the Wire Act was aimed specifically at gambling on sports.
Punctuation aside, Seitz opened wide the door to online gambling—and in the process, critics say, may have opened a Pandora's box. Lawmakers and experts warn that online gambling is dangerously addictive for some, especially children raised in a culture of online gaming and smartphones.
Seitz, who came from the DOJ's Office of Legal Counsel (once characterized by Newsweek as "the most important government office you've never heard of," and the same office that wrote the legal justifications for drones and waterboarding), was appointed in June 2011 by President Barack Obama and previously worked at Chicago law firm Sidley Austin, where Obama and the first lady, Michelle Obama, met and worked until they married.
"That a single, relatively unknown person in an office at the Justice Department can just bring about such massive change to our economy in direct contradiction to what Congress sees as the governing law signals a gravitational shift in power that is very concerning," says Jonathan Turley, a professor of public interest law at George Washington University in Washington.
"The Office of Legal Counsel once held a unique and revered position within the DOJ and government as a whole," Turley continues. "It was viewed as the gold standard of legal analysis. This office was once tasked with the job of saying no to the president. Its job was to objectively interpret the intent of our laws passed by Congress. It had a tradition of independence and excellence, and that tradition was viewed as inviolate by past presidents. This was heavily damaged by the Bush administration, and this has only continued with Obama."
What has not changed about that tradition, says Turley, who voted for Obama, is that once the Office of Legal Counsel has spoken, its word is treated as sacrosanct by the other government agencies. (Reached by Newsweek, the DOJ, as well as the FBI, both confirmed that, as a result of Seitz's opinion, they have ceased cracking down on online gambling and will leave it up to the preferences of the states.)
"It's problematic that this office's opinions are treated as legally binding, as if they came down from Mount Olympus," Turley says. "Even in its heyday, it should never have been this way."
Seitz declined to comment on the reasons for her opinion or its impact.
So far in the U.S., the online gambling phenomenon is still new enough that only a handful of states have had a chance to approve it and roll it out. Nevada and Delaware—two states that have already teamed up over online gambling, sharing users and territory—and New Jersey have led the way, offering real-money gambling through websites and apps that can be downloaded straight to smartphones.
"This is just the beginning," predicts Jason Chaffetz, a Republican representative from Utah, the only state other than Hawaii that prohibits all forms of gambling, even the lottery. "I am afraid that if we don't move quickly and get some decent regulations in place, which we really don't have right now, it will be too late to stop it from reaching all the states."
Chaffetz is wary of claims that geolocational technology, which works better in cities than in rural areas and vast expanses of desert (due to their reliance on hot spots and cellular towers to triangulate players), can keep poker out of his state: "Many parents already can see how easy it is for a kid to get addicted to a video game that does not involve money. You put them on the Internet and they are gambling with money, now you have a real problem."
Chaffetz, a 47-year-old father of three (ages 21, 18 and 13), is one of the shrinking pool of politicians—Republican or Democratic—who do not rely on money from the gaming industry to fund his political activities. This past July, he wrote a letter (signed by 17 other representatives) to House Judiciary Committee Chairman Bob Goodlatte, a Virginia Republican, calling for hearings as soon as September on the nation's "policy on the expansion of gambling" to ensure it is "established through legislative process."
That terminology—"legislative process"—speaks to the consternation of a growing number of lawmakers who fear the Obama administration may have opened the floodgates to online gambling in the U.S. without ever intending it to be put to a congressional vote.
"The way this all unfolded and the parties involved, I think it raises a big question mark," Chaffetz tells Newsweek. "I'd like to know a lot more about what happened, which is why I asked for a hearing. We can't have an office in the bowels of the DOJ going against decades of legal precedent without Congress having any say."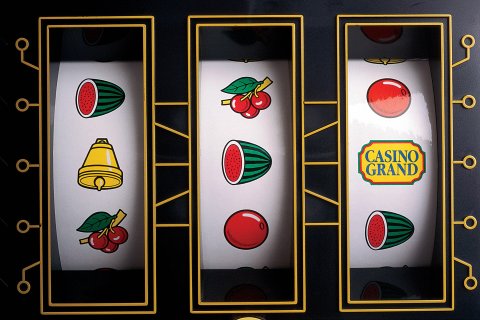 Slots for Tots
Chaffetz, who has become a bit of a gaming connoisseur as he pushes to restrict the spread of online gambling across the states, is only too aware that the line between real-money "gambling" and social-media "gaming" has all but disappeared, especially for the young. Among the sites Chaffetz does not like is "Slotomania" from Caesars Entertainment Corp. in Las Vegas, which features Disney-looking cartoons of comely young girls, evil villains and cuddly monsters, all beckoning users to play for free. This is what critics derisively call "slots for tots," which the Nevada Gaming Control Board has outlawed in casinos but has not yet been aggressive about addressing online.
"The millennials are greater risk takers; they've grown up on the technology of video games and watching other young people winning the World Series of Poker [also from Caesars], and they think they are smarter than everyone else," says Jeffrey Derevensky, a professor of applied child psychology and psychiatry at Montreal's McGill University and one of the world's leading authorities on youth gambling addiction. On average, he says, 5 to 8 percent of university students are what he would classify as "at-risk gamblers," with 2 to 4 percent suffering from "a serious gambling addiction."
"Online and mobile gambling is going to be a big thing, and those aged 18 to 25 have the highest prevalence of gambling-related problems among adults," says Derevensky, who has treated dozens of kids at McGill's International Centre for Youth Gambling Problems and High-Risk Behaviors.
One of the hardest parts of the job, Derevensky says, is "getting parents and teachers to realize the dangers of gambling are often no less severe and sometimes much greater than drinking, reckless driving, drugs and unprotected sex." Once hooked, kids can take years to recover—or never recover—with the most severe cases only able to substitute one high-risk behavior for another. Some kids even commit suicide. "Once they're addicted, these kids will take their parents' credit cards, gas cards, anything they can find to gamble with," he says. "I had one kid, being raised by a single mother, who stole two of her credit cards and lost $20,000 on PokerStars in one month."
Released last year, the fifth edition of the American Psychiatric Association's Diagnostic and Statistical Manual of Mental Disorders, commonly referred to as the DSM, sets up criteria for research into "Internet Gaming Disorder." The association said that studies of young Asian males indicated "that when these individuals are engrossed in Internet games, certain pathways to their brains are triggered in the same direct and intense way that a drug addict's brain is affected by a particular substance."
Marc Potenza, a professor of psychiatry at Yale University specializing in the neurobiology of gambling, impulse control and addictive disorders, has noticed the same link. "We are only beginning to understand this condition and the potential for treatments, using brain imaging to investigate the neurocircuitry that underlies human decision making and similarities between substance abuse and gambling disorders," he tells Newsweek.
He worked with two research groups for the DSM-5, which now recognizes gambling disorder as a behavioral addiction. One revelation thus far: While U.S. law makes a clear distinction between online gaming for real money and virtual money (with the former being more heavily regulated), the human brain may not make the same distinction when it comes to getting addicted. "This is something we are actively investigating," Potenza says.