Less than three miles from Yankee Stadium, the colorful storefronts of African markets lining the Grand Concourse are some of the first signs of a bustling Bronx community that includes immigrants from those West African nations hit hardest by the recent and unprecedented outbreak of the Ebola virus.
We are here today looking for bushmeat, the butchered harvest of African wildlife, and an ethnic delicacy in West African expatriate communities all over the world. A turbaned woman smiles vividly when we enter one small market with canned goods displayed in its window, but the light in her eyes immediately dims when we ask about bushmeat. Shrugging, looking away, she says she knows nothing about it and then, after a moment's calculation, asks us to repeat the word, as if she didn't understand what we had said.
In another narrow store, the heat and stench assault us as young children improvise hopscotch on the tile floor before the meat counter. They, too, curtly claim ignorance of bushmeat.
Back outside, the afternoon sun beats down while a man dressed in loose white garments and carrying groceries walks toward us, trailed by a young girl, his daughter. We ask if he eats bushmeat. "Sure," he says.
Paa George Appiah is from Ghana, but has been living in New York for 10 years. A former GNC employee, he sidesteps questions about his current work status, but is cheery and candid when it comes to bushmeat. "Akarnte is the best, my favorite," he tells us. Akarnte, he explains, is a type of "grass-cutter." His brief curbside mimicry of buckteeth suggests a large rabbit, but the grass-cutter is in fact a large rodent, more commonly called a "cane rat" in the U.S. Cane rats are similar in appearance to a guinea pig, prized as a source of protein throughout Ghana and other parts of West Africa, and officially unavailable anywhere in the United States.
Bushmeat, which can range from bat to monkey to lion, including a number of endangered species, is beloved by many African-born Americans, despite the fact that it is illegal in the U.S. In the Bronx, the high price (up to $100 for six or seven pounds, Appiah tells us) attached to bushmeat (or viande de brousse, as it is known in the French-speaking world) indicates a luxury indulgence in the same way illegally imported caviar might for Russian émigrés in Brooklyn.
Bushmeat may be a luxury, but it may also pose a deadly threat. A memo obtained by Newsweek that circulated among customs officers and agriculture specialists in 2007 noted that bushmeat is "a potential vector of diseases such as Monkeypox, Ebola Virus, Severe Acute Respiratory Syndrome (SARS) and other communicable diseases."
Seven years later, the worst Ebola epidemic in history is ravaging West Africa.
As the world watches the devastation the disease is bringing to Guinea, Liberia, Nigeria and Sierra Leone, many worry about what could happen if the virus makes it out of the region. Two Americans stationed in Liberia, Dr. Kent Brantly and Nancy Writebol, were infected with the disease in mid-July. Soon after, the U.S. sent specially designed medical evacuation planes to fly them back to Atlanta for treatment at Emory Hospital, near the headquarters of the U.S. Centers for Disease Control and Prevention (CDC).
Since then, social media have been ablaze with fearmongering, with many posts calling for the patients to be kept out of the country. A highly publicized tweet from Donald Trump was a fair representation of the public apprehension: "Stop the EBOLA patients from entering the U.S. Treat them, at the highest level, over there. THE UNITED STATES HAS ENOUGH PROBLEMS!"
Since Brantly and Writebol have settled into their hospital isolation units, those fears have shifted to the unknown: the possibility of an asymptomatic traveler boarding a flight in Africa destined for the U.S. In the most dire versions of this story, the virus spreads rapidly, killing all in its path, before the authorities can get it under control.
This is a worry shared by many across the world. Some airlines have canceled all flights through West Africa, and some countries have prohibited passengers originating in that part of the world from landing on their soil. Some West African nations are setting up special monitoring protocols at airports in an effort to identify people with fevers—those who might be infected with Ebola—before they board planes. The CDC has placed the three hardest-hit countries on a Level 3 health notice, urging U.S. citizens to "avoid nonessential travel" to Guinea, Liberia and Sierra Leone.
While the focus remains on the passengers of trans-Atlantic flights, there is an additional risk—all but ignored by the popular press and public—lurking in the cargo hold below: bushmeat contaminated with the virus and smuggled into the U.S. in luggage.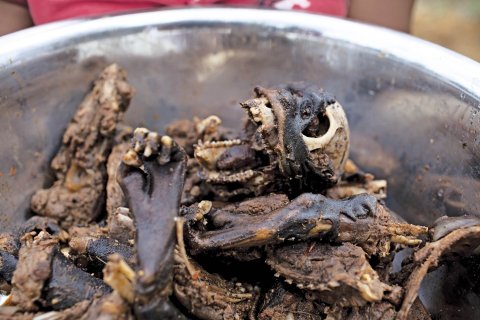 That Special-Occasions Meat
Under U.S. Department of Agriculture rules, not a single African country is allowed to import any meat product, raw or processed. And for years now, U.S. health officials and legislators have been expressing concern over the steady flow of bushmeat illegally imported into the country. Internal documents show that from 2009 to 2013, the U.S. Customs and Border Protection agency confiscated over 69,000 different bushmeat items, with seizures ranging from dried bat to smoked monkey (see sidebar). And that's likely a mere sliver compared with what actually gets into the U.S. At least one estimate puts the number at 15,000 pounds every month.
"Nobody knows" how much of the stuff gets into America, says Allard Blom of the World Wildlife Fund. "It's anybody's guess, really, because there's very little control on the import of bushmeats. You're looking here particularly at Fish and Wildlife Service [FWS], and they have very few agents that are working at these airports, and very few pieces of luggage are actually screened."
Via email, an agency spokeswoman says, "It's misleading to cite only Fish and Wildlife Service staffing levels."
Three other agencies are responsible for enforcing import restrictions, according to the FWS: "Bushmeat as meat is also regulated on import by the Food and Drug Administration (from a human health perspective), Centers for Disease Control (from a human health and primate perspective) and USDA (from an agricultural perspective concerned with animal diseases)." Customs, which works under the Department of Homeland Security, is responsible for coordinating these four agencies. The inadequate enforcement could be a function of this diffusion of responsibility, or there might be "questions about what exactly is legal and what is not," says Blom. In other words, customs agents may simply not recognize what they are looking at when encountering bushmeat.
"I've seen bushmeat being brought into the U.S. in basically big suitcases of smoked meat or coolers brought on planes," says Blom.
Back in the Bronx, Appiah confirms that plenty of the stuff gets past the gatekeepers. "Immigration in America is trying to control it…but always they find a way of bringing [bushmeat] in here," he told Newsweek in his thick accent, adding, "It's all around."
New York City, home to nearly 77,000 West Africans (most of them in the Bronx), is the epicenter of the bushmeat trade in the U.S. There are very few direct flights from West Africa to the U.S.; the majority of travelers first pass through Western Europe before connecting to New York. One recent study estimated that 273 tons of bushmeat is imported into Charles de Gaulle Airport on Air France carriers every year. From France, the imported goods often travel on to America.
Smuggling continues to grow because bushmeat is prized, and increasingly valuable. According to a 2002 congressional hearing, the total value of the bushmeat trade had "reached the staggering level of more than $50 million annually and potentially could grow to hundreds of millions of dollars in the next two decades." Because of the illegal nature of the bushmeat trade, precise data are not available. However, as the number of African-born immigrants in the U.S. has grown in the past decade, it's likely that the trade has increased.
Bushmeat is also associated with magical and medicinal properties—in 1999, two researchers in Nigeria examined the stalls of dozens of traders in traditional medicine ingredients and found 45 different animals for sale (living or dead), including primates, bats, great cats (lions and leopards) and the aforementioned cane rat. In some parts of Western Africa, large quantities of bushmeat must be served to the participants at circumcision ceremonies.
Bushmeat is, for many West Africans, a cultural touchstone. Liberian expat Edward Lama Wonkeryor, a professor of African American Studies at Temple University, told The New York Times that back in the 1970s his mother used to sneak cuts of smoked monkey, bush hog or lion into his suitcase before he returned to the U.S. after a visit home. He would save them for special events, like weddings and christenings.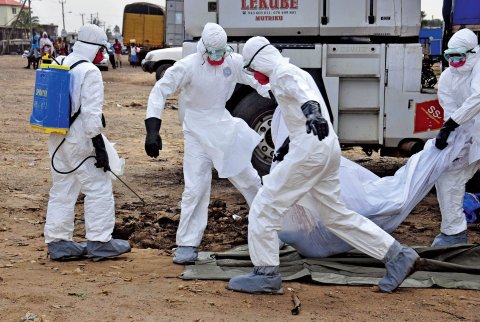 That Most Dangerous Meat
Though researchers cannot identify with absolute certainty the cause of the current Ebola outbreak, they do know the strain of virus, while being similar to the Zaire strain, is indigenous to Guinea, suggesting bushmeat was the source.
Fruit bats are believed to be the "natural reservoir" of Ebola (meaning the virus can live in the bats for years without harming them), and scientists presume the virus makes its way into primates and other animals when they eat fruits half-eaten by and contaminated with the saliva of these bats. From those infected animals, the virus jumps to humans. "Just under 50 percent of Ebola outbreaks have been due to known handling of primate, great ape carcasses," says Michael Jarvis, a virology and immunology expert at Britain's Plymouth University.
The most likely scenario for the jump is when an infected animal is being butchered and blood seeps into a cut on the hunter's (or butcher's) hand. "But we don't know precisely," says Dr. George Amato, director of the Sackler Institute for Comparative Genomics at the American Museum of Natural History. Amato adds that it's also very possible that eating infected, improperly prepared meat could spread Ebola.