The road between the Guatemalan towns of San Miguel Ixtahuacán and Quetzaltenango is guarded by a dozen thin, young, Mayan men in baseball caps and hooded sweatshirts, who mill around a truck parked across the road. "If you are from the mine," the ringleader says, "you can't come through."
A mile or so away, the land falls away into a dust bowl, picked at by heavy machinery – the Marlin gold mine. All along the road, orange cliffs have collapsed onto the tarmac and the air is heavy with the stink of burnt clutches from the trucks that labour up the slope through the mountains, around 50km from Guatemala's border with Mexico. The volcanic peaks are swaddled in gunsmoke drifts of cloud and patrolled by vultures; scattered settlements of adobe houses overlook a deep green patchwork of maize and coffee fields laid out across the ghosts of old Mayan terraces.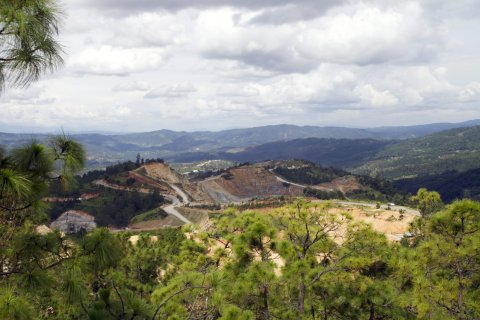 The Mayan Mam village of Agel hangs precariously over the edge of the pit. Crisanta Pérez's house on the edge of the settlement clings to a steep slope that runs down to a long, turquoise tailings pond.
An intense, soft-spoken woman, "Doña Crisanta" is the figurehead of a peaceful resistance in San Miguel Ixtahuacán that has formed to protest the mine's continued presence. Dubbed terrorists and enemies of progress by the state, the Frente de Defensa Miguelense is one of several Mayan-led protest groups across Guatemala that are facing down assassinations, detention and intimidation to stop their land becoming part of a continent-wide rush for resources.
"My family and I have been intimidated and criminalised," Pérez says. "But I won't give up. Who is going to do it, if not me?"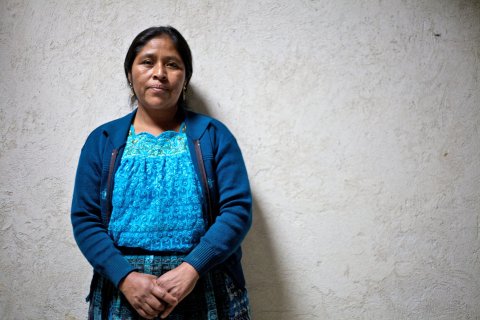 Pérez and her fellow community leaders say that the Marlin mine has contaminated the water sources that they use to wash and irrigate their crops and that the subterranean explosions have caused houses to collapse – charges that the mine's owners, the Canadian firm Goldcorp, deny. Newsweek was shown evidence of skin conditions and severe neurological diseases that local health workers believe are the result of heavy metal poisoning, but, without independent medical assessment, their claims are hard to verify.
For the majority, the economic opportunities that the mine promised never materialised. Many, like the men manning the roadblock, sold their land and bought trucks, hoping to haul for the mine – their vehicles, daubed with religious icons, sit idle by the road. The Mayans' anger goes deeper than individual grievances, however. The Mam, one of several Mayan nations in Guatemala, make up the majority in San Marcos. They number around 650,000 in the western highlands. On the other side of the mine, another nation, the Sipakapa, are also actively resisting the development. Both groups say that they were never consulted before work began on the pit, that their land was simply taken by a central government that does not represent them. This, they say, marks the continuation of centuries of marginalisation and discrimination – what rights they have won have proved secondary to the demands of commerce.
The Mam and Sipakapa see the mine, the government and private security firms as one entity that work together against them. "They have created a social monopoly. The mine comes to divide us, it causes conflict, psychological trauma, social repression," says Rolando Cruz, a leader of the Movimiento de Resistencia Sipakapense, a resistance group in nearby San Isídro. "And they did not consult us."
The Mayans' response has been escalating levels of protest and direct action. They have blocked roads, seized mine equipment and led demonstrations against company activities. Their campaign has been met with startling levels of violence.
Téodora Hernandez was shot in the head and left blind in one eye by two men who came to ask her why she would not let a road pass through her land. Francisco Javier Hernandez Peréz, a leading voice opposing the development, was doused in petrol and set alight in 2011 by hooded men who identified themselves as supporters of the mine. His wife, Victoría Yóc, witnessed the attack; her neighbours heard her screaming across the mountains. Others have stories of near misses: Miguel Angél Bámaca, a health worker who has documented cases of suspected poisoning, was shot at in his home.
Often, the violence is perpetrated by members of their own communities. The limited opportunities that the mine offers have created a powerful incentive for the few beneficiaries – Cruz calls them "traitors" – to crack down on dissent. The brutality has only hardened the resistance's resolve.
"I'm never going to shut up," says Victor Vicente Pérez, a Mam community leader. "I know I have the right to speak the truth . . . The [mineworkers] have tried to intimidate me with rumours that one day soon I'll disappear, but I know I'm fighting for my rights and I'm willing to die for that."
Marlin is one of over 100 metal mines currently operating in Guatemala. There are close to 350 active licences for exploration or production, with nearly 600 pending as the government, supported by the international financial institutions, promotes the sector as a way to raise revenues. Only 2% of the country's gross domestic product (GDP) is based on mining, and the government hopes that the sector may offer a chance at rapid economic growth. Around 75% of the population lives below the poverty line. Infant and child mortality rates are high, and around 50% of children are malnourished.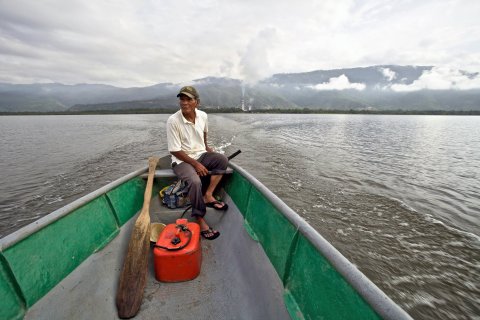 Among indigenous populations, these indicators are worse still. More than 90% of the indigenous population live below the poverty line. International agencies are backing the government's strategy – the World Bank supported the Marlin mine with a $45m loan, part of a wider push to develop the natural resources sector across Latin America.
Guatemala is far from unique. Driven by rapid industrialisation in China and Brazil, miners have flooded into Central and South America, expanding into territories that were previously considered too risky or too difficult to develop. Last year, Latin America attracted nearly $230 billion worth of mining investments – around 30% of the global total – according to SNL Metals & Mining, an industry research company. In the rush to make land available for investors, governments across the region have backtracked on hard-won promises to preserve indigenous peoples' land.
In theory, their communal right to land is enshrined in law; according to International Labour Organisation standards, these communities need to give free, prior and informed consent for any mining project that conflicts with those claims. In practice, a complicated system of land titling, and the constant re-evaluation of boundaries by local and national governments has created a vacuum of human and property rights. In several cases, land titles are locked in near-permanent cycles of legal appeals; in others, paperwork has gone missing from government offices, leaving Mayan communities unable to dispute encroachment on their land.
A report by the International Commission of Jurists in March of this year said that indigenous communities face enormous cultural, social and economic obstacles to achieving justice for violence and human rights abuses perpetrated against them by private or public sector actors.
As Carlos Loarca, the director of a Guatemalan legal organisation, Plurijur, explains, the exclusion of the Mayans from the formal legal system leaves them with few choices but direct action. For the past seven years, Loarca has been working with communities in San Marcos to encourage them to take their cases to international fora, in particular the Inter-American Commission on Human Rights. Those processes move slowly, though, and this is a critical moment for the Mayans.
Old conflicts have been reignited by Guatemala's new economic logic, and lands lost now may never be reclaimed.
In May, Guatemala's president, Otto Pérez, came to El Estor, a town on the shores of Lake Izabal, in the country's east, to attend the inauguration of the Fénix nickel project. El Estor's population is 90% Mayan from the Q'eqchi nation. Bracketed by miles of sugarcane plantations, the mine, a cluster of helter-skelter chutes, smoking chimneys and giant tanks, was closed for three decades until a new licence was issued to a Canadian company, Hudbay Minerals, in 2006.
Soon after, attempts to move the Q'eqchi from the surrounding land intensified. Three lawsuits are awaiting trial in Canada, alleging that mine security was complicit in the 2007 gang rapes of Q'eqchi women, the 2009 murder of community leader Adolfo Ich, and the shooting of another Mayan, German Chub, who was left paralysed. Hudbay denies responsibility.
In 2011, after struggling to make the project pay, the Canadians bailed out, selling it to the Solway Group, a Russian-owned investment company based in Cyprus, who did not respond to requests for comment for this article. The problems, which the local communities attribute to private security contractors, continue. The mine's explorations have already crept far up the mountainsides, but the owners want to expand further, into the "Lotes" – numbered plots owned by Mayan communities.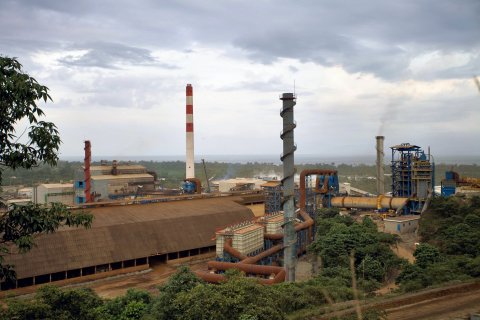 Rodrigo Tot, who heads the community of Lote 9, which the mine wants to explore for nickel, is one of the Q'eqchi's foremost protest leaders. Five feet tall but powerfully built, he has already lost one son to the fight for his land. In October 2012, Edin Tot was shot while riding a bus to Rio Dulce, three hours away by road. His brother Wilfriedo, riding with him, was hit in the face and chest but survived. Hijackings are common on Guatemala's roads, but they also make useful cover for assassinations. No arrests have been made, and Edin's murder has been referred to the Inter-American Commission on Human Rights.
In June, two weeks after the Fénix project's inauguration, the pressure on Lote 9 suddenly increased. Armed private security attempted to break up a meeting of the resistance on June 7th, resulting in a two-day standoff, during which the communities were surrounded by roadblocks and pinned on the mountainside. Finally, on June 9th, Tot and his comrades marched towards the guns and riot gear. The local police, fearing a massacre, withdrew. Eventually so did the security contractors, leaving behind a military ID and three cans of US-made "Eliminator" pepper spray. Tot's community is preparing for when they come back.
Generations of development – palm oil, sugarcane and tourism – have pushed the Mayans from their land, and delivered few benefits. Now, Tot says, they have to make a stand. "They have already pushed us from the fields," he says. "Now they want to push us from the mountains too. Where are we supposed to go?"