There has always been an uneasy relationship between music festivals and food. Woodstock, which kicked off the modern era of rock festivals in 1969, had a big problem because no established food vendors would get involved. For a start, they didn't know how many people would turn up and, besides, hippies were not thought of as big spenders. In the end, 400,000 people survived on free handouts of granola after the hot dog stands were burnt down when they rashly quadrupled their prices.
Now, almost exactly 45 years later and near another place called Woodstock, adjoining the estate of the Duke of Marlborough in Oxfordshire rather than Yasgur's Farm in upstate New York, the Wilderness Festival offered food from renowned chefs plus food stalls ranging from the Meatcure Smokehouse to the Garlic Farm Field Kitchen.
There is nothing new about interesting food being offered at festivals, but it seems to have reached a peak at the Wilderness Festival, where all the food events sold out, such as 500-person banquets with Simon Rogan, Angela Hartnett and Russell Norman. The price of a Banquet at Wilderness starts at £55 for lunch and top price is £75 for dinner. This includes a welcome cocktail and wine.
Then there were the side events like Chef's Table meals of 18 with up-and-coming chefs such as James Lowe, James Knappett and Scott Hallsworth. On an even smaller scale, there were foraging parties taken around the perimeters of the festival looking for edible mushrooms and flowers. The 22,000 festival goers at Wilderness tend to be affluent and older than the normal festival crowd. They need to be because after a couple pay their entrance fee, rent a small pavilion and have three meals, they could easily spend more than £1,000.
One banker friend of mine in London confessed it was the first festival he had ever attended and, while he and his family had a great time, the only disappointment was he was unable to bring along a case of his best Bordeaux because of the ban on glass bottles at the festival.
Inevitably, the whole event was dubbed "Poshstock", perhaps because David Cameron, a neighbour, occasionally drops by with his friends. Other guests at this year's event included Prince Harry and Mark Carney, the governor of the Bank of England, and his wife Diana, who just happens to be the sister of Lady Rotherwick, whose family own Cornbury Park, the site of the festival.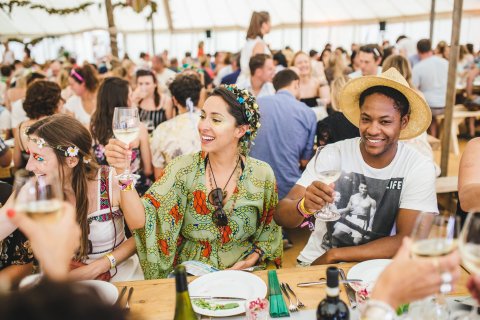 The expression "food is the new rock'n'roll" may be simplifying matters too much, but chefs certainly have pulling power similar to that of rock stars. The stage at Wilderness tried to accommodate a variety of tastes, ranging from London Grammar, Metronomy and Burt Bacharach, but the quality of the yoga events and intellectual debates plus the food offerings almost made the music a sideshow.
But how does a music festival produce such first-class food in a field in the Cotswolds? According to the food organiser, Clare Isaacs, tickets for the banquets, limited to 3,000, sold out in the first week. "We saw the opportunity to give food and the eating experience a bit of the festival spirit, hence these very big banquet-style events," she says.
"It takes six months to sort out these banquets. The head of the caterers we use has to go to the chef's restaurant and work in their kitchens and cook the meals they want to present so they understand as much as they can about their development." With chefs like Rogan, who uses a considerable amount of foraged produce, some of the dishes had to be changed because not enough of the ingredient could be found in time.
Hartnett, who is better known for her high quality Italian restaurant Murano in Mayfair, says festival events require an entirely different approach. "I wouldn't want to attempt 400 dishes from Murano – much better to do it family style with sharing plates of pasta or sea bream in the middle of the table. It is more about hospitality than the food."
As well as banquets, there was another tier of food events, feasts. These delivered first-rate food for more reasonable prices and were on offer from chefs such as Samuel and Sam Clark from Moro; Mark Hix of his eponymous establishments in London and the St John Dining Room, run by Margot and Fergus Henderson. Moro's cuisine is inspired by Morocco and the Middle East and was held in a tent transformed into a souk, which served 1,000 people a day. Samuel Clark has been involved with all four of the Wilderness festivals and has seen a transformation in standards.
"In the past, festival food was usually over-priced disgusting greasy rubbish eaten by people who had drunk too much or over-indulged in a number of illegal substances." He thinks the choice and quality are astonishing: "Although it can be mad show business, dealing with water pipes running dry or power cuts forcing chefs to see from the light of their iPhone screens." The quality of the food served though, was first-rate with chilled yoghurt and cucumber soup or ­perfectly cooked charcoal grilled butterfly leg of lamb. "You have to be clever about the dishes you choose, but that comes with experience. Everything has to be cooked fresh every day as there is not enough refrigeration to store prepped ­ingredients."
To give an indication of how far festival food has come from its origins, Moro's neighbouring Morito Bar was offering tutored tastings of ­sherries on its opening nights and elsewhere, Laurent-Perrier had its own orangery bar, complete with a Noel Coward crooner.
At the top end of the spectrum, the Chef's Table events offered only 18 places for two ­sittings in a three-sided tent overlooking an ­ornamental lake. Here, chef James Lowe managed first-rate interpretations from Lyle's, his new Shoreditch restaurant. To the usual background noise of competing musicians, random revellers and the clatter of power generators, Lowe produced superb dishes such as smoked eel with girolles and duck egg, or his signature dish of raw Dexter beef rib with oysters and bone marrow.
The actual effort involved in getting all of the ingredients on site, plus a dozen or more employees, is hardly a commercial proposition for Lowe. However, he thinks the pleasure of the staff and the challenge of performing in such austere surroundings makes it all worthwhile.
Hartnett agrees: "I think the Brits do these events better than anyone. I have been to some great food festivals abroad, but they are very chef-driven and they are certainly not in the ­middle of a field."