At Le Bristol, the luxury Paris hotel just two blocks from the Élysée Palace, the world's glitterati flash their cash. In 2013 David Beckham spent €17,000 a night to stay in its Imperial Suite during his five-month contract with Paris Saint-Germain Football Club. And, while serving as French president, Nicolas Sarkozy treated Epicure, the hotel's triple Michelin-starred restaurant, like his lunch canteen. (Its famous Bresse hen poached in a cow's bladder costs €270 for two.) But there is one perk the hotel's well-heeled guests get for free: the Bristol's two resident cats, Fa-raon and Kléopatre.
Didier Le Calvez, the hotel's CEO, adopted Fa-raon – that's French for pharaoh – in 2010. He chose the Birman breed for its gentleness. He also thought its rich white coat went well with the hotel's corridors. "Cats are a little touch that indirectly makes us more human, more reachable, and more friendly – all the qualities we like," he says. "When you see the reaction on the client's face, you understand."
These cats are not just cute: they are a canny business ploy. Journalists began purring instantly after Fa-raon's arrival, and film crews have been sniffing around. "He is often requested by the French media for shoots and he now knows how to pose," Le Calvez says. "He stays very calm and shows his best profile."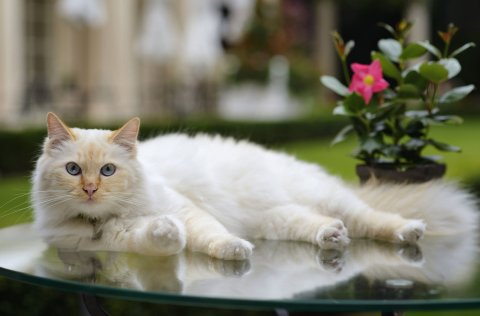 So, in July, the hotel adopted a companion for Fa-roan: Kléopatre. Le Calvez introduced her with an international press conference. Press releases for the hotel are now ostensibly updates on the cats. Fa-raon loves to sleep on the concierge desk and among the roses in the French garden – the largest of any hotel in Paris. Kléopatre often naps in the Castellane room – formerly the Count of Castellane's private theatre, which boasts Baccarat crystal chandeliers and 18th-century tapestries.
Le Bristol isn't the first hotel to understand that animals can act as a business catalyst. The Algonquin Hotel in New York City has kept a series of cats continuously since the 1930s, naming all the males Hamlet and all the females Matilda. Lucky, a baby elephant, lives at the sanctuary at Thailand's Angsana Laguna Phuket. And, at the Safari Collection's Solio Lodge in Laikipia, Kenya, a bush baby named Murray-Anne snacks on sausage flies and demands tickles from guests.
Luxury hotels love their animals, but they may share similar motivations to blue-chip ­companies, who frequently turn to fauna for campaigns. Luke Tipping, a senior interactive creative at Wieden+Kennedy London, developed the #SingItKitty advertisement for British mobile company Three, which features a cat lip-synching Starship's "We Built This City". It's been viewed more than 5.6 million times on YouTube since February. "Animals are popular in advertising because they're aspirational," he says. "They live each day with joy and eagerness. We all want to live more that way."
Luxury brands have always been smitten by animals. Marie-Cécile Cervellon, a professor of luxury marketing at EDHEC Business School in Lille, points out that animal emblems are ubiquitous across high-end fashion and automotives – from Burberry and Hermès to Porsche and Lamborghini. "It's much more efficient to transfer a personality trait through an animal than any other form of representation," she says. "Cartier's panther transfers sensuality and elegance. The Lacoste alligator transfers courage and a winning mindset. It's not by chance the Ferrari logo has a horse. It's power, speed, performance."
Animals provide ­hoteliers with some irresistible storylines. Take The Savoy hotel in London. As the story goes, a South African diamond magnate hosted a dinner for 13 at the hotel in 1898. A few weeks later he was shot dead and, ever since, hotel staff have offered bookings of 13 the option of a 14th guest in the form of an Art Deco sculpture of a cat, named Kaspar, replete with a napkin around the neck and a place setting. In 2013 The Savoy opened Kaspar's Seafood Bar and Grill and commissioned a chrome and resin sculpture of the feline called "The 14th Guest".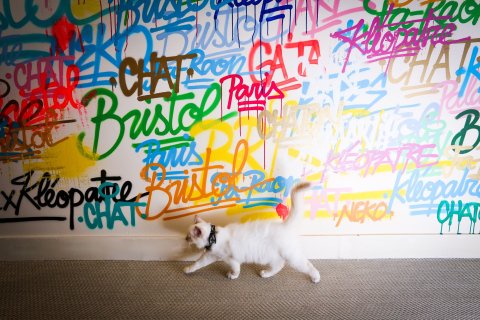 In New York City, the Algonquin Hotel's ­resident cat has another story. According to the hotel, a sad and dishevelled cat wandered into the hotel in search of food in the late 1930s. The hotel's generous owner welcomed him in and served him milk in a champagne glass. Matilda III, the hotel's tenth resident cat, is the latest incarnation of that original.
Alice de Almeida, an executive assistant at the hotel, describes herself as Chief Cat Officer, and handles all of Matilda's emails. Matilda frequently hosts charity fashion shows for pets, which benefit local animal shelters, and her birthday parties have been covered by tabloids, newspapers and glossy fashion magazines. "The parties are very popular and people ask about it all year long," Almeida says. "We have some ­people who stay with us just to attend."
Luxury hotels work hard to nurture their relationships with families, who tend to stay at the same hotels as a matter of tradition. Getting in with their children – tomorrow's millionaires – builds brand loyalty for the long haul. Fa-raon and Kléopatre have also helped drive business relationships. Luxury brands have rushed to kit out the kitties, hoping the feline lustre would rub off. Last year Maison Goyard, the oldest Parisian trunk maker still in operation, celebrated Fa-raon's third birthday by gifting him a range of luxury pet accessories.
Despite all the attention the cats bring the hotel, Le Calvez insists he has never viewed them as pawns in a marketing strategy or a way to boost the bottom line: "You have the most famous people in the world coming to the hotel and the first thing they want to do is take a picture with the cats," he says. "Whether mega-stars or major royalty, they all fall to their knees."