Phillipp Litz raced down the smooth, empty asphalt of an airport runway at the breathtaking speed of 60 km an hour last week for a glimpse of not very much. Child care worker Jan, 27, paid €10 for his trip to the wilderness that is Berlin-Brandenburg Airport. The bus carrying passengers on the grandly named BER Experience – BER being the International Air Travel Association's moniker for the airport – roamed freely on tarmac that should, by now, be jammed with jetliners bringing millions to and from the German capital.­
In the distance Jan saw empty trains travelling to and from empty terminals: they do this to stop the tracks rusting and to keep air circulating in the numerous tunnels they pass through. BER officials talked to him and other visitors in upbeat terms of what the traveller can expect when the airport finally does open. "It was all a bit jam tomorrow," said Jan. "Especially when you consider when it was supposed to open."
He came away with the impression that what started out as Germany's most prestigious building project has now morphed into a national disgrace, deserving of the jokes from TV hosts to club comedians. "At least," he added, "I get the jokes now."
Delays in the opening of Berlin's international aviation hub, initially slated to begin operating in 2011, are costing €20m each month. It even costs some €150,000 every four weeks to clean the terminals that have not yet seen one passenger pass through them, and €12,000 a month to keep them lit to prevent vandalism at the site come nightfall, according to figures released by the operating company charged with building it.
The airport claimed its first significant political scalp with the city mayor, Social Dem­ocrat Klaus Wowereit, announcing last month that he will leave office two years early in December this year.
Wowereit has served for 13 years, currently leading a coalition of the SPD and the conservative CDU. He was once considered a possible candidate to run for chancellor on the SPD ticket last year, but his personal poll ratings tanked on the back of the BER project, the ongoing debacle of which happened upon his watch.
In 2006 the airport was projected to cost €2.83bn. Those costs have already nearly doubled due to a series of calamitous errors including construction flaws: a fire extinguishing system that doesn't work, a corruption scandal, leaking subterranean tunnels carrying miles of electric cabling, faulty baggage delivery sensors and a computer system that is allegedly so complex only a handful of IT wizards can actually understand it.
There is still no fixed opening date for the airport designed to showcase a reunited Germany in a reunited Berlin, but it will likely not be before 2016, and probably later than that, said the Berlin Senate. The final cost, according to BER boss Hartmut Mehdorn, will be more than €5bn, but no one is really certain anymore.
Rainer Brüderle, leader of the opposition party liberal Free Democrats in the Bundestag accused Berlin's mayor of "turning the city more and more into an international laughing stock", and, in that sentence, captured the national mood about the project.
For a nation that prides itself on technical excellence, whose machine tools, fridges, cars, turbines, ships and trucks are bywords for quality the world over, what has happened is both baffling and humiliating.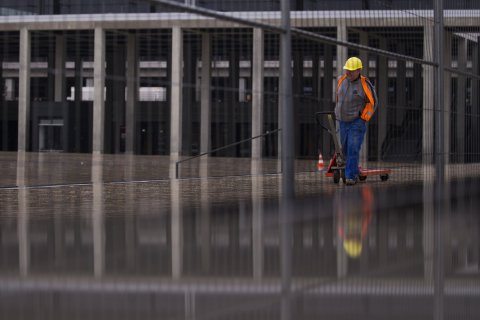 But it is only the poster child for an astonishing dip in the vaunted German efficiency model in prestige construction schemes across the country. Many have been mired in delays and cost spikes. Included in the list are Leipzig's new three-mile rail tunnel intended to be the centre of a new regional train network. It finally opened in May this year at a cost close to £1bn – double its estimate and five years late.
Another colossal white elephant in the making is the Elbphilharmonie concert hall in Hamburg, which was originally due to be finished by 2009 at a cost of €180m. Costs have now ballooned close to €800m and an opening date of 2016 seems unrealistic. In May, a parliamentary investigative committee produced a 640-page report documenting a seven-year history of misinformation, incorrect cost estimates, and flawed expert assessment in the construction of the building.
The report detailed breathtaking largesse with the taxpayer's money: €300 spent on each toilet brush for the lavatories, and €1,000 on a single paper towel dispenser.
Politicians are talking of at least one possible criminal charge being levelled against the state-run company in charge of the project, which, the report said, had willfully misinformed the state parliament "through all phases, from cost prognoses to contract agreements up to the cost increases and the resulting additions."
Way down south in Stuttgart it is the same story. Stuttgart 21 is a plan to convert the old terminus railway station above ground into an underground hub servicing most of southern Europe. A €5bn price tag will now be more than €6.5bn, and national railway company Deutsche Bahn says it is only completing the project because to write it off would cost even more money.
In Cologne, a subway line was begun in 2004 and scheduled to open three years later. In 2009 it was still being dug when a tunnel collapsed, pulling the city's historical archive building into the chasm, killing two people and causing damage estimated at €1bn. In 2000, the estimated cost for the project was €600m, but it has soared to €1.04bn. Part of the line has already opened, but it could be 2019 or even 2022 before all of it is operational.
Even the European Central Bank, nanny to a continent being told to pull its financial reins in, is victim of the malaise. On May 19, 2010, Jean-Claude Trichet, the ECB's president at the time, broke the ground for a banking HQ and promised strict oversight on costs.
Three and a half years later, the building in Frankfurt's Ostend district is still unfinished. Instead of the original estimated cost of €850m, the entire project will now cost over €1bn with costs to date running at €350m. The ECB has also had to postpone its move. Originally scheduled for completion in 2011, the building is now not expected to be ready for occupancy until at least the end of 2014.
There are several others, including the rebuilding of Berlin's Stadtschloss Palace, around the country consuming cash at a phenomenal rate. These hammer blows to German pride and efficiency are, say critics, the result of a culture of political dishonesty. Politicians were not forthcoming about the problems that could have lain in store for the prestige projects when first announced.
"Many politicians want prestigious large-scale projects to be inseparably connected with their names," said Sebastian Panknin, a financial expert with the Taxpayer's Association Germany. "To get these expensive projects started, they artificially calculate down the real costs to get permission from parliament or other committees in charge. Then there is no real oversight until the building starts and the problems begin. It has led to this staggering fiasco in Berlin."
Town planner Karlheinz Roessler laid the blame at the door of the system of governance. "Politicians have monuments built. But mostly they are no longer around when the costs of the project they have begun have exploded," he said.
A 2009 study entitled "Survival of the Unfittest: Why the Worst Infrastructure Gets Built," by Danish researcher Bent Flyvbjerg of Oxford University argued that "it often isn't the best projects that are completed, but those that are made to look best on paper. Those, of course, are projects that amass the highest cost overruns and benefit shortfalls."
Werner Rothengatter, a researcher at the Karlsruhe Institute of Technology, believes that, in many instances, the false calculations are deliberate. He has studied major public works projects around the world.
"There's a similar pattern in democratic societies, where politicians have a tendency to deceive the public about the actual costs of these projects. If you provide honest answers at the outset, chances are you won't get them off the ground."
Now comes the threat of new problems. Aviation experts are warning that, by its inauguration date, the airport will already be too small to handle the rising number of passengers.
The nearly 3.9-million-square-foot airport complex was designed to handle 27 million passengers. But the existing two city airports handled 25 million passengers last year – and the city keeps attracting more visitors every year.
"The airport is too expensive, too small and too much behind time," said aviation expert Dieter Faulenbach da Costa. "And that may yet turn out to be the biggest joke of all . . ."