A young man leans against a bar. He is bearded and gaunt, radiating hipster vibes. All around him, the club, like so many others on the frayed edges of Manhattan's Financial District, fills with bankers and lawyers. As evening deepens, things get ever more rowdy, and the young man, who seems lonely, looks ever more so.
But this is not an ordinary night at an ordinary bar. On this rainy spring evening, the M1-5 Lounge has been commandeered by alumni of Dartmouth College (including the writers of this article, who both graduated about a decade ago) for a beer pong tournament, which explains the many young graduates gathered around a half-dozen wooden tables crowded with cups of watery beer. Eventually, after a full six hours, two champions will emerge from this boozy haze. And then everyone will step out into the wet Manhattan night and become responsible adults once again.
Pong is more than a game at Dartmouth; it is a symbol, maybe the symbol of the school. It is a seductive relief valve on a campus where "Work hard, play hard" has become an unofficial motto. It is also a public health pestilence that, critics say, vanquishes both brain cells and intellectualism. Worse yet, it is at least partly responsible for what some say is an epidemic of binge drinking and sexual assault on campus.
Many think this is a national epidemic, a chronic problem we have ignored for a good half-century. If that is true, Dartmouth serves as a case study of what happens when 18-year-olds are suddenly endowed with all the beer and sexual freedom they could possibly want. It is the smallest and most remote of the eight Ivy League schools—respected, well known, the perfect microcosm for what challenges the success of American higher education. Perhaps that's why it's been the subject of some brutal headlines over the last year: "Dartmouth in the Glare of Scrutiny on Drinking" (The New York Times); "Dartmouth vows to curb student misbehavior" (The Boston Globe); "How I Became an Alcoholic and Failed Out of Dartmouth" (Business Insider).
Every elite college endures spells of damaging publicity, partly out of public fascination and probably a little envy. The public rightfully expects more from the nation's best and brightest, so when Harvard students cheat en masse on their exams, a Cornell student dies from fraternity hazing or Yale fraternity pledges celebrate sexual assault with crude chants, the condemnation is swift and merciless. But while other top-ranked schools have transcended their scandals, Dartmouth seems trapped in a keg of sour beer. The problem is that the school's beloved pong culture is, well, a big part of the problem.
At the alumni beer pong tournament in Manhattan, nobody seemed especially concerned about any of the above, or about the fact that Dartmouth is one of 76 colleges being investigated for its handling of sexual assault cases by the federal Education Department; about the recent news that applications for the class of 2018 to Dartmouth fell by 14 percent from the previous year, by far the biggest drop in the Ivy League and the biggest decline at the college in years. While these latest blows could cause the value of a Dartmouth degree to decline, the price of that degree will likely remain stratospheric: Dartmouth is the second most expensive college in the Ivy League, after Columbia.
That lonely young man at the alumni pong tournament, Nathan Gusdorf, knows all this. And unlike the others gathered here, he can't seem to give himself over to the evening. Gusdorf graduated in 2012, after what he says were four unhappy years at Dartmouth. He tried fraternity life, but it wasn't the right fit for the St. Louis native. In his senior year, he started an Occupy Dartmouth encampment on the college green, moving from the fraternity basement into a drafty tent.
"I hate pong for so many reasons," explains Gusdorf, who says he came to the event to see a friend. "Dartmouth students generally don't talk to each other in their social spaces.… Everyone spends all their time playing this stupid game."
As beer-soaked pingpong balls bounce all around the room, he laughs: "I remember why Dartmouth sucked so much."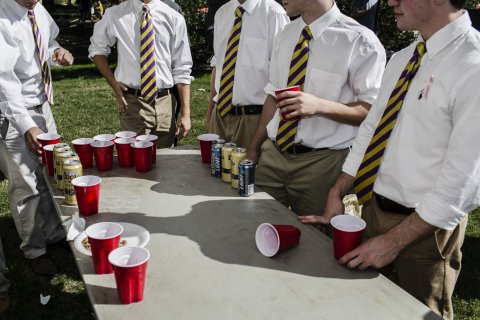 A Voice Puking in the Wilderness
Tucked away deep in the heart of Rockwellian nostalgia, Dartmouth was the place of which Dwight Eisenhower said, "Why, this is how I always thought a college should look." That was in 1953. Sixty-one years later, maybe too little has changed. Dartmouth was the second-to-last Ivy League college to admit women, while The Dartmouth Review made the campus seem, to some, like a Reaganite stronghold well into the Clinton years. The school's motto—"The voice of one crying out in the wilderness," from the book of Isaiah—can feel a bit too spot-on when snow starts falling in November and even Boston feels like a universe away.
Most beer pong historians believe that the game was founded at Dartmouth, making the school a natural epicenter for the increasingly urgent conversation about binge drinking on college campuses. Drinking games explain so much about the American college experience—creative inebriation, celebrated during four years of parent-less social and sexual awakening. And pong explains a good deal about Dartmouth—all that is loved and loathed about the school. Pong there is akin to football in Texas or hockey in Minnesota, a hallowed pastime that's almost universally embraced and (until recently) infrequently questioned. It's less a drinking game than a drinking sport, so infectious and entertaining that it makes binge drinking attractive to even the least likely binge drinker.
The most popular drinking game on American college campuses is arguably Beirut, which involves tossing pingpong balls into cups of beer on the other side of a table. It is the simpler, more accessible version of Dartmouth's pong, which demands far more coordination, communication, agility and athleticism. In return, you will be either victorious or drunk. Or both.
The Dartmouth weekend begins on Wednesday night, when the 30 fraternity, sorority and co-educational houses hold their weekly meetings. For the next four days, campus social life largely revolves around pong. Walk into a fraternity house (and many sororities) on a Saturday night and you will almost certainly find the ground floor empty. For some reason, these beery contests are rarely played aboveground, which gives the game an underground feel, literally and figuratively. Venture deeper into the house and you will hear the game's telltale sounds: the click of bouncing pingpong balls and exclamations of "Ohhhhhhh!" followed by the congratulatory crack of paddles slapping against tables. Beneath your feet, the floor vibrates with the reliable oomph, oomph of a subterranean base beat. There, in the basement, pong thrives.
The scene down below is like a sparring gym crossed with a German beer hall, illuminated like an airport bathroom (and often smelling like one, too). The battleground is not an actual pingpong table but a 9-by-5-foot sheet of plywood placed atop two large trash bins, with a broomstick, pipe or towel serving as a net. Two-person teams face off in games of two-cup, shrub, tree or ship, all of which involve different arrangements of beer cups on the table. Instead of tossing pingpong balls, as in Beirut, players break the handles off of pingpong paddles and grip what's left by the belly, lofting the ball back to the other side, aiming for cups that are filled to the brim with beer. Eventually, all of those 16-ounce cups will find their way to someone's lips; if they don't, the contents will end up in a garbage can, a dim corner of the basement or on the floor, where the beer will turn into a sticky substance known as mung. All the while, young men and women watch the games from the sidelines, talking, flirting and drinking, some of them waiting to play on the next free table, others content to watch for hours.
"It's like you're playing a real sport. And if you're an athlete, the drinking becomes secondary," says a female Dartmouth graduate from the early 2000s. "I played so much sober pong when I was in season. I went out on Wednesdays, Fridays and Saturdays, and I would play with water. It's fun even if you subtract the alcohol."
Then, come Monday, it's back to James Joyce and rowing practice.
Dartmouth's fraternities began as literary societies. In the mid-19th century, these gradually morphed into fraternities. The first was Psi Upsilon, founded in 1842. This is where F. Scott Fitzgerald would go to drink during a boozy 1939 weekend supposedly researching the school's famed Winter Carnival with future On the Waterfront screenwriter and recent Dartmouth graduate Budd Schulberg. The other fraternity visited by this sloppy duo was Alpha Delta, which was to become the inspiration for Animal House, the 1978 cult fave about a fraternity that fought for the right to party. One of its writers, Chris Miller, was a member of Alpha Delta in the early 1960s. (The fraternity's reputation lives on; today, its basement boasts a trough along the room's walls, into which people pour beer, expectorate and release other bodily fluids.)
Given the quantities of beer involved, the prehistory of pong is appropriately vague. This much appears to be beyond dispute: The game has its birth at Dartmouth sometime in the decade or so after World War II, when fraternity brothers started placing cups of beer on pingpong tables "just to make it interesting," says a member of the class of 1970. In this hybrid game, anytime a young gentleman hit one of the cups of beer during play, he won a point and his opponent drank a sip. If he managed to land the ball into a cup, his opponent chugged the beer and refilled.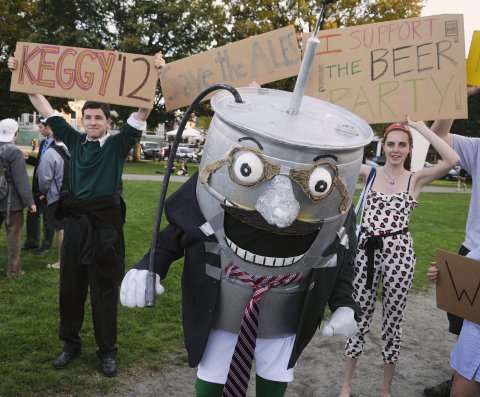 Increasingly, beer came to dominate and the "ping" withered away. And once pong was born, it spread across campus and then, quickly, beyond Dartmouth's wooded enclave to small colleges and large state schools alike, where it dovetailed perfectly with college students' desires to escape parental confines and have a little fun.
A handful of searches on Instagram brought up photos of brightly painted pong tables with games at various stages of play, the competitors in various stages of undress, the floors covered in overwhelming heaps of plastic cups and beer cans. One photo in particular summed up the dedication students have to a game that has become the school's inherited folklore. "Pong table complete. Should have been art majors #actionshot," wrote one young man beneath a photo of a meticulously painted table with a majestic green tree painted through its center. On one side: the Ivy League logo along with an illustration of Dartmouth's iconic Baker-Berry Library. On the other side: the words "Chi Heorot Fraternity" and a building that looks remarkably similar to the fraternity. A dark green trim had been painted around the edges. Someone else posted a video of the same table, panning across the slab of wood as if it were a contestant in the Miss America competition, the sounds of bouncing pingpong balls in the background.
In a sign of the game's legitimacy today, pong has gone corporate. The novelty store Spencer's has a section devoted to pong supplies: A glow-in-the-dark pong table can be yours for $129.99. The organization BPONG, meanwhile, exists solely to bring "a once underground sport to the forefront of mainstream America." Founded in 2001 by Carnegie Mellon graduate Billy Gaines, BPONG hosts a World Series of Beer Pong. The group's motto is "Sink it. Drink it. Pong Happy," which is both clunky and telling.
Pong has even been spoofed on Saturday Night Live and was the subject of a much-watched Jimmy Fallon skit featuring a shoeless Diane Keaton. Last spring, when Dartmouth graduate and show-runner Shonda Rhimes, creator of Scandal and Grey's Anatomy, gave the commencement speech at graduation, she said, "We have been given a gift. An incredible education has been placed before us. We ate all the fro-yo we could get our hands on. We skied. We had EBAs at 1 a.m. We built bonfires and got frostbite and had all the free treadmills. We beer-ponged our asses off."
All of which is to say that pong is an incredibly efficient and popular fun-delivery system. Too efficient, perhaps, turning bright 18-year-olds into the sorts of drinkers who can down five beers, puke, then down five more.
For some, this is the stuff of a great college experience. Two years ago, a 1988 graduate of Dartmouth, Naked Economics author Charles Wheelan, gave a Class Day address in Hanover that was subsequently published in The Wall Street Journal and went viral. His first piece of advice? "Your time in fraternity basements was well spent." His reasoning? "One of the most important causal factors associated with happiness and well-being is your meaningful connections with other human beings." More recently, a study found that college graduates who joined fraternities or sororities are largely happier, healthier, less stressed about money and more engaged in their jobs than their unaffiliated peers. They also have a better sense of well-being and a stronger social support system.
As far as pong goes, in 2007 a writer for the Yale Daily News rhapsodized about the game's "socially redeemable" qualities, also arguing that "most beer pong players get more satisfaction from winning than from drinking."
Others are less sanguine about what pong has wrought. "Imagine the valedictorian of your high school class," says a current Dartmouth fraternity member, who asked that his name not be used. "Now put lots of versions of that person in a remote New Hampshire town and try to make them socialize. Now create a game that makes it acceptable (and heavily encouraged) to drink at a pace of six-ish beers an hour without having to say more than a few words to each other. Congratulations, you just created Dartmouth nightlife."