In an interview recorded to mark his birthday, Mel Brooks' celebrated comic character The 2000 Year Old Man addressed what he considered to be the most worrying development in the modern world. His major concern was not, he explained, related to matters such as world peace or the erosion of individual liberty. "It's something much more important than that," he said. "Smell. They are taking our smells away; all of our own individual smells. They have a smell for everything today. Under the arms. Up the nose. In the crotch." The consequence, he complained, was that "You don't know who the hell you're dealing with any more. You can't tell the difference between men and women. You can't tell who's who. And that," he concluded, "is no way to live".
The 2000 Year Old Man was not noted for his insight or perception: he recalled having snubbed such figures as Moses and Jesus ("a thin lad who came into the store but never bought anything") opting instead to worship "this guy called Phil". His fears over the pervasiveness of artificial scent, however, are proving to have been a rare moment of prescience. To most of us, who have long taken for granted the computerised broadcasting of sound and vision, the idea of transmitting smells digitally still seems absurd. So much so that, when I informed friends that I had just taken delivery of a Scentee – a small device which enables its owner to send or receive aromas telephonically – they assumed it to be a joke.
The Scentee may not look like much. A miniature plastic globe, or dongle, it is a little smaller than a cherry tomato, and connects to the audio socket of a smartphone. Download the relevant app, and the device can be activated either independently, by the user, or remotely, when another Scentee owner gives it a call. The dongle glows blue and emits, in a delicate flourish that resembles the vapour from an e-cigarette, the fragrance from whichever chemical cartridge has been loaded into it. Available scents include bacon, short ribs, coffee and buttered potato.
The device was manufactured in Japan, inspired by the research work of Adrian David Cheok. The award-winning scientist, formerly head of Singapore's Mixed Reality Lab, now has the title Professor of Pervasive Computing at London's City University.
The Scentee is still a novelty in Britain; during a demonstration given in June, at the Natural History Museum, many children in the audience argued, with some urgency, that sales would increase considerably should the professor seek to develop a broader range of fragrances, such as camel fart.
The Scent Scientist
Cheok, 42, meets me at his HQ, a small laboratory at City University. An engaging and articulate man, dressed all in black, he looks more like a seasoned rock guitarist than a research scientist. He is accompanied by two of his PhD students, German-born Marius Braun, and Jordan Tewell, from Ohio. "I was especially impressed," I tell Cheok, "when I dialled up the mashed potatoes." (Hearing myself say this, I can't help thinking the professor that, over the years, I have interviewed one man who has walked on the moon, and another who ate an entire Cessna light aircraft in Venezuela, and still this conversation feels as surreal as any I've had). "But what," I ask him, "is the point of this technology? Is anybody actually using the Scentee?"
"Absolutely they are. Previously I was based at Keio University, in Tokyo. We were doing a big project on food media. I was collaborating with a friend, Koku Tsubouchi, who is an entrepreneur. We, the academics, maintained our focus on research, while his company developed a commercial product," which, he says, became the first mobile device for producing smell. "Scentee," he adds, "is a profitable company. They sell thousands of units a month in Japan."
Cheok grew up in Adelaide, where he was born to a Malaysian father and Greek mother. He began his academic life in Australia as an electrical engineer, though it's difficult to imagine him having considered devoting his life to so narrow and orthodox a discipline. You sense in him an unusual confluence of rigour, creative imagination, and just a little mischief. "I can see that this thing is fun," I tell him. "But is it ever going to be more than a gimmick?"
Marius Braun plays a video that was filmed in the Mugaritz restaurant, close to the Basque city of San Sebastián. Andoni Luis Aduriz, head chef at Mugaritz (currently ranked sixth in the world by the British magazine Restaurant) has been collaborating with the inventors of the Scentee. He is famous for shocking and surprising his clientele. Diners are given no advance warning of the menu, whose 20 dishes seek to excite every sense, as well as stimulating emotion and memory.
The video from the Mugaritz shows customers embarking on the traditional first course, which requires each of them to prepare a broth by crushing herbs and spices in a mortar. Armed with a smartphone loaded with the Scentee app, a prospective visitor can simulate the grinding action by rotating the phone's display, where an image of the bowl appears. As the ingredients appear to disintegrate, the Scentee emits aromas of black pepper, sesame and saffron. "The idea," says Cheok, "is that you can virtually experience some of the food in the restaurant."
The professor has also collaborated with the Kraft-owned meat brand Oscar Mayer to produce a bacon-scented alarm clock. Possibly sensing that this innovation may defy the traditional dynamic whereby an invention is created to meet a need, Oscar Mayer has produced an ambitious promotional video, a copy of which is in the lab. We look on as a young woman navigates a landscape of dry ice, dodging a hail of bacon rashers. Wearing a diaphanous low-cut gown which seems recklessly unsuited to these inclement surroundings, she caresses her torso with one hand, and brandishes a spatula in the other.
"At darkest midnight," says a male narrator, against a sequence of erotic images that Ken Russell might have rejected as less than subtle, "the nostril's north star awakes you." The film ends with the woman waking to a working Scentee and the slogan: "Want your own bacon scent alarm?"
To which most of us would answer, "Probably not." After all, the Teasmade – hugely popular in the 1970s – has all but died out and that, at least, had tea in it. It is, however, undeniably reassuring to learn that, should any of us find ourselves overpowered by the desire to own a bacon alarm, through Scentee we can at least get our hands on one.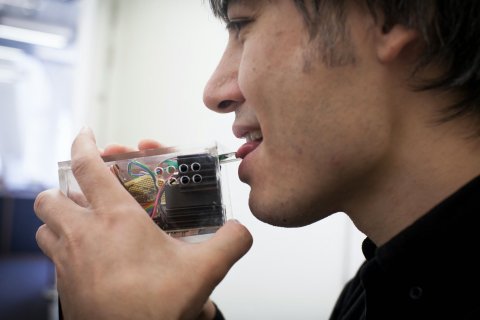 If his hardware for the replication of smell is relatively sophisticated, Cheok's prototype apparatus for simulating taste is somewhat more basic, not to say alarming. Marius Braun hands me a device that consists of a pair of metal prongs that are spring-loaded and look rather like a large clothes peg. The gadget is attached to a piece of circuit board and battery leads. "It's only 40 milliamps," Braun tells me, as he eases the prongs apart and invites me to place my tongue between them.
Sitting at a table, mouth open, wired up to the apparatus and waiting for the young German to press the switch, I'm reminded of a Bob Hope line from the 1940 comedy, Road to Singapore: "My mother told me there would be moments like these. How did she know?" The electrical current on the tip of my tongue produces a sharp taste, like lemon. Cheok says that the team are experimenting using different combinations of heat and amperage. They can replicate four of the five known tastes: sour, salty, bitter and sweet. (The fifth, umami, a savoury note akin to MSG, was officially discovered in 1908.)
Brave New Smells
Cheok began his career in computing at Mitsubishi Research labs in Japan. Subsequently, at the Singapore Mixed Reality Laboratory, he led a team of 100 researchers and students and produced highly-acclaimed work that placed recordings of three-dimensional human figures into mixed-reality landscapes: the results have been compared to the hologram effects employed by Star Wars director, George Lucas.
The professor's work in transmitting touch via the internet currently takes the form of a plastic ring slipped over the finger. The prototype is impressively small, even if it couldn't yet be mistaken for a desirable accessory. It vibrates whenever the wearer of an identical ring presses their own device. They could be in the next room or, wireless connections permitting, in Martinique. It's a signalling mechanism that has obvious potential for connecting with lost children or, as the research team tell me, with residents in care homes whose other senses may be impaired. The ring represents the first stage of Cheok's ambition to create a device which, as he puts it, "will allow people to give each other a virtual hug".
The notion of being able to blend and disseminate smell and taste is not a new one. As early as 1884, the French writer J K Huysmans published his novel À Rebours (Against Nature) in which the main character owned a "mouth organ", consisting of a keyboard connected to tubes leading to casks of liqueurs, enabling the player to compose, and consume, a kind of alcoholic symphony. Hotel rooms in Aldous Huxley's Brave New World are equipped with a scent organ. Replicating such devices in the real world proved to be somewhat challenging.
In the 1930s, an American-Swiss scientist called Hans Laube developed a system for releasing fragrance into cinema auditoriums. Variations on his system, the first attempt at what is generally termed Smell-o-Vision, were tested in the late 1950s. Its most famous incarnation was in Michael Todd Jr's 1960 cinema production Scent of Mystery, starring Peter Lorre and Elizabeth ­Taylor.
Laube's invention, intended to have a humble supporting role at the movie's premier, immediately occupied centre stage. Poor ventilation exposed patrons to a combination of odours including rose, seaweed, wine, peppermint, shoe polish and cordite. It proved too heady a cocktail for some guests, who were overcome by panic and nausea.
"This all-out attack on the sense of smell," complained the New York Times, "assaults the nose as a mixture of paint thinner and dimestore perfume, and leaves a sweet, cloying scent reminiscent of an undertaker's parlour."
The history of what is usually referred to as digital scent technology is less than 20 years old. In 1999, a firm called DigiScents unveiled a device that allowed users to trigger a limited range of smells when they opened an email. Other companies, in Tokyo, San Diego and Tel Aviv, are reported to be close to achieving commercially viable smell technology in a form that can be incorporated into a surround sound system.
The Smellophone
In June, the Parisian design centre Le Laboratoire, founded and directed by Harvard's Professor of the Practice of Idea Translation, David A Edwards, announced the imminent release of its oPhone DUO. Le Laboratoire claims that the system will ultimately be able to release 300,000 unique aromas. This device is essentially a sophisticated smell modem, with the capacity to blend multiple odours. While far more complex than the Scentee, which can only deliver one smell at a time, the Duo looks less like a mobile phone than something we might see on a dental hygienist's tray, and will not be available until the spring of 2015.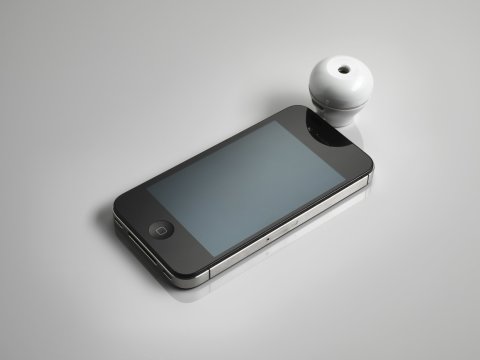 I ask Edwards the question that recurs whenever the subject of computerised smell comes up: what's the point? "We see several exciting areas of application," he says. One of these ­concerns: "companies operating in an environment with a strong aromatic value."
"Waste disposal?"