There's the handsome, young president who puts his foot in his mouth frequently. There's the corrupt governor caught on camera accepting a briefcase full of money in his office. And there's the gargantuan television network that, for a hefty sum, propels the latter into the presidency through a carefully crafted image cleanup scheme that includes pairing him up with its most attractive starlet.
An unusual disclaimer in Luis Estrada's latest X-ray of Mexico, the highly anticipated film The Perfect Dictatorship, precedes those scenes: "In this story all of the names are fictitious, the events suspiciously real. Any similarity with reality is not mere coincidence."
Mexicans watching the film will be overtaken by a sense of déjà vu as, indeed, most of it was inspired by scandals that have dominated newspaper pages and television news programs in recent years.
In a twist that could have easily been part of Estrada's film, at whose core is the undue influence wrought by the media, the cinematographic arm of Mexico's largest broadcasting company, Televisa, initially signed a deal to distribute the film, only to turn it down once it saw the finished product.
Estrada, who was obliged by his contract to pay back Televisa the money it initially put down for distribution—both Estrada and Televisa refused to say how much, citing confidentiality agreements—has scrambled to come up with a Plan B: The film will now be co-distributed between his company, Bandidos Films, and Alfhaville Cinema, a small distribution company.
The movie is due to premiere in October—"so long as there are no shady dealings," says a disclaimer on the trailer. The title, The Perfect Dictatorship, is a reference to Peruvian writer Mario Vargas Llosa's description of Mexico's dominant political party, the Institutional Revolutionary Party, or PRI.
"The perfect dictatorship is not communism, it's not the Soviet Union, it's not Fidel Castro, it's Mexico," Vargas Llosa said during a conference in 1990. "It is a dictatorship camouflaged in a way that makes it seem like it isn't one, but if one digs, it has all the characteristics of a dictatorship: permanence, not of a man but of an immovable political party."
The PRI held power uninterruptedly through a mix of despotism, oligarchism and a symbiotic relationship with Televisa for 71 years, until it was kicked out by voters in 2000. After Enrique Peña Nieto's election, the PRI reclaimed the presidency in 2012, which inspired Estrada to write the script for The Perfect Dictatorship, originally titled A Suspicious Truth.
It is no surprise that the director who took up this theme was Estrada, who is known for his fearless, acid satires denouncing Mexico's particular brand of corruption, violence and social inequality. Estrada is "not only the most ambitious director in Mexico but the best one.… He is the director that looks for the difficult themes, the director that treats those themes stridently," says José Felipe Coria, director of the Cinematographic Studies Center at Mexico's National Autonomous University.
In addition to a distribution advance that it demanded be returned, Televisa gave Estrada $1.5 million through a tax-exemption program, and additional financing was provided by the federal government through the Mexican Institute of Cinematography and by Bandidos Films.
The movie opens with a meeting between the U.S. ambassador and the Mexican president. The latter, who struggles to communicate in broken English (much like Peña Nieto), wishes to relay an important message to his American counterpart: Tell him that my people are willing to do the all the dirty jobs that not even black people want to do.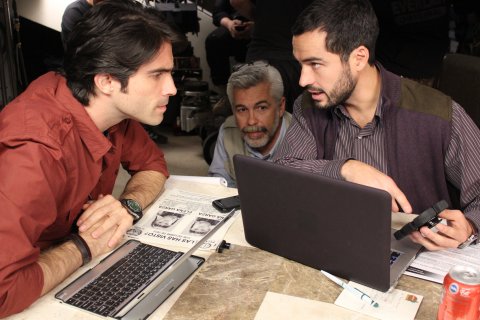 Within seconds, social media explode with the hashtag #NotEvenTheBlacks. "We really messed up putting this bastard in Los Pinos," says the fictional director of the television company, referring to Mexico's equivalent of the White House.
Peña Nieto, for his part, has committed similar blunders that have gone viral, including times when he was unable to name three books that had greatly influenced him or to recall the price of tortillas, a food staple in Mexico, because "he is not a housewife."
An official at the office of the president's spokesman said the department would not discuss the movie, which its staff has not viewed, but added, "The presidency of the republic is very respectful of all artistic and cultural expressions, and of course, of every person's freedom of expression."
"I believe I know the Mexican political system and its characters very well," says Estrada, 52. He reads about five newspapers every morning, a routine that helped him create the film's plot and its protagonists, particularly Carmelo Vargas, the corrupt but charismatic governor at the center of the story. "He is a sum of all of these old characters, called dinosaurs, from the PRI times."
Among the real governors Estrada drew from: Mario Villanueva, a former governor of Quintana Roo state who was sentenced in a Manhattan federal court for conspiring to launder millions of dollars in bribes that he received from the Juarez cartel, and Mario Plutarco Marin Torres, a former governor of Puebla state who come under investigation for ordering the detention of a journalist who wrote a book about a pedophilia ring involving some of the politician's close friends. Marin Torres was later found innocent, but a taped conversation between him and a friend, celebrating the journalist's arrest, garnered a permanent place within Mexican political folklore for its crudeness.
In an attempt to divert attention from the fictional president's latest gaffe, his aides ask the Mexican Television Station, or TV MX, to run a video of Vargas accepting a large bribe from an alleged drug trafficker on its nightly news program. The director of TV MX instructs his star producer, Carlos Rojo, to "add some punch to it."
The mustachioed, ill-spoken, strip-club-loving governor of an unnamed state overrun by drug crime then pays a visit to TV MX, clutching a briefcase full of cash, and asks its top brass to help him clean up his image. Vargas ups the ante by buying a premium package of consulting and positioning for government officials (crisis management inclusive)—so expensive that he has to mortgage his state—to help him fulfill his presidential ambitions.
Handshakes are exchanged and a deal is made, but Vargas continues acting out, and the production team assigned to him is forced to cover up his mischief by fabricating new and bigger scandals.
The film references several chapters from Mexico's recent history. One is the infamous Paulette case, in which a 4-four-old girl went missing. Her body was found days later between her bed frame and the mattress, in the very place where the child's mother and a journalist had sat down for an interview shortly after the disappearance was revealed. Another is the Florence Cassez saga, in which television crews aired a staged televised raid, presenting it as spontaneous. The result was the conviction of a French woman on charges of kidnapping. She was released last year, seven years into her 60-year sentence, after a Supreme Court panel decided that her rights had been violated by the sham raid.
"The television already fixed a president. Will it do it again?" asks the film's tagline.
The question is not that shocking in a country where Televisa, the strongest player in a media duopoly, has long had enormous influence over the censoring of information and the fate of politicians. Its former head, Emilio Azcárraga Milmo, was once quoted as saying he was "a soldier of the president of the republic." Televisa is a publicly listed company whose controlling shareholder is the Azcárraga family.
After seeing the final cut, Televisa severed ties with Estrada, who directed, produced and co-wrote the film. "I think that they imagined a film based on the script, and the film they saw in the end was more critical, or stronger, or harsher that what they had imagined," said Estrada.
Televisa, for its part, would not specify why it backed out of the project. "We signed a financing and/or distribution agreement dependent on both parts agreeing with the final cut of the movie in question," said Fernando Pérez Gavilán, vice president of Televisa Cine, Televisa's film industry arm, in an email. He added that the company had released distribution back to Estrada. "The conversations between the producers and us are always kept confidential. I have nothing more to add," he said.
During the last presidential campaign, Televisa's role in promoting PRI candidate Peña Nieto, a youthful, attractive former governor who married one of the media conglomerate's best-known actresses, was at the center of intense speculation by pundits and the general population.
"It is widely accepted, for example, that television monopoly Televisa backs the governor and provides him with an extraordinary amount of airtime and other kinds of coverage," says a 2009 leaked cable from the U.S. Embassy in Mexico.
During its first week, the trailer for the film garnered 1.2 million YouTube views—one commentator wrote below the video, "So real it looks like fiction"—more than 11,000 likes on its Facebook page and 3,000 Twitter followers. It is expected to open in about 1,200 theaters.
Estrada shot to stardom in Mexico with his last film, El Infierno, a dark, violent, satirical portrait of life in the midst of a drug war swallowing entire towns, where brother is pitted against brother in the name of greed and vengeance. Along with A Wonderful World and Herod's Law, it is part of a trilogy that depicts corruption, social inequality and political manipulation with rare audacity.
The Mexican Academy of Arts and Cinematographic Sciences announced in late August that The Perfect Dictatorship had been short-listed to represent Mexico at the 2015 Academy Awards.
It could be the perfect ending.