A warm September Saturday in Bournville, Birmingham, and at The Beeches it's business as usual. Once a Cadbury family home, now a residential conference centre, this hideous mish-mash of post-war extensions, grafted onto a solid Edwardian property, is hosting a workshop on the suburban sward. Between a line of stunted pear trees and two yurts, Claire Turnham, a doula from the Only With Love organisation, is giving a shroud-wrapping lesson. With her friend Dawn playing dead on the bamboo trestle table, Claire demonstrates the origami-style folds needed to get the sewn-on grips in the right position for ­carrying. ­
She threads some flowers into the wrapping sheet – also made from bamboo and kindly supplied by fellow delegate Gordon Tulley of Respect – and calls for six volunteer pallbearers. Dawn is only small, and they manage her with ease – but what about the bigger-boned, asks Martin, a trainee eulogist?
"The shrouds come in extra-wide and extra-long, too," says Gordon. "And they're on special trade discount today, nearly half retail cost." Charles Cowling, the raffish author of the Good Funeral Guide, gazes on benignly. A one-time copywriter with a nice turn of phrase and a nose for publicity, he's a bit of a campaigner for what he calls the "progressive" end of undertaking. "Welcome to the Ideal Death Show," he says. "You know, there's so much creativity in the British funeral scene, but you'd never guess it from the high street."
In the strip-lit annex behind him, the cheery bustle of delegates and interested outsiders bears him witness. This is the third annual funeral industry conference that he and co-founder Brian Jenner have run (less successful titles have included The Joy of Death) and the busiest yet.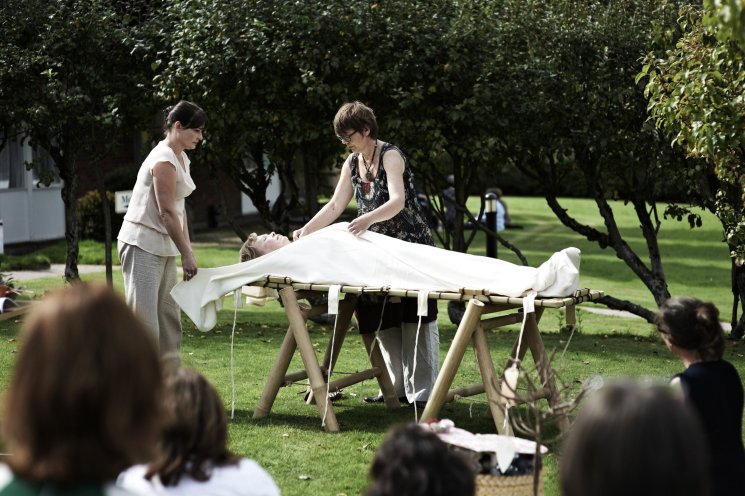 In Focus
An alternative funeral industry offers the bereaved a modern service, complete with bamboo shrouds and banana caskets
Launch Slideshow

15 PHOTOS
The local papers and trade press are all here, snapping away at the bicycle-riding-skeleton contraption that Cowling has laid on for them. There's a gala dinner for 120 tonight, with special awards for Best Embalmer and Best Gravedigger. And instead of silverware, ­winners will receive statuettes of the Egyptian funerary god Anubis. It's the kind of levity never ­encountered at the bi-annual shindig for the National Association of Funeral Directors (NAFD).
"The men in black," Cowling calls the opposition, unlike his mainly female, floaty-dressed friends. Dominated by the Co-op, Dignity plc, Funeral Partners and the hedge fund-owned LM Funerals – whose combined UK business is worth an estimated £5bn a year – the association controls about nine tenths of the market. (Few seemingly independent operators are genuinely so.) But Cowling and Jenner are promoting the other 10%'s "alternatives to the coffin glinting in the February sunlight".
So the earth-bound can choose from felt "cocoons" to willow and banana caskets, displayed today on a revolving stand. Going up in smoke? Then Tosh Abbott and Cath Pratley might be able to interest you in their latest wicker product. It's a little Viking ship with a basket for carrying ashes, and the idea is that you float it out on a pond and shoot burning arrows at it. Launching it this morning, they had their first sale within an hour.
But maybe you're more of a grease monkey? Then have your photo taken on a child-size version of a Motorcycle Funerals' bike-and-side-hearse combo – they've got seven of them, operating round the country. Feeling peckish? Dig into one of Commemoration Cakes' top-sellers: St Paul's Letter to the Corinthians, scanned from a missal and computer-printed onto the icing, with a hand-iced ribbon between the pages. Faith, hope and, mmm, fruitcake.
And that's an epithet we might apply to Sophia Lucop-Leech, who started Your Personal Goodbye after her husband died last year. (You get some stationery and a cardboard tube, then pop a valedictory letter in the latter and ask the undertaker to stash it in the casket.)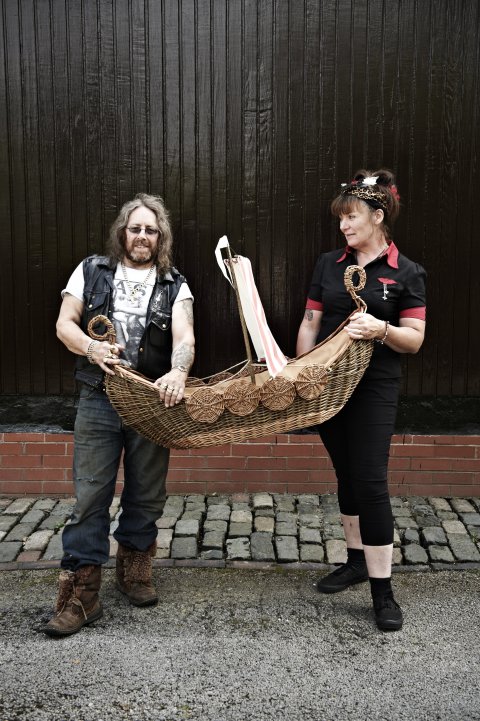 Or perhaps to James Norris of DeadSocial.co.uk, who wants people to tweet messages from beyond the grave. There are other dotcoms, too: aboutthefuneral, for example, which aims to be a one-stop-shop for trade and public; or funeralgiving, "designed for funeral organisations interested in offering clients a tribute website service with a fully integrated in-memoriam giving facility". And there's a smattering of quite slick outfits, such as Leedam, which markets meadow-burials in greenbelt vales and chases; or funeralmap.co.uk, which offers, among its services, training up to Level 3 for an Ofqual-recognised Diploma in Funeral Celebrancy.
But pride of place goes to the now-established pioneers, the Natural Death Centre – a sort of eco-death information exchange – and its offshoot – the Association of Natural Burial Grounds. And strength in numbers goes to the multitude of facilitators, celebrants and counsellors here, several from the OneSpirit Interfaith Foundation. Products of organised religion's decline and the continuing need for ceremony and spirituality, they gather at intervals in the yurts for the Grave Talk and Death Café sessions, when they mull over state social fund payments and the protocols for giving a body to science.
That's a problem on which a punter from Scotland wants advice – that and cremation. You see, the trouble is, he's Jewish, and his family won't approve of either . . . He's a promising lead for Ru and Claire Callender, then. The Green Funeral couple specialises in a stripped-down service, influenced by "punk . . . crop circles, rave culture and psychotherapy". Taking as their title "Grief: It's Not About the Car", they're among the speakers booked for the Acorn Room.
In this stunningly anonymous space, the talks are for different target audiences. There are technical seminars on public speaking and search-­engine optimisation. There are more whimsical lectures on near-death experience and famous mis-burials. And much anticipated is academic Lucy Talbot's celebration of "Maudism" (a pursuit she has named after the funeral-crasher in the 1971 film Harold and Maud).
Still, the bar is best for shop-talk. Here the themes are regulation, feminism, transparency, cost . . . and the general dastardliness of the NFAD. Bankrolled by the big players, the association in turn funds the All-Party Parliamentary Funerals and Bereavement Group; and some would say this consultative body, which lacks any consumer representation, stands to profit most from the status quo.
It's not just that the association opposes external oversight and prefers self-regulation (so, as one of the speakers points out, "you could let a cannibal out of prison and he could set up as an undertaker the same day"). It's the wagon-­circling mentality of the old guard that really annoys the Bournville contingent.
Take coffin making, which tends to be done on a regional basis. "The trade price of a veneered MDF coffin is about £80 to £100," says one refusenik, "and a high-street undertaker will charge anything from £350 to £600. Well, I've got a friend who's setting up as a cut-price independent and his local supplier has been warned off dealing with him . . . "
"And all that stuff about 'Would you like to go in the next room while we remove the body'?" says another. "They tell you it's because there might be unpleasant expulsions, but really it's because they're scared they'll drop your loved one and get caught."
"Their pricing structures are all wrong, too," adds Poppy Mardall. "What's the point of doing a child's funeral for free, when you're going to add all sorts of restrictions to it, and then pass on the cost to your other clients?"
Poppy, 31, is a bit of a cover girl for the progressives. A one-time Samaritan, by 26 she was an expert in 20th century art at Sotheby's. By 28, she'd "had enough of those people" and "wanted to do something to help people like me". Following her father's death – and during a long recuperation from typhoid, caught while travelling – she decided that the funeral industry was as ripe for a shake-up as the airlines were before easyJet.
Now she can promise to get the departed into the ground for about half the average price. She uses a van painted with poppies instead of a hearse, puts her workers in dark green fleeces rather than mourning rig, and books Addison Lee people-carriers, instead of twice-as-many limousines, each costing £250 for half a day. Her philosophy – which won her the Lloyds Bank's First Women Award last year – is to cut her own costs as much as her clients'.
She doesn't have an office, but makes home visits. She doesn't have a parlour, but rents mortuary space and a prep room from her local hospital. She doesn't even own a black suit. As for middlemen, she always advises mourners to bring their own flowers and volunteer their own bearers. "You don't need four professionals slow-marching with a coffin on their shoulders," she says. "If you carry it underarm, you can have people of different heights, and they don't need to keep step."
The way Poppy sees it, keeping the whole process of death and dispatch under wraps is in the traditional undertakers' interests. The don't-you-worry-we'll-take-care-of-everything approach plays on people's vulnerability and ignorance. "If someone implies that you shouldn't be troubled by unpleasant and unnecessary stress, you're much less likely to realise that getting involved in a funeral can make it more meaningful, more cathartic and less upsetting," she says. "There is no 'proper' way to do it, only what seems appropriate in the circumstances."
And that's the over-riding message of the Ideal Death Show. We need to look beyond the ­Victorian fetishisation of mortality, beyond the 20th century's hands-off approach – and perhaps back to a time when we were more comfortable with the Reaper, even familiar.
Listen in, and you'll hear there's a movement for midwives to be trained in preparing corpses, as in olden days and tribal communities; there's pressure for a consumer-rights body; and above all, there's great warmth and good humour among these modern dealers in death.
Don't judge them by Cowling's stunts – funny though they are – but rather by their quite heartwarming wake-cake bake-off won by Natalie Buckingham, of Buckinghams Cake Palace, with a heart-shaped entry folded in real-feather angel's wings and dedicated to the memory of her still-born child.
More cadavers deserve to be delivered into these heroic, warm hands. Enough shrouding in mystery. In the British funeral industry – and apologies for this ancient trade gag – we need more people thinking out of the box.