Before the Islamic State, the group commonly known as ISIS, murdered American journalist James Foley, the insurgents sent an email to his family saying they were open to a prisoner exchange for "Muslims currently in your detention."
A woman they specifically mentioned was Aafia Siddiqui. Two weeks after Foley was beheaded, ISIS suggested that it would trade American journalist Steven Sotloff for Siddiqui. There was no deal, and Sotloff, too, was beheaded.
Last month was hardly the first time Siddiqui's name had come up as a bargaining chip. Besides ISIS, the Taliban and other extremist groups have requested her in hostage exchanges.
So just who is Siddiqui and how has she come to matter so much in America's war on terror?
Siddiqui, or Lady Al-Qaeda as she is known in counterterrorism circles, was convicted in 2010 in a Manhattan federal court of trying to kill Americans while she was detained in Afghanistan. The 42-year-old neuroscientist, educated at MIT and Brandeis, is still waiting to appeal the 86-year sentence she is serving in the medical center of the special housing unit at the severe confinement prison at Carswell, Texas.
Faced with claims she was an Al-Qaeda sympathizer and might have worked as one of Osama bin Laden's "facilitators," Siddiqui, a mother of three—Ahmed, Mariam and Suleiman—denied the charges against her at the trial, which included two counts of attempted murder, armed assault, using and carrying a firearm and assault of U.S. officers.
The American prosecutors successfully claimed, in July 2008, that while under interrogation in Ghazni, Afghanistan, Siddiqui grabbed an officer's M4 rifle and began firing. A witness claimed she shouted, "I'm going to kill all you motherfuckers!" and "Death to America."
Her current defense attorney, Tina M. Foster, says there is no forensic evidence linking her to the crime. "There were no fingerprints on the gun," Foster says. In the prosecutors' version, Siddiqui, who is slight, missed her targets, but an officer shot her twice in the gut, wounding her badly. She was then transported by helicopter to Bagram Airfield near Kabul, the largest U.S. airbase in Afghanistan. She was still healing from internal injuries when, on August 4, 2008, the Afghan government transferred her to the United States for prosecution. A month later, she was indicted.
In 2010, Siddiqui went on trial in Manhattan. There, she did herself no favors. She was outspoken, demanding that anyone of Jewish origin be excluded from the jury. "If they have a Zionist or Israeli background…they are all mad at me," she told Judge Richard Berman, who had to ask her to leave the court room at some points because of her outbursts. "They should be excluded if you want to be fair.… This is a verdict coming from Israel, not America, and that is where this anger belongs. I can testify to this, and I have proof."
To one of the Army captains testifying against her, she shouted: "It's ridiculous! You're lying." Her defense team argued there was a lack of evidence, but the jury quickly convicted her. Her murder counts, however, were found not to be premeditated. One member of Siddiqui's legal team at the time, Elaine Sharp, said: "In my view, [the verdict] is wrong. There was no forensic evidence, and the witness testimony was divergent, to say the least. This was a verdict based on fear, not fact."
Four British parliamentarians (Lord Ahmed, Lord Sheikh, Lord Patel and MP Mohammad Sarwar) called the trial a grave miscarriage of justice and demanded Siddiqui's release. In a letter to President Barack Obama, they pointed to a lack of scientific and forensic evidence tying Siddiqui to the weapon she allegedly fired. Groups like the British-based Reprieve took up her case. Personalities such as the former cricketer-turned-politician Imran Khan also rallied behind her. One of her former attorneys described her as "the ultimate victim of America's dark side."
There is chatter—including a recent report on Iran TV—that the United States has agreed to extradite Siddiqui as part of a prisoner exchange, but American officials would not comment on the story. Her family, including her sister, Fowzia, a Harvard-educated neurologist in Karachi, Pakistan, who has mounted a prolonged appeal for her release, told Newsweek they are not getting their "hopes raised" by the reports. A member of her American legal team, Robert Boyle, was also unaware of any new developments in her case.
Even if Siddiqui is eventually returned to Pakistan, her story might never be unraveled.
Siddiqui grew up an upper-middle-class girl in Karachi, a city on the Arabian Sea that has been a hotbed of terrorism because of its proximity to the porous Afghan border, the Persian Gulf and its vast seaport. She was raised in a sprawling, bougainvillea-strewn villa, the daughter of a physician and his wife, a homemaker, in Gulshan Iqbal, an enclave of Karachi.
There, Fowzia met with a Newsweek reporter at her childhood home, where she now lives—along with her own family and Ahmed, the eldest of Siddiqui's children, and Mariam, the middle child. The youngest, Suleiman, is believed dead, accidentally dropped when Siddiqui was allegedly abducted by Pakistani intelligence in 2003. A smiling MIT graduation photo of Siddiqui hangs on the wall, near placards that call for her release: "Lincoln's dream, justice for all," one reads. "Why Aafia denied."
Fowzia said she remembers her little sister as smart and gentle. "She would not hurt an ant," she said. "She was so sensitive that she could not bear an animal in pain. It would make her go pale. If she had a balloon and it burst, she cried. My mother used to tell her to play with balls, not balloons, so she would not get so upset."
When Siddiqui's brother, Mohammed, a pediatrician, moved to Texas in 1990, she followed him to complete her studies, attending the University of Houston. She then went to MIT, where she majored in biology, before beginning her Ph.D. at Brandeis in cognitive neuroscience. Her fellow students and teachers remember her as studious, soft-spoken and pious. It was during university that she became interested in radical Islam.
Her professors, when questioned after the trial, said her academic work centered on how human beings imitate others. "I can't see how it can be applied to anything," Paul Di Zio told Boston magazine after her arrest. "Calling her a mastermind or something does not seem—I never saw any evidence."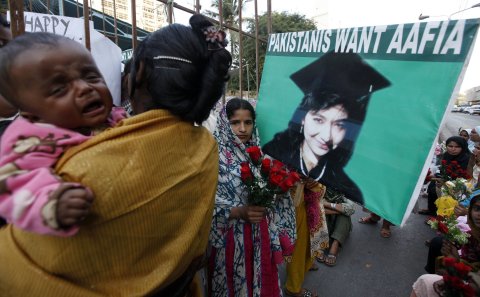 By the time she finished her Ph.D., she was married to a Karachi doctor, Mohammed Ajmad Khan, also studying in Boston. The couple and their two small children lived on the 20th floor of a modern building near the Boston hospital where he worked as an anesthesiologist. Neighbors remember her as quiet, and a devout Muslim wife and mother. "She was an American girl and a good sister," says Abdullah Faruuq, the imam of a mosque next to their apartment.
Siddiqui did charitable work in the Muslim community, including raising money for Bosnia and Chechnya war victims. "She was an activist in the purest sense of the word," her sister said. "She would raise money for old women's homes, for public parks and for Bosnian refugees."
But there is another, far darker side to the story. By 2001, the FBI was already suspicious of Khan and Siddiqui because of their donations to Islamic charities that the bureau was watching closely. There was also a series of unusual Internet purchases—$10,000 worth of body armor, night goggles and military books. According to Foster, those were for Khan to go hunting in Pakistan.
Saying life for Pakistanis was becoming too difficult in the U.S. in the aftermath of 9/11, the couple returned to Karachi. There, Siddiqui gave birth to their youngest child, but a few weeks later they divorced. Khan would later tell The Guardian that Siddiqui was too radical for him and "so pumped up by jihad."
A Newsweek reporter caught up with Khan in Karachi. He is an orthodox Muslim with a long black beard and still a doctor. He insists that he is not an extremist. He said his ex-wife insisted the couple leave the U.S. and go to Afghanistan, where the American attacks had already begun. He said she was furious at him for "not doing jihad in Afghanistan," and they divorced soon after.
Khan also told Newsweek that Siddiqui maintained a post office box in the U.S. that was later used by Al-Qaeda operatives, although that never came up in her trial.
Siddiqui's family and legal team dismiss Khan's claims as nonsense, calling him an "abusive husband" who became vindictive after she left him. "He also wanted the children," says Foster. "So he would say anything."
Back in Karachi, Siddiqui took her children to live in the family home with her mother and sister. The spring of 2003 was the last time Siddiqui's family saw her. They say she put her children—then 7 years, 5 years and 6 months old—into a taxi to go to the airport to fly to Islamabad to visit a relative. But she was stopped en route to the airport.
Her supporters say her disappearance is connected to the capture and interrogation of one of the masterminds of the 9/11 attacks, Khalid Sheikh Mohammed, on March 1 2003. The Guardian and other media have linked her—although her family denies this—to Mohammed because it is said she married his nephew.
Although Mohammed's interrogation was kept secret, The Guardian later reported that during the course of numerous waterboardings, he gave up Siddiqui's name. Foster denies this.
Fowzia expresses pain when she talks of her sister's disappearance. "Aafia left home for the airport [to take the flight to Islamabad] along with her three children, then [the next thing we knew] two men on motorcycles came and told my mother she had been taken and not to cause trouble," she says.