Bill Fauber keeps a Post-it pad in every room of his pristine Palm Springs condo. Each afternoon, his metal stairway banister fills up with a line of bright yellow, pink, green and orange stickies reminding him to buy eggs, call his doctor, take his HIV medications, fix the ceiling, clean the pool, call a friend. At day's end, he gathers all of the notes and compiles a list of unfinished tasks on a single slip.
"I might remember something now, and in five seconds I will forget," says Fauber, 66. He's been HIV-positive since 1988 and wonders if his absentmindedness could be attributed to the disease. Could it be related to the antiretroviral drugs he takes daily? Or is it simply old age? He's not sure, but he doesn't have to travel far to realize that he's not alone.
People with HIV and AIDS are living longer than was ever expected before the development of highly active antiretroviral therapies in the 1990s. Palm Springs, a Coachella Valley desert city 100 miles east of Los Angeles, has become a hub for older infected residents well into their 60s and 70s. Yet even as many live longer, there is a broad segment of HIV patients who are aging physically and cognitively faster than the rest of the population.
Researchers and doctors struggling to understand why are now focusing on the people of Palm Springs. Here, the average age of HIV-positive residents is 51, compared with 40 in the rest of the country, according to the Riverside County Department of Public Health. Research has shown that older HIV-infected individuals face a higher risk for developing cancer, heart disease, diabetes and neurological problems like dementia. Meanwhile, more than half of the 1.1 million HIV patients in the U.S. have neurocognitive disorders that may affect concentration, memory, decision making, coordination and motor skills, as well as language and sensory perception. Studies have also shown that HIV could prematurely age the brain by up to two decades.
The burden of these conditions on the public health system is growing. By next year, more than half of all people with the disease in America will be over 50, according to the Centers for Disease Control and Prevention. On the surface, many look healthy, says Daniel Cardone, a filmmaker who has spent the last two years documenting more than a dozen aging men living with HIV in Palm Springs as part of his documentary Desert Migration, to be released next year. "You think people with HIV are fine. But then on the inside there is this wear and tear happening."
We need only look to Palm Springs, which has been drawing people with HIV and AIDS from around the country since the 1980s, to understand what the future looks like for the rest of the infected population. Cardone, 41, has been HIV-positive for 20 years, but his project has brought him closer into the harrowing experiences of people diagnosed many years before him. "I can't fathom what that would have been like, having all of your friends die and then knowing you have this disease inside of you too," he says. "That fear of getting up every day...that's the thing no one really talks about. Just because now the threat on your life isn't so immediate, the toll of what you've been through doesn't go away."
For survivors, resettling in Palm Springs seemed a therapeutic choice, with twilights that linger when the sun ducks behind the mountains, warm nights and midcentury architecture. Some relocated here to live out what they believed were their final days, surrounded by sand, sky and staggering views. Others came to find spiritual renewal and healing in the natural hot springs that run beneath the desert's earth.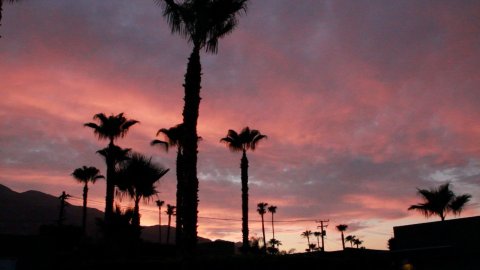 Homes were inexpensive enough for those living off disability payments to afford, and those who were getting priced out of the San Francisco Bay Area because of the dot.com boom found a haven. Many gave up lucrative careers because they believed they were on a countdown to death. Others depleted their life savings, figuring they wouldn't need it. But as years passed, and as treatments improved, they began to realize they might have more time left than they thought. Many faced a new challenge: finding a job at an older age after being unemployed and living off disability payments. Employers had little sympathy for those with a decade missing from a résumé. Some turned to subsidized housing, while others found minimum wage jobs in retail.
In addition, many older HIV-infected people have survivor's guilt, and for some that has led to depression, anxiety and self-worth difficulties. They don't always feel as if they deserved to live, Cardone says. Joe Hoefler, 74, has struggled with bouts of depression since he was diagnosed two decades ago. His first long-term partner, whom he'd met when they were both living as closeted gay men in Milwaukee, died of AIDS in 1983. Hoefler fell in love again, this time with a man who convinced him to move to Palm Springs in 1985. That partner passed away from the disease in 1991.
Two years later, Hoefler became so ill with Kaposi sarcoma, an AIDS-related cancer that caused lesions on his skin, that doctors told him he had just two years to live. His body was covered with over 300 spots, "some small as a pinhead and some extremely large," from his head to his toes. As a last chance, he enrolled in clinical trials at the University of Southern California, going to the medical center there three to five times a week for three years to receive injections and try new drugs. The treatments helped, and the spots faded away.
He's also struggled with neuropathy—nerve damage in the limbs—and recent battles with a staph and methicillin-resistant Staphylococcus aureus (MRSA) infection. He scrapes by on $965 a month in Social Security and disability payments. But he's alive, and many of his loved ones are not. "It's just one of those things you have to accept," he says, trying to not let that pain overwhelm him. He attends regular HIV and aging support group meetings at the Desert AIDS Project, where the attendees often talk about survivor's guilt.
But it doesn't keep Hoefler from fighting on. "I tell my current doctors I'm gonna live another 40 years," he says.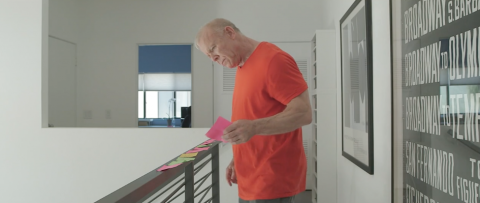 Others have had a harder time keeping a positive attitude, and some have turned to drugs. For some of the fellow HIV patients Jeff Taylor has known over the years, meth took the depression and anxiety away. "They feel like superman for a while," he says. "They can totally remove themselves from all anxieties they've had for so many decades. It's an escape." Meth use in particular has become so common that researchers at the University of California, San Diego, established the Translational Methamphetamine AIDS Research Center to study how the drug and virus affect the brain and central nervous system.
Taylor nearly died from AIDS in 1992; he lost 25 pounds in two weeks, and both of his lungs collapsed from pneumonia. "I looked like a concentration camp victim," he says. Doctors were surprised he survived, and he figured that while the virus did not kill him, the frigid Chicago winters eventually would, so he moved to Palm Springs.
Now 52, Taylor worries whenever he misplaces his car keys or forgets to take his pills. He is hyper-aware of the frailty he sees in HIV patients his age or older. Sometimes, he visits the Desert AIDS Project, which provides HIV and AIDS residents with medical, social and psychological services, as well as housing for around 80 infected patients. "You see them shuffling around in their walkers, looking confused, and you think they're in their 70s. Then you realize, 'No, they're in their 50s.'"
Two years ago, Taylor helped draft a letter to the National Institute of Health's Office of AIDS Research, asking that funding be dedicated to the study of HIV and aging, with a focus on Palm Springs. David J. Moore, an associate professor of psychiatry at the University of California, San Diego's HIV Neurobehavioral Research Program, backed the idea, and the NIH provided funding. Led by Moore, the Palm Springs study launched last year to investigate the health, cognition and biological attributes of aging HIV patients, particularly those 65 or older.
Moore is now closely monitoring 24 volunteers, with hopes to expand to several hundred patients. "By looking at the Palm Springs group, we can see what is coming for rest of the country," he says. He hopes to build on previous research, including his own, which has associated damaged areas of the brain with decreased neuropsychological functioning in HIV patients.
MRIs have shown that blood flow in the brains of patients with HIV tends to be at the same reduced levels found in noninfected people who are 15 to 20 years older, according to a study published in The Journal of Infectious Diseases. In a separate project, Georgetown University Medical Center researchers found that the virus interferes with the brain's ability to produce certain proteins that nourish neurons, which can lead to young HIV-affected brains acting older than they are.
Keith Epley, 59, who has participated as a subject in HIV research, thinks his aging process has accelerated in the past decade. He was diagnosed in 1995, and after being hospitalized, very close to death, he says many of his memories—of friends, passwords, birthdays, codes, phone numbers—were virtually wiped out. But he worked hard at "rebuilding" his brain by reading, writing and exercising.
Epley also had to rebuild his life after losing friends and his job. After moving to Palm Springs, he became a published poet and writer; he's learned to record conversations on his phone so he can recall what he said. His short-term memory is still shaky, and he, like Fauber, can't help but wonder, "Is it age, or it is AIDS?"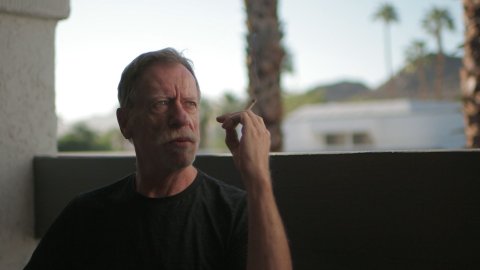 Researchers have found that exercise can lower the risk of neurocognitive impairment among HIV patients by half, and for Fauber, who doesn't leave home without checking his Post-its, a six-day-a-week gym routine not only keeps him physically healthy—it also keeps him mentally and emotionally stable. "Working out is the single best antidepressant there is," says Fauber, who wears a World Gym T-shirt stretched over finely muscled arms. And if it keeps his cognitive skills intact longer, that's an added benefit.
In addition to his Post-its, Fauber taps in reminders of appointments, meetings, phone calls and other tasks in his phone, and gets alerts throughout the day. A retired architect who now serves on the Palm Springs architectural advisory committee, he is approaching aging with HIV in much the same way he accepted the reality of being diagnosed with the disease 16 years ago. "I really have to go on as though I'm living a normal life."