It was a memorable, violent day in lower Manhattan. No, not that day—but another.
In early May 1970, America was bitterly divided about everything from hot pants to Ho Chi Minh, but especially the Nixon administration's bombing of Cambodia, which escalated and expanded the Vietnam War. On May 4, four students protesting the invasion were killed by National Guardsmen during a demonstration at Kent State University in Ohio.
New York's mayor, John Lindsay, sharing the sadness and outrage of many Americans, ordered flags at City Hall to be flown at half-staff. In lower Manhattan, antiwar demonstrators marched peacefully.
Construction union leaders, who were zealous backers of Nixon's Vietnam policies, organized a counterprotest. Workers—or "hard hats," as they were known—left their girders and skyscrapers with their clenched fists held high and hit the streets with "America: Love It or Leave It" placards, and shouts of "Kill the Commie."
Breaking through a police barricade, the construction workers pummeled, kicked and bashed the protesters, seeking out, one witness reported, the men with the longest hair. Not satisfied with knocking around longhairs, the workers stormed City Hall to try to get the flag raised to full staff. Frightened City Hall staff raised the flag while hard hats screamed at the "red mayor."
Today the "Hard Hat Riot" is little remembered, but at the time it marked an important chapter in the long, painful estrangement between working-class white men and the Democratic Party. This relationship plays a central role in where the country is now and where it's heading in this fall's midterm elections.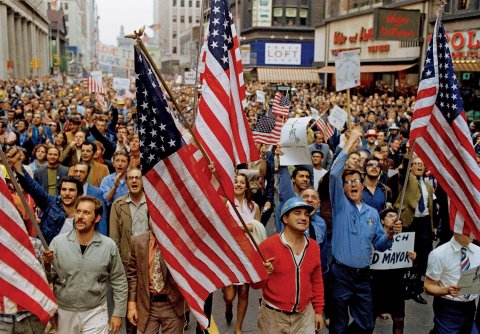 Democrats Are Nervous
Working-class white men used to go with the Democratic Party like hot dogs and mustard. And now? Well, not so much. The complex political allegiances of noncollege voters—and particularly noncollege white men—get less attention than the rise of the Hispanic voter. The white working-class percentage of the electorate may be on the decline, but white working-class men remain a voting bloc neither party can afford to ignore.
Democrats have assembled a "Coalition of the Ascendant"—Hispanics, African-Americans, affluent white voters (especially women) and millennials—that has twice given Barack Obama the presidency. And his policies, from gay marriage and government regulation of the coal industry to opening doors to immigrants, have helped cement that coalition.
Indeed, the two biggest Supreme Court cases of the past two years involved the Obama administration fighting laws on behalf of that coalition—laws that President Bill Clinton enthusiastically signed: the Defense of Marriage Act and the Religious Freedom Restoration Act, which were at the heart of the gay marriage and Hobby Lobby cases. White noncollege voters aren't all cultural conservatives, but they often lean that way—and Obama's progressive politics have pushed them further away from the Democrats.
The estrangement has had touchstone after touchstone. There was the Silent Majority Richard Nixon courted in the 1960s (as opposed to what he thought of as loud-mouthed liberals).
One cultural marker was All in the Family in the 1970s, the No. 1–rated TV show about an outer-borough New York bigot wrestling with rapid changes in society. Archie Bunker's sentiments echoed the white working-class preoccupations of the time, as did the blue-collar anti-busing protests in Boston.
In the 1980s, the issues of income taxes, high crime rates and devotion to the military led to the rise of the Ronald Reagan Democrats—white working-class families, often ethnic and Catholic, who were prepared to abandon the party of their parents and grandparents.
In the 1990s, despite Clinton's success at reaching some of these lost Democratic voters, their drift rightward continued, with angry white men fueling the 1994 Newt Gingrich small government–low taxes revolution, a year after Newsweek ran a cover story on "White Male Paranoia."
Since 2000, white working-class men have become so estranged from the party of the New Deal that in some states Obama won only 10 percent of their vote. (Overall, about a third of white working-class men gave Obama their support.)
And it's not all racial. Democratic presidential candidates Al Gore, John Kerry and Obama each saw competitive or even Democratic states with lots of working-class whites—such as Arkansas and West Virginia—go into the Republican column. In 1994 and 2010, Republicans took back the House of Representatives in landslides in large part because white male working-class voters deserted the Democrats.
In 2010, for instance, success in rust belts in Ohio and Pennsylvania and in the rural South, among other regions, drove the Republicans who took the House from then Speaker Nancy Pelosi and the Democrats. In the 2012 election, Obama attracted fewer white voters than any Democratic candidate since the 1960s. And in the subset of working-class white men, he lost by a 31-point margin. But because noncollege whites have become an ever smaller part of the pie, Obama was able to win the election. Noncollege whites of both sexes constituted half of Clinton's electoral strength in 1992, but made up only a quarter of Obama's support in 2012.
This year the impact of white working-class voters looks likely to be amplified. In presidential voting years, minority voters come out in bigger numbers, diluting the impact of white working-class voters who may constitute a third of the electorate in an off year but only a quarter in a presidential election year.
That's why so many Democrats are nervous about this fall.
A Sense of Aggrievement
If the prospect of higher white-working-class turnout wasn't bad enough for Democrats this fall, the Senate battleground states—Louisiana, Montana, Kentucky, Arkansas, West Virginia, North Carolina, New Hampshire, Iowa, and Michigan—are thick with working-class whites. In West Virginia, a state so Democratic it went for President Jimmy Carter in the Reagan landslide of 1980, the Senate seat held by Jay Rockefeller is certain to go Republican, while a veteran Democratic House member, Nick Rahall, will be lucky to hang on to his seat, despite spending the past 20 years in Congress. Rahall is attacking the Koch brothers and "New York City money" to stay competitive—and that may not be enough.
For Republicans, the stakes are also high this fall. As minorities become an increasingly powerful part of the electorate, especially Democratic-leaning Hispanics, who gave 71 percent of their vote to Obama in 2012, working-class white men are losing clout. (Mitt Romney attracted a larger percentage of the white vote than Reagan did in 1980, but because the percentage of whites in the overall electorate has gone down, Obama became the first president since Dwight Eisenhower to win two elections with more than 51 percent of the popular vote.)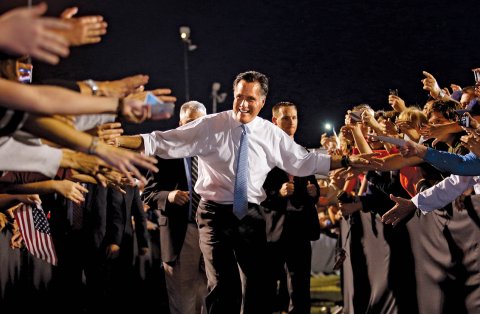 Even as Republicans solidify their hold on noncollege white men, they can't rely on them in perpetuity. And in some states, especially in the upper Midwest and Northeast, Democrats have reduced their losses to the point where they can win states like Ohio, Michigan and Pennsylvania because they lose noncollege white voters by a smaller margin.
Political consultants of both parties are watching what issues will form the tableau of the election and how they might affect differing groups, including noncollege white men. One of them is immigration, which the president may take up through executive action. Democrats are betting that it's a plus for them, wooing Hispanics, even if it might play poorly with working-class white men.
The strife in Ferguson, Missouri, could be an electoral wild card this fall for both parties. After an August that saw the shooting of an unarmed black teenager at the hands of a white police officer, the St. Louis suburb became a focus for national anger—a combustible mix of race, poverty, police militarization, voting rights and a slew of other issues. By month's end, the violence seemed more tempered following a funeral service for the dead young man, Michael Brown.
But autumn presents the possibility of more controversy, if not violence. The St. Louis County district attorney says he could be presenting evidence in the case to a grand jury through mid-October, putting the possibility of an indictment in the shooting of Brown—or lack of one—right in the middle of the midterms. How an indictment or continued civil unrest might affect different electoral groups is anyone's guess, but it's worth noting that in an August poll by the Pew Research Center, noncollege white men—more than any other racial group—said too big a deal was being made of race in the case.
The story of what makes white working-class men vote and in which direction is a complex one. They're not monolithic by region or religion. And it's not easy to measure them by occupation either, so pollsters use the index that's easiest to measure and less prone to error, even though it's less than perfect: whether they went to college.
While this might conjure up the image of a construction or factory worker, these days most noncollege white males are more likely to be found in low-end office jobs or in retail sales as cashiers—two of the fastest growing job categories in America. But what a disproportionate number of noncollege white men seem to have in common, according to polls, is a profound sense of aggrievement—at the rich for rigging the system and the poor for getting benefits they don't deserve.