Let me begin with a confession: Men's formal wear is not my long suit. I am a sports writer, and department stores already devote entire sections to my slovenly demographic: men's sportswear. You will find more suits in a standard deck of cards than you will see in my closet.
And that's a shame, because suits are the coolest of garments—cooler, even, than jeans—worn by the coolest of men: Cary Grant, Jake and Elwood Blues, Pee-wee Herman. A suit can make you look like George Clooney in Ocean's Eleven, while a windbreaker and khakis can make you look like George Clooney in Syriana.
"The suit," said Swiss-French architect Le Corbusier, "is a machine for living in, close-fitting but comfortable armor. It is the most successful and enduring fashion garment ever devised."
Suits are cool, but they can sometimes get a little too warm, which is why Brooks Brothers, the most successful and enduring clothier in the United States, has introduced a Cool Suit line. "It's 30 percent lighter than your average suit and very, very breathable," says Brooks Brothers publicist Dana Schiller, whose duties also include coordinating all the suits that drape Don Draper (or, if you prefer, "that Don Draper dons") on Mad Men. Now that is a cool gig.
"A suit says you're here to take care of business," says Carter Bays, co-creator with Craig Thomas of the late sitcom How I Met Your Mother, which introduced the iconic Barney Stinson, a character who was besotted with being besuited. "You're serious about what you do. You wear a suit to a job interview and you wear one to church, and in both cases it's because you want to show the person in charge that you're not messing around."
Or, as Barney himself would say, "Suit up!"
Three-Button Opera
Suits are hot right now, particularly on television, where a USA Network show called Suits is in its fourth season. The show's creator, Aaron Korsh, is a shorts-and-sandals Hollywood dude these days, but once upon a time he was a New York City hedge-funder who would commute daily in a suit. "When I was in college, I saw the movie Wall Street during spring break," says Korsh, 47, "and that made up my mind. I was going to be that guy." That guy in a sharp suit.
Korsh originally penned Suits, a dramedy that revolves around a law firm, as a hedge-fund vehicle, "but then we had the double meaning of the office uniform and lawsuits." Each Sunday night on Mad Men, Don Draper (Jon Hamm) and Roger Sterling (John Slattery) model classic Brooks Brothers couture, and it is the show's female's audience that is left hot and bothered. Comedian John Mulaney, whose eponymous sitcom just premiered on Fox, always performs live in a suit because "that's what my dad [a lawyer] wears to his job, and this is my job."
Handsome men become irresistible when donning a Savile Row creation. Cary Grant, who had all his suits custom-made and only used his personal wardrobe on his films, was literally a supporting actor to his two-piece, lightweight worsted wool, blue-and-gray plaid pattern star in Alfred Hitchcock's 1959 thriller North by Northwest.
That Grant spends the entire film in a blue-and-gray suit, and most of it attempting to remain inconspicuous, is no coincidence, believes Scott Stoddart, the dean of liberal arts at New York's Fashion Institute of Technology. "The Man in the Gray Flannel Suit was released just a few years earlier [1956]," he says, "and the entire point of the title is that such a suit renders you anonymous."
But by the late 1960s, suits were for "squares." The 1970s gave us the leisure suit, an oxymoron for sartorial morons. In the 1980s, another Hollywood leading man from the '50s, albeit a B-list actor, returned the suit to its rightful place in our closets: Ronald Reagan. The Gipper was always dapper, and his Oval Office popularity—along with a robust economy—helped make Wall Street a cinematic part of the zeitgeist.
In the 1990s, the dot-com gold-rush came along and overwhelmed button-down-era bankers. Suddenly, the magnates of capitalism were making fashion statements in black mock turtlenecks or hoodies. Slackers trumped slacks (and trumped Trump, for that matter). "When I arrived at Brooks Brothers [in 2001], the suit business had tailed off," says Gaetano Voglino, the store's vice president of global merchandising. "Our focus was to bring the suit back to where it was. At some point, we thought, You felt kind of sloppy [without one]."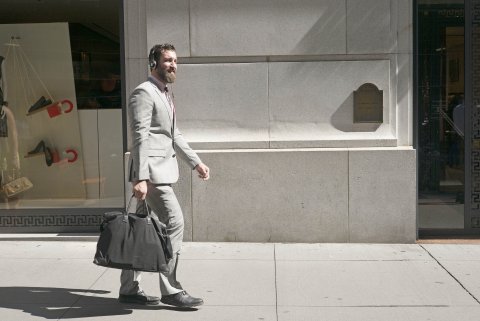 The Boxer Short Rebellion
For at least a half-decade (2004-2011), there was no more bro-dacious show on television than HBO's Entourage. It was Sex and the City for dudes, and one of its more intriguing subplots was the fractious relationship between Eric "E" Murphy, the best friend and manager of Hollywood star Vincent Chase, and Billy Walsh, an erratic but occasionally brilliant director. Walsh had only contempt for E's attempt to walk the tightrope between art and commerce. Art never compromises, or so believed Walsh, who addressed E only as "Suit." In one episode, he even donned a red T-shirt that proclaimed in bold, white letters, "SUITS SUCK."
"Clearly, 'Suit' is meant in a disparaging way," says Korsh, who by this time in his career had ditched banking and its pinstripes to fetch coffee as an intern on the set of Everybody Loves Raymond. In a sense, Korsh's rebellion against the suit life led him to Suits. "You're a company man, is what the term implies. You don't have individuality. You're not a human being. I remember watching Entourage and loving that friction between those two characters."
"At the end of the day," says Jim Moore, the creative director of GQ, "the suit is a uniform. It's the armor you wear each day into corporate life."
The irony, though, is that the origin of the modern suit is found in the seeds of rebellion. A rather historic rebellion, actually. "The French Revolution of 1789 marked a genuine turning point in the history of fashion," write the three authors ofA History of Fashion. Dressing ostentatiously in Paris after the storming of the Bastille was a terrific way to earn a date with a guillotine. As France remains the ultimate arbiter of fashion, this radical change in haute couture had rippling effects that spread across the English Channel. There, the future king, George IV, was in school at Eton and befriending a charismatic younger student, a lad not of noble birth who nevertheless went on to become the best man at the royal wedding, the world's first metrosexual and the father of the modern suit: George Bryan "Beau" Brummell.
Born in 1778, Brummell was not what they would refer to in Game of Thrones as "high-born"; he was just handsome, enormously well-liked and a visionary of grooming. Like a Dickens character, Brummell came into a large inheritance at the age of 21 and set about tackling life like a Kardashian. In an era when people did not bathe, Brummell bathed daily: in milk first and then water. He shaved and exfoliated. His morning ablutions lasted up to five hours and drew audiences, although only the privileged few were allowed into his dressing chambers.
Brummell may have been the first man in modern times to literally suit himself. He designed his own clothing, replacing breeches (at the knee) with trousers, for example. He popularized the look of trousers, vest and coat while leading a life so sybaritic that Oscar Wilde would later pattern his tragic protagonist Dorian Gray after him. While Brummell might have partied like it was 1799, he was deadly serious about fashion. "If John Bull [the average Joe] turns around to look at you, you are not well-dressed," said Brummell, "but either too stiff, too tight or too fashionable."
A true original, Brummell adorned his figure in a manner no one before him had, while a coterie of fashion disciples, quite literally, followed suit. As Brummell was charming the men and ladies of the British court, the cotton gin (1793) and sewing machine (1829) were being invented. Because of slavery, cotton production in the American South increased by more than 1,000 percent in the early 19th century, making fabric ridiculously cheap. Suddenly, you didn't have to have a bunch of Roman numerals after your name to be able to afford fine garments. And in the early 19th century, that meant a "lounge suit"—or what we now call a suit.
Savile Row, still home to the world's most esteemed men's tailors, sprang up in London—a statue of Brummell may be found there. Across the pond, Henry Sands Brooks opened the first men's clothier in the United States, on Manhattan's Lower East Side, in 1818. His three sons renamed the operation Brooks Brothers, which now boasts more than 250 outlets on six continents. Thirty-nine of the 44 American presidents, including the current one, have worn Brooks Brothers suits. Abraham Lincoln was inaugurated—and assassinated—in a Brooks Brothers suit. "We are a classic and traditional company," says Voglino, "but when I got here, we only had one fit for the suit: boxy. Our demographic was a 50-year-old man."
Enter Thom Browne. While an undergrad at Notre Dame in the mid-1980s, Browne wore a suit nearly every day. A swimsuit. He was a varsity swimmer, lean and fit. Then he graduated, only to find that wearing a business suit felt like driving a Buick. "The suits out there were what our fathers were wearing," says Browne, "which is exactly why I didn't want to wear them."
In 2002, Browne, a fashion director at Ralph Lauren and part-time model, channeled the spirit of Beau Brummell. Dissatisfied with the status quo of men's formal wear, Browne set about creating his own. "It took about nine months to develop," says Browne. "I knew it was exactly what I wanted to look like in a suit. I worked with a tailor in Queens and had five suits made." The "Skinny Suit" was born.
Soon, Browne's friends and acquaintances were asking him where they might find a suit like that. And not long after that, Browne opened a store in TriBeCa. His sartorial sense—"a classic ideal with a fitter proportion"—has made him one of the world's more influential designers of men's fashions. Brooks Brothers, the store where Browne's father used to get his "Buicks," now has a line of Thom Browne suits.
Cool Running
And now Brooks Brothers has the cool kids chasing after it. Supreme, a Manhattan-based skate punk store, recently approached the erstwhile stodgy Madison Avenue clothier about partnering on a suit. "They wanted a black-and-white seersucker suit," says Voglino. "We compromised and made it charcoal and white."
The Supreme/Brooks Brothers skater line found no shortage of suitors, and sold out within weeks.
So, yes, Brooks Brothers now has both a Cool Suit and a cooler suit. The brilliance of the former is not just a lighter fabric but also a design innovation simple enough for even Ron Burgundy, a man who matched his suits to his surname, to comprehend: three-eighths of the suit's lining has been cut out of it. At $698, the Cool Suit costs a little more than a standard Brooks Brothers suit, although giving its owner a little less. That's fashion.