Earlier this year, Morten Kabell did away with his mayoral e-car, opting instead for a mayoral e-bike. And yet, Copenhagen's new mayor for technology and the environment doesn't consider himself a cycling enthusiast. "Like most Copenhageners, I bike because it's fast and efficient," he explains.
Indeed, in the past two years, the share of Copenhageners who ride their bike to work or school has risen from an already high 36% to 41%. But, as far the city planners are concerned, even that's not enough. "Pretty much everyone here rides a bike: young, old, both sexes, all levels of education," reports Andreas Røhl, head of the city's mobility department. "One of our challenges is, with so many people biking, where can we increase the number? Biking shouldn't be a sacrifice."
To make the journey more convenient, Røhl's team will widen bike lanes to fit four bikes next to each other, compared to three today. It will also introduce "green waves" allowing armies of bicyclists to cross intersections without having to stop, and sensors telling the traffic lights that a pedal-­driven crowd is approaching. An LED-lighting system currently being developed will see bus lanes change colour during rush hour, turning them into bike lanes and back to bus traffic when traffic subsides. "And we plan to eliminate missing links where it's not convenient to bicycle, such as dangerous intersections," he explains. "It should be so fast, safe and convenient to bike that even people who are not used to biking, like pensioners and children, feel safe doing it."
That's not to say that cycling in the Danish capital is currently unattractive – on the contrary. Today the city boasts 360km of wide bicycle tracks – slightly raised bike pavements between pedestrian pavements and car lanes – and painted bike lanes on which residents ride a total of 1.3 million kilometres each weekday. Many city centre streets have been closed to vehicles, making cycling the more convenient option. Indeed, cars have been banned from the square in front of the parliament, which instead features cycle parking. When it snows, cycle tracks and lanes are ploughed before car lanes, and the city's light-rail train recently started allowing passengers to bring their bikes free of charge.
In a move that will put London mayor Boris Johnson's cycle highways to shame, Copenhagen is embarking on an ambitious cycle scheme that will connect the city's suburbs to the city centre. Today only 10% of those living 8-10km from central Copenhagen cycle there. That needs to change, the city has decided, and together with neighbouring municipalities it has started to build "cycle superhighways", bike tracks that will safely take suburbanites to work or the cinema.
Around the world, cities are discovering the old pedal horse as an answer to many of their problems. "Urbanisation, increasing population density and cycling go hand in hand," says Gunjan Parik, head of the transportation initiative at the C40 group of megacities. "Mega­cities are moving to bikes as a way of lowering CO2 emissions and increasing mobility cheaply. And doing so doesn't require huge investments."
Read next: Copenhagen to Be World's First Carbon-Neutral Capital
Rio de Janeiro, Parik notes, is building 300km of bicycle lanes and is launching a bike-share programme. Bogotá, too, has created 300km of cycle lanes, while New York City boasts some 500km. Beijing (where the number of bikes dropped from 11 million in the 1990s to four million as newly affluent residents have upgraded to cars) and Guangzhou have introduced bike-share programmes, as has Hangzhou, which reports 250,000 trips a day with more than 60,000 bikes available in 2,177 locations. Tokyo's Kasai Metro station now houses up to 10,000 cycles in its automated bike garage. This summer, Paris launched the Petit Velib bike-sharing programme for children. Citizen-led initiatives range from a bicycle school for women in Santiago to one for refugees in Vienna. (Copenhagen offers bicycle training to immigrant women.) "And cycling is becoming cool in cities like Buenos Aires," reports Parik. "That's a big hump for developing and emerging countries." In her own home city of Calcutta, Parik notes, cycling is definitely not considered cool but rather a vehicle for the poor.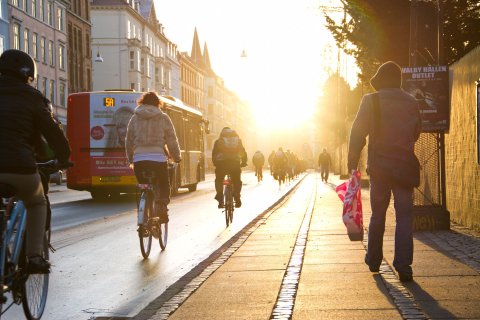 While the Dutch city of Groningen, which boasts a 50% cycling rate and a city centre almost free of private cars, is the world's undisputed cycling champion, most cities are looking to Copenhagen for inspiration. That's because making cycling the preferred mode of transportation is much harder in a capital than in a university city of 190,000. "Bikes are an efficient way of transporting people, especially as cities become more densely-populated," notes Camilla Van Deurs of Gehl Architects, a Copenhagen-based architecture firm with a thriving cycling infrastructure practice. "But we always tell cities that they need the infrastructure first, or otherwise people's habits won't change. At some point they have to take space away from cars and create bike lanes so people feel safe biking with their children."
In Copenhagen, many parents already transport younger children in so-called cargo bikes, normal bikes with a large open box in front. Once considered the domain of hippies, cargo bikes are now used by 28% of all Copenhagen families with two children or more. While crisscrossing the city of Borgen one recent rainy day, I shared the cycle track with a steady stream of parents on cargo bikes ferrying both children and groceries. The city plans to increase that figure, too, by creating cycle-through shopping. As a result, Røhl's team has a novel issue to solve: creating sufficient cargo-bike parking.
Cargo-bike parking may not be on the radar of Pittsburgh residents, but recently mayors from the Steel City and some 30 other American cities visited Copenhagen and tried out the bike tracks for themselves. During my visit, delegations arrive from Poland and Hong Kong, and officials from Kuala Lumpur and Taipei have contacted Kabell for bicycle advice. Their interest touches on another global problem, too: obesity and its related illnesses. In Copenhagen, Røhl's team of cycling economists have calculated that residents' pedal rides save the city more than €228m each year in healthcare costs.
Copenhagen's widened bike tracks will steal space from cars. Indeed, making the car a ­hassle is part of the plan. For years, the Danish capital has quietly been converting car-parking spaces to bike tracks. Future cities may, indeed, be cities dominated by bikes as city planners will have made it too inconvenient to drive. Copenhagen reports that city shops' revenues increase along with bike rides; it's easier to get off a bike than out of a car. And if Kabell has his way, even global shopping behemoths will be turned into bike-friendly corner shops.
"Imagine if Ikea had small stores in residential neighbourhoods," he muses in his office in Copenhagen's City Hall, whose ground floor features bike parking. "You could look at the furniture and pay, and then they'd be delivered from a warehouse." By cargo bike, presumably.