Follow the elephants. That was the idea. As I drove up Knox Mountain Road, the temperature in the 60s and the autumn foliage on full display, I was heading to a Republican meeting at the New Hampshire home of Republican activists William and Faith Tobin, not far from Manchester in the town of Sanbornton, which, when it was founded, had the unfortunate name of Crotchtown.
A slew of red, white and blue wooden elephant signs had been placed along the dirt road marking the way up the mountain. When I arrived at the Tobins' home, the grounds were lovely and the hosts so friendly, with none of the wariness that usually greets reporters. The house hugged a gorge and a creek and had the feeling, a bit, of the Frank Lloyd Wright creation, Fallingwater. Although looking at the mini canyon and all these Republicans, I couldn't help think of Ayn Rand's Galt's Gulch, a place of conservative mythology. It's where the successful fled in her novel Atlas Shrugged, peeved at the government and the moochers.
Governor Rick Perry of Texas was supposed to come to the event, but he stayed at home because of the death of the Ebola patient in his state. Who would want to be seen in the hot zone of presidential politics when a killer disease had come to Dallas? So the evening went on without him, the food bridging summer and fall—sweet homemade chowder and pumpkin pie, among them. A tent was set up, and the owner's pet donkey was the subject of many Democrat jokes.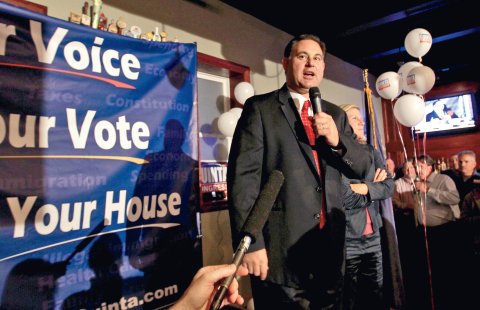 Speaking to the 40 or so attendees was Frank Guinta, the former congressman from the state's 1st Congressional District. (There are only two.) Guinta was elected to Congress in the 2010 Tea Party wave that smacked Democrats. In 2012, the congresswoman, Carol Shea-Porter, took back the seat, and now Guinta is trying again. It's like a Civil War battlefield that each side keeps taking and losing.
"She's voted with Obama 99 percent of the time," Guinta told the group, which savored his words even more than the pie and chowder. The line echoes a talking point used by Republicans around the country as the president's popularity sinks. By contrast, Guinta, the former mayor of Manchester, the state's largest city, tried to sell himself as in touch with the people, even giving his cell number to the crowd, urging people to call him if they had a problem. He expressed confidence about winning when we walked to his car, but he also noted that the district was slightly Democratic and tough politically. "I worry about what I can control," Guinta said, as a voter complained to him about all of the ads. "I have to turn off the TV," she said.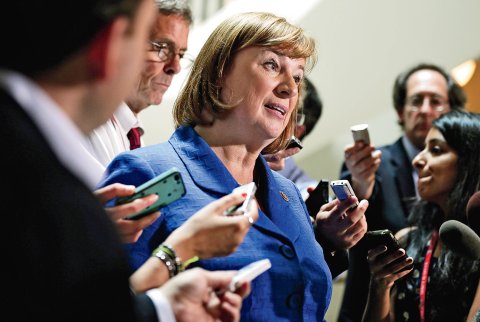 She's not alone. New Hampshire's two congressional districts, one of its Senate seats and its governorship are contested this year, making the state a hothouse of ads and accusations, polls and pols—a pretty good prism through which to view the state of American politics on the eve of the midterm elections.
And the state of the midterms nationally? The biggest question, of course, is who will control the U.S. Senate, where Democrats are in the majority but the Republicans are poised to become the majority. Democrats in states that went for Republican presidential candidate Mitt Romney in 2012 face the toughest battles, but the surge of independent candidates in Kansas and South Dakota, once seemingly impossible for Democrats to win, could still leave Democrats in control. What is certain is that the president remains a drag for his party. He's barely been invited to campaign with members. His role in the race is as a punching bag for Republicans and as an off-camera fund-raiser for Democrats.
So where does this leave New Hampshire? Best known for its first-presidential-primary status, New Hampshire has served as a kind of proxy for the rest of the country, weeding out lesser candidates for the rest of us—and having a better record of picking presidents than Iowa. This year, it's worth seeing the closely divided state as representative of the country, a microcosm of the nation at large: It's not red or blue but purple, but maybe a touch on the red side.
It's not that the Granite State isn't sui generis in some ways or, as about a jillion political reporters have called it, "flinty"—a reference to the state's sometimes grouchy, prickly politics. This small polity has the third largest legislature in the English-speaking world, behind only the British Parliament and Congress. It also boasts the New England tradition of Norman Rockwell–style town meetings. But it has a long habit of electing Republicans, some more than a bit flinty.
The state's motto, emblazoned on license plates, is "Live Free or Die." It's a state where the Republicans disproportionately favor legal abortion and the Democrats share little of their party's reflex for raising taxes on the rich. In the 1960s and 1970s, Republican Meldrim Thomson Jr.—whose mantra was "Ax the Tax" and "Keep the Guns"— was elected governor. He advocated giving the state's National Guard nuclear weapons. Right now, the state's congressional delegation and governor are all women, the first time that's happened.
But New Hampshire illuminates the vicissitudes of this election: Republicans are gleeful about linking Democrats to Obama, even in a state he won twice, albeit losing to Hillary Clinton in its Democratic primary. Like the rest of the country, it's a money swamp for shadowy interest groups to throw dollars around, including outfits largely funded by the Koch brothers. (They've run TV spots up against one congresswoman: "Tell Ann Kuster ObamaCare isn't working for New Hampshire.") And it's a forum for half-truths and absurdities. (The Senate race has been thick with claims about who missed which Senate hearings, as if attendance were a measure of greatness.)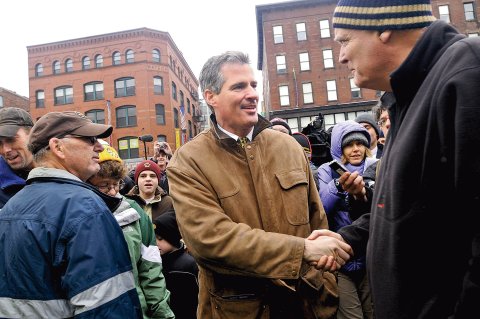 New Hampshire also shows why it's so hard to make generalizations about which party will capture the closely divided Senate this fall. It's a cliché that all politics is local, but it's a cliché for a reason. The deep roots of some candidates will have as much to do with victory as ad buys or Barack Obama. That's surely true in the Senate race, where Scott Brown, the Republican, recently changed his residence to run here after losing his seat as a senator from Massachusetts in 2012. He may overcome the charge that he's treating New Hampshire as a consolation prize.
The Senate race, in which Brown is challenging Jeanne Shaheen, who served three terms as governor and now wants a second six-year stint in Washington, is one of the most closely watched in the country. Shaheen has pretty consistently held a lead, but it's narrowed considerably. Part of that is due to Brown constantly linking her to Obama. And Brown, who served more than three decades in the Massachusetts National Guard, has played up national security and the threat posed by the Islamic State, better known as ISIS: Shaheen, he says, "supports America's failed foreign policy."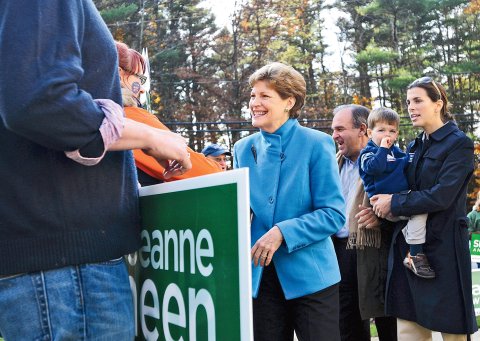 But Shaheen has gotten some traction by going after Brown's pro-choice record, chiding him for a bill he co-sponsored in the Massachusetts Legislature requiring doctors to show women seeking abortions color photographs of fetuses. That's been an idea promoted by groups seeking to end legal abortion, hoping to persuade women not to terminate their pregnancies. Brown has countered that he was merely promoting adoption and has called on Shaheen to cease and desist from promoting the accusation.
"I voted to protect money for Planned Parenthood," he said at a tavern in Derry. "As a colonel in the Army, my team rewrote the regulations for women who are assaulted.… The very sad thing is Senator Shaheen knows better, that I was one of a handful of members to support her amendment to help female service members who are raped." All of which is surely true, but Brown's charge rings hollow if you look at the bill that Shaheen is touting. It is not primarily an adoption measure. (I should note that my ex-wife makes ads for Shaheen, but wasn't interviewed for this article.)
The charge has made Brown angry. When I saw him speak, he seemed visibly shaken by the accusation. Whether that was for effect or sincere, the accusation clearly didn't sit well with Brown, who frequently mentions his pro-choice stance and that he has a house of daughters and defended his family against an abusive father. In one sense, New Hampshire is an outlier among states, because the voting population is being lured by ads promoting legal abortion to a degree unseen in many states. On the other hand, it's a sign that social issues still matter, even at a time of economic uncertainty and foreign policy challenges.
The Brown-Shaheen race also illustrates how courting groups is still a staple of American politics. When I saw Brown at that tavern in Derry, he was conducting a town hall with veterans. (Possible presidential aspirant Senator Marco Rubio of Florida was also there.) The questions about ISIS and veterans' benefits played to Rubio's and Brown's hawkishness—a reminder that the Republican Party is still tilted more toward intervention and military force than the non-interventionism of Senator Rand Paul of Kentucky, the libertarian son of former Representative Ron Paul, who enjoyed an impressive second-place showing in the New Hampshire GOP primary in 2012.
The next day I saw Shaheen in Peterborough, the impossibly pretty town hugging the Contoocook River where Thornton Wilder, inspired by the locale, penned his classic play Our Town. Shaheen was here to address a group of women at Aesop's Tables, a women-owned restaurant inside a cute bookstore. It was a fitting place for Shaheen's "A Senator New Hampshire Women Can Trust" tour west of Manchester. She was building on her abortion attack on Brown but also touting a slew of issues that might have special appeal to women.
Shaheen has a mild manner, befitting the schoolteacher she was. (When she was head of the Institute of Politics at the Kennedy School of Government, she told a visiting Stephen Colbert that she found ketchup too spicy.) But she's not to be underestimated and is the only woman to have served as both a governor and a senator anywhere in America.
At the event she showed off her bipartisan and wonky credentials. She touted an energy-efficiency bill she has co-authored with Ohio Republican Rob Portman as well as a bill Shaheen promoted to direct more loans from the Small Business Administration to women, raised the threat of climate change and at almost every turn said, "Another big difference between me and Scott Brown..."—a sign that the campaign wants to tear down Brown's moderate image. "There is a big difference between Scott Brown and me," she said. "I trust women."
And interestingly, Shaheen touted the Affordable Care Act at the event. Now that some of the most notorious problems with the statute seem to be fixed, Democrats have the space to say nice things about the measure and not run away from their votes in Congress for it. When I spoke to Shaheen after the event, she noted that she'd been critical of the rollout of the plan—things that afflicted programs nationally, like the haywire website, and locally, like problems with New Hampshire's exchange—but she was quick to hail the New Hampshirites who are now covered—perhaps a sign that if Democrats aren't exactly boasting of their votes for the Affordable Care Act, then at least more of them are, like Shaheen, defending it.
Ultimately, while all the Democrats running for reelection in top offices around the country seem to have the edge, there's reason for them to be wary. Off-year elections always see a reduced turnout, with New Hampshire having one of the country's biggest drop-offs. And those who do show up tend to be ornery about the president. One Democrat I spoke with acknowledged this. "It depends how much water comes in the basement," he said, in a reference to a potential flood of anti-Obama votes.
Shaheen lost her 2002 Senate bid in part because George W. Bush was still riding high in the aftermath of the 9/11 attacks and the Democrats, foolishly, chose to make union rights for the then new Homeland Security Department their cause célèbre. And so this year an unlikely candidate, Marilinda Garcia, a Republican, is posing a strong challenge to Ann Kuster in New Hampshire's 2nd District.
Garcia's father is Hispanic, which is an interesting heritage in a district and state that's only 3 percent Latino versus 17 percent nationally. Tea Party-ish in her leanings, a harp teacher, state legislator and graduate of Tufts and Harvard, she's only 31 and faces a tough climb in the more liberal of the state's districts.
In fact, Kuster has had plenty to work with in exploiting Garcia's positions, including her being against legal abortion and wanting to abolish the Department of Education. "Just too extreme," say Kuster's ads. And Kuster is likely to win. But in a year when the president is a drag on the ticket, voters in New Hampshire and the other 49 states might not find extreme that extreme.