Thin Taw Li refugee camp filled me with foreboding. Although I had visited camps where people had fled civil war, this was the first time I had been among a people who face ethnic cleansing. The camp is home to more than three thousand Rohingya who fled sectarian violence in Burma's Rakhine state.
For decades the Rohingya Muslims have been subjected to systematic persecution by their largely Buddhist countrymen: denied citizenship, suffering forced labour, rape and killings. The United Nations has described them as "the world's most persecuted minority" and other observers have warned of an impending genocide.
In 2011, after decades of repressive military rule, a radical reform programme began. Elections were held, a new government was formed and Aung San Suu Kyi was released from house arrest. Burma, it seemed, was finally moving towards a democratic future. The following year violence erupted in Rakhine state between ethnic Rakhine Buddhists and the Muslim Rohingya. Almost 140,000 people were displaced and at least 280 killed. Since then, the situation has stagnated and these people remain stuck in ­internal camps and squatting on the outskirts of villages at the mercy of their ­persecutors.
To reach the camps – nine of them located closely together with a population of 75,000 refugees, I had to pass through a single check-point on the outskirts of Sittwe, the state capital. At a railway crossing, armed police with antique rifles sat at a table. After paying a fee, the police waved me through and I entered the Muslim enclave.
A pot-holed road led to open country where the camps are located. Along the road we passed Muslim villages where markets spilled on to the road and crowds milled about. The ­drizzle was unrelenting. We then turned a corner and the blue and green tarpaulin of refugee huts came into view. It was a bleak landscape of flooded paddy fields. The only protection against storms was a single fence of battered palms that lined the Bay of Bengal beyond.
At first glance, Thin Taw Li gave the impression of a sprawling, squalid medieval village. The entrance was a series of muddy paths that led between huts with corrugated iron roofs. The women wore hijabs and some had their faces smeared with thanaka, a traditional Burmese cosmetic made from sandalwood.
Many family dwellings were no larger than a two-person tent. The monsoon only added to the misery of camp life, making it impossible to stay dry. Within minutes I was surrounded by half naked children, some with distended bellies and bleached hair; the tell-tale signs of malnutrition.
The refugees call the monsoon "the season of flu". Everywhere I was accompanied by the sound of coughing. One Rohingya medic I met, who didn't want to be identified, said malnutrition posed the largest threat to the refugees. "We're worse than prisoners because prisoners are fed," he said. "We're not. We don't know when we'll get the next meal. There are many cases of diarrhoea, as well as numerous skin conditions and tuberculosis." In this camp alone, at least 20 people have died from treatable conditions. "The clinic is open," he said, "but we have nothing."
At first it was easy to believe the people had escaped from violence elsewhere and were out of harm's way. It was only when I talked with refugees that the full extent of their terror became clear.
I was taken to a shack to meet a woman who had been recently widowed. Sitting on a rattan mat in the darkness was 22-year-old Khie Runnisa. She was surrounded by relatives in her white mourning shawl, weak with grief.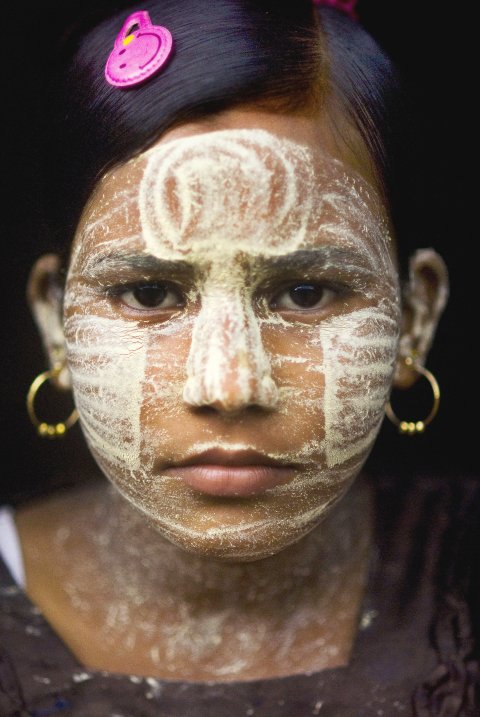 Two days before, she had accompanied her husband, Sham Sul Amam, to an internet café just outside the camp. They were going to call her father-in-law in Malaysia. While they were talking with him, armed police surrounded the café and ordered everyone out. They told them to sit on the road and place their hands of their heads. They said no one would be harmed. Hugging his four-year-old daughter, Sham Sul Amam did the same. The police told him to cover his daughter's eyes so that she wouldn't see anything. A policeman then placed the barrel of his rifle on Sham Sul Amam's head and shot him.
Days later Khie Runnisa was still reeling in shock. At times she had to be propped up by her mother when she talked. "I have no idea why they shot him," she said. "He had no enemies."
A young man, 28-year-old Mohammed, said the police routinely terrorise people. "They look for the smallest reason, or ­wrongdoing, and they harass, provoke and shoot above our heads," he said. "Or they shoot us directly."
It is the night that the people most fear. At the same time that the police shot Sham Sul Amam, they mounted a raid on Thin Taw Li. Mojuma Begum left her stall near the entrance to warn her son and husband. Fearing they would be next they hid in the fields. She returned to her stall to find the police ransacking it. They threatened to shoot her and took everything.
One Rohingya I spoke to, who didn't wish to be identified, described Thin Taw Li as a concentration camp. But unlike the concentration camps of Nazi occupied Europe, there were no barbed wire perimeter fences and no watchtowers; people were free to move between the camps. On occasion I saw armed police, but their presence was fleeting. What was happening was more insidious. There was no need for barbed wire.
The Rohingya have been terrorised into collusion as well as submission. And, like Burma under military rule, they are closely monitored. The camp leaders, Rohingya selected by the police to work for them, have been given mobile phones and ordered to spy on the camp populations. "They are like government informers," a refugee told me.
The UN Special Rapporteur on the situation on human rights in Burma, Yanghee Lee, recently presented her findings to the UN General Assembly. After a 10-day visit to the area last July, she described the situation in the camps as "deplorable". The report, while acknowledging Burma's reforms, warns of backtracking and lists continuing abuses suffered by the Rohingya including: summary executions, disappearances, torture, forced labour, forced displacements and rape. "The government must meet its obligations," says the report, to provide "lifesaving assistance" and adequate basic services including "access to livelihoods, food, water, and sanitation, and education".
Phil Robertson of Human Rights Watch says the Burmese government will be pressured into responding substantively. The big question, he said, is whether it "will accept that the Rohingya deserve an equal seat at the table with all the other people in the country".
The issue of identity runs central to Burma's on-going crisis. In March this year, the first census in 30 years was completed amid controversy. Despite living in Burma for generations, the Rohingya were excluded unless they agreed to be classified as Bengali Muslims. Both the Rakhine and central government have long maintained the Rohingya are illegal migrants from Bangladesh and the Rohingya fear if they change their status, they will be deported. When the UN Special Rapporteur met government officials, she was repeatedly told not to use the term "Rohingya". "The rights of minorities to self-identify," she retorted, "is a central principle of international human rights law."
The 2012 violence was a defining moment. Like survivors of the Cambodian holocaust who divided their experience between "before Pol Pot'"and "after Pol Pot", both Rohingya and Rakhine I met talked of "before the violence" and "after the violence". Although tensions simmered for years, it was the rape and murder of a young Buddhist woman, allegedly by three Muslims that set off the initial unrest. It later spread across the state. In ­Sittwe, police opened fire to separate mobs wielding sticks and stones. Some allegedly took part in violence against the Rohingya. "It was the Rakhine community who did this to us," said Kyi Kyi Aung, who is married to a Rohingya and a convert to Islam. She now lives in one of the huts in Thad Key Pyin camp with her husband and six children. She showed me her arm that had been broken when she tried to escape the violence. It was grossly deformed at the wrist. She had also suffered burns on her leg when she jumped from her flaming house after it was torched by extremists. She only just escaped with her family. "We lost everything."
As with other minorities in Burma, the government uses a divide and rule strategy. In Rakhine state, the government knows ethnic Rakhine could mobilise large numbers of people against them. By allowing anti-Muslim sentiment to be stirred up, the Rakhine remain distracted with the issue of the Rohingya.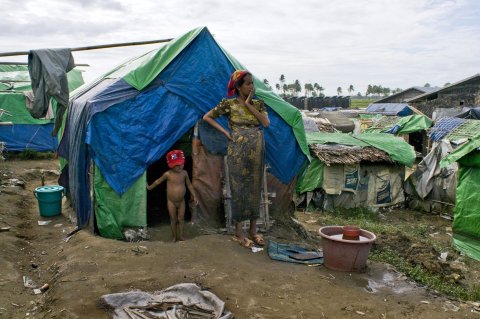 Before the reforms, Burma's ­dictatorship had near total control and crushed any dissent. In March this year, ­Buddhist mobs went on a rampage in Sittwe, attacking the offices of international aid organisations whom they accuse of favouring the Rohingya.
The rioting began when a staff member of the Malteser International removed a Buddhist flag from their office building. Buddhist flags had been flown across the state capital as a ­symbol of opposition to the Rohingya community. When the mob attacked, the authorities provided protection to the aid workers. It was clear they wanted them out.
On the other side of this divide are Rakhine nationalists who see themselves as the ultimate victims in this crisis. They believe they are being squeezed between the Burmese government on the one hand and, what they claim as the 'expanding' Muslim population on the other. It is the Rohingya they see as the greatest threat. But, despite their fears, Muslims makes up only 4% of Burma's population. There is illegal migration from overpopulated Bangladesh, but nothing on the scale the Rakhine nationalists imagine.
"They are our enemy," said U Shwe Maung, a spokesman for the right-wing Rakhine National Party. A garrulous man in his sixties, he cited the rise of radical Islamic groups in the Middle East, believing the Rohingya were planning to create an Islamic state. "The Muslims are trying to take over", he said. "We're afraid of the extinction of our nation."
According to him, it is the government's interest to keep the situation tense. Running from the coast of Rakhine state to China in the north is the Kyaukpyu Shwe gas pipeline. This project includes a deep-sea port, overland oil and gas pipelines to China costing $2.5 billion. Last June, Burma announced revenues of $3.3bn from gas exports in the last fiscal year. "We could be a rich nation," said U Shwe Maung, "but we haven't been given the chance to shape our own futures."
In September, al-Qaida called on Muslims throughout South Asia to rise up and join the jihad, including Burma. This only further fanned the flames of hatred in the state. Since then, there have been reports of arrests, torture and disappearances of Rohingya by the authorities. One man was allegedly tortured to death by police and his wife forced to sign a statement saying he died of natural causes.
Buddhist monks have stirred much of the anti-Muslim sentiment. Many are followers of the 969 Movement, which has instigated anti-Muslim violence in other parts of the country. It is the movement's brand of xenophobic Buddhism that the more radical identify with.
According to the human rights group, Fortify Rights, persecution of the Rohingya is government policy. In a 72-page report, they documented senior ministers openly discussing policies that amount to crimes against humanity as well as guidelines for security forces that enable the abuse of the Rohingya to continue. Director Matthew Smith wrote by email: "All the preconditions for a genocide are in place."
Coming to Rakhine state in the era of reform was like returning to Burma under military rule. I found people living in a fear that strained just beneath the surface. But I didn't expect to be confronted with the very real threat of a genocide. There is a denial among more moderate Rakhine who are afraid to speak their minds, afraid they too may become a target of ultra-nationalists. The day I arrived in Rakhine state, two surviving Khmer Rouge leaders were sentenced in Cambodia for crimes committed 35 years ago. It has been 20 years since the Rwanda genocide, when more than 800,000 were butchered while the world looked. As journalist Thierry Cruvellier wrote, "people never imagine the worst will actually happen, even when all the signs are there".
For now, the situation is on edge. A tense normality has returned to Sittwe, but there are no Muslims to be seen. They are either in the ghettos sealed by police, or in the camps outside. Nazir quarter where they once lived is now an empty lot, reclaimed by tropical vegetation. But few of the Rohingya I spoke to have any doubt about the ultimate aim of this segregation. "The extremists want to ethnic cleanse," Mojuma Begum said. "They want to carry out genocide." A fear confirmed by the chilling words of a young Rakhine refugee. "I want to kill the Muslims," said Aung Ko Naing. "Many feel like me . . . I want to get rid of them all."