At the end of May, roughly six thousand young people gathered outside Scape, a Singapore performance venue, to watch a series of YouTube celebrities walk the red carpet at YouTube FanFest, a celebration of the video platform's biggest stars. Among the celebrities was Jenna Marbles, an American who rose to fame teaching girls to apply makeup while drunk; Ryan Higa, a Hawaiian prankster behind videos like "The Douchebag Workout"; and Lilly Singh, a Canadian comedienne better known by her YouTube moniker, Superwoman.
Most people over 30 would struggle to recognise them, but their devoted YouTube followers were weak at the knees. "We have this intense emotional connection with our fans," Singh says. "In Singapore they waited outside my hotel and cried when they saw me."
Inspired by VidCon in the US and Summer in the City in the UK, FanFest puts online video creators from North America and Europe on stage in front of their followers in Asia and Australia. The inaugural event took place in Mumbai in March, and has subsequently made stops in Singapore, Sydney and Seoul. This year's final event – YouTube FanFest Japan – took place in Tokyo earlier this month.
Acts can do whatever they want. Vsauce, a popular science and technology vlogger, discussed the decibel meter. Marbles – she of drunk makeup fame – answered questions about her personal life and tried not to swear.
Singh called several fans on to stage and performed a dance that mixed street with Bollywood. She then turned to the audience and took a massive selfie: "I want each of you, because you're so important to me, to be in my vlog."
YouTube, which grows its riches through advertisements on videos, hopes these offline connections will help cement their stars' online presence. "It's a nice photo opportunity for ­creators to be on stage in front of the people who are building their living and making them famous," says Ben McOwen Wilson, the director of content partnership for YouTube EMEA. "And it's huge for the creators. It creates that desire for them and in them."
The Austral-Asian anchoring isn't by chance. "Today over 80% of YouTube views come from outside the United States," says Marek Dawidowicz, the Head of Partner Marketing, YouTube Asia-Pacific. "We see FanFest as an important catalyst in that."
For YouTubers like Singh, who is based in Toronto, FanFest provides a rare, high-profile way to connect with far-flung fans.
"In North America people love us, but they can see us at the local mall," Singh says. "It's not the same when you travel across the world for them. The reception is more intense, because they don't feel that they have a lot of events here." These appearances also help extend her global footprint. She watched her subscribers in Mumbai, Sydney and Singapore increase after each event – she now has nearly 4.2 million – and at times "Superwoman" started trending on Twitter. "Trending in a city exposes you to so many more people," she says. "They may not subscribe, but they'll know that there is someone named Superwoman in Singapore."
FanFest is another sign that stardom through the webcam isn't a passing fad. People now upload 100 hours of content to YouTube every minute, and YouTube users now watch six billion hours of video every month – a 50% increase year-on-year. As people watch more and more video online, they're creating a new, potentially more powerful breed of celebrity.
"These people have such a strong connection with their audience, and that just isn't possible if you're starring in a Hollywood hit every two or three months," says McOwen Wilson. "There is no genuine personal connection with the audience, which is what it takes to be successful on YouTube."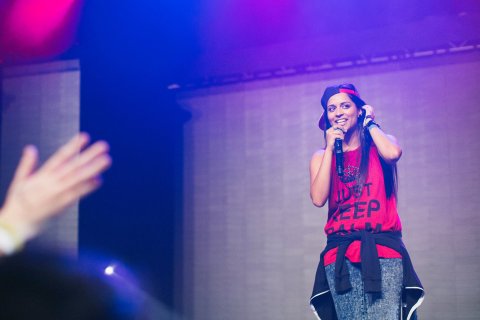 Surveys bear that out. In July, a survey commissioned by Variety magazine found that YouTube celebrities now appeal to Americans aged 13 to 18 more than mainstream stars. In fact, the top five most influential figures all come from YouTube, led by Smosh, a comedy duo with nearly 19 million subscribers and videos with names like "Viagra Overdose" and "Hot Alien Girl Spits on Me".
In the United Kingdom, a poll conducted by Censuswide for Tesco Mobile found that nearly a third of Britons aged 16 to 25 watch YouTube video blogs, known as vlogs, at least twice a week. Some 40% say they would most like to earn their living as a YouTube star, while only 34% said they'd like to do so as a lawyer or ­politician, and only 6% as a reality TV star. Within this cohort, 55% said that having more than two million subscribers on YouTube is the leading indicator of fame, while 37% said it was having over half a million Twitter followers.
Singh says that authenticity is key to reaching them. "I would probably describe my channel as very observational real ­comedy, that's super relatable," she says, noting that her skits frequently satirise her Indian parents. "I'm all about being ugly on screen and burping in front of the cameras – just being totally real and doing things that people can relate to."
Given the massive increase in uploads, stars need to work harder to stand out. As part of FanFest, YouTube empowers its bright young things with the skills to do that. Participants arrive a week early and attend workshops to learn tricks on how to best programme their channel to gain subscribers, and they advice on lighting, communication and whatever else interests them. Organisers also schedule time for collaborations between high-profile YouTubers who may never come into contact outside of ­FanFest.
"The principle is that one plus one equals way more than two," says Jasper Donat, the chief executive of Branded, the agency that works with YouTube on FanFest. "There is a sense of, 'Your subscribers subscribe to my channel, and my subscribers subscribe to yours'. They are not in competition."
For instance, Superwoman had the chance to collaborate with Higa, who has more than 14 million subscribers, on a video called "The Rules of Racism". They satirised stereotypes of East and South Asians during a heated fight over a parking space. She questions – "You little piece of dim sum. Are you going to origami me to death?" – and he responds – "Are you going to give me tech support until I die?" The video ends with her appealing for her fans to subscribe to his YouTube channel.
Stars like Superwoman, Marbles and Higa may draw the headlines, but in doing so they're helping pave the way for the next generation of ­vloggers – including the many who don't burp, drink or swear on camera.
Chika Yoshida uploads fun English ­lessons and has amassed nearly 200,000 subscribers. At the moment she seems more grateful for the ­relationships she has built than for her rising celebrity.
"I'm a part of my viewers' everyday lives as they are a part of mine," she says. "Their requests, their comments, their feedback – it's all reflected into my videos. It's collaborative, it's interactive, it's like creating a memory together every time I upload a video."