Last April, two dozen executives inside the Federal Reserve's Philadelphia branch faced an unusual challenge. The problem did not involve risky mortgages or undercapitalized banks but foam noodles, cardboard bricks and cylinders. And the task was not to prevent the next financial crisis but to engage in what is typically preschool play: designing and constructing a freestanding structure taller than their colleagues.
Split up into four teams inside a conference room, Fed staffers scrambled in the "tower build," part of an internal Fed leadership program aimed at getting employees to stay "focused on the performance objective" that each team had set for itself, such as height or having fun, according to a person involved in the game. The takeaway for one team, which included senior vice presidents, was to learn to avoid basing its actions on what everyone else was doing—in this case, to stop glancing anxiously over at other teams and, as result, to stop building taller structures just because another team had already reached a certain height, regardless of whether height was the competing team's goal.
"They had to learn, Don't just look at what the other guy is doing—just build," this person tells Newsweek. For the first team, "there was a fear of taking unnecessary risks—that if they kept building, their tower might fall." And the team that set its goal as having fun "was way too serious."
Team-building games, a regular part of corporate and organizational America's repertoire for at least three decades, have taken a turn toward competitive play. Full of organizational-management theories tied to ever-shifting prescriptions about what makes employees, from junior to C-suite, more efficient and productive, the games have come a long way from the "trust falls" of the 1990s, when a person would fall backward and hope his colleagues behind caught him.
"It used to be small groups of executives who would go out on a raft for five days and get to know each other," says David Lengyel, a co-founder and managing director of Venture Up. His team-building firm has a list of Fortune 500 clients for its gladiator jousts with foam-filled spears and wall jumping, in which clients don Velcro suits to jump off a trampoline and stick themselves to a 14-foot wall.
"Now clients say, 'We have 100 people who have half a day,' and it's less cooperative-based, more competitive-based. But it still has to be fun," Lengyel says. One recent Venture Up event saw employees of TransUnion, the credit-reporting agency, sit through a day of motivational lectures and tony meals at the Ritz-Carlton in Chicago before moving on to play human foosball.
For financial services firms, games in vogue range from cooking competitions, ice sculpting and employee-produced short movies to customized game and trivia shows, chocolate-making contests and rowing in eight-man fiberglass crew shells. The programs, designed and run by a clutch of little-known consulting firms, are effectively a corporate version of the play-based learning approach inspired by Austrian-born psychologist Bruno Bettelheim and now in fashion with leading preschool educators. "We're bringing together people through play," says David Goldstein, chief executive of TeamBonding Inc.
But do Fed employees create better monetary policy after playing "Who's Got the Biggest FedHead?," a custom-designed game show for Fed executives and staffers created and hosted by Adam Shames, a self-styled "creativity consultant"? Hosting for the second year in a row last April at the Chicago Fed, Shames asked executives such questions as "Who was the longest-serving Fed chair?"
"You'd be surprised how many people think it's [Alan] Greenspan when it's [William McChesney] Martin," who served from 1951 to 1970, Shames says.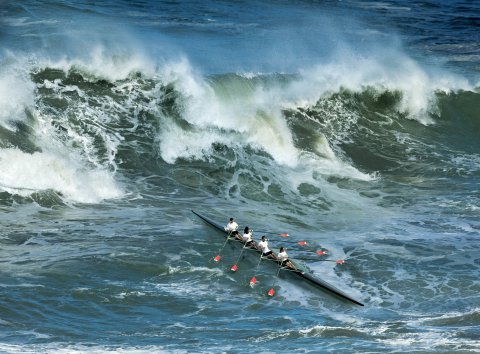 And when play consists of a California wine tasting followed by a giddy sangria-making contest topped off with party hats and wobbly conga lines, is anybody really learning anything?
Possibly, says professor Michael Useem of the University of Pennsylvania's Wharton School of Business, but it depends almost entirely upon whether a military-style debriefing summing up the key points of the exercise is done when the playing has stopped. "Velcro-ing yourself to a wall won't do a thing for you, but if it's framed as decision-making leadership and teamwork, it can work," says Useem, director of the school's Center for Leadership and Change Management.
"They're a management boondoggle—a waste of time," says Michael Driscoll, a clinical professor of finance at Adelphi University who was a top trader on Wall Street for Bear Stearns and Donaldson, Lufkin & Jenrette, now owned by Credit Suisse. He recalled an annual team-building exercise, when he was a trader for GeoSphere Capital Management, a small New York hedge fund, that involved flying in employees and their spouses from Singapore to a conference center in picturesque Rye Brook, north of Manhattan. The purpose: to work, amid jargon-laden speeches about "idea bouncing."
"Did it really accomplish anything?" asks Driscoll rhetorically. "No. We already work 360 days a year with each other. You're not going to discover something new."
American companies in such industries as Big Pharma, technology and retail spent $164.2 billion on employee training and development in 2012, according to the most recent data from the Association for Talent Development, a trade group. Of that figure, $46 billion went to team-building firms outside the company, making the mom-and-pop firms a lucrative cottage industry. Costs range from around $100 for a per cooking event to $1,000 per person for a full-day rowing program, meaning that companies and organizations can easily spend tens of thousands of dollars on the event.
In the wake of the 2008 financial crisis, companies are far more eager to talk about their community service programs—with food banks, soup kitchens and homeless shelters—than they are about those multibillion-dollar sums. "Financial institutions are under a great deal of scrutiny these days and are very sensitive to people looking inside and what they expose," says Alan Weiss, founder and owner of Summit Consulting Group, a traditional management-coaching firm.
Like diets of varying efficacy that go in and out of vogue—vegan! paleo! Scarsdale! juice cleanses!—the team-building industry reflects a hunger for knowledge about what best fuels an organization. "While these types of team-building activities may build rapport, they do little in the way of developing the skills that teams need to do their jobs, unless, of course, the task of the team is to do corporate team-building exercises," says professor Margaret Ann Neale, who researches management and team performance at Stanford University's Graduate School of Business.
Robert Pozen, who oversaw hundreds of billions of investment dollars as a former vice chairman of Fidelity Investments and former chairman of MFS Investment Management, and who now teaches at Harvard Business School, tells Newsweek that "the key thing is whether it's translatable and relates back to the workplace."
Still, bankers do have to eat, particularly at Bank of America, a prolific user of culinary team-building exercises. A program last April saw a professional chef guide staffers as they pulled together such dishes as Indonesian seared prawns and stuffed, roasted crimini mushrooms "filled with a savory filling perfumed with fresh lemon thyme," according to recent menu from TeamBonding's "Recipe for Success" program.
Team-building games are intended to be a proxy for real-world challenges, particularly when the internal culture at most banks and regulators tends to be one of self-directed committees, not collaborative teams.
A two-day off-site retreat in late September for ABN Amro, the big Dutch bank, at the Tarrytown House Estate, a luxurious conference center north of Manhattan with 19 century Gilded Age mansions, focused in part on "energy management" as banks face tighter regulations on lending and capital requirements since the 2008 financial crisis. On the first night, bank board members who had flown in from Amsterdam enjoyed an elaborate dinner featured a cabaret-style skit with a hired actor in the role of "Billy America" questioning how to be a proper banker after the 2008 financial meltdown.
First thing on Day Two, they put on shorts and T-shirts, performed breathing exercises on yoga mats in a ballroom, then sat in an ice bath with Wim Hof, a Dutch world record holder in cold endurance known as "The Iceman." The point of both efforts: Breathing properly, especially before breakfast or coffee, makes for tougher bankers who can tackle the big questions.
"It's not the exercise itself but facilitated reflection after the exercise that can build self-awareness of both individual and team strengths and weaknesses," says Jennifer Kay Stine, a training consultant and leadership instructor at the Harvard Extension School, which caters to evening, weekend and nontraditional students. Useem calls the exercises "a Rorschach ink blot designed to get people to think."
The New York branch of the Federal Reserve, which monitors Wall Street, sent a team to the University of Virginia's Darden School of Business to learn the rigors of crewing a rowing boat. Executives including Vic Chakrian, an assistant vice president, climbed into a carbon fiber Vespoli 8 and under instruction from Olympic rower Dan Lyons, founder of Team Concepts, learned how to set up the boat and row smoothly. That was the easy part.
"We're not out here to placate you and say, 'Oh, look at you! You're rowing so well!,'" says Jason Caldwell, executive officer of Team Concepts, which has done rowing programs on the Schuylkill River outside Philadelphia for Goldman Sachs through Columbia University's boathouse and Vanguard Investments.
Caldwell says the debriefing after instruction was critical, and, though it divulged little, the normally tight-lipped Fed seemed to agree. In a rare, for the Fed, blurb on Team Concepts's website, Chakrian says, "I learned a great deal about myself and my management style."