The unfaithful husband who wants a divorce. The clever, well-known wife, beloved by the ­public. The strange, misleading clues. A money belt stuffed full of cash. Headline news. Thousands of volunteers helping with the search. The sudden reappearance and the public thanks from the loving couple . . . and the lingering uncertainty about what really happened. That's the plot of David Fincher's American film thriller, Gone Girl. Oddly enough, it's also what happened to Agatha Christie in real life, in 1926.
All credit to Gillian Flynn, who adapted her 2012 novel for the screen; Gone Girl is currently top of the global box office, having taken $200m in its first month. The book has been top of the bestseller lists almost since its publication, in January 2013, its readers gripped by the suspenseful tale of a disintegrating marriage and an unhappy, mysteriously-disappearing wife.
Flynn, of course, is a fan of Agatha Christie – how could she not be? Christie's books are still third on the all-time bestseller lists, as it were, after the Bible and Shakespeare. Christie invented the first person narrator who turns out to be the perpetrator of the crime in The Murder of Roger Ackroyd (or, as far as Gone Girl goes, Amy Dunne); and the victim who turns out to be the criminal in And Then There Were None. (Amy Dunne, again). But it is to Christie's own life that we must turn for what is still her most peculiar – and unresolved – story. For it was Christie herself who was the first Gone Girl. In some respects, as diehard Christie fans will have noticed, Nick and Amy Dunne are a latter day Archie and Agatha Christie. Because consciously or not – an issue which is still hotly debated – back in 1926, just after the publication of her sixth novel, Roger Ackroyd, (in which the criminal narrates his story), Christie staged her own disappearance.
Around 9.45pm on Friday 3rd December, at Styles, their house in Berkshire, Christie drove off and eventually abandoned her car, lights on – containing a bag of clothes and an out-of-date driving licence – on the edge of a chalk pit, by an eerie natural spring known as the Silent Pool near Guildford.
The police description of the missing woman read: "Aged 35, height 5ft 7in, hair reddish and shingled, eyes grey, complexion fair. Well-built, dressed in grey and dark grey cardigan, small green velour hat, wearing a platinum ring with one pearl, but no wedding ring."
For 11 days, tension ratcheted up, just as in one of her own stories, and her whereabouts remained unknown. Newspaper readers filled in the gaps and feared the worst. Some thought it a publicity stunt for her novel; for most, suspicion fell on her husband Colonel Archie Christie, a dazzling First World War fighter pilot turned provincial bore, and a man who seems to have been more interested in golf than his wife.
Like Nick and Amy Dunne in their marriage, Agatha was the star, he the unfaithful husband. Nick is about to ask Amy for a divorce when she disappears; by the time Christie left, her ­husband had told her that their trial reconciliation had failed; he wanted to marry his mistress, a younger woman. On the day of her disappearance, he told her he would be spending the weekend "with friends", which she knew meant his mistress, Nancy Neele.
Jared Cole, author of Agatha Christie and the Eleven Missing Days, says her primary motive was clear: "Hell hath no fury . . . She wanted to disrupt his weekend with Nancy Neele and make him suffer, although she still adored him. What no one could have foreseen was the press reaction. She was propelled from being an author with a reputation into one of the most famous women in England."
In Gone Girl, the TV networks play their part and the disappearance becomes a national obsession; in Christie's case it became an international one via the press – the missing Christie made the front page of the New York Times. Fifteen thousand volunteers joined in the search for Christie, along with biplanes in the sky, and bloodhounds on the ground. Lakes and streams were dredged. The Home Secretary put pressure on the police to solve the crime and her fellow crime writers got involved. Arthur Conan Doyle gave one of her gloves to a medium, Horace Leaf, who said she was still alive, "half dazed, half purposeful" and would turn up the following week. Dorothy ­Sayers visited the scene of the disappearance.
Edgar Wallace in the Daily Mail was less sympathetic: "a typical case of 'mental reprisal' on somebody who has hurt her," he wrote. Gone Girl's Nick Dunne discovers that with the help of the US media, a husband will be convicted in the court of public opinion when his wife goes missing. So it was with the newspapers and Archie Christie.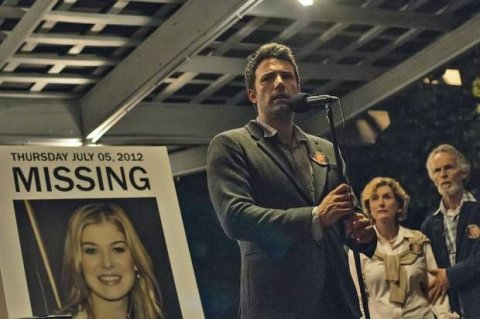 After 11 days, Agatha was discovered. A ­musician recognised her at a spa hotel, then called the Swan Hydropathic in Harrogate, where she was living under an assumed name, using cash from a money belt to pay for her new life: just as in the film, when suspicions are aroused in the motel by Amy's odd behaviour and a similar cash belt. Christie called herself by the surname of her husband's mistress – Neele. In the film, Amy Dunne, played by the British actress Rosamund Pike, uses that same mistress's first name – Nancy.
Opinion is still divided about what Christie was up to. Was it all a ruse – as in Gone Girl – to punish her husband, and then possibly win him back? Or was she in a "fugue state" of temporary amnesia (a rare state brought on by trauma or depression) and possibly suicidal? In any event, what actually happened was that Christie, after dumping the car, went by train to London (and posted a letter to Archie's brother, Campbell) and then to Harrogate, where she signed herself into a hotel as Mrs Tersea Neele of Cape Town.
Just as Dunne leaves clues with people, so Christie made some similar moves. She alerted readers of The Times that relatives of Mrs Neele could reach her there.
According to Jared Cole, this was an alibi for her amnesia, "two years previously she had ­written a book in which a woman fakes ­amnesia," he says. She sent that letter to her brother in law, saying she was going on holiday to Yorkshire; the local chief constable heard that she "feared for her life". The marriage had become a psychodrama; after 12 years (and one child) Archie had told her he was in love with someone else. After she vanished, he did spend the weekend with friends including the mystery woman, who naturally interested the police.
In Gone Girl, the book and the film end uncertainly, Nick seemingly stuck with a pregnant Amy, who is determined to stick by his side; he may or may not stay with her for the sake of the child. Of course, by then, the audience knows that Amy is a psychopath and a murderess. In real life, Christie's desire to keep her handsome husband by her side was to be thwarted. Humiliated by the episode, and more determined than ever to go off with Nancy, Archie divorced Agatha in 1928. He married Nancy, and Agatha went on to remarry an archeologist, Max Mallowan. She seemed to come closest to telling her own story – a wretched marriage, thoughts of suicide – in a novel, Unfinished Portrait written under her nom de plume, Mary Westmacott.
For nearly 90 years, the story has been reinvented on the page and screen. Michael Apted directed Vanessa Redgrave as Agatha in 1979 (in which, electroconvulsive therapy given to her affects her brain). Jared Cole, in 1999, wrote his convincing account, that she disappeared on purpose. Andrew Norman, in 2006, preferred the "fugue state" theory. Laura Thompson, a year later, agreed with Christie's daughter that it was all brought on by shock, and wrote that ­personally, she preferred that the mystery of the episode stay ravelled.
Oddly enough though, the whole painful ­episode – about which Christie never spoke ­publicly – proved a turning point in her career propelling her to another level of fame.
In one way, it made her name. Gillian Flynn, in the book and the film that have made her name, perhaps pays silent tribute to the ingenuity of her literary heroine ...