In Kabul earlier this year, I met a British officer around my own age. One April afternoon, when snow still clad the peaks above the Afghan capital, he stood by a Foxhound armoured vehicle, bound for mid-tour R&R. At his feet lay a long bundle. The bubble-wrap held two Lee-Enfields and a Martini-Henry, vintage rifles from older Afghan wars. As I spent longer with this man I became interested in war souvenirs in a broader sense.
We had time to talk. I flew from Kabul to Camp Bastion, the great Anglo-Americo-Afghan conurbation in the Helmand desert. Later the officer and I came back to England on the same RAF flight. We sat up late together at Bastion before our return by jet across half a hemisphere, pausing in Cyprus and Germany prior to England.
There were parallels in our lives. At the age of 18, I joined the army on a gap year commission, a scheme granting school-leavers time in uniform before university. I did not return to the army after graduation. My companion renounced an initial career as an archaeologist to become a soldier.
The army granted him the extremes of human experience. In 2009 he participated in Panther's Claw, a clearance operation in Afghanistan. Three of his men became casualties. In the retelling, it sounded bloody and frightening. He was though – he said – glad of it. The mantra they recited at Sandhurst turned out to be true. When the mayhem came, the men did look to him for what to do. On his return he visited his father's farm in England. That peaceful place had a deepened reality.
His narrative did not convince me. He seemed too bright of eye, too firm of handshake. He said he was glad to have had these experiences; to be tested in extremity. I wondered if the same experiences had left him partially cracked.
Perhaps we were both right.
COMING HOME
A long war is coming to an end. After 13 years, operations are winding down in Afghanistan. This year, the month of April, when I was there, was thick with the logistics of departure. Warrior armoured vehicles backed slowly into the bellies of transport planes. The PX store at Camp Leatherneck, the US base spliced to Camp Bastion, sold water bottles reading "the last one to leave turn off the lights". British troop levels now stand at around 3,000, down from a peak of 9,500. Officially combat operations will cease at the end of the year, though a few hundred troops will remain, largely in a mentoring role.
More than 220,000 UK service personnel passed through the Iraq and Afghan wars. Their experience is of my generation: I was 16 on September 11th, 2001. Joining the army seemed a natural extension of the outdoor activities I enjoyed at school, but the increased profile of the military post-9/11 probably had a role too. Yet, while I dabbled with the army, many of my friends made deeper commitments. A decade on, I wanted to know what happened to them.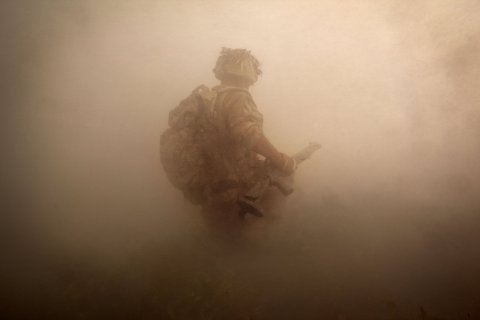 In many cases, war did these people considerable damage. The physical is easiest to assess. The Afghan conflict killed 453 British servicemen and women. Between October 7th, 2001 and September 30th, 2014, there were 2,188 field hospital admissions for those wounded in action and 7,367 aero ­medical evacuations.
Anthony Harris was a 27-year-old captain in the Royal Regiment of Fusiliers when an IED detonated underneath his Jackal vehicle in May 2009. The initial prognosis for his wounded legs was good. However, infection set in. More than 20 operations over some 10 months brought no relief. He chose to have his left leg amputated. "There is a huge amount of truth in the term 'war is a young man's sport'," Harris explained. "There is a reason a lot of young men join and older people are more aware of what the true cost of war can be. There can be a sense of wanting to prove yourself and wanting to put yourself into the ultimate situation to challenge yourself."
Since his injury, Harris co-founded Race2Recovery, a motor sport team with injured members that has competed in the Dakar Rally. He has also competed in the Invictus Games for wounded servicemen and gives motivational speeches.
Psychological impact is harder to parse, but the available figures are ­striking. In 2013–14, 776 Iraq and Afghanistan veterans contacted the mental health charity Combat Stress (401 had served in Iraq and 375 in Afghanistan). Walter Busuttil, the charity's director of medical services, says that for three quarters of these men and women, the primary diagnosis is post-traumatic stress disorder (PTSD). Dr Busuttil outlines a "dose-response" pattern for PTSD: longer and more serious exposure to trauma increases risk. He characterises the condition as a "filing error of memory".
"Normally, what we do is lay down a memory for everything that's happened," he explained. "But when you're exposed to something terrible, that doesn't happen. Later on, what will happen is the material is presented for filing, so you get nightmares or flashbacks or intrusive memories – these are really unpleasant. You become all anxious, physically and psychologically, hyper-aroused and emotionally numb."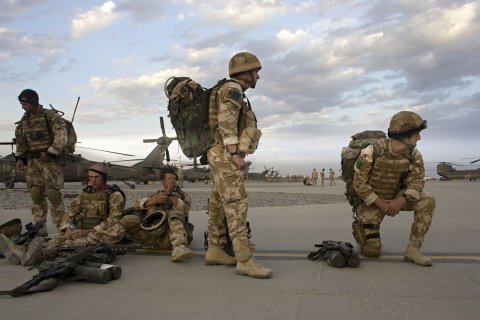 Help For Heroes, another British charity, estimates almost 75,000 ­British veterans of Iraq and Afghanistan may require physical or psychological assistance as a result of their service. (In August 2014, 118 patients from Afghanistan were treated at the Royal Centre for Defence Medicine at Queen Elizabeth Hospital, Birmingham, and the Defence Medical Rehabilitation Centre at Headley Court in Surrey.)
In September 2003, I remember a non-commissioned officer instructor at Sandhurst describing his regiment's Iraq work: "loads of rounds down, loads of kills." My platoon commander, a logistics officer, claimed grave disappointment not to deploy. At the time I found these statements shocking. With hindsight, I sense they were predicated on naiveté – these men had not actually been to war.
CRYING HAVOC
The shift in perception from initial excitement to realisation of war's true nature is not confined to my generation. It is the hinge between August 1914 and the Somme two years later. Brutality shreds naiveté; the transition seems simple. Yet speaking to soldiers reveals no clean break: war does not immediately cease to be thrilling as its horror becomes apparent. The army understands the effect envelopes emblazoned "On Her Majesty's Service" can have on teenage minds. But that interest is not primo-genetic; there is something intrinsic about the pull of violence for young men.
Last year, I met a man I had known in the army who later won the Military Cross in Afghanistan. He described reading his own medal citation as almost unbearable; the subsequent investiture ceremony as grim. A ­compère tried to shift the glum faces but struggled, because medals are often something received when others die. I gave this man the memoirs of the poet Siegfried Sassoon, perhaps the best 20th-century record of military disillusionment. In 1917, Sassoon threw his own Military Cross ribbon into the River Mersey.
My friend felt Sassoon understood his experience in a way few others did. Yet he still admitted that at times Afghanistan felt "like a film". Thrill encountered horror – the break was not clean.
The military accepts the mental toll of conflict. "Stress management and mental health awareness have been built into all levels of training and leadership in the armed forces," says the British Ministry of Defence. The narrative often roots problems in witnessing trauma.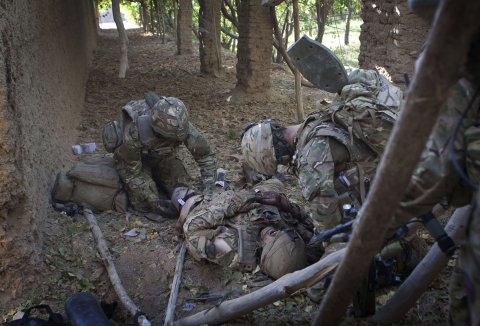 Robert Emmett Meagher, a professor at Hampshire College in the US and author of Killing from the Inside Out – Moral Injury and Just War, believes, though, that the elevated suicide rate among American veterans is rooted in "moral injury", a "spiritually wounded condition distinct from PTSD," involving the compromise of core values (British suicide rates are lower). Moral injury can result from witnessing trauma but, likewise, can be a function of actions made and, in particular, of killing. Meagher suggests the US defence establishment is less willing to accept the reality of moral injury than PTSD.
"If one's very service and everything one is being trained to do is sinful – in other words constitutes a core injury to one's deepest held moral convictions, then that destroys the whole marine ethic, the marine code, that military service, military training, builds character rather than destroying character," he says.
MEN OF HONOUR
The idea of a code is something I remember clearly from the army, in particular the taboo against "jacking", placing self-interest before the group. The location of killing within the ambit of the code is rooted in "just war" theory, an argument Meagher disparages. "There aren't two different kinds of killing," he says. "There isn't murder and killing."
Our own domestic societies have shaped recent war experience. Never in human history – for many in the West at least – has daily life been so sanitised. The American writer Sebastian Junger, repeatedly embedded with a US unit in Afghanistan, found discrepancy between contemporary comfort and our background as a species.
"We evolved to deal with a very, very harsh, violent, dangerous world," he said. "As of a few minutes ago, evolutionarily speaking, water comes out the pipes when we turn on the faucet, there's a police force, all these stressors have been taken away. And so particularly for middle-class kids, and there actually were a fair amount of them in the platoon I was in, particularly for kids like that there was a sense of 'I haven't been tested.'"
The gulf between today's professional militaries and civilian society is also wider now than in earlier conscripted conflicts. That complicates a soldier's return home. "Everyone knew what it was like," says ­Professor Edgar Jones, who studies military ­psychology at King's College London. "In the Second World War, civilians had been through air raids, so everyone was schooled in conflict. If I come back from Africa or Italy in 1945, and I go back to London, I'm going to an environment which is war-scarred."
Today's veterans are young. Public programmes concentrate on physical capability post-injury; the Paralympics, or the Invictus Games. Such iconography is powerful. Yet these individuals will not be forever youthful. Their needs will increase as awareness fades.
"How many people today remember the Falklands?" asks Cathy Walker, of the Soldiers, Sailors, Airmen & Families' Association. "There are plenty of people from the Falklands-era who have post-traumatic stress disorder. They are in their 50s, and their 60s and they look like sad old men . . . It won't be too long before today's young veterans are the sad old men in wheelchairs." As of April 2014, Combat Stress was treating 545 veterans who served in the Falklands.
The individual's position relative to the institution is significant too. In 2003 war was intoxicating because the British Army had largely been at peace beforehand. The army fought a short, sharp war in Iraq in 1991, and intervened in Kosovo in 1999 and Sierra Leone the following year. Peacekeeping though – in Northern Ireland and the Balkans – dominated the pre-Iraq period.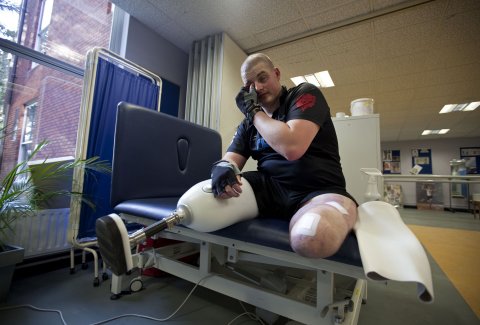 One retired Gurkha officer participated in Britain's 2006 entry to Helmand province in Afghanistan. He found the deployment disillusioning; his men hunkered in a fortified compound, progressively demolishing the town around them as they did not have the manpower to protect themselves in a less-destructive fashion. On his return, though, he was perceived as semi-divine because he had actually done the things others had merely trained for.
Across the army, the Iraq and Afghan wars created a generational divide between young soldiers who had seen combat and their elders who had not. Now the inverse applies. In ­Afghanistan, I met an officer who had chosen his regiment in order to get on to one of the final deployments. One night in Bastion I met an old friend, another infantry officer. His unit was running reception packages for new arrivals, an unglamorous task involving administering rifle ranges that gave no opportunity to venture out "beyond the wire". The jokes about the "punchy war stories" he would not be able to tell were bitter indeed.
THRILL AND HORROR
Sex matters too. A decade ago a cavalry subaltern described his ­post-operational tour leave (POTL, pronounced to rhyme with bottle) after the invasion of Iraq with the phrase, "War-fighting is good for your cock." My old friend, disillusioned at Bastion in 2014, perked at the description of a woman keen to sleep with him before he deployed. With sex, the hinge between thrill and horror is at its sharpest. In Afghanistan embedded correspondents are advised to wear reinforced "ballistic underwear".
"The prevalence of IEDs in Afghanistan is causing a high number of life-changing injuries to the lower body," states a manufacturer. "They are extremely difficult to live with psychologically." The work of a school contemporary sticks in my mind too. In 2013 he co-authored "Battlefield scrotal trauma: how should it be managed in a deployed military hospital?"
Good for your cock then, unless your balls get blown off.
Last year I dined at St James's Palace in London. It was all I remember from the army; silver, paintings, soldier-­servants toting drinks. Yet across the table was an officer with no legs. He sat in black tie over his prostheses. He wore blue socks on his fake feet in a crippled version of sloaney fashion. I found his stoicism moving, but that did not undo the basic pathos of the scene. Artificial limbs, even shod in blue socks, are wretched souvenirs.
I have since wondered whether the army tries to short-circuit the grieving process. Stoicism, positivity – a determination to move on – is only genuine if you have undergone a real grieving cycle for your wound. I am not convinced the current be-chipper-and-play-wheelchair-basketball culture has margin for that.
As Cathy Walker says: "The trouble is the army doesn't do pink and fluffy, and grief counselling is in the pink and fluffy box."