Even as the world's media began to converge on Pretoria's High Court for the final act in the Oscar Pistorius drama, officials of South Africa's National Prosecuting Authority were considering their options in a hauntingly similar case. Pistorius, as we know, was charged with murder after discharging four bullets into a locked toilet cubicle. He believed an intruder was lurking in there, poised to attack him. Instead, the shots killed his girlfriend Reeva Steenkamp, thereby triggering a series of events that culminated in what was arguably the criminal trial of the 21st century, broadcast live to a global audience of hundreds of millions.
Glenn Boshoff, who lived about 10 minutes' drive from Pistorius in Pretoria East, also killed someone. Woken at 3.30am by barking dogs, he tiptoed to the head of a staircase and saw shadowy figures climbing into his house through a broken window. Terrified, Boshoff raced to his gun safe, took up his weapon and levelled it at the closed bedroom door. When the handle turned, he pulled the trigger – only to discover that he'd put a bullet in the head of his eight-year-old daughter.
What distinguished this from the Pistorius shooting? Mostly that Oscar and his victim were rich and famous, whereas Glenn Boshoff was neither. What's more, Boshoff will not face criminal charges, despite the similarities between the two murders. Boshoff was a victim of South Africa's most common and most rapidly growing form of serious crime – the house robbery, in which an armed gang breaks into a home in the small hours of the morning in search of loot.
There are at least 50 such invasions every night, according to a study by Stats SA, South Africa's official statistical service. One will lead to murder, four will involve rape. All will result in terror and trauma. Calling the police is all but pointless; if they come at all, it might be in a day or two. So what do you do if you're Glenn Boshoff? You pray and pull the trigger, only to land up in a tragedy far worse than the one you imagined.
Intimate femicide
Since the start of the Pistorius trial several months ago, South Africa has been convulsed by acrimonious debate about the facts of his case and, especially, their deeper meaning. Some saw it as a parable about what South Africans call "intimate femicide", a shockingly common form of murder in which women are killed by domineering husbands or lovers. Others saw it is a morality play about guns and their misuse in a frontier society. I personally took it to be a shadowplay about unspoken racial antagonisms. Nobody said anything about Glenn Boshoff.
To be sure, there was a flurry of newspaper ­stories when he shot his daughter back in May 2012, but South Africa has around 17,000 murders a year – a rate five times higher than the global average – and the memory of Edith's death was soon washed away by a tide of blood. The police file on her shooting was handed to state prosecutors last June. When they announced their final decision last month, only one news­paper (an Afrikaans title called Rapport) ­bothered to report it: Glenn Boshoff would not be prosecuted for shooting his daughter.
Why? There was too little evidence to secure a conviction, said NPA spokesman Nathi Mncube. But there was also an unspoken corollary, immediately obvious to all South Africans: in our strange and ultra-violent society, it is possibly best not to probe such tragedies too deeply.
This was easy in the case of Boshoff, a marketing manager unknown outside the tool business. Pistorius was something else entirely. Born with a rare condition that necessitated amputation of both legs when he was 11 months old, Pistorius was raised by a headstrong, gun-toting mother who refused to allow him to succumb to self-pity. He would stand his ground. He would play rugby and run like any other boy. And lo, he did just that, eventually sprinting to fame and fortune on his sci-fi blades.
After the London Olympics of 2012, Pistorius became a superstar, his lustre immeasurably enhanced by the presence on his arm of Reeva Steenkamp, a model, law student and FHM cover girl. In the tabloids and society pages, Oscar and Reeva's life seemed an endless round of A-list parties, expensive cars and photo shoots on exotic beaches. When Reeva wound up dead in Oscar's bathroom, this was clearly an event that had to have consequences.
Pistorius' position was complicated by neighbours who maintained that some ominous shit went down in his house on the night of February 13, 2013. They said they heard a bitter argument around midnight, followed some hours later by the sound of a woman screaming, and then a fusillade of gunshots.
All this got into the papers, and thence into the public imagination, where it blossomed into a detailed narrative depicting Pistorius as a typical Boer male, armed to the teeth and determined to crush anyone weaker than himself. Almost everyone claimed to know someone who knew what really happened that night, and the narrative was usually something like this.
February 13th was the eve of St Valentine's Day. As the clock struck midnight, Reeva received a flirtatious text message from a well-known rugby player. Pistorius was furious. The shouting began. Reeva managed to calm him, but around 3am, things got out of hand. She grabbed her mobile phone and retreated into the bathroom. He took up a pistol and followed. Terrified, she locked herself into the bathroom, but Oscar's rage had grown incandescent, so he fired through the door, using lethal hollow-point ammunition that made a terrible mess of Reeva's beautiful face.
If we are to be honest, it was this story of lust, jealousy and vengeance that propelled Reeva's death to the top of the world's news agenda, creating anticipation so intense that most American and European TV networks hired local fixers and cameramen and committed massive resources to covering the murder trial.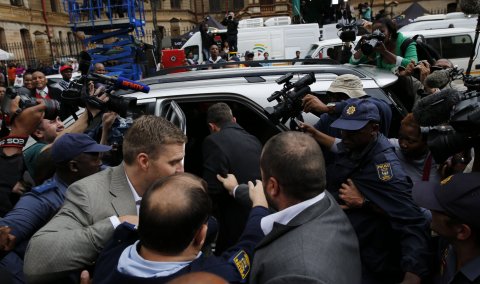 Within days, it became clear that the ­pop-culture narrative could not be sustained. The state's depiction of Pistorius as a ­possessive and controlling male was undermined by WhatsApp exchanges showing him to be an amiable and tolerant boyfriend, even to the extent of sending best wishes and smiley emoticons as Reeva set off to see a broken-hearted former boyfriend. Worse yet, Oscar's closest neighbours offered a very different account from those who lived at some remove, and whose stories dominated early media coverage.
The nearby neighbours were adamant that there was no midnight argument. Their first inkling of trouble came just after 3am, when they heard four gunshots, followed by desperate screams in a male voice and then three sharp cracks, apparently caused by great whacks of a cricket bat as the athlete battered down the toilet door and came face to face with the terrible thing he'd done.
Then Oscar took the witness stand and offered his own version of events. He said he'd woken up in the dead of night to find two electric fans still spinning nearby. He got out of bed to turn them off, assuming that Reeva was still asleep beside him. Then he heard a bathroom window opening, and leapt to a conclusion that comes easily to a nervous South African – this was the start of yet another house robbery. He snatched his pistol off the bedside table and went to investigate. As he entered the bathroom, he heard sounds from behind the toilet door, and opened fire.
Ancestral memories
In her summation, Judge Thokozile Masipa reviewed the prosecution case and found it to be full of holes. Pistorius' story, on the other hand, could reasonably be true, she said. Her verdict: Pistorius had not intended to kill Reeva, and could thus not be found guilty of her murder. He had, however, been reckless and negligent, and was thus sentenced to five years for culpable homicide.
I was impressed. Judge Masipa had kept her head and held a steady course in the face of a hurricane of public opinion. Her verdict struck me as exemplary, but I was in a tiny minority. Even as Masipa rose to exit the courtroom, the internet lit up with tweets accusing her of allowing Pistorius to get away with murder.
"Pathetic slap on the wrist," declared one self-appointed commentator. Others said, "ridiculous" or "disgusting". Johannesburg radio host Eusebius McKaiser heard similar complaints from listeners. "Some 99% of my callers think the verdict is wrong," he declared. The ANC Women's League announced that it would fight to overturn the verdict on appeal, and ace blogger Ranjeni Munusami of dailymaverick.co.za could barely contain her rage about Pistorius's arrogance, privilege and allegedly insulting demeanour. "He fought against his disability and triumphed," she snarled, " and then became convinced that he was better than the rest of us."The interesting thing about this rant is that Munusamy acknowledges that Judge Masipa drew the only conclusion possible on the basis of the evidence presented to her: there were "absolutely no facts" to support a murder conviction. And yet Munusamy still felt she'd been denied something even she couldn't quite define.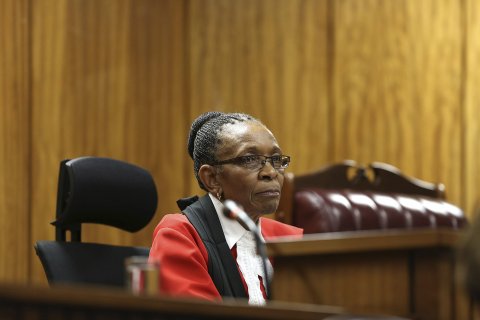 Twenty years after apartheid's end, South Africa remains a cauldron of unresolved gender, class and racial antagonisms. As the Pistorius drama hurtled towards its denouement, my dreadlocked friend Bongani Madondo (a culture correspondent for the local edition of Rolling Stone) wrote an essay titled, "The Invisible Man". It began something like this: "Hi! I am the usual suspect, the Black Intruder they forgot to call to the witness stand. Remember me?"
Madondo was nowhere near as angry as Munusamy, but he did have an edgy point to make: so Pistorius didn't intend to kill his lovely blonde girlfriend? So what. He did intend to kill the black man he thought was hiding behind that toilet door.
This is the key (I think) to understanding ­negative reaction to Judge Masipa's verdict. For centuries, South Africa was a place where white males did as they pleased. The wounds they inflicted are ancient and deep and not really healed. It is hardly surprising that in their hearts, many black South Africans wanted to see the rich white boy brought down low, even though the facts didn't really support their yearning for ­retribution. Hence the coded messages: the verdict was a setback for gender rights and gun control. Or, the verdict set a dangerous legal ­precedent and had to be overturned lest it encourage further outbreaks of ­trigger-happiness among heavily-armed white males.
Would a murder conviction really have made a difference? For an answer, we must turn to a drama that played out in a Johannesburg township two days after Masipa handed down her controversial judgment. The setting was a squatter camp adjacent to Leratong Village, a place of tin shacks, dusty roads and hopeless poverty. On the night of October 22, residents came across a stranger trundling a bar fridge across their turf. "He was carrying a knife," said a witness. "That's what made people think he was a thug," and that his fridge was surely stolen. On this basis, someone raised a hue and cry. The suspect was surrounded by vigilantes, doused with petrol and burned to death.
White South Africans often perceive violent crime as an almost genocidal threat to their ­survival. In truth, crime against whites is an insignificant part of the overall picture, and Steenkamp's shooting was little more than a sideshow. The murder stories that truly resonate in this country are extra-judicial executions ­carried out by mobs of poor black people, tormented beyond endurance by crime and utterly bereft of faith in the police, who are often considered corrupt and incompetent. So they beat or burn criminal suspects to death in broad daylight. Several of these executions have been captured on mobile phones and broadcast on YouTube or published in the Daily Sun, South Africa's leading tabloid.
The story of the Leratong Village lynching made page 5 of the Daily Sun, accompanied by a photograph of the anonymous victim lying in the road, his body twisted into a grotesque rictus of blackened flesh and sinew. "Bar fridge thief busted and burned," said the jocular headline.
Some years ago, a case like this might have made the tabloid's front page, but mob justice has become commonplace. Earlier this year, police told a commission of inquiry that mob killings were claiming an average of five lives a month just in Khayalitsha, a vast sprawl of anarchy and misery on the outskirts of Cape Town. Daily Sun publisher Jeremy Gordin, whose job gives him a national perspective, says his news desk receives "three to six" tip-offs a week about ­extra-judicial killings, "and more at the end of the month, when people have been drinking."
Mob justice
The curious thing about these cases, says ­Gordin, is that community leaders who condone or even lead mob killings will look you in the eye and say, "Yes, we did it, and we will do it again, because we have no choice; because the police do not protect us." Cops also struggle to protect those who die in these lynchings, often because they are too scared to intervene. In some cases, uniformed policemen have been photographed standing amongst the curious onlookers, watching as some wretch is put to death. There may be hundreds of witnesses, but the vigilantes seldom wind up in jail. "We've never covered a trial that led to convictions in a mob justice case. Never."
Clearly, this is a worrying trend. Mob killings were fairly common in the apartheid era, when Africans had little faith in white policemen and no mercy for those who collaborated with them. After 20 years of democracy, it might be assumed that black communities have learned to trust police and to offer the sort of intelligence that would enable them to control "policeable" crimes like house robbery. Not so. After years of slow decline, South African crime rates recently surged upwards again, with sharp increases in robbery and murder.
"Broader South African society is exhausted," says Lizette Lancaster, a senior researcher at South Africa's Institute for Security Studies. "Nothing seems to work. People are at their wits' end."
Lancaster warns that "desperation alone does not make people violent." This is true, but it is also true that nearly four out of five young black people have no work, and that the cost of ­mealie meal, the staple food of the poorest poor, has risen 40% in a single year. Worse yet, the indicators are all pointing downwards as investors begin to shun a country increasingly perceived as dangerously unstable. For those at the bottom of society, trapped in squatter camps where the murder rate is typically 50 to 80 times higher than Britain's, the prospects are very bleak indeed.
Against this backdrop, all that can really be said about the Pistorius trial is that it distracted South Africa from its real problems. Those problems are deep and possibly intractable, whereas the ballad of Oscar and Reeva offered opportunities for easy moralising and much titillation besides. South Africans were dumbfounded by the intensity of foreign interest in the Pistorius trial. As a news story, it rivalled even the death of Nelson Mandela, and any story that accomplished that was surely imbued with vast significance.
Or was it? In the end, I don't think so. In the end, Pistorius was a parable about celebrity, not South Africa. Oscar and Reeva were the golden ­couple, the heroic disabled athlete and his beautiful 'it' girl. Reeva was by most accounts an almost ­perfect human being, but the blade runner had a fatal flaw. Even his family acknowledges that he coped badly with fame, becoming a spoiled, arrogant brat, drinking too much and using fast cars and dangerous guns to pull girls and impress his swashbuckling buddies. His recklessness cost a life and he deserved the prison sentence handed down to him.
If we are to judge from the experience of daughter-killer Glenn Boshoff, Pistorius' spell behind bars might be the least of his sufferings. In an interview with Rapport last week, Boshoff came across as a broken man. His wife left him after the shooting, unable to live with what he'd done. Members of his own family turned against him, urging prosecutors to send him to jail. All this was as nothing alongside his own bitter self-recrimination. "I think about [the shooting] every day," he said. "It will never get better."