The kettle was furiously boiling, as was the atmosphere in the kitchen. The two women, Yelena Lazareva and her daughter Yekaterina are swapping stories about their loneliness – and complaining about Russian men. The subject is clearly often discussed in the two-bedroom apartment they share in a 12-storey building in Moscow's suburbs.
Both women wanted to fall in love and marry but "not with any guy", says Yelena an attractive, healthy looking 51-year-old, who has the authoritative voice of a manager. Yekatarina, 29, nods her agreement.
Walk the streets of Moscow, visit coffee shops and restaurants, pop into private apartments – there they are, lonely Russian women sitting around together with other lonely women. They routinely dress as if for an opera or a fashion show. Long, fanned hair streams down their slim figures, legs sharpened by high heels. It is a subject of some interest to Russian men. A parliament member responsible for information, Vadim Dengin, talks about the "popular fashion" for young, good-looking women to "hunt" for men, "keeping in mind a man's finances as a priority criteria".
But on finding and marrying one – even one as rich as Croesus – many Russian women feel trapped. "Our men are too lazy, prefer to drink in front of a TV or a computer, without thinking of how to amuse their women," Dengin continues. Yelena, her daughter, and most of their women friends of all ages, would whole-heartedly agree.
Yelena felt relieved when she divorced her ­husband – "an alien from a different planet". Was she even happy with him in bed? "Not a ­single time . . . I tolerated him."
Her daughter Yekaterina, known as Katia, was nine years old at the time of the divorce. The most familiar cliche of family life in Russia is still a drunk father yelling at a mother with almost daily husband and wife rows. So it was for them.
"If we had given each other oxygen, maybe we would have stayed together," Lazareva admits.Now, 20 years later, she is still looking for a man, but with some clearly-defined features. "He should suit me both financially and morally – but where can we find them? There are no free men left," she laughs.
Anecdotally, she recalls that most, when she was young, became drunks, went into military service and changed, or wound up on the edge of criminality. The statistics bear her out. Russia lacks men. Recently, the country's State ­Statistic Committee published another sad report: there are 10.5 million more women living in Russia today than men. If the average age for Russian men is 36, for women it is 41, explains member of parliament Tatyana Moskalkova.
"At birth there is an equal number of girls and boys; by age 30, men begin to disappear, victims of industrial trauma, war, car accidents. Fewer than a half of them survive until 65, the pension age, so millions of babushkas live alone for the rest of their life," Moskalkova continues.
Ask any intelligent woman in Moscow. Most know that marriage can never be a lifelong ­guarantee – Russia's divorce rate has been climbing to around 50%.
Russia's best known man, President Vladimir Putin, inspired the discouraging trend of men leaving their wives when he ditched his 55-year-old wife Lyudmila, as popular rumour has it, for a woman 25 years younger – Alina Kabayeva, a former Olympic rhythmic gymnast champion, though the Kremlin denies this.
Whether true or not, the story has not affected the president's approval rating. In the past two years, many other men in Russia's elite are known to have ditched their wives for younger women.
Putin's divorce from former flight attendant Lyudmila Putina, after 30 years of marriage, was followed by Moscow mayor Sergei Sobianin ­leaving his wife Irina, an outspoken Siberian businesswoman after 28 years.
For many months, one of the country's biggest and most salacious news stories was about Putin's press spokesman Dmitry Peskov leaving his wife for another Olympic champion, the figure skater Tatyana Navka. While Putina remained silent, Yekaterina Peskova described her husband's "cheating" in a sincere and heartfelt interview to a foreign magazine.
Natalya Potanina, the wife of one of Russia's richest men, multi-billionaire Vladimir Potanin, also opened up, a few weeks ago, in another magazine article to a foreign publication, GQ. Potanina provided some juicy details of her court fight for her share of their property, including the house her parents had built for her, which the Kremlin's most loyal oligarch took away, together with their two children. "Your main and only man, a stone wall, a rock turns into an ­obstacle," Potanina lamented.
Wealthy and successful Russian men enjoy their emotional freedom and independence "but they should realise one thing, they risk staying single for good, after age 50, as no beauty would look their way and no money could buy happiness", Dengin warns. Many female Muscovites would argue with deputy Dengin on the money part.
Some rich women are attempting a ­fightback. A new night club, Marusia, in central Moscow, has fast become a fashionable spot for women with money to search for good looking young men who can show them some tender care. Women pay between $300 to $2,000 and more to spend time with fit and handsome men to show them attention and, perhaps, love.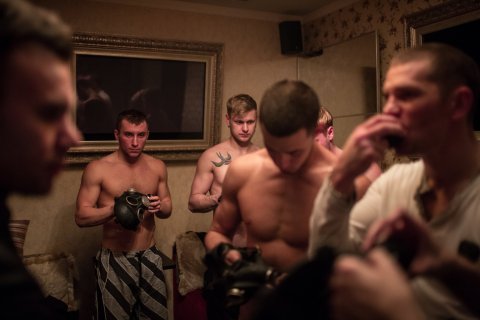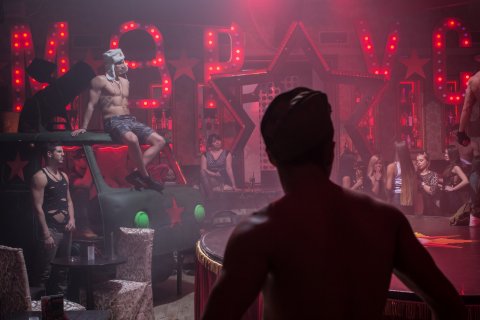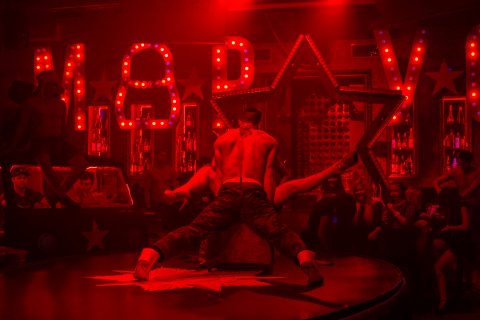 It is a brash place, vulgar in the eyes of some, with lots of red velvet, thick pile carpet, low lighting and a dance floor where scantily clad men perform gyratory dance moves to loud music. A few weeks ago a woman in her forties paid $30,000 on a party for a group of her female friends to enjoy a night out with the certainty of finding some male company. One regular at Marusia is Yulia Kharlampovich, a glamorous 29-year-old make-up artist. She often turns up there around midnight and stays until 8am drinking with friends. It costs her around $1,000 to "order a guy from the menu", as she puts it. But it is "up to the guy what happens" between them. "The atmosphere there is different from other clubs . . . I feel wanted and loved there," she says. The club's owner, French businessman Jean-Michel Cosnuau says a place like Marusia "would not be possible in Paris, but is nothing too unusual here in Moscow".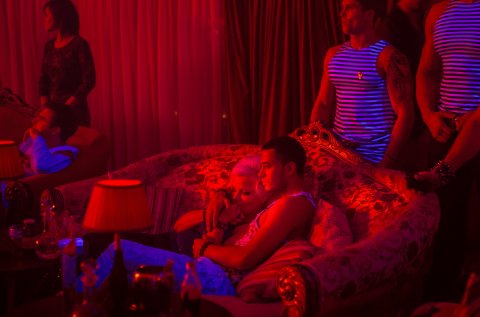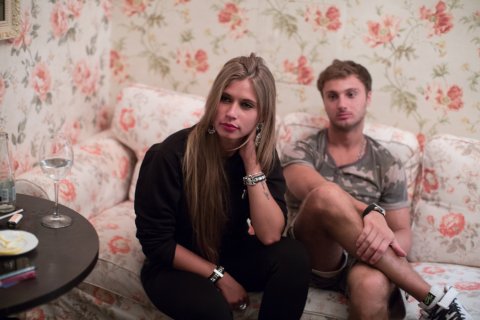 Cosnuau is a big supporter of Putin's politics, who confesses he has done "beautifully" over the past few years, with the opening of more than a dozen Moscow nightclubs. But none of the others are remotely like Marusia.
On a recent night at the club, he was chatting about Russian women with his friend, Count Jacques von Polier, director of the Russian Raketa watch factory. "Russia's problem is that men here have no idea how to treat women. I sometimes think they prefer each other's company, and a bottle, to these beauties," he says, pointing to some of his customers.
Von Polier disagreed: "The key problem is that Russian women are the most money-oriented women in the world," he argued.
Even French men were struggling to find the solution: about 49% of all Russian women are single. How to help about 30 million single ladies? "We advise women to look among the younger age group," says Moskalkova, holding up as an example the 65-year-old Russian pop star, Alla Pugachova, who, 20 years ago, impressed the country by marrying a singer, Philip Kirkorov, 18 years her junior, whom she later divorced, then marrying Maxim Galkin, who is 27 years younger.
But what if you are young, beautiful, long-legged, big-eyed, artistic and everybody you see around you is ugly, greedy and arrogant? Back in the suburban kitchen with her mother, Katia Lazareva, a professional ballerina, spoke of her "major wounds" in a much quieter and less confident voice than Yelena. Her first employer, an art director at Moscow's Stanislavsky and Nemirovich-Danchenko Musical Theatre invited her, then an 18-year-old novice dancer, to his house "for champagne with sturgeon".
To refuse such an offer could mean the end of her career, the older girls told her, but she still turned it down – and lost a potential spot on one of Moscow's most coveted ballet stages. The boyfriend Katia lived with at the time was "vindictively jealous". Then their relationship fell apart a few years later and she was left wondering whether it had been worth spoiling him with her "creative cooking" or paying regular credits into his bank account. She left him, and returned to her mother, their two-bedroom apartment and two cats. She has been searching for a decent man since.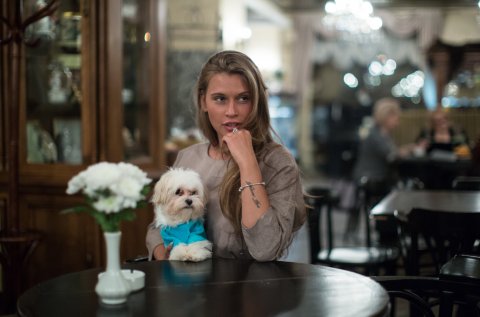 That afternoon when we met, Katia drove downtown to rehearse the Snowflakes waltz from The Nutcracker with a group of her fellow ballerinas, most of whom were also looking for love.
In the changing room, the dancers discuss men again. Disillusioned, a decreasing number of Russian women now believe their main ambition in life is to marry and raise families.
"The model of Russian society will change," says Katia. "The once-held belief in marriage and family – that all women must marry and have children – is fading."
The women who spend their time and money at Marusia would most certainly agree.
Read next: Russian Actor Fires at Ukrainian Forces, Wearing Press Helmet