Mia Love is staring out at a sea of white faces. Just as she did the night before, and the night before that. It's the same story here in Lehi, Utah, at the Lehi Legacy Recreation Center, where kids are learning karate in the room next door; the same story at the South Jordan Library, 14 miles away; the same story at a rally in the shadow of the Juab County Fairgrounds, "Home of the Ute Stampede," where banner ads promote an upcoming demolition derby and a group of teenagers are huddled around a picnic table, agreeing that they don't have a problem with gay marriage, as long as nobody tries to turn them gay.
White, white, white. In nearly every room Love enters as she stumps her way across Utah's 4th District on a quest to become the first black female Republican in Congress, she is not just the only black person there. She's the only person of any color, unless you count farmer tans.
This 39-year-old, Brooklyn-born daughter of Haitian immigrants and former mayor of Saratoga Springs, Utah, seems completely at home in a crowd of mostly old white dudes. What's more, she gets a warmer reception here than when she made a speech at the University of Chicago Law School in 2013. Her advisers had urged her to stay way the hell away from the Windy City. "That's Obamatown," they told her. "Those people will eat you alive."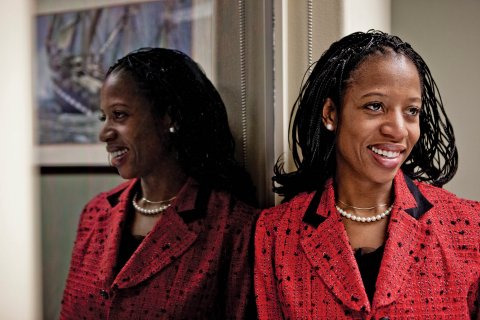 After she spoke in Chicago, a black woman in the audience got up and said, "I don't understand how you can be a black female living in Utah as a Republican in today's America."
Love came back with Martin Luther King Jr.
"I told her I wasn't elected in Saratoga Springs because of my race or my gender or my heels. I was elected by the people there because I had a plan and a vision to get us financially stable," she said. "Think about people like Martin Luther King. Imagine if he decided to fit into this mold that society told him to fit into. Imagine if he just listened to the government when they told him he was a second-class citizen."
Love makes a lot of people uncomfortable, and that's just fine with her.
"I'm kind of a nightmare for the Democratic Party," she said at an April event in South Jordan. "They don't want me there. But I'm coming."
Her confidence is backed up by opinion polls. It's her second attempt at Congress. In 2012, she tried to unseat a popular six-term incumbent, Democrat Jim Matheson, and lost by just 768 votes. She got that close by working the crowds with a feverish energy and a wellspring of charm, the rhetorical skill of another historic candidate (Obama) and a libertarian appeal to the Tea Party movement that remains both powerful and fed up with politics as usual in Washington.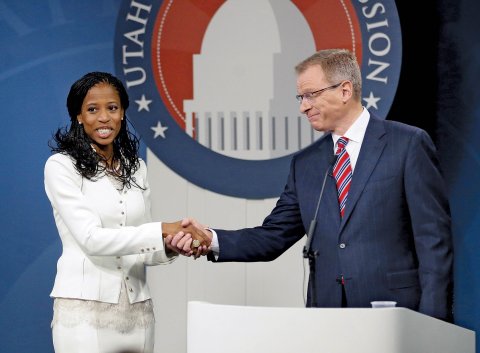 Matheson, a Blue Dog Democrat who held on by voting often enough with the Republicans on issues such as Obamacare, announced in December he would not run again, leaving the way clear for a Republican to reclaim the seat. Love's Democratic opponent is Salt Lake City attorney Doug Owens, whose main claim to fame is that his father once walked across the state in a bid to become Utah's governor. Polls give Love a nine-point lead going into the November 4 election.
The Grand Old Party is tripping over itself to welcome her to Washington. She tells voters in stump speeches that Republican leaders have all but promised "you get yourself in, we will put you wherever you feel like you can be the most effective."
Love's campaign manager and the godfather of Utah politics, Dave Hansen, has warned her that the moment she takes office, the Republican National Committee will do its best to drag her all across America, showing her off as living proof that this is no longer the party of Old White Men.
Love is likely to be among five African-American female newcomers in Congress (the others are all Democrats), bringing their numbers in Congress to a historic 20. But Love's effect on the Congressional Black Caucus won't be to make it stronger, as she has made clear throughout her campaign. It will be to "tear it up," as she told the Deseret News in an interview last year—to flip on its head the notion that African-Americans should keep voting in lockstep with Democrats.
To understand how she came to that conviction, consider her history. Love infuses her campaign speeches with colorful anecdotes that paint her as a great mom and wife as well as a hard-nosed fiscal reformer, a post-partisan get-it-done kind of politician, and, yes, a black woman who transcends stereotypes.
Love begins most of her stump speeches with an abbreviated version of the inspiring story of her parents' flight from war-torn Haiti in 1974. Jean Maxine and Marie Bourdeau fled the country and dictator François "Papa Doc" Duvalier with only $10 to their name.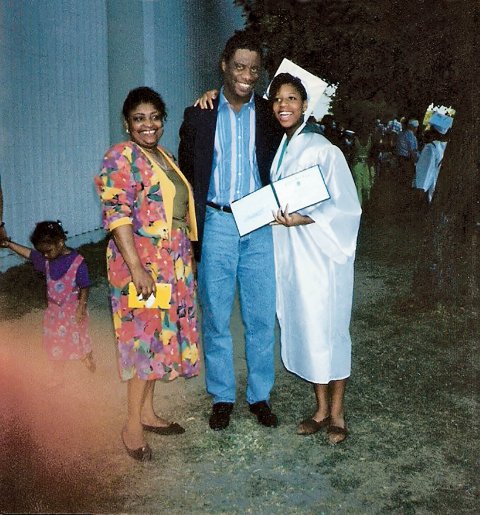 Because their visa didn't allow the couple to bring children to the U.S., at first, Jean Bourdeau left his wife, their young son, Jean, and infant daughter, Cynthia, back in Haiti. A few months later, Marie came to New York, and the couple gave birth in 1975 to Ludmya "Mia" Bourdeau, a mere 25 days before the expiration of a law that granted the entire family citizenship if Jean Maxine and Marie had a baby in America.
"My parents have always told me I was a miracle and our family's ticket to America," Mia told the Deseret News.
She begins introductions with a self-portrait of the American dream, as the child of parents who came to the U.S.—"legally," she takes great pains to point out. "They told me that when they finally became U.S. citizens, they had studied the Constitution, American history, they learned the English language. And when they pledged allegiance to the American flag for the first time, they meant every word of it and understood what they were saying."
This line always gets a hearty round of applause. Her immigration platform is to secure the borders, identify exactly how many people are in the country illegally and then develop a national policy to decide what to do with them. Amnesty is not a part of that platform, and she has spoken publicly of a zero-tolerance policy against those illegally in the country being allowed to stay, no matter who they are, what they've done or how long they've been here.
"I'm talking about a legal way in," she says.
When Mia was 5, the family moved from New York to Norwalk, Connecticut, in the gritty south side of the city, where her mother worked as a nurse at a retirement home and her father worked various jobs—in the factories of food companies Nabisco and Pepperidge Farms, scrubbing floors and toilets at a Catholic school, driving a bus to support the family.
"I didn't realize how dangerous the neighborhood was until I invited some of my friends to a birthday party and their parents wouldn't let them come," she said. The parents would say: "I'm not dropping you off there."
After high school, Mia headed to the University of Hartford, where she pursued a bachelor of fine arts degree and took dance, acting and voice lessons alongside her college courses. Politics wasn't on her radar screen. She was, in those days, bound for Broadway. Before she could get there, she found a higher calling.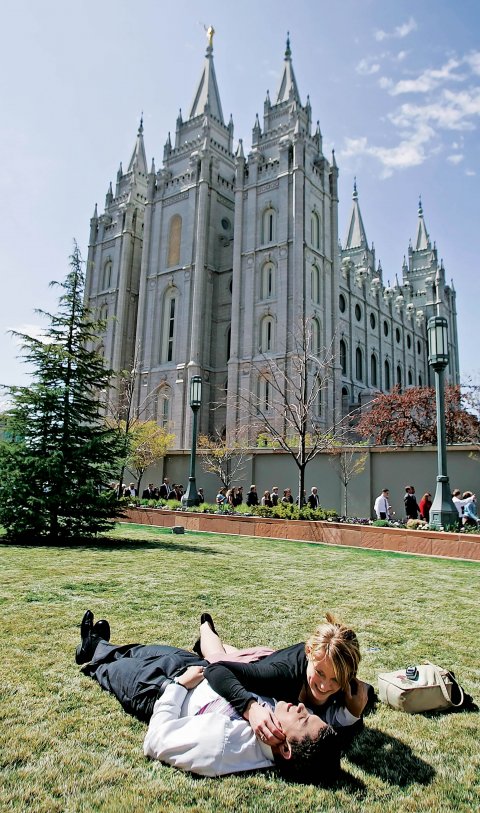 It was Mia's sister, Cynthia, who joined the Church of Jesus Christ of Latter-day Saints first, a decision that surprised the girl's parents. The family was Roman Catholic, and all they knew of the Mormon faith was based on common stereotypes.
"In their heads, it was a bunch of people up in the mountains that had many spouses," Mia says. "They were like, 'What's going on over there?'"
They asked Mia to investigate, and she obliged. Her sister was in college when she hurt her leg. The injury kept her from attending classes, and she was having trouble keeping up with her schoolwork. One day she met a pair of Mormon missionaries. After they talked a while, they offered to attend each of her classes and return with the study materials she needed.
Eventually, Mia decided to see what a church service was like.
"At first I thought it was kind of weird," she says. "Three hours for church seemed like a long time. But here's what really changed my mind about it: I heard this man get up and he said, 'Men, this is my message to you. Make sure you treat women with the respect they deserve.' He also said to treat your wife—one wife, by the way—to love her the way Jesus Christ would love the church. The commitment I saw that these people had to their spouses and families—it wasn't about being married for now but for all eternity. That was really cool to me."
The LDS church has a rocky history with African-Americans, and banned them from full membership until 1978. Brigham Young, former church president, once said in a sermon, "Shall I tell you the law of God in regard to the African race? If the white man who belongs to the chosen seed mixes his blood with the seed of Cain, the penalty, under the law of God, is death on the spot."
Mia wrestled with this history, she says now. After college, she got a job as a flight attendant, and in traveling the country she met an old black man at the back of a Mormon church in Houston.
"I went back there and said, 'What are you doing here?'" she remembers. She learned that the man had joined the church long before 1978. "Didn't that bother you?" Mia asked him.
The old man looked up at her and smiled. "A lot of faithful people stayed with the church knowing they couldn't hold the priesthood," he said. "It's not about man. This is on God's time."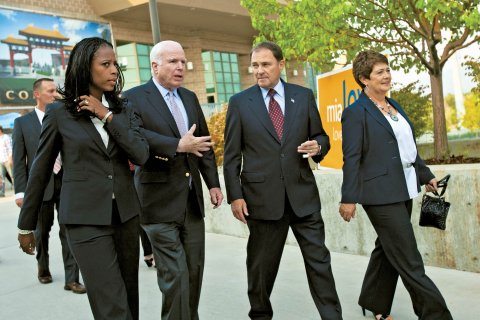 For Love, now, how could you be a black Mormon is not so different from how could you be a black Republican woman in Utah? Love pushes back firmly against the latter question at every opportunity. She told the Deseret News in 2012 that if elected, she would join the Congressional Black Caucus and "try to take that thing apart from the inside out." She accused black Democrats of "demagoguery," saying, "They sit there and ignite emotions and ignite racism when there isn't [any]. They use their positions to instill fear. Hope and change is turned into fear and blame."
Racism is only a problem today, she told Newsweek, as long as people allow themselves to be victims. "I'm no victim. I'm perfectly comfortable in my skin. My parents always told me, In order for people to see you as an equal, you need to act as an equal and be an equal, not make excuses for what you look like. I'm proud of having the skin color I have. It's a feature I'm not ashamed of."
Being a mother is another big part of her pitch—and that too requires a little finessing with some conservative voters, according to Hansen, her campaign manager. "There will be people who vote against Mia because she's black," he says. "One [factor] is the race issue; the second is she's a young mother who should stay home with her kids."
It was through the Church of Jesus Christ of Latter-day Saints that Mia met her (white) husband, Jason Love, with whom she has three children: 14-year-old Alessa, 11-year-old Abigail and 7-year-old Peyton.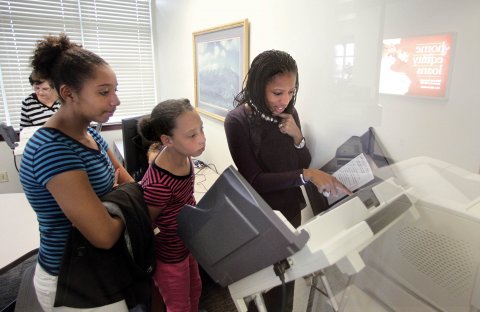 Their first meeting was a brief encounter, one that she can hardly remember but that he will never forget.
Jason was serving as a missionary in Fairfield County in Connecticut, around the time Mia joined the church there. Jason met Mia at the apartment complex of her cousin's boyfriend, who was interested in learning more about the church. Mia wore a pink turtleneck sweater. And she was singing show tunes.
"It was either Les Miz or the Phantom of the Opera soundtrack," he said. "She had a beautiful voice; she was clearly a talented singer."
Beyond that, Jason tried not to notice. LDS members are strictly admonished not to think about romance during their missions. But years later, the two met again, after Mia had graduated from college and begun working as a flight attendant for Continental Airlines. The job allowed her to go all over the country, and she decided to move to Salt Lake City in 1997 to be closer to her church. One day she tracked Jason down and asked him to help a friend move. He obliged and suggested they hang out again.
Around Labor Day 1998, they took a hiking trip with friends. Two months later they were engaged. As their wedding day approached, though, a call came from the producers of the Broadway musical Smokey Joe's Cafe. Love had auditioned a year earlier for a leading role.
"They were like, 'Hey, we'd love to have you,'" she said. "I said, 'I'm getting married on Friday.' They said, 'We need you here Wednesday.'"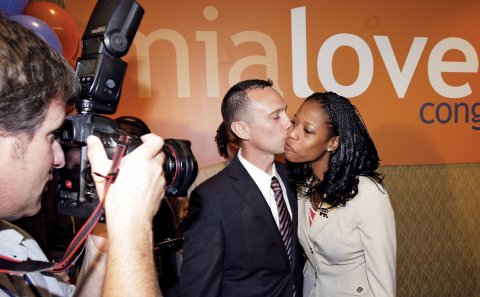 If that sounds at all like crossroads, it wasn't for Mia. She was by then well versed in the church's admonitions against immediate gratification. Being a Mormon and marrying this man was much bigger than a part in a show.
"I was making a choice to be with somebody for eternity," she said. "There was really no choice."
So how did she get from there to politics? As the Loves tell it, she's the kind of person who gets things done. She always has been.
Jason Love remembers right after they got married and unwrapped their gifts, discovering that they'd been given three identical toasters, from the same department store. The couple didn't have a lot of money at the time and wanted to see if they could return two of the toasters for cash or for something else. Mia waited in the car while Jason went in with the toasters, without a receipt.
"They were firm," he remembers. "They wouldn't give me a refund without a receipt. I went back to Mia empty-handed."
Mia didn't take no for an answer. "She said, 'Look, Jason, don't ask them for what you want. Go in there and tell them what you expect. They'll take care of you.' She took the toasters in and came back five minutes later, with a refund."
The first time Mia translated that assertiveness into something even remotely political was after the couple bought their first house, in a new neighborhood at the north end of Utah Lake, a warm, shallow body of water rife with bugs. Whenever the wind would shift from north to south, midge flies swarmed their neighborhood.
"It was a miserable place to be," Jason said. "These brand-new beautiful homes and nobody could go in or out without all these bugs getting in."
The neighbors asked for Mia's help in 2002 to talk to the developer about the bugs. She did just that, with a calm but certain message: "We love our neighborhood, and we love these homes, but if you want to sell another home here, you're going to have to do something about these bugs," Jason remembers her saying. "The next week, the developer was treating for bugs."
Another early foray into politics began when the Supreme Court considered removing the phrase "under God" from the Pledge of Allegiance. That inspired her to get involved in politics, she said, and in 2003 she ran for the Saratoga Springs City Council, becoming the first black woman elected to public office in that city, in a county whose populace is 0.6 percent black. Six years later, she ran for mayor, and won with 60 percent of the vote, taking office the following January as the first black mayor in Utah.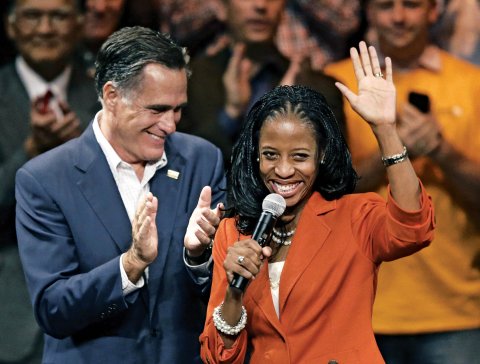 Fast-forward to 2014, and she's poised to go to Washington. What will she do there? Love comes from a part of the country that would happily invite Rand Paul over for steak and taters, and she plays to that constituency at every turn. She has promised to demolish the departments of Education and Energy, touts her past in Saratoga Springs as a real fiscal conservative, and talks nearly as tough about old-guard Republicans as she does about those Democrats who "think they're one tax hike away from prosperity."
But at the same time, she says "The Tea Party isn't a party," and she brushes right past the GOP split to remind you of the real enemy: heavy-handed government.
"To me, it's about getting the decision–making as close to people as possible, so party lines go away. I seriously believe this president would like to divide our party, and part of the tactic is to divide America based on race, gender, income and social status. We have got to come together and make our case to the American people."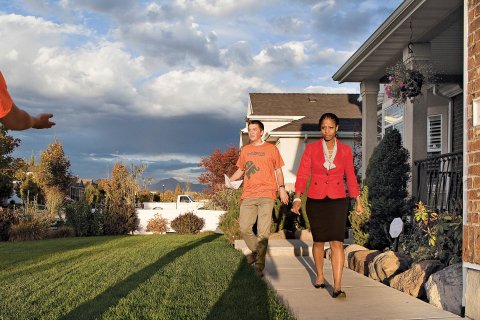 So Love walks the tightrope. She promises that she'll show up in D.C. and speak truth to power, telling her husband lately that the first thing she'll say to her colleagues on the Hill is "I'm so glad to be here amongst all of you. I hope you're comfortable, because my job is to make every single one of you less powerful. Let's get to work." But at the same time, she's promising they'll welcome her with open arms and she'll have the kind of influence necessary to achieve the change she's convinced she must bring.
Plenty of voters in Utah are hoping she will deliver.
"She does sound very conservative," said Tobin Gardner, a 31-year-old delegate from Eagle Mountain who would go on to choose Love at April's nominating convention but hadn't made his mind up at that point. To him, Love's race means "she could go far. Obviously, being a woman, an African-American, maybe even the LDS thing, that could maybe help her these days more than hurt her. I just hope she can stay strong when she gets there."