The Islamic State's staggering successes come at a cost. After all, it's not cheap to wage war and manage territorial conquests whose population is now roughly the size of Austria's.
So how can ISIS, cut off from the rest of the world by financial and trade sanctions, and under daily aerial and land bombardment by some of the richest countries in the world, afford to maintain a well-armed military and pay other bills?
Interviews with Iraqi, Kurdish, European, Syrian and American government officials, analysts and intelligence agents sketch a portrait of ISIS's robust, sprawling, and efficient financial operation. The terrorist group relies on a relatively complex system to manage its far-reaching networks. Its currencies of choice—cash, crude oil and contraband—allow it to operate outside of legitimate banking channels. Turkey's southern corridor, Iraq's northwestern corridor and Syria's northeastern corridor are key weak spots, well away from the prying eyes of outside investigators.
ISIS's financial needs go beyond underwriting terror. "It's a huge financial package to support 8 million people—which is now the size of the population living in territories under ISIS control," says Luay al-Khatteeb, visiting fellow of the Doha Brookings Center and director of the Iraq Energy Institute in Baghdad. "ISIS is also supporting tens of thousands of militants who have been at war for months, with new recruits coming in every day. Yet it keeps all these people answerable to them, seems to have incredible cross-border mobility and shows no signs right now of running out of money or fuel."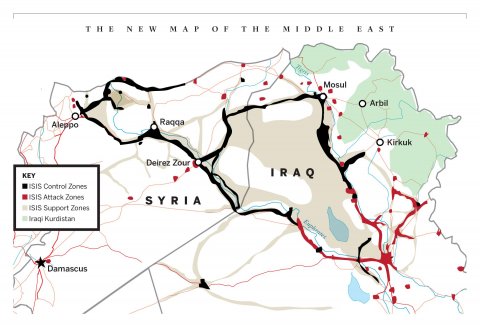 On October 23, Washington's point person in the fight against ISIS—the U.S. Department of the Treasury's Undersecretary for Terrorism and Financial Intelligence David Cohen—acknowledged in a speech at the Carnegie Endowment for International Peace in Washington that "[ISIS] has amassed wealth at an unprecedented pace and its revenue sources have a different composition from those of many other terrorist organizations." ISIS doesn't "depend principally on moving money across international borders," he said, but "obtains the vast majority of its revenues from local criminal and terrorist activities."
This presents a formidable obstacle for the U.S. Treasury, which is accustomed to pursuing its enemies by pressuring established banks to expose their criminal clients. ISIS's use of middlemen across the Middle East to smuggle cash in and out of its territory, in addition to employing decades-old smugglers' routes, makes the group especially hard to track.
The reach of ISIS's financial portfolio is broad and lucrative. Highly localized and multiple revenue streams feed the terrorist organization's coffers—generating up to $6 million a day, according to Masrour Barzani, head of Kurdish Intelligence and the Kurdistan Regional Security Council.
Suitcases Full of Cash
Secret smuggling routes are often passed on by families from generation to generation, and they were well-secured during the lean years of economic sanctions imposed by the West during Saddam Hussein's dictatorship in Iraq. Border guards were in on the baksheesh system entrenched in the culture. They would turn a blind eye when cash in suitcases or trucks containing oil or goods passed through their checkpoints. Many smugglers who traded Saddam's oil across Iraq's borders to Kuwait, Iran and Turkey are now working the same routes between ISIS-held Iraq and the outside world.
At its heart, the ISIS money machine runs on the fear—and greed—of the millions of people it controls. It also manifests itself in a wide range of financial activities, many of them outsourced via middlemen and driven by hordes of self-interested parties. The U.S. Treasury has declined to estimate the extent of ISIS's total assets and revenue streams, but Cohen has called it "the best-funded terrorist organization" the U.S. has "ever confronted."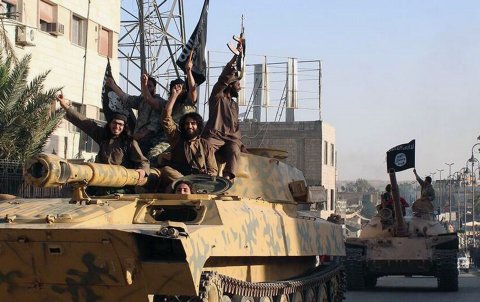 The ISIS economy and its fighters predominantly rely on the production and sale of seized energy assets—Iraq has the fifth-largest proven crude oil reserves in the world. ISIS also depends on the steady income it extracts from private donors, the heavy taxation and extortion it levies on its captive population, the seizure of bank accounts and private assets in the lands it occupies, ransoms from kidnappings and the plundering of antiquities excavated from ancient palaces and archaeological sites.
"You could say ISIS is destructive on an unprecedented scale, because it is not just destroying human lives today," says Abdulamir al-Hamdani, an Iraqi archaeologist specializing in Mesopotamia at the Department of Anthropology at the State University of New York at Stony Brook. "We're talking about the destruction of humankind back to the beginning of humankind."
Royal Donors in the Gulf
Grossing as much as $40 million or more over the past two years, ISIS has accepted funding from government or private sources in the oil-rich nations of Saudi Arabia, Qatar and Kuwait—and a large network of private donors, including Persian Gulf royalty, businessmen and wealthy families.
Until recently, all three countries had openly given hefty sums to rebels fighting Bashar Assad's Syrian regime, among them ISIS. Only after widespread criticism from Secretary of State Hillary Clinton and the international community did Saudi Arabia pass legislation in 2013 criminalizing financial support of terrorist organizations such as Al-Qaeda, Al-Nusra and ISIS.
In August, ISIS was declared "Enemy Number One" by the most senior Islamic cleric in Saudi Arabia, Grand Mufti Sheikh Abdul Aziz al-Sheikh, and Saudi Arabian bomber and fighter planes joined U.S. airstrikes against ISIS. So far, Qatar and Kuwait have not followed suit.
Lori Plotkin Boghardt, a fellow in Gulf politics at the Washington Institute for Near East Policy in Washington, D.C., tells Newsweek that private donors across the Persian Gulf are continuing to funnel money to ISIS. "Qatar and Kuwait continue to stick out as two trouble spots when it comes to counterterrorist financing enforcement," she said. Continued financial sanctions imposed on Kuwait and Qatar terrorist financiers by the U.S. Treasury "suggest the U.S. government continues to be concerned about spotty, to say the least, Kuwaiti and Qatari enforcement of their counterterrorist financing laws."
A couple of factors are frustrating attempts to dam these rivers of cash. First, the relatively open banking systems of Qatar and Kuwait are being skillfully exploited by ISIS, since, unlike Saudi banks, they do not automatically raise red flags when money is siphoned to Islamist causes.
Second, Qatar and Kuwait are loath to limit the activities of highly influential ISIS donors due to the political fallout such intervention may cause. In Kuwait, a family of parliamentarians—including Kuwaiti member of parliament Mohammed Hayef al-Mutairi—has raised funds for jihadist groups with direct ties to ISIS. "Cracking down on some ISIS financiers is politically complicated for these countries' leaderships," Boghardt says.
Funds tend to reach ISIS militants by a circuitous route, frequently flowing from Qatar to Kuwait, which operates as a clearinghouse for funds headed to Syria and Iraq, according to the Washington think tank the Brookings Institution.
Fake Humanitarian Aid
These donations, Newsweek has learned, are also routinely laundered through unregistered charities in the form of "humanitarian aid," with terrorists coordinating geographical drop-off points for payments using cellphone applications such as WhatsApp and Kik. Not only can WhatsApp be used around the world but, crucially, it incorporates a GPS mapping tool that makes it easier for terrorists to communicate their exact locations to each other. Kik offers the added benefit of allowing terrorists to register a username without providing a phone number that could identify them. Affiliated ISIS Twitter accounts openly publish their Kik usernames.
WhatsApp, bought by Facebook last month for $19 billion, would not respond to Newsweek questions about whether it was aware ISIS operatives were using its mobile-messaging platform or whether it had a policy to flag, monitor or report to U.S. authorities the communications of known terrorists. In an emailed statement to Newsweek, a representative for Kik said it doesn't "see, store or monitor the content of conversations between users."
One Twitter user, who describes himself as a "random British mujahed somewhere in the Islamic State" and goes by the name Abu Hussain al-Britani, urges "brothers only" to get in touch. Another, calling himself Sayf al-Wali, a "mujahed of Khalifa somewhere in al-Khalifa," daringly shares his Kik and Skype names, as well as his Ask.fm details. On Twitter, he exhorts followers to "only add [me] if you are sincere" and to not "ask a million questions."
Other Twitter users following ISIS propaganda accounts in Arabic, as well as English, encourage friends and followers to reach them via Kik, Skype or by less transparent means. "Im off twitter forever inshallah," wrote Abu Musab Jazairi, one such user who offered up his Kik name. "If you need me, Kik: nadjmu." He signed off "Asalaam Alaykum," a common Arabic expression for "peace be with you."
Hundreds of these social media accounts exist solely for the purpose of retweeting propaganda from ISIS channels—primarily in English—and promoting the contact details of ISIS operatives to "truthful" followers. But once a connection is made, donations to ISIS operations soon follow. None of the accounts of self-described mujaheds contacted by Newsweek would comment.
Having been disguised as aid, the private funds become much easier to funnel to ISIS in large quantities. For this reason, Saudi Arabia, aware that ISIS fund-raisers may masquerade as humanitarian aid organizations, has blanket-banned unauthorized donations destined for any part of Syria.
The Kuwait Connection