In early October, with his popularity sagging and his party looking at potentially staggering midterm losses, President Barack Obama appeared at the Congressional Hispanic Caucus Institute's annual gala in Washington, D.C. His goal that night was twofold. First, he wanted to send a message through the 2,000 or so well-heeled advocates in the room that Latinos across the country could trust him to follow through on his promise to halt deportations for a larger swath of the undocumented community. Second, and perhaps more important, the president argued that now wasn't the time for Hispanics to abandon the Democrats.
"When opponents are out there saying who knows what, I'm going to need you to have my back," Obama told the crowd to polite applause. "I've got to have you to talk to your constituents and your communities, and you gotta get them out to vote."
Hispanics had come to the rescue of Obama and the Democrats before. In 2010, they helped embattled incumbents like Senate Majority Leader Harry Reid of Nevada and Sen. Michael Bennet of Colorado win reelection. Two years later, they carried Obama to a second term, turning out in record numbers in critical swing states, and gave Democrats nationwide enough of a boost to hang on to control of the Senate despite a wave of anti-incumbent sentiment. The results this year, however, were decidedly more mixed.
Early numbers from exit polls and other surveys show that Obama's plea wasn't enough to keep that high level of support from eroding. Nowhere was that more clear than in Colorado, where the president had won two years ago with almost 90 percent of the Latino vote. The Democratic Party had high hopes Hispanics would help it hang on to a hotly contested Senate seat and perhaps even flip a House district. Instead, Republicans handily won both races.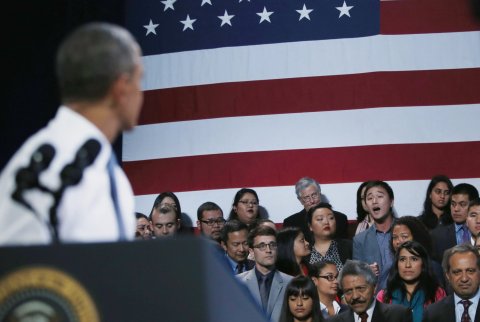 In Colorado, where it's estimated that roughly 14 percent of the voters are Latino, Democratic incumbent Sen. Mark Udall was unable to fend off a challenge from Rep. Cory Gardner, a Republican who had opposed comprehensive immigration reform and the Dream Act but was able to tack to the center on the issue once he began running for statewide office. Udall, a staunch proponent of a pathway to citizenship, pulled in 71 percent of the Hispanic vote, according to Latino Decisions, a polling firm based in Seattle. As impressive as that number seems, it was still down from 2010, when Bennet swept up 81 percent of the vote to eke out the win. Democrats' share of the Latino electorate was also down across Colorado's House races, falling 12 percentage points since the last midterms.
"The Democrats should have done better than they did with Hispanics," said Simon Rosenberg, president of NDN, a think tank in Washington, D.C. "More needs to be done in terms of ads and targeting voters if we're going to keep getting the margins we're used to."
Across the Southwest, an area where changing demographics gave Democrats hope that they could make electoral inroads, they actually lost ground with Latinos. In Nevada, Republican Governor Brian Sandoval easily won reelection, increasing his support among Hispanics by 32 percent. (Sandoval didn't face a serious challenge, and his policies of expanding Medicaid and English instruction programs made him a relatively attractive candidate to Latinos.) In Texas, Republican Greg Abbott won the governor's seat with 32 percent of the Hispanic vote—12 points more than his GOP predecessor won four years ago. Even the numbers in Arizona looked better for Republicans. In 2010, Governor Jan Brewer managed only 14 percent, but this year Doug Ducey was able to garner 24 percent of the Latino vote on his way to winning the governor's race.
This election cycle was always going to be difficult for Democrats. Most of the close races were fought on Republican terrain that had supported Mitt Romney in 2012. The party, which has trouble getting its faithful to the polls in nonpresidential years, was also facing voters who blamed Obama for everything from the resurgence of violence in Iraq to Ebola.
But the drop-off in Hispanic votes signals a deeper problem for the Democrats, who have come to rely on this group to deliver elections. By and large, Latinos are frustrated with continued deportations—Obama has forcibly removed more undocumented immigrants from this country than any other president—and the lack of progress on immigration reform. They see the president's delay on executive action (which he shelved until after the election to help Senate Democrats running in red states) as proof that even their supposed allies take them for granted. "The Democrats were very cautious about immigration reform," said Frank Sharry, executive director of America's Voice, a pro-reform group. "That didn't work out too well for them."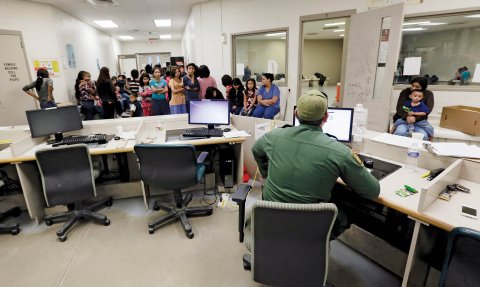 There were tactical mistakes, too. Udall ran few Spanish-language ads and allowed Gardner to redefine his position on immigration reform with little pushback. Across the country, the Democrats put relatively little money into reaching voters in Spanish, a decision that came back to bite them. They instead focused on women voters, bombarding the airwaves with ads painting their opponents as zealously anti-choice. In Texas and Colorado, they doubled down on this strategy, to the detriment of their relationship with Hispanics.
"Udall framed the race around Gardner's position on abortion and personhood," said Steve Welchert, a Democratic political consultant based in Denver. "For a lot of very Catholic Latino voters, that's probably a troubling place to be. They'd support Udall on a variety of other issues, but there wasn't much of a discussion or dialogue about other things."
To some extent, the results change the electoral calculus for 2016 and give Republicans a chance to push back against the view that they can't compete statewide in places like Nevada and Colorado. (They are also making analysts rethink the idea that Democrats can turn Texas blue anytime soon.) In many of these places, the GOP doesn't need to win the Hispanic vote outright. It just needs to shrink the margin.
But it's only an opportunity for Republicans if they can move more of their party's members toward the center on immigration reform and adjust their rhetoric to be more inclusive. Now that they are the majority party in both houses of Congress, they will have to make a serious attempt at crafting legislation that includes some sort of legalization or pathway to citizenship if they want to make further progress with one of the fastest-growing voting blocs.
"The Republicans have to lead on immigration reform," said Alfonso Aguilar, executive director of the American Principles in Action's Latino Partnership. "It's a gateway issue that they have to deal with. Otherwise, they will pay in 2016."
Uniting the GOP behind an immigration policy that Latinos find tolerable will be a tall order, especially now that the focus in Washington is sure to turn to the next election. Already, Republicans are talking about suing the president if he decides to move forward with executive action. And, if history is any guide, the contenders for the Republican presidential nomination will in short order start moving to the right on this issue to appeal to the primary voters in their party. That will mean an emphasis on strict border controls and a reluctance to embrace legalization.
Looking ahead to 2016, what Obama does next for undocumented immigrants will be key to the Democrats' gaining back some of this ground. The president has promised to take executive action to stop some deportations by the end of the year, a pledge he reiterated at a press conference the day after the election. "What I'm not going to do is just wait," Obama said. "I think it's fair to say I've shown a lot of patience."
It's not clear yet how many of the 11 million undocumented immigrants will be granted administrative relief by Obama. The details of this plan remain closely guarded, but reform activists have made clear that an executive action that is small in scope will not be acceptable. "Time is up," said Representative Luis Gutiérrez, D-Illinois, an outspoken proponent of reform, a day after the election. "It's time for the president of the United States to act and to defend our community and to be brave and to be courageous."
Gutiérrez has called for the president to protect at least 5 million from deportation, a goal that might even be surpassed if Obama uses the 2013 bipartisan Senate bill as a guide. If it hadn't died in the House, that legislation would have given roughly 8 million a chance to gain legal status. The final number will be affected by what sort of residency requirements the administration decides to impose.
Reformers think there's a chance Obama will follow the prescription laid out in the Senate's bill. As precedent, they cite the 2012 Deferred Action for Childhood Arrivals program, which the White House based on the failed Dream Act. But this time around, he's facing a majority party in both houses of Congress that is arguing the midterm results mean immigration reform should be off the table.
What this means, of course, is that whatever Obama does with the executive action probably isn't going to make anybody happy. Republicans want him to back off. Democrats want him to be bold. And he seems, after all of this, to be sitting squarely in the middle, without anyone having his back.
* All poll numbers in this story are from Latino Decisions.
Correction: This article originally incorrectly stated that Alfonso Aguilar was the executive director of Latino Partnership for Conservative Principles. He is the executive director of the American Principles in Action's Latino Partnership.