In a world that has become acclimated to sky-high oil prices, the Great Oil Crash is shaping up to be good news for cash-strapped Americans on the brink of the winter heating season.
For the major oil economies, not so much. And oh, by the way, that now includes the United States.
As oil producers brace for the November 24 deadline in the nuclear talks between the West and Iran—as well as what is expected to be a particularly tricky meeting for the Organization of the Petroleum Exporting Countries—political prognosticators are sensing a geopolitical shake-up may be nigh.
Since June, when warriors of the Islamic State (also known as ISIS) swept across Iraq, temporarily goosing oil prices higher as they drove Iraqis from their homes, the price of the global oil benchmark, Brent crude, has plunged 30 percent. Recently, it broke below $80 a barrel to reach levels not seen since September 2010—a far cry from the dire $140-a-barrel peak in 2008.
The drivers of this epic cooling-off are manifold, from robust production growth in the U.S. to lackluster expectations for the global economy. But this time, the Paris-based International Energy Agency (IEA) says, there may be reason to believe that lower oil prices could last.
"It is increasingly clear that we have begun a new chapter in the history of the oil markets," the IEA stated in its November oil market report, observing that the world's oil supply is outstripping projected oil demand—the opposite of what was happening just over six years ago when oil prices peaked.
For countries whose finances are heavily or almost wholly reliant on high oil prices, it's a tough time. At current price levels, the national budgets of Iran, Venezuela, Nigeria, Iraq, Libya, Russia and Saudi Arabia will not break even, which could force these countries to burn up precious cash reserves, as well as leading to infighting over market share, upsetting an already fragile world order.
Recently, President Vladimir Putin went so far as to concede that Russia, which is already getting hammered by economic sanctions and a plummeting ruble, faces serious consequences if oil prices continue to slide. "We're considering all the scenarios, including the so-called catastrophic fall of prices for energy resources, which is entirely possible and we admit it," he told Russia's state-run Tass news agency.
The oil price hit is doing far more damage to Putin than Western sanctions aimed at punishing him for Russia's role in Ukraine, so Washington has every reason to celebrate the market shift.
For another of Washington's least favorite nations, Iran, the stakes are also high, as the nuclear talks' November 24 deadline looms. If the U.S., U.K., China, Russia, France and Germany succeed in coming to an agreement with Iran over its nuclear program, which they do not want to see yield any nuclear weapons, Iran may see an easing of the economic sanctions that now prevent its oil from reaching a wider market.
However, if talks fail, the combination of ongoing economic sanctions, inflation, a weakened rial—and dropping oil prices—will create further financial suffering for many Iranians.
All eyes are on OPEC's November 27 meeting, in which Saudi Arabia is expected to make its clearest case yet regarding its approach toward lower oil prices and rising global production.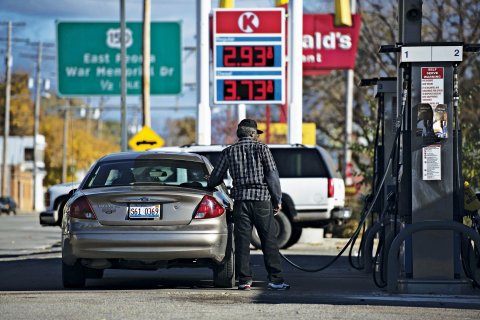 "Changes in the forecast of Saudi Arabian oil production are crucial to the revised outlook and a major source of uncertainty in the year ahead," the U.S. Department of Energy's statistics branch, the Energy Information Administration (EIA), stated in this month's outlook.
Market observers had theorized that the world's largest oil exporter may trim exports as a way of propping up oil prices, but after Saudi Arabia recently cut the price it's charging U.S. clients, that seems less likely.
"Saudi Arabia's No. 1 priority is they don't want to lose their market share," says Luay al-Khatteeb, a fellow at the Brookings Doha Center, an offshoot of the Washington-based public policy organization.
Taking that cue, the EIA recently revised upward its estimate of Saudi oil output, putting it at above 9 million barrels a day for 2015. Of course, keeping oil output high will only reduce how much Saudi Arabia makes on the barrel, but unlike Russia, Saudi Arabia can take it.
"With some of the lowest cost-per-barrel production in the world, and cash reserves approaching $1 trillion, Saudi Arabia is better positioned to withstand a lower oil price than other producers and can make up some of the lost revenue from lower prices by maintaining supply volumes," the EIA said.
The U.S. can also take it, although oil companies will take a beating if prices continue to sag, according to a recent research note from Goldman Sachs chief equity strategist David Kostin. He estimates U.S. shale producers will require the U.S. benchmark oil price, called West Texas Intermediate, to hold above $75 to $80 a barrel to keep drilling. At present, West Texas Intermediate prices are hovering in that range.
"The current price outlook does not support new development of the most expensive, marginal barrels such as Arctic, ultra-deep water and some oil sands," says the EIA. "However, given the long lead time and substantial investment required, these types of projects are unlikely to be affected" in 2015.
The IEA, which advises 29 nations, including the U.S., left its estimates for global oil demand in 2014 and 2015 unchanged in this month's report, at 92.4 million barrels a day, but noted an uptick in global oil supply in October to 94.2 million barrels a day.
This slack in the system bodes well for Americans. The price of crude oil represents 64 percent of their tab at the gas pump (the rest of the price goes toward refining, marketing, distribution and taxes). As of November 10, the national average price for regular gasoline clocked in at 25 cents lower than a year ago, at $2.94 a gallon, the lowest level in nearly four years. The AAA national average started the week of November 16 still lower, at $2.885 a gallon.
This month, the EIA slashed its oil price outlook for 2015 by $18 a barrel from last month, predicting that Brent crude oil prices will average around $83 a barrel next year, bottoming out just below $82 a barrel in the second quarter of 2015.
"Concerns over a growing imbalance between global crude oil production and consumption continue to weigh on crude oil prices," the EIA stated in its short-term energy outlook in November. "The alleviation of global crude oil supply disruptions and continuing production increases from North America occur at a time when global demand for petroleum products is weakening, loosening the global crude oil market."
To get a sense of just how much the U.S. energy boom is adding to the world's oil supply, says Tim Hess, oil markets analyst for the EIA, look no further than the agency's last annual set of U.S. production numbers for 2013. "We were at 7.5 million barrels a day last year, the highest average production rate we've seen since 1989!" he tells Newsweek. "Compare that to this past August, the latest month for which we have full numbers, and you'll see the production number shot to 8.6 million barrels a day."
U.S. production is still growing. The EIA's estimate for October oil production is 8.9 million barrels a day, Hess says. For 2015, it's 9.4 million barrels a day.
How much is the U.S. exporting of its bounty? "Pretty small amounts," Hess says. "It was only about 440,000 barrels a day in August of the 8.6 million barrels a day we produced, with most of it going to Canada. We're using almost all of it domestically."
While the pain felt by the likes of Russia and Iran is likely to raise smiles in Washington, there may well be collateral damage. Absent a significant price rebound, countries both enormously reliant on oil and lacking in capital to blunt the pain are looking at potentially disastrous circumstances, even humanitarian crises, al-Khatteeb tells Newsweek.
Iraq is one of these countries. Rising oil production won't save it from a budget deficit that will undoubtedly hurt most the nation's millions of refugees and internally displaced persons, to say nothing of the ongoing costs of Iraq's war with ISIS, says the native Iraqi. "You are talking about 2 million or more refugees at a cost of billions of dollars per annum," al-Khatteeb says.