Down a dusty backstreet in the Baghdad neighborhood of Karada in November, I met Sheikh Raad al-Khafaji, a former Iraqi Army officer specializing in artillery and a veteran fighter from the days of the Iran-Iraq War. He is head of the Al-Khafaji tribe and a commander in the Kata'ib Hezbollah militia, one of the Shiite militias at the forefront of the fight against ISIS, or the Islamic State, in Iraq.
After the fall of Mosul this summer, Grand Ayatollah Ali al-Sistani issued a fatwa calling on Iraqi "citizens to defend the country, its people, the honor of its citizens and its sacred places." That is, to come and defend their religion in a holy war against ISIS.
Sheikh Raad says that in the days after Sistani's fatwa, men as old as 60 came to his small offices begging to fight to hold back ISIS and Sunni-led insurgents.
According to Iraqi Deputy National Security Adviser Safa Hussein al-Sheikh, the Kata'ib Hezbollah militia, founded in the months leading up to the 2003 American invasion, is known for being smaller and more organized than the other Shiite militias—and is considered highly secretive and proficient, even by Iraqi intelligence standards.
"In the past, they had focused more on American targets—sophisticated, lethal, organized attacks that were not penetrated by the American or Iraqi intelligence," al-Sheikh says.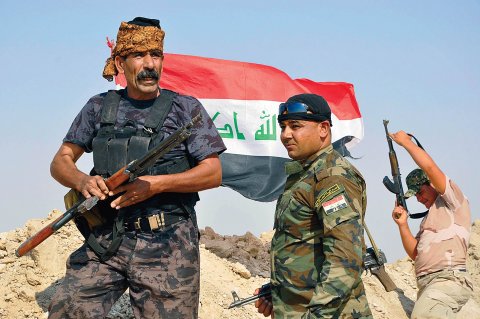 When I visit, the 58-year-old Sheikh Raad sits wearily in his office, wearing battle fatigues and several jeweled garnet and turquoise rings. With him is his young fourth wife, who surprisingly has her dark hair uncovered and is heavily made up, dressed in tight trousers and high heels. She wants to film his conversation on her cellphone.
He sees no irony in the fact that his current financial backer, Iran, was his former mortal enemy. "Saddam imposed that [the Iran-Iraq War] on the Shiite people in Iraq and Iran," he says. "It was Saddam's fault. Not the fault of Iran."
He says Kata'ib Hezbollah has about 4,000 fighters (Iraqi intelligence puts the figure closer to 1,000) who are "experienced from fighting in Amerli and Samarra, but also have past experience fighting with Hezbollah in Syria."
He goes back and forth to Syria, largely to protect Shiite shrines near Damascus. Much of it is done around the town of Sayyidah Zaynab—Lady Zaynab—a southern Damascus suburb that has a Shiite shrine of the same name.
Some of his men, he says, were paid up to $700 a day by Iran to fight in Syria, but in Iraq they are getting far less. He says Iran is arming his men with weapons—AK-47s, 12.7 mm heavy machine guns (these are often mounted on the backs of pickup trucks—so-called "technicals") and PKCs, lighter, 7.62 mm machine guns used in many former Soviet Bloc and Middle Eastern countries.
"Here, we are fighting for justice—for our faith—not for money," Sheikh Raad insists. "And don't forget there is a big difference between Hezbollah in Iran and Hezbollah in Iraq. Philosophically, we have the same enemies—Daish [ISIS] and Israel—but we are fighting here for justice."
One of his fighters, Wissam, 34, comes in, showing Sheikh Raad some photographs of captured explosives he took in Amerli, the northern Iraqi city that was heavily fought over and considered a turning point in the battle against ISIS.
A former vegetable seller from Sadr City, Wissam spent 60 straight days in Amerli and surrounding villages in July and August.
He says he did not even question abandoning his job and his life in Baghdad to head to Amerli to fight. "After the fatwa [from Sistani] I just drove up to northern Iraq in my own car with a few friends," he says. "There was no rank with our fighters, everyone was given a gun and told to fight—with that, we were all equals." Fortunately, Wissam says, he had some military training with the Iraqi Security Forces (ISF), so he was put in charge of logistics and arms. Other fighters did not have as much experience, he says.
"I am moderately religious, not extreme, but when I heard the fatwa, I went to fight without a salary. It's not about the money. It's about defending your country," he says.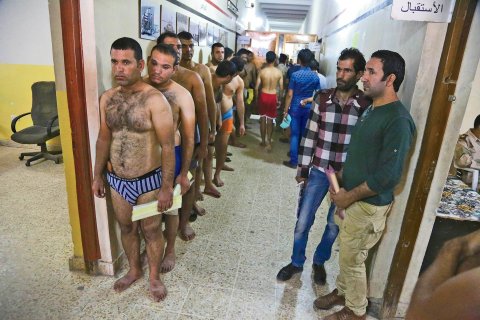 To understand the presence of Shiite militias in Iraq today, and the increasing sway of Iran, you have to go back to the legacy of the mass graves.
Shortly after Saddam Hussein, a Sunni who had systematically repressed the majority Shiites for decades by cracking down on their political parties and crushing Shiite movements, fell from power in April 2003, human rights workers and U.S. investigators began exhuming graves where thousands of Shiites and ethnic Kurds had disappeared.
It is unclear how many Shiites died during the Saddam years, but the figures range from 400,000 to 700,000 people. Near Baghdad one grave alone held nearly 15,000 bodies. In another, near the southern city of Samawah, more than 72 were discovered, mainly women and children.
It is believed that up to 60,000 Shiites disappeared from Baghdad during those years and ended up in pits of earth. Years later, when Saddam was finally gone, relatives would stand at the open graves, desperately trying to find something that could link them to their lost.
"I just wish I could feel him, touch him, see him," said the sobbing mother of one of "the disappeared," Hilu Issa, who went missing in 1980 at the age of 25. (I spoke to her in May 2003 just after the U.S.-led invasion.)
The image of her vanished son remained frozen in time. "I need to know what happened to him," she said.
Saddam's men typically came at night and took people away without warning. Issa's mother never saw him again.
The day after Saddam's fall from power, with the city in chaos, it was finally possible to put together pieces of the puzzle. In al-Haakimiya, a notorious Mukhabarat (secret police) prison used during his reign, I and an Iraqi colleague found evidence of brutal torture: restraints, blindfolds, torture instruments with hardened blood still on them, cells the size of bathtubs where desperate men had scrawled messages to the families they would never see again.
"To my beloved children," one wrote, with a pointed object that might have been his fingernail because the words on the wall were stained with blood, "Don't give up hope."
In postwar Iraq, the political tables flipped. After the American invasion, it was the Shiites who were in power, the Sunnis who were being hunted.
When Haider al-Abadi, a moderate Shiite, was designated prime minister last August, he promised that his government would be more inclusive, and break the cycle of revenge and vengeance between Iraqi Shiites and Sunnis.
But it is still hard to find any Shiite family that has not, in some way, been touched by Saddam's brutality and that does not still bear, in some way, a grudge or at least a desire for justice.
Last January, Nouri al-Maliki, the then-prime minister and a Shiite dissident under Saddam who held strong nationalistic ideals, launched a bombing campaign in Anbar province, which is largely Sunni, apparently with the intention of driving out jihadists—i.e., ISIS.