Fed by natural springs, Nevada's verdant Pahranagat Valley is more than a high-desert oasis. It is a sanctuary—some 230 avian species make use of the Pahranagat National Wildlife Refuge, but that is only the beginning of its idyllic nature. Locals in the unincorporated community of Alamo (pop. 1,080), 90 miles north of Las Vegas along Highway 93, will tell you that Pahranagat Valley is a haven. "Houses are unlocked," says Ken Higbee, the local high school football coach. "Car keys are in the ignition. It's old-school America."
Pahranagat Valley is an anachronism. Alamo sits in Lincoln County, which boasts more square mileage than Massachusetts but not a single stoplight. The town has three houses of worship, the largest by far a Mormon ward, but nary a saloon nor franchise outlet. Area 51, the top-secret government site that X-Files junkies believe holds UFOs and alien corpses, is an hour's drive west (along the Extraterrestrial Highway), but it may be no more out there to 21st century America than Alamo and its denizens. "Really, Alamo hasn't changed all that much since the '60s," says Vaughn Higbee, whose family has resided here since the 1860s. "In fact, it's even better now."
Pahranagat Valley High School (PVHS) is a leviathan. At least, athletically. Despite having only 86 students in grades 9 to 12, the Panthers have won 10 consecutive Class IV Nevada state championships in girls' volleyball under coach Ginger Whipple. "We don't like to lose," she recently told Harry Smith of NBC Nightly News. "We're poor losers."
"Ninety-six percent of our kids play a sport, and most of them play three," says Mike Strong, the school's principal. "We think it's healthy for them, mentally and physically. You've got to do more than just be a student."
Pahranagat Valley may sound too good to be true, and its football team is too good to be beaten.
The PVHS eight-man football team is as relentless as the high-desert winds: Entering its November 21 Class IV state championship game against Spring Mountain, the Panthers had won six consecutive state titles and 80 consecutive games, the nation's longest high school football winning streak. The Pahranagat Valley Panthers are indomitable and unstoppable. In 2008 they put up 128 points against Coleville High in the state semifinals. "They're disciplined, they're intense, and they're motivated," says Spring Mountain head coach Aaron Masden, whose Golden Eagles were battling PVHS for the state championship for the third consecutive year. "Nobody wins 80 games in a row by mistake."
Nobody came closer to halting PVHS's monumental streak the past few seasons than Spring Mountain. Two years ago in the state championship game they lost 26-14. In last year's title bout, Spring Mountain led at halftime, 8-6, before falling 36-8. On October 2 the two teams were deadlocked at 22 early in the third quarter before the Panthers scored the final 32 points.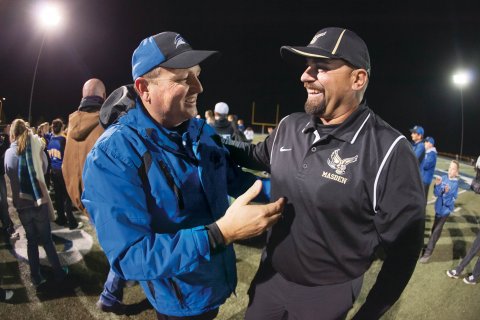 In that most recent win, Panther senior running back Wade Leavitt, who carries a 4.0 grade-point average and is also the student body president and an Eagle Scout, scored seven touchdowns. "We're really fortunate," says Pahranagat Valley coach Ken Higbee, Vaughn's son. "We hear all the time, 'They're good athletes, but they're great kids.' I think that's the ultimate compliment."
Continuity is paramount to the success of Pahranagat Valley. "We start our kids in pads in second grade," says Higbee, whose five-man coaching staff (which includes Strong) has remained intact the past 17 seasons. "Watching the boys, it reminds you of the old magnetic vibrating football games."
It may be amusing, watching 7- and 8-year-olds (and 9- and 10-year-olds) playing at halftime of PVHS games. It is also, if you happen to coach against PVHS, terrifying. By the time an Alamo teen suits up for PVHS—and the freshmen and sophomores routinely play the entire second half, nursing a 50-point lead—he has already been playing in the same system with the same players for seven years. "You go to any coaching clinic, and they'll tell you how important it is to get feeder schools to run your systems with your terminology," says Masden, the Spring Mountain coach, of his gridiron bete noire. "That's what they're doing at Pahranagat. They're cultivating players."
Then there is Spring Mountain, where only one of Masden's 21 players was on the team in 2013. Masden, now in his seventh season as head coach, has two assistants, both of whom are in their first. "They say we don't have a football program," says Masden, "but rather a football season."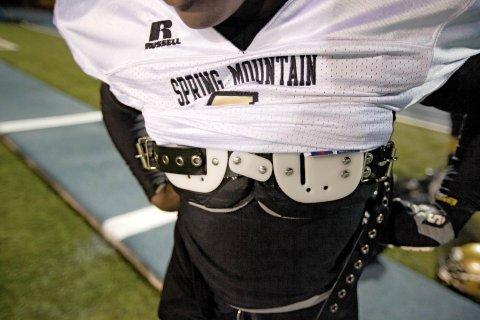 That's because Spring Mountain's feeder system is the Clark County Juvenile Court. Its full name is Spring Mountain Youth Ranch. Located 40 miles northwest of the Las Vegas Strip and 8,500 feet above sea level, Spring Mountain is home to 100 juvenile offenders. "The only way to get here is for the court to adjudicate you a delinquent," says Michael Whelihan, the manager of Spring Mountain. "The majority of them are here for felonies. They're obviously dangerous. Dealing drugs, robberies, assaults.… "
Spring Mountain may not boast a seven-year win streak, but it is not without an aura. "To be honest," says Masden, who is also an on-site probation officer, "our intimidating factor is that a lot of our kids are here because of offenses to the community."
Located in a national forest not far from a ski resort, the facility has no cells, no walls, no barbed wire. It is a mountain retreat, though, in rugged, alpine terrain. "When the kids arrive, we tell them that there are mountain lions in the area," says Masden. "We aren't kidding."
If the residents of Spring Mountain are prisoners of the terrain, well, the Higbee brood can commiserate. In 1864 Hiram Sharp, Vaughn Higbee's great-great-great-grandfather, was part of a group of Mormon settlers headed to California. They stopped in present-day Nevada, in a lush valley fed by natural springs, to water their mounts. "Indians stole their horses, and they were out of luck," says Vaughn Higbee. "Hiram Sharp was a blacksmith. He decided to stay here and work in the mines."
Nearly 11 decades later, in 1973, Vaughn Higbee was the athletic director at PVHS when the school superintendent suggested he create an eight-man football team. The first game, against Death Valley—yes, that Death Valley—High School, ended in a 12-0 defeat. It was not just the first high school football game Vaughn Higbee, then 27, ever coached; it was the first he had ever attended. "We got the hell beat out of us," recalls Vaughn. "We didn't win a game that season, and the reason we did not win a game is because I wasn't a football coach."
After that humiliating campaign, Vaughn Higbee decided two things: (1) no team would be in better shape than his, and (2) those who survived his practices would be fundamentally sound. He regularly attended UCLA basketball legend John Wooden's camps and met the Wizard of Westwood. Like Wooden, Higbee became a martinet for detail, even teaching his players how to put on their uniforms. "John Wooden was my hero," says Vaughn. "He taught me that you always need balance, whether it's a three-point stance or in how you prioritize your life."
The next season, PVHS advanced to the state championship game, but lost. In the following seven seasons, he coached them to three state championships.
Aaron Masden had been a decent running back at Division III St. Thomas University in St. Paul, Minnesota, but he never wanted to be a coach. "Coaching wasn't a specific goal of mine," says Masden. "I was already working at Spring Mountain when they asked me to join the coaching staff in 2005. I thought, This is one of those 'Oh, crap' moments. I don't know if I'm going to be any good at this."
For Masden, the most difficult aspect was adjusting from 11-man football to eight-man. You still have to be able to block and tackle, of course, but Masden needed to accept that the standard plays and formations do not translate to offenses and defenses with three fewer players. "After a while you have to stop trying to shove a marshmallow through a key hole," he says.
Each August, Masden molds a shiftless batch of athletically gifted strangers, certified juvenile delinquents, into a cohesive force from scratch. Youths from different gangs. Youths who have never played organized sports. Youths who have no idea of, or regard for, the rules of the game. "They don't like each other at the start," says Whelihan. "They'll complain. 'He hit me!' It's football, he was supposed to hit you. It's like watching the Bad News Bears."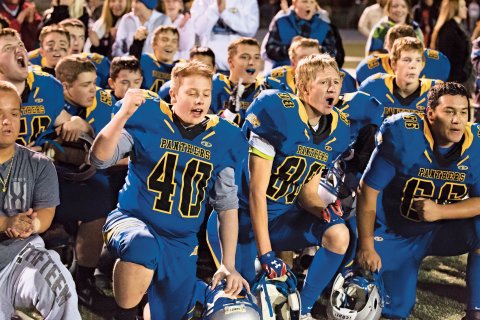 In sparsely populated Nevada communities such as Alamo or Tonopah or Wells, where high school enrollments hover near 100 students, eight-man football is the biggest game in town. And the only game in town. "If we want to buy a pair of socks or go to a movie," saysVern Hornaday, the proprietor of the Alamo Inn, a locally owned motel that actress Janet Leigh (Psycho) used to frequent, "we have to drive to Las Vegas. The nearest bar is 51 miles away."
Hence, these rural communities, predominantly white, support their teams wholeheartedly and full-throatedly. And when a team such as Spring Mountain, whose roster is two-thirds African-American and three-thirds convicted felons, arrives (after a two- to five-hour bus ride) in a backwater such as Round Mountain or Beatty, the mood can be tense. Especially when, as happened during the 2014 regular season, the Golden Eagles shut out all eight of their opponents, excluding PVHS, by an aggregate score of 454-0.
What might surprise you is who cheers for Spring Mountain: Clark County assistant district attorneys, probation officers and even the judge who sentenced most of its players are regulars on their sideline or in the stands. "Like us, they're trying to change these kids' lives," says Masden.
Every year at Spring Mountain is a rebuilding year. And while Masden and his staff are busy molding their eight-man squad virtually from scratch each August, they're also attempting to rebuild young people's lives. In 2005, Masden's first season as an assistant, one of his players wanted to quit. "He was literally in tears," recalls Masden. "I told him, 'I'm not going to let you quit.' I said, 'I will never quit on you as long as you never quit on yourself.'"
The young man finished the season. Completed his sentence. Graduated high school, then college. Joined the Marines. Got married. He now attends law school.
Unlike Masden, Ken Higbee always yearned to become a coach. "I grew up sleeping in the baggage rack of the team bus on four-hour road trips," says Higbee. "I've spent my whole life just wanting my dad to be proud of me."
As his father had before him, Higbee returned to his alma mater to teach and coach. He became the head football coach in 1995. He rebuilt the program and built his own home. "I put in six bathrooms, [including] one for each of my four daughters," says Higbee, a married father of six. "I still find all of their stuff in mine."
Higbee rises each day at 3:30 a.m, to work out. On weekends he launders the team's uniforms. If game film of an upcoming opponent is needed, Higbee makes the five-hour round-trip to Tonopah, for example. "Ken's my assistant coach in basketball, too," says Mike Strong, the PVHS principal.
In fact, since mid-October the high school with the 80-game win streak had devoted the last hour of football practice to shooting baskets in the gym. Basketball season begins on December 6, after all. "What it gets down to," says Higbee, "is we really love our kids."
In fact, Higbee is ecumenical in his love for children. He does not work at Pahranagat Valley, but instead he is the principal of C.O. Bastian High School, 50 miles northeast of Alamo in Caliente. C.O. Bastian is a coed boarding school for recidivist offenders. Some of the same students that Higbee oversees were once residents at Spring Mountain, possibly even players that he game-planned against. "Spring Mountain is the first level," says Higbee. "If they reoffend, they come to me.
"The people at Spring Mountain, the coaches and the people who are running that facility," says Higbee, "they are just trying to do the same exact thing we are. They're trying to change the lives of young people. I have a lot of respect for that."
On the third Friday night in November, on a neutral field in Las Vegas, Pahranagat Valley and Spring Mountain squared off for the Class IV Nevada state championship. Again. Pahranagat Valley defeated Spring Mountain, 66-34, for its seventh consecutive title and its 81st consecutive victory.
Pahranagat Valley is a paragon of a community. And so is Spring Mountain.