A man and a woman are screaming at each other in Arabic, rehearsing a scene from We Are All Refugees – a six-part audio soap pilot about the lives of Syrian refugees in Jordan due to be broadcast around the Middle-East this month. The project reflects life in a country where three quarters of the population are now estimated to be refugees, and to which over half a million Syrians have fled in three years.
The actors doing the shouting, in a rehearsal room in the capital city of Amman, are Nawar Bulbul, the Syrian TV matinee idol; 26-year-old Azmi al-Hassany, a young Syrian amateur actor; and Raneem Ibraheem Aga, 23, a Syrian refugee. Nawar's character, Fadi, is trying to marry off his 15-year-old sister Reem (played by Raneem) to a young Jordanian suitor, against her will, in order to get her out of the refugee camp and off his hands. Fadi's younger brother, Firas, the drama's hero (played by Azmi), has returned to the camp to support his sister from Amman, where he is scraping a living working illegally as a valet parker for £150 a month.
"This story is happening every day with Syrians in Jordan, they just don't have much choice," says Raneem, in a break during rehearsals. "But Reem is strong. She comes up with a way to help her family solve the problem. I hate the idea of a young girl being forced to marry. I was 17 when I did, but I loved my husband."
Raneem fled a bombardment in Damascus, with her husband and two little boys, aged three and five years old) two years ago to find a new life in Syria. A delivery driver in Syria, Raneem's husband now hustles for work on the Jordanian black market; one of the lucky ones, he currently makes £200 a month as a metal worker. Initially he did not want Raneem to act in the soap, "But I nagged and nagged and nagged him until he said yes! I'd always wanted to act but I never had the chance. And it's paid," she smiles, before being summoned back to work.
Our Jordanian driver, Ossama – gripped by the scene – explained the plot-line was compelling and truthful: Syrian women are thought to be beautiful, clever and great cooks. "There's a saying in Jordan: 'Marry a Syrian wife; have a good life,'" he says, a little sheepishly.
The idea for the soap was born a year ago, when Oxfam took me to Zaatari, the UNHCR's tent and portakabin city where more than 100,000 of Jordan's half a million Syrian refugees are corralled. Unfortunately, Jordan, a tiny, desert country of eight million people, with no oil, not much water and 12.6% unemployment, was already creaking under the strain of being the most politically stable country in the Middle East and therefore a magnet for exiles.
The Syrians are just the latest wave of refugees. The Palestinians came in 1948, and again in 1967; Iraqis in 1991, 2003; and again this summer, as they fled the medieval barbarism of Isis. There are even Armenians, well-established now, who filtered down through the wreck of the Ottoman Empire after their genocide in 1915.
At the time, I was visiting the camps looking for a place to stage Euripides' great anti-war tragedy, The Trojan Women, as a drama therapy project for refugees. Syrian women talked in the tents and white corrugated plastic boxes they now called home. One girl was about to be married; she was just 15. Her mother, a country woman from a village near the Syrian town of Deraa, explained that marriage was the best solution for her daughter. "There's so much gossip here," she said. "No-one has anything to do in the camp; we all know each other's business. People say terrible things about unmarried girls. They call them flirts or sluts."
"And there's no security in the camps," said another woman. "Some girls get attacked or molested when they are going to the bathrooms at night, and then no-one will marry them."
"I just want my daughter to be safe," said the first woman. Once her mother had left, the girl burst into tears: "I don't want to get married. I don't want to leave my family." She was to marry a Jordanian, move out of the camp. "A Jordanian husband will look after her; her children will have Jordanian citizenship," her mother later explained to me desperately.
We Are All Refugees was commissioned six months ago from a joint Syrian and Jordanian writing team. The UNHCR, who part-funded the project suggested the themes they wanted covered: forced early marriage was one, since there's been an epidemic of arranged marriages for Syrian refugee girls to other Syrians, to Jordanians, even to Saudis and Gulf Arabs, who come to the camps to find a bride. Others were domestic violence, water shortages, unemployment, the exploitation of young Syrians in Jordan, who are not allowed to work legally and the tensions of two communities forced to live side by side.
The drama was co-written by Wael Qadour, a young refugee Syrian playwright and theatre director, and two Jordanians, Majd Hijjawi, a writer and filmmaker, who also worked on the The Hurt Locker, and Ahmad Ameen, who wrote the award-winning film Transit Cities.
Originally, it was to be a TV soap. But radio is much cheaper to make – and most of the money had to be raised privately. One inspiration was Britain's The Archers, the world's longest-running radio soap, broadcast on Radio 4 and a daily addiction for 5 million listeners. It was created in 1951 with an educational purpose – teaching new farming techniques.
There were other models. In 1994, the BBC World Service had enormous success with their Afghan soap Naway Kor, Naway Jan (New Home, New Life). Dealing with the problems of Afghans returning from the refugee camps in Pakistan to a then-peaceful Afghanistan, its message was: "Don't tread on the land mines, or grow opium, however much the drug lords pay." It now has more than 35 million listeners and has been running for 20 years. Later, the Taliban tried to take the soap off the air, but their ban was blocked by a mutiny of their own troops.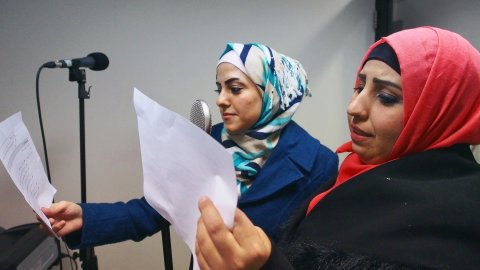 We Are All Refugees – set partly in a camp and partly in Amman, will be broadcast later this month on Radio Souriali, the best known Syrian independent emigree radio station, which broadcasts on FM in Syria, Jordan, the Middle East, the US and online, and also on the UNHCR website.
The UNHCR chose the title to reflect Jordan's reality, as does the cast – a mix of Jordanian and Syrian professional actors and Syrian refugee amateurs. Most of the amateurs had worked on last year's production of Euripides' The Trojan Women, which played last year in Amman.
In the soap, Yara, the naive middle class Jordanian heroine, who works for an NGO, is played by the Jordanian actress and producer Shereen Zoumot. Half-Iraqi, Shereen's mother's family have now fled Mosul for the relative safety of Baghdad, where her uncle was wounded in a car bomb last month. "Yara's's exactly like I used to be," says 26-year-old Shereen, who acted in When I Saw You, the Palestinian entry for the 2013 Best Foreign Language Film in the Academy Awards. "She's an airhead for the first three episodes then she gets real. I know she'll get together with Firaz in the end. Loads of Jordanian girls are going out with Syrian guys now."
Nabil, Yara's Jordanian boyfriend, is played by Eyad Hourani, the Palestinian co-star of last year's Oscar-winning Omar. Jordanian comedian, Nabil Sawalha, uncle of Absolutely Fabulous' Julia Sawalha, whose stand up comedy routines of Middle Eastern leaders was a firm favourite of the late King Hussein of Jordan, plays Mr Mohammed, Firas' unsympathetic Jordanian landlord. Azmi Al Hassany, who plays the hero, Firas, is an amateur, partly because there are very few young Syrian male actors in Jordan. Azmi, like Firas, had to flee Syria because he was about to be called up to join the army.
In the soap, Firas, who bowed to bourgeois family pressure back in Syria to give up dreams of being a musician to study engineering before the war stopped his degree, finds, in exile and unemployment, a chance to finally concentrate on his music. In Syria, Azmi was putting himself through university working as an English teacher. "But I always wanted to be an actor," he says. "Like many Syrians, the war has made Firaz rethink his previous personal decisions, his obedience to his family."
The long-term ambition is still to turn the radio pilot into a TV soap. "Although my husband might actually divorce me if it goes on TV," laughs Raneem.