Pantomime is a British tradition utterly inexplicable to the rest of the world. Where else would you find an ugly, overweight man wearing a frock, huge frilly knickers and a bra stuffed with a pair of vegetable colanders? Not to mention a spotted cow with two humans inside, a laser show, scripted adlibs, a sponsor's talking dog called Churchill, communal singalongs, an audience that screams "It's behind you!" when the ghost or monster appears. And, of course, a panto is simply not a panto without the deafening audience refrains of, "Oh yes it is!" and "Oh no it isn't!"
Apart from soap stars, celebrity chefs and winners of reality TV shows, pantomimes today boast wrinkly American screen stars of yesteryear. David 'The Hoff' Hasselhoff is currently in Southend, Linda Gray (Sue Ellen from Dallas) is making her debut in Wimbledon and Priscilla Presley (wife of Elvis and star of the Naked Gun films) is hamming it up in Manchester. American actors new to the scene don't always understand that the whole point of panto, if you are playing a villain, it to get hissed and booed by hundreds of children every time you come on. According to the veteran panto dame Christopher Biggins (currently starring opposite The Hoff), "when Henry Winkler (aka The Fonz) first played Captain Hook, the producers nearly sent him to a psychiatrist – he couldn't cope with the booing."
Pantomime is as inseparable from Christmas as turkey and tinsel. The roots of panto go back to classical antiquity but the first panto was in the early 18th century and, while they have changed down the years, their spirit has not. The Dame is the mother figure – a preposterous old bag always played by a man. Slapstick, utter absurdity and weak puns are de rigueur.
This year, across Britain, there are some 250 pantos playing. Of these, Aladdin is the most popular (46 productions) followed by Cinderella, Jack and the Beanstalk, Snow White and Sleeping Beauty. Get it right and a panto is a cave of gold. Two producing companies, First Family Entertainment and Qdos Entertainment, took more than £11m and £25m in ticket sales respectively last year. Artists fees are a well-guarded secret but a panto star can get well over £100,000 for the run, plus 10% of the box office. A major hit pantomime will take up to £2m during its ­Christmas and New Year run.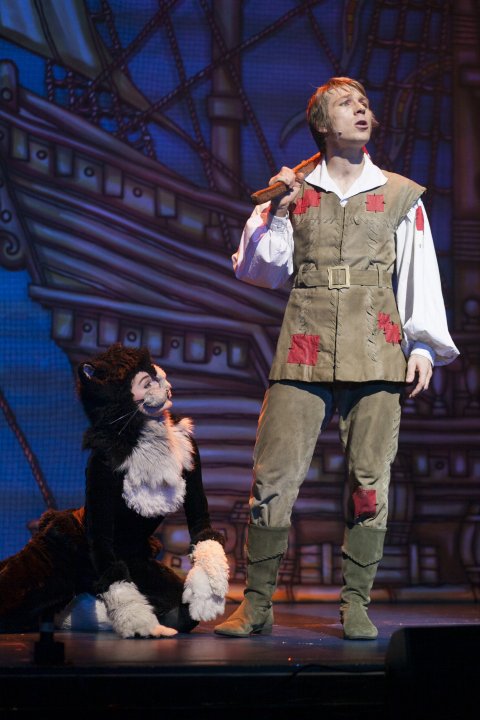 All pantos try to outdo each other for lavishness and novelty. This is nothing new. In 1900, the Drury Lane panto blew the opposition out of the water when it staged a massively expensive Jack and the Beanstalk with a prostrate 50-foot-long giant out of whose pockets spilled scores of tiny children dressed as soldiers. Technology changes, huge bosoms don't. Eric Potts, a stalwart well known on the circuit, is currently playing Sarah the Cook in Dick Whittington in Bristol, a show in which Dick's cat has been sidelined by the gifted border collie Pudsey (of Ashleigh and Pudsey fame from Britain's Got Talent) in what is billed as a "tail of wags to riches". Potts is an excellent, fat, northern-voiced performer in the shadow of the late Les Dawson, whose buxom, confessional Widow Twankey ("Every day I go for a tramp in the woods . . . the tramp's getting sick of it.") remains comic legend in the industry.
Potts is also directing the show and he writes 10 pantos a year for a leading producer. The jokes have to be terrible. (Courtier: "Here comes the king, kneel!" Puss in Boots: "Hello Neil".) The allusions need to be topical and local. You must always mention a new Lidl or a still-unfinished ring road. "People go to pantomime to allow their children to see what they saw 30 years earlier. If they don't get it, they are peeved." A sign of a job well done would be this, says Potts: "If I stood at the exit at the end of a show the kids should want to give me a hug. I should be their third granny."
Playing a Dame involves about 40 hours a year putting on make-up. They seldom, however, wear false eye lashes. The worst thing you can do is be mistaken even vaguely for a woman, an error made in panto by that elegant drag act Danny La Rue – children found him creepy. Mild sexual innuendo is panto's meat and two veg. Julian Clary, a huge panto star and self-styled Lord of the Mince, is currently Dandini in ­Cinderella in Wolverhampton. Once, when pulled on stage by two bare chested men, Clary announced with a simper, "I like to get pulled wherever I go". But essentially it's his sympathetic personality and charming effeminacy that sells the show, not his occasional blue asides. Properly speaking, panto's camp act is the Ugly Sisters in Cinderella, the revolting male pair usually swathed in a creosote tan and nylon leopardskin while bitching beneath dayglo wigs.
Pantos in any sort of recognisable form date from the Victorian era, and they are still filled with wicked uncles, evil stepmothers, giants, plus princes and heroes who win through by using their wits. A few old stage traditions persist. The baddie still always enters stage left, the goodie stage right. The last line of panto is never mentioned until the first night, not even at the dress rehearsal. However, rhyming couplets and the Principal Boy (played by a young woman) are casualties of changing times. According to pantomime historian Professor Jeffrey Richards, "the reason for Principal Boy being female was entirely due to Victorian randiness. It gave the fathers in the stalls a chance to ogle a lovely girl with a wasp waist and shapely thighs."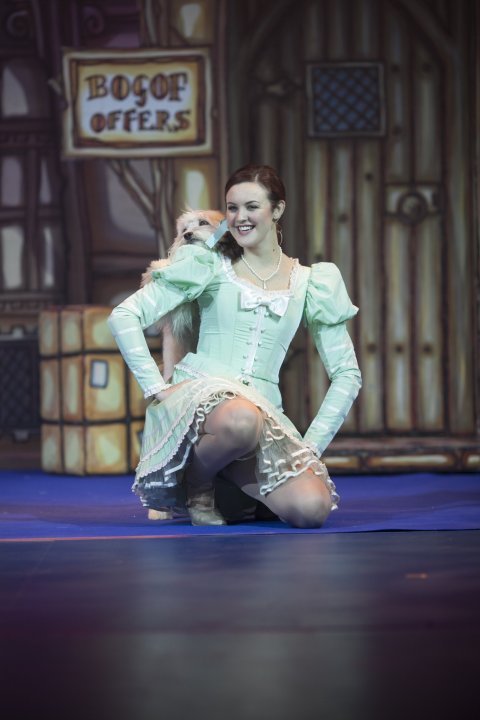 The pool of viable panto titles is, sadly, shrinking fast. Mother Goose, first performed in 1806, and Puss in Boots, 1817, are both on a one-way trip to the vet. Mother Goose is regarded as the Hamlet of pantomimes perhaps because, in its modern form, it was invented for the Victorian dame Dan Leno, who went mad. It is currently a riot at the multi-racial Hackney Empire, where patrons are encouraged to "Flap your wings, stamp your feet, shake your tail to the goosey beat."
Telling a story is the vital thing. For an evening to be memorable, the young audience must be exposed to the trauma at the heart of fables descended from the Brothers Grimm, old English folk tales and the Arabian Nights. An element of fear is key. Lesley Joseph, a huge tv star from Birds of a Feather, is currently playing the part of the Wicked Queen in Snow White in Hull. When she flies out over the stalls with the ghouls, that's when a toddler invariably starts sobbing. "For the really small ones it's dark on that stage, there's dry ice and pyros and it can be a bit frightening,'' says Joseph. "Some Wicked Queens don't, but I chuck a lot of comedy in. But you've got to be able to gently scare the kids."
Children in the audience are the single biggest hazard for the performer, as Dame Biggins can attest. "My favourite bit of the show is the song sheet. You get four kids up and talk to them [before the singalong]. But it can backfire. One year, on Boxing Day, I asked a little girl what Santa had given her for Christmas and she said 'nothing'. I said 'No no, you must have got something.' 'No', she said. 'We're Jewish.'"
For those wondering if panto will ever vanish, the evidence says, "Oh no it won't!" Certainly, for thousands of families it's what it always has been – a two-hour magic carpet ride out of the gloom of austerity.