The 20 Most Intriguing Out-of-Conference (OOC) College Football Games of 2015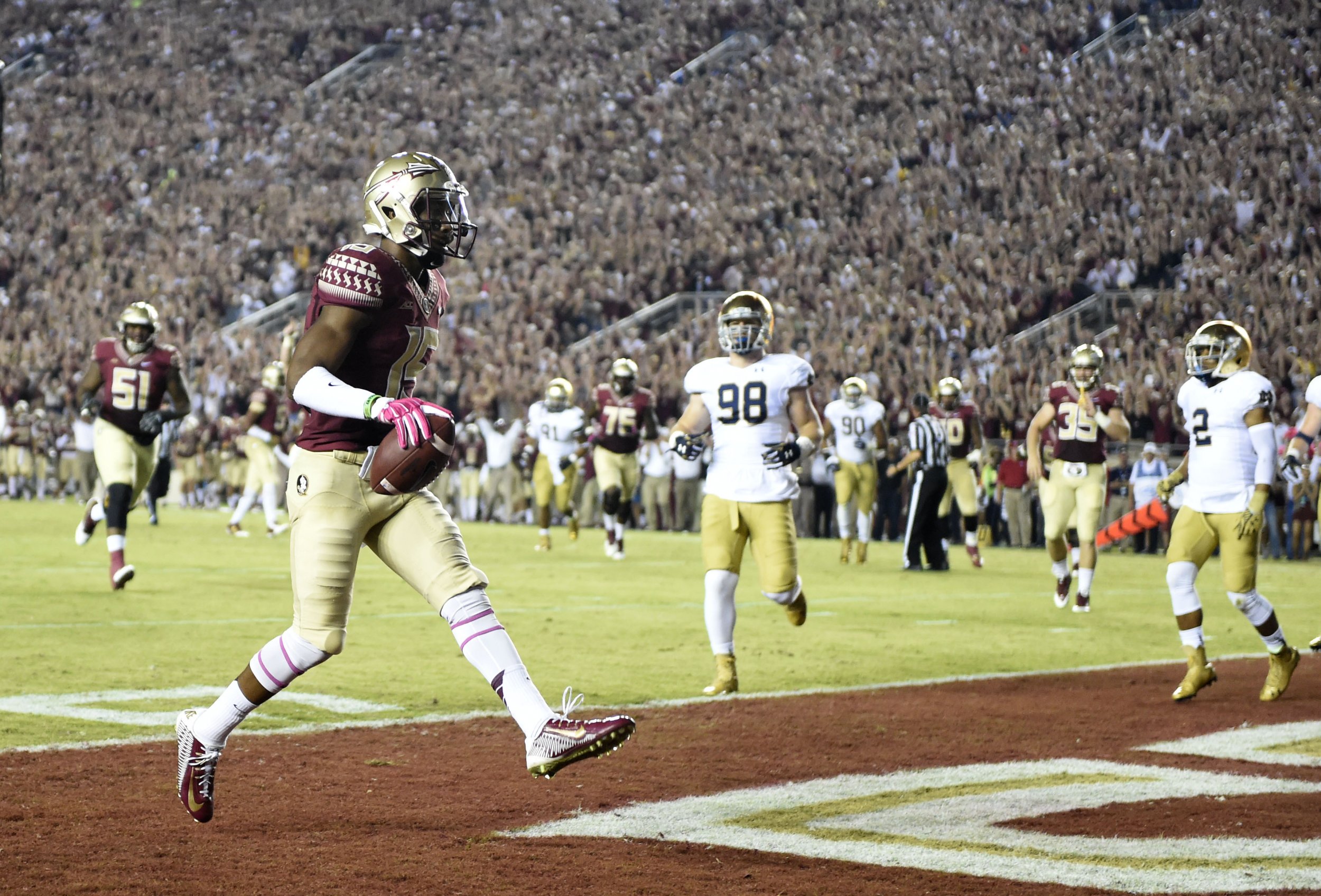 If you think of college football as your favorite restaurant (and it would most likely be an all-you-can-eat barbecue joint), then the menu would be divided into entrees and specials. The former are those perennial matchups, be they conference clashes (USC vs. UCLA) or non-conference rivalry games (Georgia-Georgia Tech) that extend back generations. The latter are those Chef's Surprises that get fans salivating: teams playing in unfamiliar surroundings against unfamiliar opponents.
It is these games, the intersectional or out-of-conference (OOC) games, that provide some of the most intriguing games of any season (think of Notre Dame at Florida State last season, or Virginia Tech at Ohio State). These are the outliers, what a former generation would have referred to as "blind dates" but what millennials call "Tinder hookups."
I have ranked the 20 Sexiest OOC Games of 2015, with extra points for schools that choose to play on campus as opposed to neutral (read: sterile) NFL sites in major cities. Feel free to tell me what a "moran" I am for excluding your school from the list.
Bon appetit!
20. Hawaii at Wisconsin, September 26
How do you say "jet lag" in Hawaiian? The Rainbow Warriors have September getaways in Columbus, Ohio, to visit the defending national champions (Ohio State) on September 12 and in Madison, Wisconsin, two Saturdays later. In between they will host UC Davis back in Honolulu.
That's approximately 17,000 aeronautical miles, more than most teams will travel all season, in about 15 days. I have to wonder whether 6-foot-8, 300-pound freshman offensive lineman Austin Webb even wants to make the travel squad.
Players to Watch: Hawaii: Max Wittek, QB; Wisconsin: Corey Clement, RB
19. Boston College vs. Notre Dame, November 21 (Fenway Park)
Technically, this will be a road game for the Eagles even though they will be playing just a few T stops east of their Chestnut Hill campus. The Irish will "host" Boston College in this installment of their annual Shamrock Series game, which means the Eagles will only get an allotment of 5,000 tickets at a baseball park that seats less than 40,000 (or less than half of Notre Dame Stadium's capacity).
This will be the first football game at Fenway since 1968. The Eagles regularly played here in the mid-1950s, and the Irish stomped Dartmouth, 64-0, at Fenway in 1944. Notre Dame coach Brian Kelly is a Boston native.
Players to watch: Boston College: Connor Wujciak, DE; Notre Dame: Tarean Folston, CB
18. California at Texas, September 19
Last year the Golden Bears allowed 56 and 59 points in consecutive games (no overtime) and won both of them. That's due to junior quarterback Jared Goff, one of the nation's most prolific passers, who led Cal to 38.3 points per game in 2014. Can Texas hold 'em?
Players to watch: Cal: Jared Goff, QB; Texas: Duke Thomas, CB
17. Stanford at Northwestern, September 5
Until the U.S. News & World Report's next annual college rankings are released next month, this represents the highest-ranking academic matchup in the FBS this season. The Cardinal (tied for No. 4) are a legitimate Pac-12 title contender with fifth-year senior quarterback Kevin Hogan, who is 24-8 as a starter. Northwestern (No. 13 in USN&WR) is ever mercurial under eighth-year head coach Pat Fitzgerald: The Wildcats are just as likely to ace a tough exam, beating both Wisconsin and Notre Dame last season, as they are to flunk a quiz.
Cardinal sophomore Christian McCaffrey, son of former Stanford and NFL receiving great Ed, is the school's next great running back.
Players to watch: Northwestern: Nick VanHoose, CB; Stanford: Christian McCaffery, RB
16. Toledo at Arkansas, September 12 (Little Rock)
Before you deem the Rockets unworthy of challenging an SEC (no, like this: "S-E-C!") leviathan on their home turf, a reminder that Kareem Hunt (163.1 yards per game in 2014) is the nation's leading returning rusher. Also, Toledo finished 8-2 in its last 10 games, the two defeats coming by a total of 10 points. MAC-tion!
Five of the Razorbacks' six losses in 2014 came to schools ranked in the Top 10. That's life in the SEC.
Players to watch: Arkansas: Alex Collins, RB; Toledo: Kareem Hunt, RB
15. Nebraska at Miami, September 19
If only the Orange Bowl had not been razed. Between 1983 and 2001 Miami and Nebraska combined to win eight national championships. Their clash in the 1984 Orange Bowl, which doubled as the Hurricanes' home field at the time, was arguably the most thrilling national championship game ever played. It was also the birth of college football's modern era, or at least of "The U," although what's the difference?
Lately, though, both the Hurricanes and Huskers have slipped. Eleven years have passed since either program lost fewer than three games in a season. Both enter the season unranked and Nebraska arrives with a new coach, Mike Riley.
Players to watch: Miami: Raphael Kirby, LB; Nebraska: Jordan Westerkamp, WR
14. Cincinnati at Brigham Young, October 16
BYU quarterback Taysom Hill is one of the most dynamic players in the country, having shredded Texas for 259 yards rushing in 2013. His counterpart, Gunner Kiel, is a Notre Dame transfer who was the nation's top-rated passer coming out of high school a few years ago.
Players to watch: BYU: Taysom Hill, QB; Cincinnati: Gunner Kiel, QB
13. Texas at Notre Dame, September 5
Among FBS programs, only Michigan has more wins (915) than Notre Dame (882) or Texas (881). For the Longhorns to even the score and win in South Bend for the first time since 1934—it is only their fourth visit—a young defense will need to mature quickly. Added distress: Notre Dame Stadium does not allow live animal mascots, so no BEVO (and yet, what is the Leprechaun?).
Players to watch: Notre Dame: Sheldon Day, DT; Texas: Johnathan Gray, RB
12. Arizona State at Texas A&M, September 5 (Houston)
It takes a publicity-ravenous corporate sponsor (in this case, Advocare) and the promise of a neutral site to lure big-time programs to play one another on the season's opening weekend. What this game squanders in terms of environment—and you cannot top A&M's Kyle Field—it makes up for with elite competition. The loser here must go undefeated the rest of the way to have any shot at the four-team playoff.
Players to watch: Arizona State: Mike Bercovici, QB; Texas A&M: Myles Garrett, DE
11. Louisville at Auburn, September 5 (Atlanta)
The Tigers finished 8-5 in 2014, but Sports Illustrated ranks them second in its preseason poll. The Louisville Cardinal roster features emigrants (transfers) from Georgia, Northwestern, Penn State and TCU, which makes me wonder if head coach Bobby Petrino has a Statue of Liberty play (probably). One of them, Devonte Fields, was the Big 12 Defensive Player of the Year in 2012 at TCU as a true freshman.
Players to watch: Auburn: Duke Williams, WR; Louisville: Devonte Fields, DE
10. Mississippi at Memphis, October 17
The Rebels consider Memphis, 85 miles northwest of Oxford, to be their second home, their prime recruiting turf, and their airport hub. They also ought to consider the Tigers a worthy foe, as last year Memphis enjoyed its first 10-win season since 1938.
Ole Miss is loaded with talent, though, for this big bro-little bro backyard tussle: Offensive tackle Laremy Tunsil, defensive tackle Robert Nkemdiche and wideout Laquon Treadwell are all potential first-team All-Americans.
Players to watch: Memphis: Paxton Lynch, QB: Mississippi: Robert Nkemdiche, DT
9. Wisconsin vs. Alabama, Sept. 5 (Atlanta)
He was the starting quarterback at his Big Ten school in the mid-'80s and now he's back as the program's first-year head coach. His name is ... not Jim Harbaugh. Meet Paul Chryst, the John Kasich to Harbaugh's Donald Trump in terms of sucking the oxygen out of a room.
The Tide and their fans have grown accustomed to launching their annual national championship campaigns in NFL stadiums. Alabama has opened in Atlanta twice and Arlington once in the past three seasons, winning all three against big-name (e.g., Michigan) non-conference foes.
Players to watch: Alabama: A'Shawn Robinson, DT; Wisconsin: Vince Biegel, LB
8. BYU at UCLA, September 19
The Bruins are loaded, particularly on defense, where linebacker Myles Jack and defensive tackle Eddie Vanderdoes anchor the Pac-12's most physical defense. True frosh quarterback Josh Rosen was considered the jewel of last year's high school passing crop. UCLA has finished 10-3 in each of the past two seasons under Jim Mora, but expect them to advance even further in 2015.
BYU visits Nebraska, the Bruins, and Michigan, all in September. Those are some bucket-list road trips for Cougar alums.
Players to watch: BYU: Mitch Mathews, WR; UCLA: Myles Jack, LB (and occasional RB)
7. Texas Christian at Minnesota, September 3
When these two met last September in Fort Worth, the Golden Gophers held TCU to its lowest point total of the season in a 30-7 loss. Minnesota also came within a touchdown of beating eventual national champion Ohio State in Minneapolis.
Horned Frog quarterback Trevone Boykin is a Heisman favorite after finishing fourth in the nation in total offense a year ago. TCU has national championship aspirations and sees this game as a non-conference résumé builder for the playoff selection committee. Fifth-year Minnesota coach Jerry Kill views it as a chance for his rising program to beat a Top 10 foe for the first time since 2000 (No. 6 Ohio State).
Players to watch: Minnesota: Theiren Cockran, DE; TCU: Trevone Boykin, QB
6. Washington at Boise State, September 4
Chris Petersen lost half as many games (6) in his first season at U-Dub last year as he did in eight seasons at Boise State (92-12) immediately prior. Petersen's homecoming to the blue turf may not be pleasant. Though not part of a Power 5 conference, the Broncos are the better team.
Related: Petersen's most lopsided defeat at Boise State was a 38-6 trouncing in 2013 at ... Washington.
Players to watch: Boise State: Tanner Vallejo, LB; Washington: Joshua Perkins, TE
5. Ohio State at Virginia Tech, September 7
The finale of college football's five-day Labor Day opening weekend bonanza finds the defending national champion Buckeyes visiting Blacksburg to face the only team that beat them a year ago. One year and one day earlier, the Hokies sacked Ohio State freshman quarterback J.T. Barrett seven times and intercepted him three more as they silenced the largest crowd in Ohio Stadium history, 35-21.
The Buckeyes have not lost since, but they will be without the best defensive player in the land, end Joey Bosa ("violation of team rules") and three others tonight at Lane Stadium.
Players to watch: Ohio State: Ezekiel Elliott, RB; VIrginia Tech: Kendall Fuller, CB
4. Michigan at Utah, September 3
Preseason evidence notwithstanding, I do not expect the Wolverines' Jim Harbaugh to coach topless in his debut at his alma mater. No game better embodied the frustrations of the Brady Hoke era in Ann Arbor than last year's meeting between these two: the Utes won 26-10 in the Big House in a game that was delayed two hours and 24 minutes midway through the fourth quarter due to lightning. It also featured a heated sideline argument between head coach Hoke and his defensive coordinator, Greg Mattison.
Harbaugh's counterpart, Kyle Whittingham, is the Pac-12's longest tenured coach (11th season). In fact, he was in Salt Lake CIty before Harbaugh arrived at Stanford in 2007, two jobs ago. With a victory tonight Whittingham would double up his wins to losses total (currently 85-43) as the Ute coach.
Players to watch: Michigan: Jabril Peppers, S: Utah: Devontae Booker, RB
3. Oklahoma at Tennessee, September 12
As a true freshman last November, the Sooners' Samaje Perine rushed for 427 yards—in a single game. Perine's remarkable performance against Kansas, on 34 carries, set a new NCAA single-game rushing mark, breaking the record (408), by Wisconsin's Melvin Gordon, that had been set ... one week earlier.
The Sooners and Vols met in Norman last season, and OU jumped on a young Tennessee squad, 34-10. This year's scrimmage will be far more taut.
Players to watch: Oklahoma: Eric Striker, LB; Tennessee: Jalen Hurd, RB
2. Oregon at Michigan State, September 12
Duck season does not begin in southern Michigan until October 11, but do not tell that to anyone in East Lansing. When these two met last September in Eugene, the Spartans surrendered 28 unanswered second-half points, blowing first the lead and then the game, 46-27.
The rematch will take place in the Midwest, and both teams will be ranked in the top ten (Oregon is No. 5 and Michigan State No. 6 in the Coaches Poll). It has been 11 years since the Quack Attack took flight across the Rockies to face a ranked opponent on its campus (a 31-7 defeat at Oklahoma in 2004). The program was not then a national powerhouse, but today it is, having won at least 10 games in each of the past seven seasons.
Since these two last met, the Ducks lost the national championship game and their Heisman Trophy-winning quarterback, Marcus Mariota. The loser here plays the rest of the season without a safety net if it hopes to advance to the Football Four playoff.
Players to watch: Michigan State: Connor Cook, QB; Oregon: Royce Freeman, RB
1. Notre Dame at Clemson, October 3
Thirty-eight years have passed since these schools last met in Death Valley, one of the truly spectacular atmospheres in all of the game. Last season both teams lost prime-time heartbreakers at undefeated Florida State. This autumn both should be ranked in the Top 10 when they meet.
Tiger quarterback DeShaun Watson missed half of last season as a freshman due to injuries but showed enough flashes of magic to put himself in the thick of this year's Heisman Trophy race.
Are these the two best teams in the country? Nope. However, this is one of those "strangers in the dark" meetings that will draw an insane level of buzz. Clemson is one of a select few number of elite tradition schools that the Irish have not played in at least 35 years (the other perhaps being Auburn) and no program draws more TV eyeballs than than Notre Dame.
And that '77 meeting between these two? Joe Montana led the Irish to a pair of fourth-quarter touchdowns to erase a 10-point deficit as Notre Dame won the game, 21-17, and later that season the national championship.
Players to watch: Clemson: Deshaun Watson, QB; Notre Dame: Jaylon Smith, LB