"Before I tell you this story, let me set the stage."
I haven't yet posed a question, or even cleared my throat, when Anne Greenwood launches into an anecdote about her colleague Sallie Krawcheck, the former president of the Global Wealth & Investment Management division of Bank of America and former chief financial officer of Citigroup. Krawcheck has been dubbed everything from "The Last Honest Analyst" (Fortune) to the "First Lady of Wall Street" (New York) to one of the 100 most creative people of 2014 (Fast Company). She was also fired twice, in spectacularly public ways, the first time during America's worst financial crisis since the Great Depression.
Greenwood explains that she was leading one of Smith Barney's top wealth-management offices in Boston when Krawcheck became chief executive officer in 2002. (Greenwood later led Smith Barney's national Retirement Services Group.) "Out of Smith Barney's 600 offices, there were maybe a handful run by women," she says. "How extraordinary it was to have this woman come in as CEO!"
About six months into Krawcheck's tenure, the company announced an all-office conference call. "It's very unusual to have all 600 managers from all offices call in—not unheard-of, but you don't do it that often, because a Wall Street firm doesn't want to freeze everybody."
The call begins and Krawcheck starts talking. Suddenly, she interrupts herself, Greenwood recalls. "She says, 'Everyone please bear with me, I have to put the call on hold.' We're thinking, OK, the head of the Federal Reserve Board must be calling. Something huge has happened in the world economic space."
Ninety seconds later, Krawcheck comes back on the line. Greenwood remembers what she said next as if it happened yesterday. "She says, 'I'm so sorry, you guys, that was my daughter and I promised her that she could always reach me. I made a deal with her that if I take this big job, no matter where I am, what I'm doing or who I'm with, I will take your call. The funny thing is, she couldn't find the pink nail polish. I'm the only one who knows it's in the upstairs bathroom.'
"Immediately there was buzz among the few women in elite positions around the firm," says Greenwood. "I couldn't believe she was so honest about what had happened. Never in a million years would I have told a male workforce that my daughter couldn't find the pink nail polish."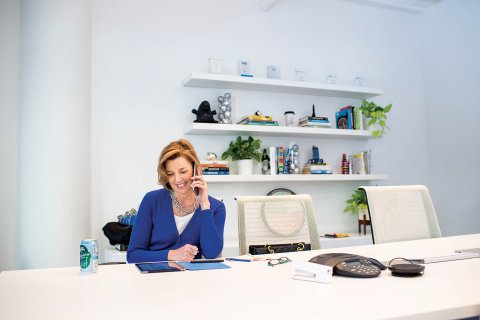 Bullying by Xerox
Krawcheck, 50, didn't set out to become a titan of finance, or a feminist icon, but having survived some of the most turbulent financial times in the past century as one of the only women at the top her industry, that's what she's become. Krawcheck's mantel is crowded with awards and accolades. From 2002 to 2007, and again in 2009 and 2010, Fortune named her one of the "Most Powerful Women" in business. In 2003, Fortune named her the "Most Influential Person Under the Age of 40." In 2006, Forbes ranked her No. 6 on its "World's 100 Most Powerful Women" list. A year later, she received CNBC's "Business Leader of the Future Award."
"The fact that she's a woman is the least interesting thing about her," says Nilofer Merchant, an author and Silicon Valley executive who has launched over 100 products with more than $18 billion in sales. "She understands capitalism and what it is that creates value in an economy," Merchant adds. "She rose through the ranks, juggled everything, did everything in a lean-in strategy, then realized, 'You know what? Actually, that's not enough.'"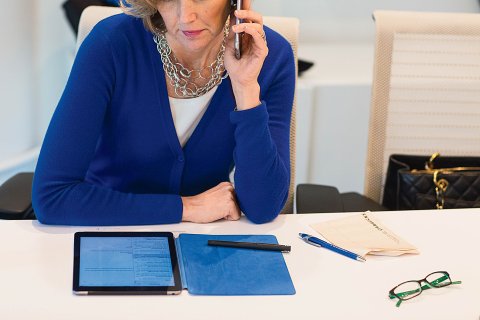 In May 2013, Krawcheck purchased 85 Broads, now Ellevate Network, a global professional women's organization offering career advice, networking and other resources to more than 30,000 women. (The company was founded by former Goldman Sachs executive Janet Hanson and named for the company's original headquarters at 85 Broad Street in lower Manhattan.) Krawcheck also launched the Pax Ellevate Global Women's Index Fund, the first fund dedicated to the highest-rated companies for advancing women. All of the companies in the fund have one or more women on the board of directors, and 97 percent have two or more on the board. Women hold 32 percent of board positions in companies in the fund and 25 percent of senior management roles—much higher than the 11 percent global average for both of those categories.
These days, Krawcheck is known as much for her efforts on behalf of women as for her legendary failures. "The number one thing I hear from people is that she said it was OK to fail: 'If someone like Sallie can fail and admit it, then so can I,'" says Greenwood, who joined Ellevate as director of business development last June. Greenwood often travels around the world, meeting women who've joined the network. "The most common thing that comes out of their mouths is, 'What's it like to work with Sallie?' Then their eyes well up in tears!"
Growing up in Charleston, South Carolina, Krawcheck dreamed of being a princess or David Cassidy's girlfriend. In third grade, she discovered Gloria Steinem. Krawcheck had just become the first person in her grade to get glasses. "They were awful: Coke bottle, tinted yellow, very '70s," she recalls. She was miserable, and the kids at school teased her. "My dad said, 'I have glasses, too. Don't you want to be like me?' I said, 'Daddy, I want to be pretty.' And he said, 'Sallie, you are pretty. And look at Gloria Steinem. She has glasses, she's beautiful, and she's changing the world.'"
Invoking her third-grade self, Krawcheck says, "Who should I look up to? My dad thinks Gloria Steinem is cool." She pauses. "I still get chills."
We are sitting at the Garden restaurant in the Four Seasons in New York City, not far from Ellevate's headquarters. It's around 10 a.m., and Krawcheck sips a cup of tea. I mention that I had the opportunity to meet Steinem earlier this year. "Me too. Oh my gosh, I was going nuts," she gushes. "I asked her—I'll bet you didn't think to ask her this; you're going to be embarrassed in a second—I asked her what happened to her glasses! Did you?"
"No," I say.
"Stop it! I asked her!" she exclaims, as if we're tween girls talking about meeting Taylor Swift.
"What did she say?"
"She broke 'em! And she's never been able to replace 'em," Krawcheck replies in her soft Southern accent.
Talking with Krawcheck is like getting a sit-down meeting with one of the smartest minds in business while simultaneously hanging out with that friend from college you haven't seen since graduation. One moment, she's citing research that shows the most important relationship a professional woman can have, if she's lucky enough to have it, is with her father. The next, she's referring to herself as an "Energizer bunny." "Sometimes I think about why I'm so energetic and achievement-oriented. I think it came from my family. The way I got attention from my very busy parents was by bringing home As."
Krawcheck's parents married in their early 20s, just as her father started law school, and had four children in just under four years. They were a close-knit family of modest means. "We had one bathroom, no lock on the door," she says. "Everybody was in everybody's hair all the time." Her parents went into debt sending their children to private school, but to them, the alternative was worse: South Carolina had some of the worst public schools in the country. "What better can you do for your children than give them an education and allow 'em the independence to go out on their own and do what they want to do?" says her father, Leonard Krawcheck, an attorney in Charleston.
At her all-girls middle school, Krawcheck was bullied. "There was nothing they could do to me at Salomon Brothers in the '80s that was worse than the seventh grade," she told Fortune in 2006. Her parents moved her to Porter-Gaud School, a prep school in Charleston (Stephen Colbert was a class ahead of her), and she went from getting Cs to being the top student in her class. She also sparkled as she went down the traditional path of good Southern girlhood, running track, becoming a cheerleader and dating the quarterback. When a guidance counselor told her she could do so much more than date the coolest boy in school, she listened.
Krawcheck attended the University of North Carolina at Chapel Hill on the prestigious Morehead Scholarship. After graduating in 1987 with a degree in journalism, she landed her first job on Wall Street as a junior analyst at Salomon Brothers. "Every day there was a Xerox copy of a male—" she pauses, "on my desk. I remember thinking, Wow, I'm gonna use the Xerox machine on a different floor. There was a sense of underlying, muted disdain for women." Between the rollicking parties, crude jokes and men making passes at female colleagues, "I wouldn't quite say it was a hostile work environment, but it wasn't a pleasant work environment."
Krawcheck left Salomon Brothers after three years to pursue her MBA at Columbia University. She was married at the time, and before graduating in 1992, she turned down a job offer in Los Angeles because, she says, her husband didn't want to move. She accepted a position at Donaldson, Lufkin & Jenrette instead—only to see her marriage unravel. They got divorced, but she was stuck as an associate at DLJ, where she rarely received "the good assignments," was asked to "baby-sit a mediocre, more senior banker" and knew she had been put on "the C team." After one year, she quit.
DLJ did offer a silver lining: She met her current husband, Gary Appel, now vice chairman of corporate investment-North America, at Investcorp. They married and had two children. Two months shy of her 30th birthday, Krawcheck, then unemployed, was standing in her kitchen peeling a pear when she had her famous eureka moment: "KABOOM! I should be an equity research analyst."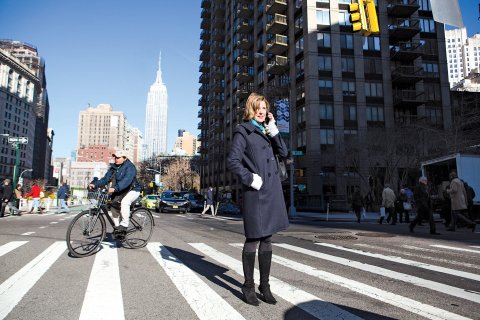 'The Right Spouse'
Krawcheck was turned down by pretty much every firm on Wall Street. Lehman Brothers rejected her, three times. Smith Barney passed, too. She accepted the only offer she received, from research firm Sanford C. Bernstein, in 1995. Over the next few years, she earned a reputation for integrity and objectivity. In 2001, she became CEO. In 2002, the same year Fortune named her "The Last Honest Analyst," Sandy Weill, then chairman and CEO of Citigroup, tapped her to run Smith Barney. "Ah!" she says, as if reliving the excitement of that coup.
Juggling her professional life and family was not easy. "At Smith Barney, I was traveling like a fiend," she says. "My son, who was probably 7 at the time, came in one night and said, 'I'm not seeing enough of you.' [Later,] Gary turned to me and said, 'What are you going to do about this?' I said, 'No, no, no, what are we going to do about this? How will we be more present for him?" (Krawcheck jokes that the smartest thing she ever did was convince her husband that when their children were toddlers and started screaming "Mommy!" in the middle of the night, they "meant parent of either sex.")
Krawcheck and Appel tracked their travel schedules on a yearly calendar to ensure at least one parent was home each night. They also told their children they could call them anytime (thus the pink nail polish call). "Whatever personal guilt I felt, I just threw it away," Krawcheck says. "I'd go on trips and they'd cry 'Don't go!' I'd close the door and I'd cry, but I'd never let them see a conflict there." Appel also scaled back his workload, going to three days a week while Krawcheck worked at Smith Barney. "If the family's not right, nothing's right," she says, "but you have to have the right spouse."
In March 2005, Krawcheck was promoted to chief financial officer of Citigroup. Two years later, in what was widely considered a demotion, she became CEO of Citi Global Wealth Management. "The downturn comes and we mis-sold high-risk investments to individual investors as low risk," she says. "I went through all the data. I said, 'We didn't do anything illegal that I can find, or unethical. We were dumb.'" Krawcheck advocated reimbursing their clients. "The CEO did not agree with me. It went to the board. The board agreed with me. And I was later fired."
This was around the time Zoe Cruz, then co-president of Morgan Stanley, and Erin Callan, then chief financial officer at Lehman Brothers, were fired. All three oustings made national headlines—"The Last Women Standing on Wall Street" (The New York Times); "Women on Wall Street: A Shrinking Club, or Not?" (The Wall Street Journal)—and shone a provocative spotlight on the lack of women in finance just as the financial crisis hit. "What I've started to say, which is quite shocking, is that I was fired because I was a woman. I don't mean in the traditional sense of having different parts, but more I had a very different way of thinking," she says, citing studies that show women have a longer-term perspective and are more client-focused and more relationship-oriented than men. "Diversity would have made the financial downturn less, much less, a lot less severe."
In 2009, Bank of America hired Krawcheck to turn around Merrill Lynch's global wealth management group. Under her leadership, the unit made $3.1 billion in profit. Two years later, she was forced out. "I got fired, and it was on the front page of The Wall Street Journal. Knuckles!" she says to me, holding up her fist. "Explode it!" We bump fists. "I had breakfast with Moira Forbes [publisher of ForbesWomen] two weeks after Bank of America, and she asked, 'Why don't you just disappear?' I was like, 'Why?!'"
Fading out of the public eye is not a possibility for Krawcheck. But in the two years following her very public departure from Bank of America, both of her children had health scares. First, her son developed mononucleosis, but due to a genetic abnormality, his condition went misdiagnosed. His spleen was bleeding. He was in and out of the hospital. A year later, her daughter was in a car accident and missed several months of school. "I told everybody for a while, 'Oh thank gosh I'm not the CFO of Citi, because if I were, I'd have to quit my job to be with my kids,'" she says. "The real answer is, I wouldn't have quit. I would have done that really badly, and I would have done it really badly with the kids." She calls her unplanned hiatus from work, when her children needed her most, "an odd gift…. It was terrible and good all at the same time."
Good Karma
In an era of leaning in, when women account for 86 percent of consumer purchases but just 4 percent of senior venture capitalists, there is a dearth of women in high-powered roles. Ellevate Network is Krawcheck's newest effort to fight this bias. Gender diversity is good for the economy, for families and for business, she says. "Out of all the research I've reviewed, I can't find anything bad! If we were to have women fully engaged in this economy, our economy would be 8 or 9 percent larger."
Today, she is an advocate for what she calls inclusive capitalism, where women, millennials and people of difference are fully engaged in the economy. "The research would indicate that we would have a bigger economy, a more stable economy," as well as a reduced retirement savings gap, family-friendly companies, and more innovation, meaning and purpose within corporate America.
Ellevate boasts more than 30,000 members in over 40 chapters across 130 countries. Among its many initiatives are meet-ups where fewer than a dozen women get together. Each one brings an "ask"—I want to be made partner, or I'm struggling to switch industries—and the other women share their advice and experience.
Last October, Microsoft CEO Satya Nadella told a conference celebrating women and technology that it was "good karma" for women to wait for a raise instead of asking for one. "Rather than wait for someone like that to get it and, in a more definitive way, move women forward, at Ellevate women help each other move forward," Greenwood says. "At these small meet-ups, women have no ax to grind. They are simply there to give advice and share. Lift all boats, is the way I look at it."
With the memory of the 2008 financial collapse still fresh, Krawcheck is among many people looking for a new model for finance and business.
"Capitalism broke, and I had a front seat," Krawcheck says.
She is the first to admit that Ellevate Network is just one part of the solution. CEOs must prioritize gender diversity on their teams, she says. And older, more established leaders should start to collaborate with young entrepreneurs. That's what Krawcheck is doing. (When I ask who, she name-checks Kathryn Minshew, founder and CEO of The Muse; Rachael Chong, founder and CEO of Catchafire; and Amanda Steinberg, founder of DailyWorth, among a few others.)
"So many of my peers in business are doing the same thing they've been doing forever. As a result, you learn, but your learning curve flattens substantially," Krawcheck says. Soon after leaving Bank of America, she connected with Arianna Huffington. "I remember looking at her office, and she's surrounded by all these young people. That's it! She may be chronologically aging, but she's not mentally aging. To me, that seemed to be the real ticket: to be with people who are innovating."
With almost 1 million followers on LinkedIn, Krawcheck has built a thriving online presence over the past few years. "She's a visible expert in financial services, with a pedigree, who's talking very publicly about the importance of women in financial services," says Jacki Zehner, CEO of Women Moving Millions, a network of philanthropists working to improve the lives of girls and women everywhere. In 1996, Zehner became the youngest woman and first female trader to become partner at Goldman Sachs.
"[Sallie] may be one of the first to combine network and community with product and platform in the financial services sector…. If she is successful, and I hope she is, it could send a shock wave through the financial services sector," Zehner adds. "'All Eyes on Sallie' is the headline—what is she going to do? Was this [Ellevate Network] a smart move? What is she teaching us about where financial services is going?
"It seems like she's playing it close to the vest. I for one don't know what's coming next, but I have a feeling something big is brewing."