When an economic crisis looms, Russians go shopping. As the ruble crashed through new lows last month, tills buzzed late into the night in the mega-malls that surround Moscow's ring road as Muscovites rushed to buy Ikea sofas, new cars and washing machines. Russian state television, attempting to put a cheerful spin on the ruble's collapse, reported the panic buying as a "consumer boom."
Of course, the rush by Russians rush to spend their rapidly devaluing rubles is anything but a boom, and the buzz of tills is the sound of history repeating. Ordinary Russians are deploying survival skills learned during previous devaluations, in 1992, 1998 and 2008. Lesson number one is convert your rubles into anything hard and tangible, such as foreign currency or a new refrigerator. "Everyone knows the drill—it's pretty much the same for housewives as for bankers," jokes one Western financier who has spent much of the past 20 years riding Russia's roller-coaster economy. "Dump your currency, then settle in to wait out the storm."
This time round, though, Russia's economic meltdown isn't just Russia's problem. Thanks to 15 years of rising oil prices, Russia has become more economically integrated with the rest of the world than at any time in the past century. That means that when Russian consumers' spending power goes off a cliff thanks to the ruble's more than 50 percent decline, the pain is going to be felt by Western retailers. Western banks, too, are nervous that the $610 billion of loans that they made to Russian companies and banks while the good times rolled are not going to be paid back. And a ring of former Soviet colonies in Central Asia and the Caucasus, whose economies are dependent on the remittances of an estimated 7 million of their citizens who work as guest workers in Russia, are worried that the trickle-down will soon dry up. Last but not least, the threat of Russian businesses defaulting on their debt is spreading across emerging markets such as Turkey and India, which should, in theory, be benefiting from lower oil prices as investment funds race to safe havens like the dollar. According to Bloomberg, investment titan Pimco's $3.3 billion Emerging Markets Fund lost nearly 8 percent of its value last month.
Worse, this is a problem that isn't likely to be solved by something as simple as a rise in oil prices. Oil's dive from $110 to less than $60 a barrel over the past year isn't Vladimir Putin's fault—but his decisions to annex Crimea in February and support trigger-happy rebels in eastern Ukraine have made a crisis into a disaster.
U.S. and European Union sanctions introduced after the shooting down of Malaysia Airlines Flight MH-17 by Russian-backed rebels have effectively made it impossible for Russian companies and banks to borrow on international markets. That poisons Russia's economy at the root. Sanctions mean Russia's Central Bank is the only place Russian businesses can buy dollars and euros—whether it's to pay off debts to foreign creditors or to give nervous bank depositors cash euros. And the Central Bank is fast running out of hard currency, raising the specter of a complete implosion of all of Russia's banking sector.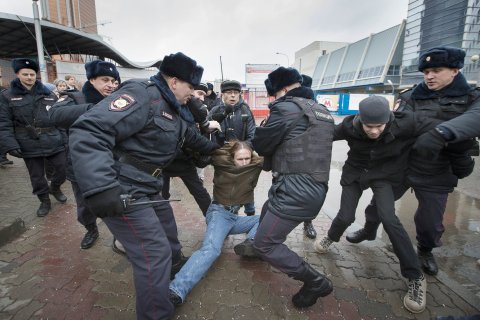 "The situation is critical," warned Sergey Shvetsov, deputy head of Russia's Central Bank—one of the few Russian officials who has dared to speak plainly and publicly about the crisis. "What is happening is a nightmare that we could not even have imagined a year ago." Evgeny Gavrilenkov, chief economist at the investment banking arm of Sberbank, Russia's biggest bank, warned of a "full-scale banking crisis." Over recent months, the Russian government has tried increasingly desperate measures to prop up confidence, from burning through an estimated $100 billion of the country's hard currency reserves on buying up rubles to hiking interest rates from 10 to 17 percent in the middle of the night on December 15. And yet the ruble's slide has only accelerated. The Central Bank's latest gambit to fend off disaster has been to change the rules on how Russian banks calculate their assets, allowing them to value their balance sheets at pre-crisis levels. "This is Potemkin arithmetic," says a senior analyst at a Russian bank, which is busy taking advantage of the new loophole. "It isn't going to fool the markets for long." The Kremlin has made things worse by choosing to bail out Putin cronies, regardless of the consequences for the economy. In mid-December, Putin ordered the Central Bank to issue $10 billion in bonds to bail out the state-owned Rosneft oil company, run by his longtime KGB colleague and former deputy Kremlin chief of staff Igor Sechin. Though the company denied it, Moscow financiers suspect Rosneft immediately used the money to buy hard currency, causing the ruble to tumble hard.
As of press time, the ruble had fallen nearly 50 percent against the dollar in 2014. Russia's gross domestic product has shrunk to $1.1 trillion, smaller than the economy of Texas and half the size of Italy's. The effect has been to double the external debt of Russia's companies to at least 70 percent of GDP, which makes rating agencies extremely nervous. According to Standard Bank's head analyst, Tim Ash, "A Russian downgrade to junk is only a matter of time."
U.S. Federal Reserve Chair Janet Yellen said in mid-December the Russian economic crisis should have little impact on the U.S. economy, since trade and financial links are relatively small. But other nations are not so immune.
Fears of a Russian default have already hit the shares of Austria's Raiffeisen bank, which has lent 240 percent of its tangible equity to Russian companies and individuals. France's Société Générale, Russia's biggest external lender, has $30 billion of exposure to Russia, or 62 percent of its equity.
After Russia's panic-driven shopping boom exhausts itself, retailers are facing a major downturn—which will be passed on to suppliers around the world. Last month BNS Group—which sells Calvin Klein, Armani Jeans, Michael Kors and TopShop in Russia—halted new orders for most of its brands. Russia's biggest European trading partner, Germany, in 2013 exported $46 billion of goods, from cars and heavy machinery to electronics and food, involving 10 percent of all German manufacturers. "No one can tell exactly how bad it is going to get," says Rolf Witte, an industrial analyst at Germany's Deutsche Bank. "But the question is whether the collapse of the Russian market is going to derail Germany's economic growth." China exports a similar amount to Russia—and Japan's electronics sector and Brazil's meat packing industry also stand to lose heavily.
Tourism, from Turkey to Thailand, will be hit too. Since the summer, five out of six of Russia's top travel agents have gone bankrupt as the ruble cost of foreign holidays soars. Nearly 4.5 million Russians visited Turkey in 2013—accounting for 12 percent of all its visitors—a number that is set to dive. Resorts like Antalya's 900-room Kremlin Palace Hotel, which boasts a life-size copy of St. Basil's Cathedral and a disco in the shape of the Kremlin's Senate Palace—are bracing for a severe downturn. "We are deeply linked with Russia's economy," says the Kremlin Palace's marketing director, Turker Morova. "The fall of the ruble is going to have a bad impact on our tourism industry." In London, where wealthy Russians this year made up over 20 percent of buyers of property worth over £10 million between April and October, real estate agents are also braced for a downturn. Christie's International Real Estate reports that this year has already seen a 70 percent drop in the number of Russians buying London homes in the under £5 million range.
Fortunately for Europe, no single exporter is so heavily exposed to Russia that it faces immediate ruin. The same cannot be said of the nations of the former Soviet Union, which are heavily dependent on the money sent back from their citizens working in Russia. Tajikistan—one of the poorest countries in the world—is dependent on remittances for 42 percent of its GDP, according to the World Bank. The majority of that money comes from Russia and has resulted from a decade-long building boom. Kyrgyzstan is in the same boat, with 31 percent of its income from remittances, as are Moldova with 25 percent and even gas-rich Uzbekistan with 12 percent. With the exception of Moldova (which is trying to join the European Union), all those Central Asian nations are governed by fragile dictatorships that will be shaken by the onslaught of falling remittances.
"They say a rising tide floats all boats," says a former U.S. ambassador to Central Asia, now an energy consultant, not authorized to speak on the record. "Now we're seeing the falling tide. And it's the leakiest boats that go aground first.… We could be seeing a wave of political unrest in Central Asia for the first time in a generation."
Whether it's scuppering Europe's fragile economic recovery or fomenting revolution in Russia's backyard, the quadruple whammy of falling oil prices, a failure to diversify Russia's economy, rampant corruption and crippling Western sanctions is spreading fast beyond Russia's borders in unpredictable ways.