These seven storytellers are from as far afield as Sierra Leone and Iceland. Each of them has learned the art of spoken storytelling according to their own cultural traditions, and all have made their homes in London. In the US, storytelling groups such as The Moth have attracted huge audiences in recent years, amounting to a revival of the art form, while in Europe and the UK storytellers young and old are starting to make waves. For Newsweek, photographer Caroline Irby meets some of the city's most exciting voices.
MONI SHEEHAN, BULGARIA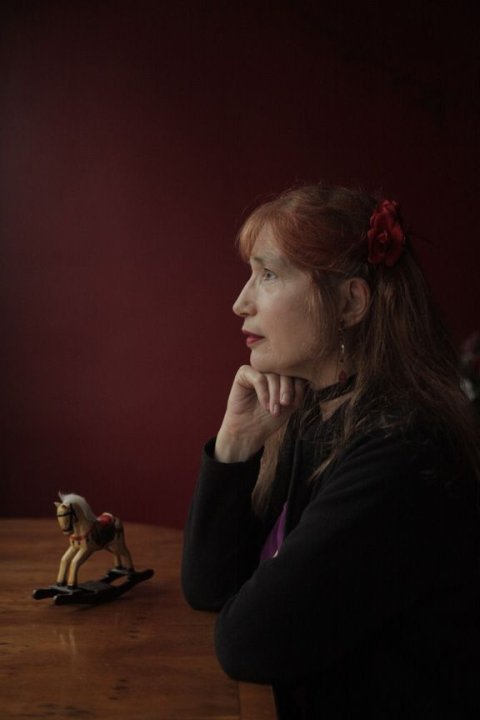 Moni Sheehan originally trained as a dancer. It was only after an injury in 1994, and a period "spent in the wilderness", that she went along one night to The Crick Crack Club – a storytelling club in London – and stumbled upon a new way of life.
Half-Bulgarian, half-British, Sheehan grew up in a village in County Durham. But her Bulgarian mother never allowed her to forget her roots. "She sang to us, taught us to dance. She wasn't a traditional storyteller, but she told us stories about her life and her ancestors' lives: Bulgaria under Turkish rule; my great-great-grandfather disguising himself as a woman and carrying revolutionary messages in the heels of his boots."
Sheehan translated her mother's books of Bulgarian folklore, which had been handed down orally for generations and collected by folklorists from the villages. "People who've left their country particularly need to feel proud of their identity. We're all supposed to be one now, all European, but we all need a sense of belonging, to know our roots."
USIFU JALLOH, SIERRA LEONE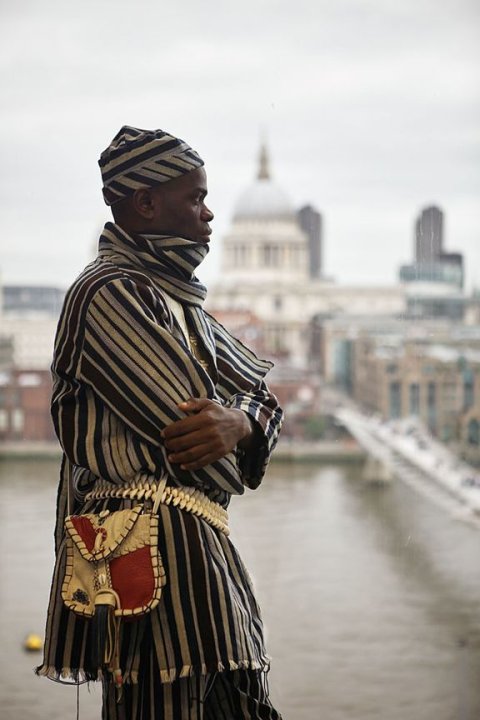 "Life itself is a story. From the time you wake up to the time to the time you go to bed, it's a story you're living, telling or experiencing." Usifu Jalloh, 47, was born in Kamakwie, Sierra Leone. He trained with a traditional theatre company in Sierra Leone, then studied drama in Detroit, before arriving in London in 1987.
Jalloh now gives performances combining storytelling and drumming in schools and universities, and has his own production, "Africa's Cowfoot", which uses storytelling, music and dance to promote Sierra Leonean and African cultures.
"The further we are removed from our culture," says Jalloh, "the more lost we become." He hopes to motivate young people to educate themselves within the context of their cultures: "When you understand your own context, it is easier to understand the culture you have moved into. Oral storytelling becomes a way of passing on, nurturing our experience. Any culture is able to maintain its identity through storytelling. It's an incredibly powerful tool."
"Sierra Leoneans here," he explains, "realise that their children have this vacant space in their minds that has disconnected them from their roots. So they want them to learn the dances and the stories. I see myself as a cultural healer and social architect, assembling the pieces that have been scattered through colonialism."
SEEMA ANAND, INDIA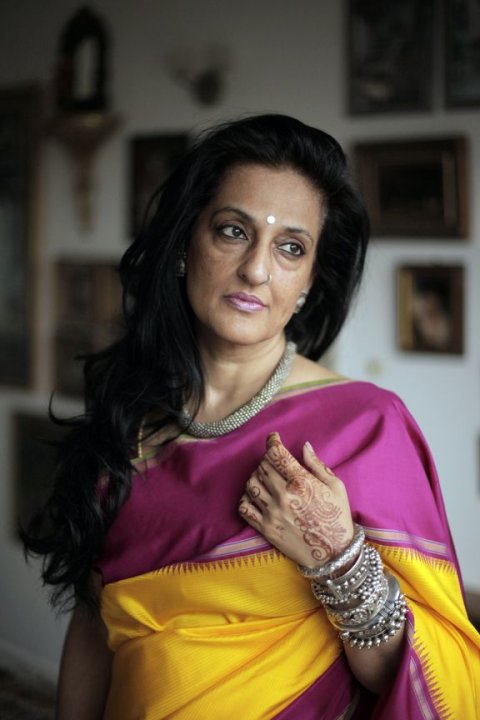 Seema Anand's favourite story is a version of "Cinderella". The fairy godmother character is a snake, she says, "and I always end the story saying, 'I have no idea what happened to the snake. He might have changed into something else, he might have moved on, who knows?' I have a problem with finding endings to stories, and one of the things I love about Indian stories is that there is often no happily ever after."
Anand, 52, married and settled in England in 1985. Embarking on a doctorate in global mythologies, she looked at the flood story as told by different cultures. "I was interested in how the cultural details vary: the people's names, the animals," she explains. "But the fundamentals of the story always remain the same. Oral storytelling is an ancient tradition in every culture, and is the genesis of literature. Stories are really the only thing in this world that endure."
She was inspired to become a storyteller after hearing visiting artists from India. "Because I am Indian, I was asked to tell Indian stories. To start with this annoyed me: I grew up on Shakespeare, English was my first language, and I did my Masters in English literature. But I soon discovered that this was what I was meant to be doing: it felt like a homecoming. I found in these stories a treasure trove of myth, rarely told and not easy to get hold of, because much of it is untranslated."
Anand now performs at London museums and cultural festivals, always in traditional dress: "the story has to be acknowledged", she says, "it is not something prosaic or mundane."
THOMAS MCCARTHY, IRELAND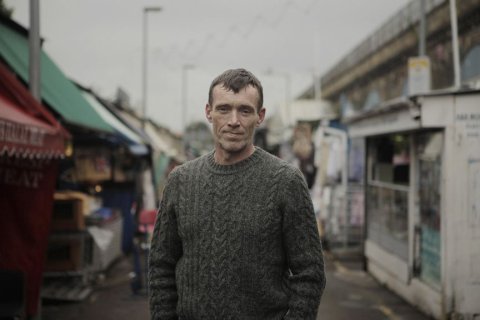 "We were the storytellers, the history-tellers. Settled people in Ireland used to rely on travellers to let them know what was going on around the country. And they kept traditional stories alive."
Thomas McCarthy was born in Birr, County Offaly, 1965. At the age of 10, he moved to London with his mother and his aunt, and lived in a travellers' site under the A40 – the Westway. He would often return to Ireland to stay with his grandfather for months at a time. "My family were in the centre of Ireland, so thousands of travellers passed through the house as they travelled across the country, and they would bring thousands of stories and songs. My grandfather had an amazing gift for remembering stories – our ancestors didn't read and write, so we had to remember.
"The house was always full of people, and he'd tell stories each night, from 7pm until 2am. Then he'd say, 'Come back tomorrow, and I'll tell you more.' And he'd do this for a week."
Small wonder, then, that McCarthy now has a repertoire of around 200 stories.
SIGRUN BJORK OLAFSDOTTIR, ICELAND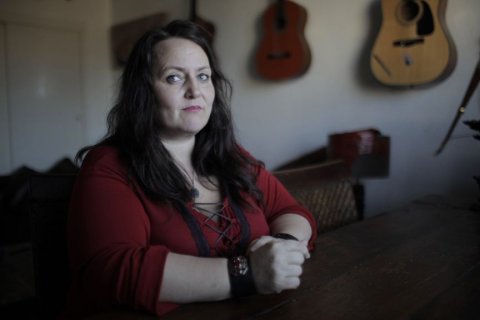 "You need a fantastic imagination to live in Iceland, because it's a hard place to live. When I was a child, you'd be locked in your house for days when it was snowing outside and you needed stories to entertain yourself."
Sigrun Bjork Olafsdottir, 44, left Iceland to live in London with her two sons in 2002, when her marriage broke down. "I needed a change," she says. "Vikings have always been nomads, exploring the lands . . . " Olafsdottir wrote her first book when she was six. "I grew up with Norse mythology: stories about hidden people – trolls, elves, mountain gods – interacting with humans . . . Vikings didn't have schools; much like the Native Americans, they taught their children about how life works through stories . . . that often means that stories don't end well, because someone in the story behaves in a way that will lead to a bad ending. Norse mythology is very Nordic film noir."
JAN BLAKE, JAMAICA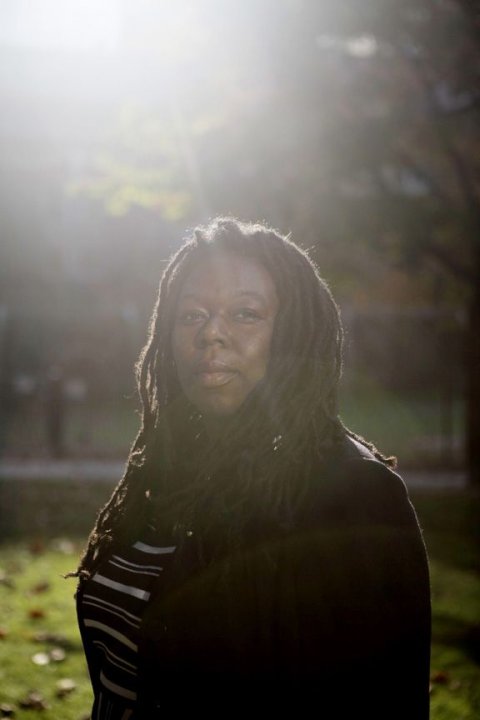 Jan Blake was born in Manchester, of Jamaican parentage, in 1964. She tells stories that challenge a Eurocentric view of the world, and that recognise her as a black woman: "If I'm to be defined by what European folk tales have to offer, I'm finished: as a woman there's no place for me. If it's all about blonde-haired, blue- eyed princesses, I can never win – I'm not represented in those stories.
"I don't tell these stories to keep them alive. I tell them to keep me alive. Through storytelling, and researching my heritage, my folklore, I turned my feeling of rage at the racism I had experienced into feelings of cultural fulfilment. Having access to your own culture and being a custodian was the way forward for me; not anger and anti-white feeling. It reconnected me with myself, my culture, my history."
But Blake is concerned that barely any Caribbean storytellers are following in her footsteps. "When I'm dead, who is going to tell the stories I tell?"
RACHEL ROSE REID, ENGLAND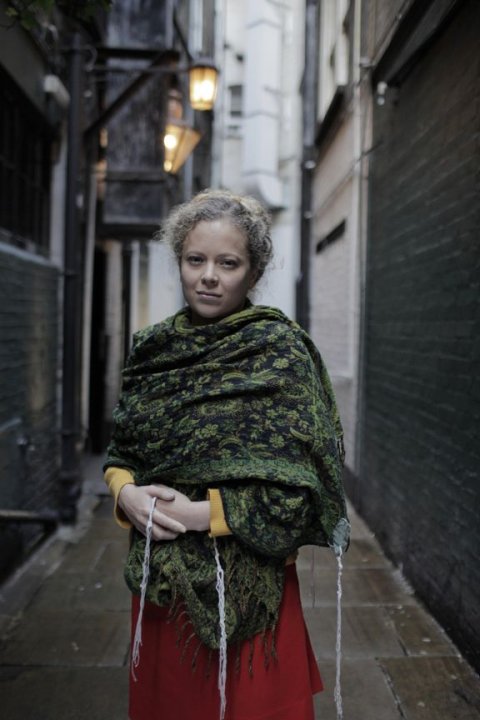 Rachel Rose Reid, 30, is a London-born storyteller, poet and writer of Jewish heritage: her great-grandparents arrived in the East End of London a century ago, tailors and shoemakers from Russia, Romania and Poland, and the stories they brought with them have been passed down through three generations. Reid's father set up National Storytelling Week, and Reid grew up going to folk festivals, which she says helped her to feel that her roots were "valid to the patchwork . . . I am the product of people who did bother to bring their stories with them, and I'm grateful for having received them."
Alongside the oral stories she has inherited, Reid draws on the Talmud for inspiration. "Jewish culture is interesting to me," says Reid, "because about 2,000 years ago, when the Israelites were kicked out of what is now Israel-Palestine by the Roman empire, a group of scholars developed a way of making what had been an indigenous, land-based culture portable: they created the Talmud. Most indigenous communities don't get a chance to make their cultures portable, because conditions change too quickly. The Talmud is an obscure book, it's not perfect, but the nice thing now is I can unpack it and do what I want with it. I'm interested in making things that are dusty undusty – taking ownership of what academics have collected and recorded."
As well as performing at folk venues and festivals, Reid organises story circles for recent migrants, where they can share narratives from the places they have left. While acknowledging that not everyone comes to this country with knowledge of, or interest in, their own folk culture, Reid finds that often people do arrive "with their culture under their tongue . . . and when they have left their countries under traumatic circumstances, their folk stories may be less painful to tell than their own."