When it comes to finely calibrated police brutality, Moscow's riot cops are masters of the art. When several thousand Muscovites gathered on Manezh Square just before New Year's Eve to protest the jailing of a leading opposition activist, the paramilitary police were ready and waiting. Two hundred "troublemakers" were picked out of the crowd and quickly arrested by police spotters armed with photos grabbed from Facebook and earlier protests.
When veteran anti-corruption campaigner Alexei Navalny emerged from the metro to lead the protest, a wedge of officers piled hard and fast into the crowd to grab him. Within just 14 seconds, Navalny was enclosed in a phalanx of muscle and hard plastic, dragged into a police van and driven away. Two hours later, the crowd had been chased from the square by police charges and freezing temperatures.
Tactically, it looks as if the Kremlin still holds the streets of Moscow under very firm control. Strategically, though, it's a different story. Falling oil prices and international sanctions have poisoned Russia's economy at the root, sending the ruble plunging by 45 percent against the dollar in the past six months. Inflation is already in double digits, ruble interest rates are at 17 percent, and the economy is set to contract sharply this year. Putin's aura of invincibility is dissipating. "We've lost the feeling that Putin is some kind of wizard who controls everything: Crimea, Siberian tigers, the ruble," wrote the usually rabidly pro-Kremlin tabloid Moskovsky Komsomolets in December. "Something intangible has changed."
Clearly, more protest and unrest is coming. And the knee-jerk response of the former KGB men who run the Kremlin has been predictable: harass leading opposition figures and threaten them with jail. And yet the Navalny story shows a curious mix of vindictiveness and indecision. At his December trial on charges of defrauding the French cosmetics company Yves Rocher, Navalny was convicted and given a suspended sentence—even though Yves Rocher testified that there had been no evidence of any wrongdoing—while his brother Oleg was sent to prison for three and a half years.
"It's a filthy sentence," Navalny told the court. "My brother has become a hostage." Navalny remains under house arrest (he's been confined to his home since another doubtful conviction for fraud last year). But instead of silencing Navalny, the Kremlin has only succeeded in angering him and spurring him to greater activism.
"The government looks weak and divided," says New York University professor Mark Galeotti. "No one sympathetic to Navalny will give the Kremlin any credit for 'mercy' in this questionable trial and sentencing. Likewise, no one who regards Navalny as a crook or a hypocrite, or who feels a firm hand is needed, will be satisfied with a mere suspended sentence. As a result, the Kremlin gets the classic worst of both worlds of a compromise decision, satisfying neither side."
Another criminal case that opened in December and targets a group of leading Moscow intellectuals—all opposition supporters—shows a similar mixture of repression and indecision. Curator Alexandrina Markvo has been accused of embezzling state money allotted to a Moscow literary festival. Four leading Russian writers were called in for questioning by the feared Investigative Committee as witnesses and potential suspects. When the case was announced, commentators on Russian social media compared it to the Shakhty case of 1934, Stalin's first show trial, which set the tone for a decade of repression.
"This is a classic attempt by the authorities to spread fear. They are saying, We're not only not listening to you, but we're going to turn the screws of repression tighter," says Moscow City Duma member Konstantin Yankauskas.
Boris Akunin, a mystery author whose books are international best-sellers and who was one of those named in the indictment, said, "I believe that the Investigative Committee long ago became a criminal organization devoted to cooking up criminal cases to order.... I am sure that in a new, democratic Russia the members of this organized crime group will someday face real justice."
The conspiracy theories over the case have come thick and fast, including the accusation floated by several pro-Kremlin media outlets that Markvo embezzled state money to fund the opposition through her boyfriend Vladimir Ashurkov, a former banker who serves as the executive director of Navalny's anti-corruption campaign. But almost as soon as the investigation began, it petered out, and none of the star witnesses was questioned. Markvo, who denies wrongdoing, is based in London.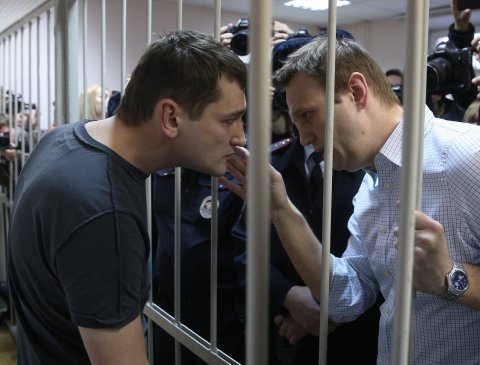 The Kremlin's flip-flopping over how to deal with the opposition "reflects a perennial uncertainty in the government about quite what to do with Navalny," says Galeotti. The result is "an inadequate and incoherent compromise between different camps or schools of thought, a reflection of division and lack of confidence."
What's clear, though, is that the Kremlin is dead set on avoiding a repeat of the events in Kiev's Maidan square a year ago, where crowds several hundred thousand strong occupied the center of the capital and forced Ukrainian President Viktor Yanukovych to flee to Russia with a motorcade of valuables, leaving a string of lavish villas and a plethora of corruption charges behind him.
"The fate of [slain Libyan leader Muammar] Qaddafi and Yanukovych is Putin's ultimate nightmare," says Stanislav Belkovsky, a political analyst who used to work for the Kremlin. One of the most persistent themes of this year's Russian television coverage of Ukraine has been that U.S.-backed fascists staged a coup in Kiev—and that the West is scheming to do the same in Russia. Navalny has repeatedly been accused of being a CIA agent by Russian media, which claim he was recruited and trained by the CIA during a fellowship at Yale University. The message—that the opposition are Western stooges—has resonated among many Russians. Among the December's protesters on Manezh—dubbed "Euro-Manezh" by organizers in a provocative echo of Kiev's "Euro-Maidan"—were several small groups bearing placards reading, "No to Maidan!"
Navalny has called Kiev's revolution a "people's uprising against the same kind of thief-emperor" who rules Russia. Maidan, he says, is "a threat, a challenge and a horrible example" for today's occupants of the Kremlin.
The problem for Navalny and the would-be organizers of a Russian Maidan is that many people who dislike Putin fear a revolution could bring someone far worse to power. Ordinary Russians remain extremely reactionary. A phone-in on Russia's state-controlled Channel One in early January asking for viewers' top wishes for the new year revealed that 5.9 percent of callers wanted an end to Western sanctions, 7.6 percent wanted a stable ruble, 26 percent wanted an end to the war in eastern Ukraine—and 60.5 percent said they wanted the "return of the Soviet Union."
In the winter of 2011-12, mass protests against Putin's return to the presidency for a third term brought 100,000 people onto the streets of Moscow. Navalny was instrumental then in building an alliance of not just pro-Western liberals but Russian nationalists and old Communists as well. A repeat of those mass protests could prove more difficult. True, the ruble is sliding and economic woes are piling up, but many Russians fear the unpredictable consequences of a revolution.
"The coalition which fueled the protests of 2011 is dead," says Anton Krasovsky, who ran oligarch Mikhail Prokhorov's campaign for the presidency in 2012. (Prokhorov polled under 8 percent of the vote; Putin got 64 percent.) "There is no such thing as public politics anymore. Navalny and all the liberal opposition are marginal, they are irrelevant. The people will not follow them again."
And yet Navalny's trump card remains the one thing that unites almost all classes of Russian society: anger at massive corruption among Russia's bloated bureaucratic class. For nearly a decade, Navalny has documented, with the help of crowdsourcing and some very well-informed leakers inside state-controlled businesses, cases of theft and embezzlement running into hundreds of billions of dollars.
This has proved a powerful weapon in undermining the legitimacy of Putin's government. Corruption cases have claimed several high-profile victims, most recently Mikhail Lesin, Putin's former press minister, who was subject to a U.S. Justice Department investigation after revelations that he had purchased $28 million of luxury real estate in California. "Greetings to M.Y. Lesin, a patriot of California real estate," Navalny joked on his blog after Lesin handed in his resignation in December.
Ultimately, Navalny may prove more dangerous to Putin's legitimacy when he's behind a laptop rather than at the head of a crowd, not least because his revelations about corrupt officials will, says Belkovsky, "certainly be used as ammunition in coming clan wars" between Kremlin factions as they fight over a shrinking economic pie.
What's not in doubt is that over the coming year Putin will be fighting for his political life. Millions of Russians will be impoverished by the economic crisis, and swaths of the Russian elite are going to decide he is bad for business. Putin could attempt to reinvent himself as a liberal pragmatist and hire back some popular technocrats such as former finance minister Alexei Kudrin. But he might be more likely to pile on the repression.
One big wild card is Swiss-based former oligarch Mikhail Khodorkovsky, who was released in 2013 after 10 years in jail. In a powerful New Year's message on YouTube, he swore to bring regime change to Russia "through elections, or otherwise" and he has begun pumping money to the Russian opposition.
Whatever happens, Putin and the crony-capitalist system he created are up against an existential challenge. It's now up to him to decide whether the end of his long and extraordinarily lucky career will be relatively painless for him—like the quiet removal of Soviet leader Nikita Khrushchev in a palace coup—or a violent, chaotic and bloody one, like Yanukovych's.