Two weeks before Christmas, in a serene Pacific inlet north of San Francisco, a small mountain of fresh oysters sat rotting in the rain. Kevin Lunny, the owner of the Drakes Bay Oyster Company, watched a yellow mini-dozer chug back from the waterfront, tip its shovel and, in a great clattering of shells, dump hundreds more onto the heap.
After seven years of political and legal battles that have grown into one of the ugliest environmental fights in the country, this was the end of the line for Lunny's oyster farm. "It's been a terrible time," said Lunny, who still lives on the nearby cattle ranch where he grew up and where his grandfather started a dairy farm in 1947. The forced closure of the oyster company marks the end, after almost 80 years, of modern shellfish farming in Drakes Estero, the tidal estuary that lies at the center of the dispute.
In 1935, an oyster farm was established in the estuary's innermost harbor, run for a few decades by a rotating crop of shellfish farmers, and from 1961 on it was called the Johnson Oyster Company. The estero was a generous sea garden, eventually becoming a source of about 500,000 pounds of oyster meat a year, all grown with nothing more than seawater and sunshine. "It was a resource for a lot of people," Lunny said.
But Drakes Estero is also an environmental sanctuary. It's home to one of the state's largest harbor seal colonies and significant numbers of shorebirds, and is prized by naturalists as the ecological heart of the Point Reyes National Seashore, public land managed by the National Park Service. In November 1972, the Johnson family sold their five acres of shoreline to the federal government for $79,200 and signed a 40-year lease that permitted a narrow range of business options, such as "the interpretation of oyster cultivation to the visiting public," and was renewable as long as any future permit was "in accordance with National Park Service Regulations in effect at the time the reservation expires." In 2005, Johnson sold that permit to Lunny, who cleaned up and rebranded the old farm and dubbed it the Drakes Bay Oyster Company.
Shutting down the farm this winter was a harsh blow for Lunny and his employees, some of whom worked here for over 25 years, but a critical victory for environmental lobbying groups. For the past few years, advocacy organizations coordinated by two leads, the local Environmental Action Committee of West Marin (EAC) and the National Parks Conservation Association, fought to have the estuary converted to "full wilderness," a sacrosanct designation that prohibits oystering, along with any other mechanized or motorized interference with the subtler designs of nature.
"At last, we get to restore Drakes Estero to its native splendor," wrote Amy Trainer, executive director of the EAC, in a late-December column. "The harbor seals that come to Drakes Estero to give birth and raise their young will finally be free from disturbance."
The idea that Lunny's farm was a heavy industry that imperiled the park's wildlife was, for a while at least, the core reason for evicting him. But for the U.S. Department of the Interior (DOI), the only agency with the power to enforce full wilderness protection, there was one problem with this argument: proving it.
To the bewilderment and eventual outrage of Lunny's advocates in California and Washington, D.C.—U.S. Senator Dianne Feinstein chief among them—the DOI and its National Park Service spent much of the past decade using scientifically unsound, and at times bizarre, tactics to prove the oyster farm had to go. "The Park Service has falsified and misrepresented data, hidden science and even promoted employees who knew about the falsehoods, all in an effort to advance a predetermined outcome against the oyster farm," Feinstein wrote to then-secretary of the interior Ken Salazar in March 2012. "It is my belief that the case against Drakes Bay Oyster Company is deceptive and potentially fraudulent."
After Lunny accepted some legal aid from a libertarian group in Washington, D.C., the rhetoric from environmentalists turned apocalyptic. Amid howls of Koch brothers lurking and baby seals dying, the oyster farm's request for a 10-year lease extension was described as "a precedent-setting land-grab effort" and a step toward privatizing the entire National Park System. In the face of this escalation, Feinstein's coalition drew in Republican congressmen, former California lawmakers and dissenting Bay Area progressives, including the chef Alice Waters and the writer Michael Pollan.
"I firmly believe that renewal of the permit is the only way for the Park Service to send an unmistakable signal that the [Obama] administration's commitment to scientific integrity is real," Feinstein told Salazar.
In November 2012, Salazar ruled against the farm, citing simple reasons: The lease was up; he had no obligation to renew it; and, he argued, the farm violated park policies for commercial activities within the National Park System.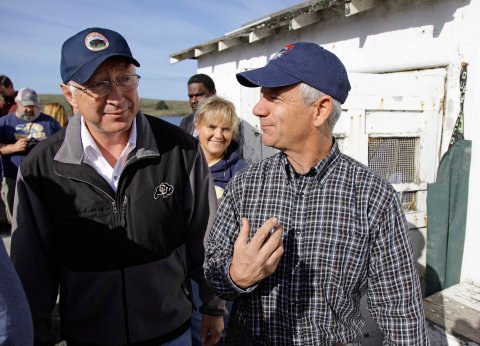 Findings Altered
"I'm not interested in being a whistle-blower," Brent Stewart said. But documents he recently shared with Newsweek reveal how a federal science agency ignored norms of academic research in an apparent effort to justify policy and shut down a private business.
Stewart is a marine biologist and seal behavior expert with the Hubbs-SeaWorld Research Institute in San Diego. In May 2012, the U.S. Geological Survey (USGS) recruited him to evaluate photos taken by "remotely operated wildlife monitoring cameras" that a Park Service scientist had secretly installed around the estero in May 2007, and that over the years became the focal point of the controversy.
When the conflict between the Park Service and the Lunny family first erupted in 2007, the Marin County Board of Supervisors reached out to two people: Feinstein and Corey Goodman, a National Academy of Sciences (NAS) member and a former University of California, Berkeley, and Stanford biology professor who lives near Point Reyes. They discovered a Park Service outpost whose scientists had published dubious environmental reports that, for example, erroneously attributed one seal colony's 80 percent decline to the oyster farm. The disappearing seals, Goodman later learned, had merely relocated closer to the farm.
Feinstein called on the NAS to conduct an external review of the Park Service's environmental studies. The resulting report concluded that Park Service scientists, in setting out to prove the farm was causing environmental harm, had "selectively presented, over-interpreted, or misrepresented the available scientific information" and "exaggerated the negative and overlooked potentially beneficial effects of the oyster culture operation."
For example, when they saw seal numbers dropping, scientists made targeted assumptions about the oyster farm that ignored critical variables, such as nosy kayakers and shifting sandbars. Such limited data, the NAS said, "cannot be used to infer cause and effect." Ultimately, the NAS "conclude[d] that there is a lack of strong scientific evidence that shellfish farming has major adverse ecological effects on Drakes Estero."
Throughout the battle, environmental groups had labeled the farm, as one brochure put it, "an ecological disaster." But after the NAS report diffused the urgency over issues like eelgrass (coverage had actually doubled from 1991 to 2007), fish (healthy) and invasive tunicates (problematic, but also epidemic worldwide), attention once again turned to the estero's marquee wildlife: those seals.
Harbor seals are prevalent along the California coast, and according to the National Oceanic and Atmospheric Administration, populations are stabilizing. But with the seals a protected species under the 1972 Marine Mammal Protection Act, the NAS called for more and better research on them in Drakes Estero and specifically suggested "a data collection system that could be independently verified, such as time- and date-stamped photographs." What the NAS did not know, because Park Service scientists had not told it, was that such a trove of evidence already existed—roughly 250,000 archived photographs, snapped once a minute by an automatic Reconyx Silent Image game camera, every day from sunup to sundown during the seals' spring pupping season, for more than three years. The photos documented oyster boats passing the seals at a distance of about 700 yards, or a little under a half-mile, with a large noise-buffering sandbar between them and no clear evidence that either man or beast had ever noticed the other.
When Feinstein learned that the Park Service had concealed these photos, she went into full boil. Park Service scientists, she said, "acted as if they were advocates with no responsibility to fairly evaluate the scientific data." She told Salazar the integrity of his agency was on the line. "Whether it was intentional or because of personal bias, these practices must not be tolerated nor allowed to continue," the senator said.
Goodman filed a formal scientific-misconduct complaint, which in turn triggered an internal investigation by a DOI field solicitor named Gavin Frost, who was no more charitable in his assessment. Park Service scientists, Frost wrote, had "intentionally omitted the photographic research, in an effort to manipulate the outcome of [the NAS] report," and were "blurring the line between exploration and advocacy." Frost's report ultimately charged Park Service employees with the lesser crimes of "scholarly" and "administrative" misconduct and let them carry on with their seal studies undeterred.
In 2012, with the end of the farm's lease approaching, the DOI ordered the USGS to complete a definitive study of the seal photographs. Stewart, a respected 37-year veteran in the field, was called in as an independent authority to determine whether the photos were sufficient for scientific research and whether, after years of internal recrimination at DOI and the Park Service over the issue, Lunny's boats had disturbed the creatures.
On May 3, 2012, Stewart filed his reports, determining there were no disturbances attributable to the oyster farm's boats. (There was one case, however, where a curious kayaker caused several seals to flush into the water.) But when the USGS published its final report that November, Stewart discovered that his findings had been altered and that the study reached conclusions his research directly contradicted. "It's clear that what I provided to them and what they produced were different conclusions and different values," says Stewart. "In science, you shouldn't do that."
For example, the USGS had deleted his words "no evidence of disturbance" for one date, and in its analysis stated that two disturbances "were associated with boat activity"—despite Stewart's study that showed otherwise. Strangely, USGS went back to Stewart months later and asked him to double-check his work on two dates in particular. He did as requested and reiterated his findings, but even this did not alter the final report's inaccuracies. In its Final Environmental Impact Statement, the Park Service took this alteration one step further by implying causation between the boats and the seals, something Stewart had explicitly ruled out. Eventually, this Impact Statement would be used by Department of Justice lawyers in their arguments against Lunny before the 9th U.S. Circuit Court of Appeals.
Stewart told his contacts at the USGS that their report had errors and asked if he could correct them. "The response I got was, 'No, it's done. It can't be changed.' That was a bit shocking."
This wasn't the first time a DOI agency was caught making fraudulent claims. Two years ago, Feinstein and Goodman uncovered an attempt to by the Park Service to use sound measurements from a 1995 study on New Jersey jet skis in order to show that Lunny's boats were distressing the seals. "I am frankly stunned," by the patterns of abuse, Feinstein wrote in her final letter on the matter to Salazar.
Goodman, a professor who peppers his conversations with sayings like "facts are our friends," emerged as a fierce advocate for the farm and against what he sees as the misuse of science. In May 2013, he filed another scientific misconduct complaint against the USGS where he reiterated how the agency had twisted Stewart's facts. "[It] is so absurd," he told Newsweek, "you could show it to grammar school students and they would immediately understand it was ridiculous."
This past November, the USGS dismissed Goodman's 160-page complaint with a one-page letter. The agency's Scientific Integrity Office did not address the specifics of Goodman's report in either their letter or in a brief overview published on the DOI website. In the latter, the USGS stated that "no evidence was provided by the complainant, nor found during the inquiry of any significant departure from accepted practices...nor was there any evidence of intent to deceive or misrepresent work." When pressed for explanation of their decision, the USGS did not respond.
Since 2007, three Park Service employees that Frost charged with scholarly or administrative misconduct have been promoted within the agency. The USGS and DOI declined to comment on this story. U.S. Representative Jared Huffman, whose 2nd congressional district includes Point Reyes (and whose office has had copies of Stewart's reports since May 2013), also declined comment on this story, as did Marcia McNutt, who served as USGS director from 2009 to 2013 and is now editor-in-chief of the journal Science. None of Stewart's co-authors on the 2012 USGS report responded to requests for comment.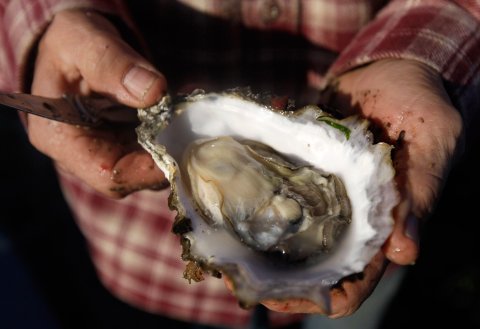 An 'All or Nothing' Ethic
Since it was designated as a national seashore by President John F. Kennedy in 1962, Point Reyes has been an ambitious social and environmental experiment. Historic working farms coexist with the park's protected elk, egrets and elephant seals, and Western ranchers live in close and peaceful proximity to environmentalists. The two communities united in their shared wariness of development and suburbanization, and they collaborated on visionary legislative compromises that made Point Reyes an exceptional preserve close to a major metropolis. But the honeymoon was short-lived.
"There are deep roots to the hostility of environmentalism toward agriculture," Michael Pollan wrote to Feinstein in 2012. "An 'all or nothing' ethic that pits man against nature, wilderness against agriculture, may be useful in some places, under some circumstances, but surely not in this place at this time." Lunny's oyster farm, he wrote, "stands as a model for how we might heal these divisions."
In Northern California, where local food borders on an obsession for many, the agricultural community supported the farm, in both spirit and in court. Alice Waters filed a joint brief in the farm's defense with the 9th U.S. Circuit Court of Appeals, joining the California Farm Bureau, Food Democracy Now and several restaurateurs and retailers. Along the winding roads that carry weekenders north from the city to graze on grass-fed burgers and aged goat gouda, dozens of hand-painted signs went up on barns, gas stations and storefront windows, pleading, "Save Our Drakes Bay Oysters."
But to wilderness advocates, the state's only oyster cannery, with its salt-crusted boats and front-end loaders and plastic oyster bags, was a dirty business in a sacred place. Jerry Meral, a respected conservationist who served as deputy secretary of California's Natural Resources Agency from 2011 to 2013 and sits on the board of the EAC, which led the fight against the farm, isn't persuaded by the sustainable seafood argument. "It's not the only oyster farm," he told Newsweek. "If there's a big demand for oysters, it will probably be filled, even if we have to bring them in from China…. I'm not sure you make a decision on the use of a national park on that kind of basis."
You've Been Shucked
The Park Service and wilderness advocates now say that the issue in Drakes Estero was environmental policy, not environmental science. "Science will always be debated, like climate change," said Melanie Gunn, outreach coordinator for Point Reyes National Seashore. "But the law and policy of the Wilderness Act is very clear," she said in defense of Salazar's decision to shut down the farm.
Lunny lost in his circuit court appeal, and this past June, when the Supreme Court declined to hear the case, he ran out of legal options.
To Meral and his EAC, the controversy over bad science is overblown. "I think [Lunny] was treated fairly," he says. The Park Service, he said, "intended to close him down, they did everything they could to close him down, and eventually they did close him down." Trainer, who heads the West Marin EAC, wrote that "good government prevailed."
Goodman hasn't given up the fight for good science, but he is discouraged by the politics. "The environmental movement has lost its way," he said. "And I say that as an environmentalist and a lifelong Democrat." After seven years, Lunny is no longer surprised. The changes to Stewart's science "is not the first fraud," he said.
Before Christmas at Drakes Estero, as gulls stalked the perimeter of the rising oyster pile and the farm's workers hauled out about $2.5 million in unsold oysters, Lunny reached into an exposed dirt hillside about 100 feet from the water and pulled out a small, white shell. "This is a confirmed Oly," he said, using the nickname for the native Olympia oysters that once filled every bay and estuary on the Pacific Coast. The hillside was part of a midden, an ancient shell pile left behind by earlier seafood-eating peoples, in this case California's indigenous coastal Miwok tribe, and carbon-dated to over 1,000 years old. Behind Lunny, the yellow mini-dozer coughed black smoke into the air, lifted its shovel and dumped more fresh oysters onto the rotting heap.
"This thing," Lunny said without turning to look, "could drive me crazy if I let it."