For years, Sohail Zafar Chattha, a seasoned Pakistani police officer, has endured the frustration of watching notorious militants walk out of court free. Cases collapsed when witnesses inexplicably withdrew their statements. Arresting officers had a habit of turning up dead. Judges seemed reluctant to convict. Now he dares hope that the hit men, bomb makers and cash handlers who form Pakistan's extremist hard core will soon feel the full force of the law.
"I'm very optimistic," Chattha told Newsweek from Rahim Yar Khan, a district in Punjab province, where he has seen a steady increase in sectarian violence. "My gut feeling is that a real war against terror has just begun."
Chattha's confidence stems from a vote by Pakistan's parliament to amend the constitution to allow the army to set up military courts to try suspected terrorists. Rather than rely on the civilian judiciary, whose members are often cowed by militant groups using Mafia-style intimidation tactics, the army will create tribunals overseen by uniformed judges in the comparative security of military bases. Proceedings will be swift, penalties severe.
While Pakistan's political class has broadly supported the measures, the prospect has alarmed human rights campaigners, who recall gross miscarriages of justice at similar courts in the past and fear the move marks a retrograde step in the struggle to establish an enduring democracy after decades of military rule. "We have handed so-called terrorists to an institution which doesn't believe in justice," said Asma Jahangir, a leading human rights lawyer. "We have no sympathy with terrorism, but we think that justice is the antidote, not revenge."
The tribunals would have been unthinkable up until a month ago in Pakistan, where the 18-month-old government of Prime Minister Nawaz Sharif has been intent on asserting the primacy of civilian authorities over the military. Sharif, who was overthrown in a coup in 1999 and spent years in exile, needs no lessons on the dangers posed by power-hungry generals.
But Pakistan changed on December 16, when gunmen dispatched by the Pakistani Taliban, or Tehreek-e-Taliban Pakistan, one of the country's main militant factions, stormed the Army Public School in a supposedly secure military zone in Peshawar. At least 148 people were killed, including 134 students, many gunned down as they cowered under their desks. In a country drearily accustomed to witnessing the defenseless fall victim to atrocity, the massacre pierced the national conscience as never before.
Pakistan's response to militancy has long been hobbled by an ambiguous attitude from security forces, which have a history of covertly sponsoring certain jihadi groups as deniable foreign policy tools in Afghanistan and Kashmir. As Pakistan united in grief, authorities sought to project a new decisiveness. "We announce that there will be no differentiation between 'good' and 'bad' Taliban," said Sharif, in a rare public acknowledgement of Pakistan's murky record on state sponsorship of extremist proxies. The government hastily lifted a moratorium on executions of convicted militants and started to hang them in pairs or small groups. The army, increasingly frustrated at the glacial proceedings and dismal conviction rates for terrorism trials in civilian courts, was granted its wish to start its own prosecutions. "It wasn't possible before. Too ugly, too difficult," wrote Cyril Almeida, a columnist for the Pakistani English-language newspaper Dawn. "Then Peshawar happened."
The school massacre and its aftermath have renewed long-standing questions in Pakistan, illuminating both its struggle to contain the growth of militancy and its equally fraught quest to forge a sense of nationhood. Both these battles have been waged across an increasingly confused array of religious, ethnic and political dividing lines of late, with alliances in constant flux. The controversy over the tribunals puts the dilemmas in sharper focus.
While more than two-thirds of members of the National Assembly voted in favor, the move polarized opinion in Pakistan's political class, many of whom were wary of voluntarily ceding power to the military. Senator Raza Rabbani of the Pakistan People's Party (PPP), which handed power to Sharif's coalition in the last elections, wept as he followed the leadership's direction to support the amendment during the January 6 vote, saying he had never felt more ashamed. In a reflection of the divisions, Bilawal Bhutto Zardari, the youthful PPP co-chairman and son of assassinated prime minister Benazir Bhutto, tweeted that the parliament had cut off its nose to spite its face.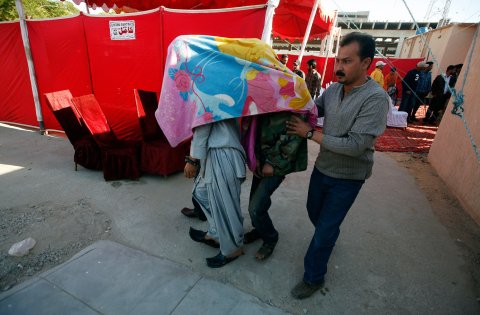 The nervousness among some politicians is partly a reflection of the fragility of Pakistan's democracy. Elections in 2013 marked the country's first transition between elected governments, but months of paralyzing protests led by cricket-star-turned-politician Imran Khan, whose party abstained from the vote on the courts, have underscored how fluid the political situation remains. The government has sought to allay fears that the tribunals are subverting democratic norms by limiting their duration to two years, but many suspect they will morph into a permanent fixture.
Fears over a creeping expansion of military influence are even more acute in the frontier lands with Afghanistan, the focus of repeated army campaigns against the Pakistani Taliban. The latest offensive began in June, when the army launched operation Zarb-e-Azb in North Waziristan, a saw-toothed haven for Pakistani and foreign jihadis along the border with Afghanistan. The Pakistani Taliban said it had hit the school in Peshawar in retaliation for civilian casualties caused by army operations.
The showdown with militants has left the ethnic Pashtun population trapped between the brutal rule of totalitarian extremists and the trials of living under what many of them perceive as an army of occupation. The latest offensive has forced at least half a million people to flee their homes, and memories are raw of the roundup of large numbers of Pashtun civilians in a big army operation in the Swat Valley in 2009. "The army is already arbitrarily arresting people and labeling them as 'Taliban facilitators' when they have no choice to cooperate because the Taliban practically forms the state in their home areas," said a researcher with extensive contacts among Pashtun communities in the borderlands, which are largely closed to journalists. "Now they will have a free hand without any sort of accountability."
The government has insisted that the courts will adhere to due process, but the army's record gives reason for pause. The military faced acute embarrassment before the last elections when then-chief justice Iftikhar Chaudhry held a series of hearings over allegations of disappearances and extrajudicial killings by intelligence agencies. The abuses are particularly egregious in the southwest province of Balochistan, where the bullet-riddled bodies of hundreds of people suspected of links to separatist guerrillas have been found.
The army has denied wrongdoing in Baluchistan and elsewhere—but the well-documented reports have done little to inspire confidence. Neither has the government's insistence that the new military courts will only be used to hear clear-cut cases of terrorism, which seems to imply a suspect will have been effectively convicted even before reaching the dock. "It has really reversed the principle of being innocent until proven guilty," said Zohra Yusuf, chair of the Human Rights Commission of Pakistan. "The military becomes jury and judge."
Beyond ill-at-ease progressives and concerned citizens on the frontier, the prospect of military courts has stirred opposition from a less obvious corner: conservative religious political parties, which have traditionally been broadly aligned with the security establishment. Several fear wording in the amendment explicitly authorizing the courts to try cases of sectarian or religiously motivated terrorism may foreshadow moves to start hauling away students and clerics from madrassas preaching the same Deobandi sect of Islam followed by most Pakistani militants.
Jamiat Ulema-e-Islam-Fazl, a leading religious party and a partner in Sharif's ruling coalition, abstained from the vote. The party says it wants the remit of the courts to be widened to allow the army to prosecute members of secular armed groups, such as regional separatists or political parties indulging in gangland-style tit-for-tat killings in Karachi.
Whether Pakistan really has reached a turning point will depend on the scope of the military's crackdown. Anxious to prove they are serious, Pakistani officials told Reuters they had decided to formally outlaw the Haqqani network, an Afghan militant faction seen as the exemplar of the Pakistan army's fondness for "good" Taliban assets. The report followed this month's visit to Islamabad by U.S. Secretary of State John Kerry and it is uncertain whether such a ban would have more than symbolic value in the Haqqani enclaves in North Waziristan.
The power of the militants may be starkest in their mini-emirates on the Afghan frontier, but their corrosive influence has spread to the flatlands bordering India and down to the Arabian Sea coast, infecting the heart of major cities and sowing bigotry in once tolerant rural backwaters.
While the extremist groups are united in their hatred of other religious minorities and liberal politicians, they each occupy different places on a spectrum of relationships with the security forces—ranging from open war to peaceful co-existence. For example, Hafiz Saeed, a founder of Lashkar-e-Taiba, which is blamed for the 2008 attacks on Mumbai, India, operates freely across Pakistan, despite the U.S. having offered a $10 million bounty for his arrest. Unless the security establishment cures itself of its partial blindness toward the growing influence of some of its former proxies, the whole country's response is liable to remain ambivalent and confused.
It would be unrealistic to expect the military to attempt to simultaneously dismantle all facets of Pakistan's hydra-headed militant infrastructure. But what happens next may yield clues as to whether the horror at the Army Public School has provoked a lasting change of heart among the generals.