Grass-roots climbers are uncomfortable with statements like "the hardest climb in the world". But most would agree that last week's first free ascent of the Dawn Wall on El Capitan, Yosemite, ranks as one of the toughest rock-climbs ever to be completed.
Americans Tommy Caldwell and Kevin Jorgeson spent 19 days on the famous 3,000-foot wall in California. Full-time professional climbers, the men are no strangers to elite-level performance. Nevertheless, the project drained them entirely. Keen to grasp any marginal gains they could, the two 30-year-olds climbed the most difficult parts in the shade or at night; the cooler temperatures allowing them better purchase on the razor blade-thin granite holds. During rest periods they repaired the holes in their fingertips with sandpaper and superglue, and sanded the rough edges of their tight-fitting, rubber compound rock shoes.
For many people, climbing seems an odd activity; strange really, as we all start out climbing instinctively – how else do we go up and down stairs in the first few months of life? Most of us give up early, due to discouraging parents and a sense of self-preservation. Tommy Caldwell never did; he was rock-climbing aged just three.
Caldwell's Dawn Wall journey began seven years ago when he first inspected the line as a potential free-climb. Originally designated an "aid-climb", where climbers fix ropes and use shunts, the Dawn Wall was considered even by talented climbers to be impossible to free-climb due to its sheer lack of holds and the wall's relentlessly steep angle. I, too, have glanced across at the face while climbing a neighbouring route; it is an extraordinary expanse of rock.
Caldwell, 36, had the vision and the self-belief. He dared to dream. And after watching a movie of Caldwell trying to climb sections of the route, Jorgeson, a former indoor world champion, asked to join him on the project. They failed on five occasions spread over several years.
The ultimate aim was for both climbers to climb all 32 pitches (sections of rock) from bottom to top without falling, gripping the rock features with only their hands and feet. While the men had safety ropes, they were merely to halt a fall and couldn't be relied upon for progress up the wall.
There were other aspects of the climb that were unusual. For one, the camaraderie between the two climbers. In a show of team-spirit, Caldwell stated that it was crucial that both members of the team made the summit – a rare sentiment in a sport that has, in recent years, followed the trend of many mainstream sports in celebrating the cult of the individual. "More than anything, I want to top out together," Caldwell said on day 13. "We gotta make that happen. It would be such a bummer to finish this thing without Kevin. I can't imagine anything worse, really."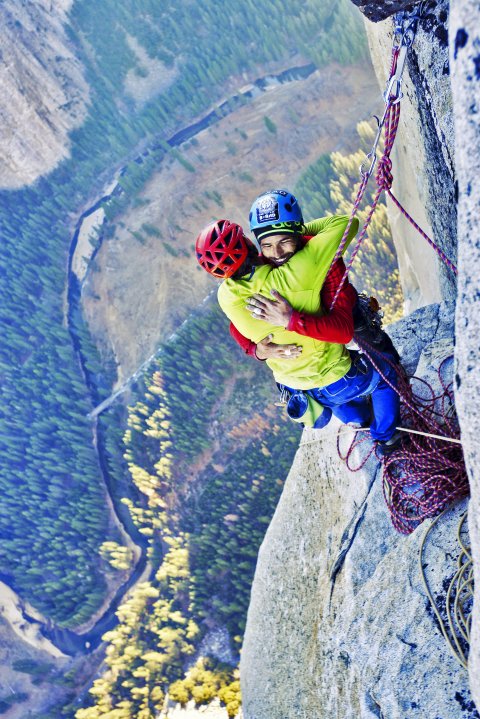 But that ambition was severely tested when Jorgeson struggled for an age on pitch 15. Everything was in the balance. With bleeding fingertips, worried that he was holding his teammate back, Jorgeson finally made it and, exuberantly, he posted on Instagram: "After 11 attempts spread across 7 days, my battle with pitch 15 of the Dawn Wall is complete. Hard to put the feeling into words. There's a lot of hard climbing above, but I'm more resolved than ever to free the remaining pitches." The men had trained so hard and prepared as well as they possibly could. Still, they needed the gods on their side.
"The conditions were just magic. It was the one moment over the last 10 days when it was actually cloudy and cold enough to climb during daylight. It all lined up to create this one moment in which my skin was good enough and the conditions were perfect," said Jorgeson.
The level at which top climbers now operate is flabbergasting, even to the most experienced. Jorgeson climbed pitch 16 by making a jump six feet horizontally to catch a downward-sloping edge of rock, which he then had to hold despite the swinging momentum of his body. Now, with the most difficult section of the wall completed, the duo felt invigorated, and the people watching, via their social media updates, began to scent success.
Gymnasts, Ballerinas, Chess-Players
So what does it take to climb at this level? There are three broad spheres requiring mastery: physical, technical and mental. Being strong in all three is rare. Think elite gymnast, ballerina and chess-player rolled into one.
Physical requirements include finger strength, the ability to maintain contact with a variety of different-shaped holds; the ability to generate anaerobic power via fast-twitch muscle fibres for single, desperate moves; good lactate tolerance in the forearms to sustain strength through consecutive difficult moves; core strength and flexibility to ensure the feet can reach and engage footholds.
Technically, these climbers have thousands of movement patterns ingrained from years of experience, as well as very specific moves for this climb that are rehearsed over several years. These mental schemes mean they can act on a sequence of moves quickly, almost unconsciously. The glaciated granite of Yosemite is notoriously difficult to climb, requiring a whole suite of movement skills.
Caldwell has dedicated most of his climbing career to ascending the big walls of Yosemite. Mental tenacity and the ability to focus under extreme pressure are what distinguish the best climbers. Overcoming the fear of falling and the fear of failure is often the biggest challenge, whatever the level.
But Caldwell has overcome many difficulties in life. In 2000, while climbing in Kyrgyzstan, he and his team were taken hostage by Islamist militants. Left briefly with a single guard, Caldwell pushed him over what he assumed was a cliff, allowing his team to escape at night. Finally, it emerged the guard had survived the fall. But Caldwell was traumatised by the incident and the media interest it stirred. Then, just a year later, he cut off his own index finger with a saw in a DIY accident. It was re-attached by surgeons but it lost most of its function, so Caldwell had it re-amputated.
Mastering 'El Cap'
To complete pitch 15 alone of this climb would be considered world-class. In the context of 32 pitches, it is mind-boggling. On top of this, Caldwell and Jorgenson had to work out the logistics of living in winter on a sheer rock face for almost three weeks, hauling up their supplies behind them and setting up "porta-ledges" – mobile, double-mattress-sized camp beds erected at 90 degrees to the wall. Their supplies included fresh coffee and iPhones. They practised yoga and did press-ups to maintain good form between attempts at each section. A small, expert film crew accompanied them, moving around on a complex web of fixed ropes. Nothing was left to chance.
Above pitch 16, the climbing relents to some extent. On the final part of the climb, I am sure the climbers will have been accustomed to the flow – at one with the wall and utterly focused. Vertical and overhanging terrain becomes normal and, with each small success, the will to succeed grows deeper. The dream closer.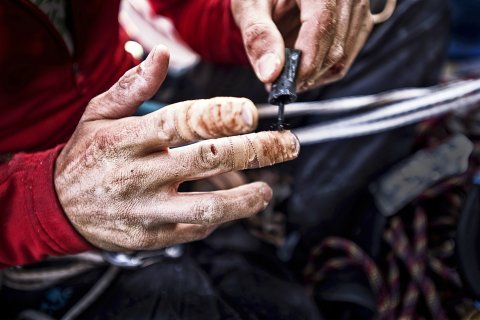 What is so special about El Cap? The first time I saw it, I had just finished the first year of university. I was mesmerised. I had climbed the north face of the Eiger and a couple of Himalayan peaks by first ascents, but still I had never seen a piece of stone so big and flawless as this. The fact that you can drive underneath it makes it logistically simple to reach. Even with a big load, a 30-minute hike from the parking lot through trees brings you to the base.
The descent off the back requires caution and a few abseils – not unreasonable as far as climbing descents go. But its front is a smooth, sheer, stupefying cliff full of history.
There is often a great sense of camaraderie among the climbers in "the Valley", particularly on Camp 4, a place steeped in legend. Just next to it is the base of the Yosemite rescue team, comprised of top climbers. There is a feeling that you are part of something special in Yosemite. On that first trip, I had spent three days on the wall. It is a strange alien world. For days afterwards, I was dehydrated and my hands were cut and swollen. But I felt so alive.
Over the past 30 years, almost every climber I have met has either visited Yosemite or desperately wants to. A true climbing Mecca, even the easiest big free-climbs on El Cap, such as Freerider, are still too difficult for the majority. Some complete the West Buttress and the shorter East Buttress, but they are not tackling the highest, steepest part of the wall. Most people come to climb The Nose, right up the centre, using at least some aid. In peak season, small international teams are strewn from bottom to top, inching their way up.
Most of the routes here started out as aid climbs, the pioneers linking cracks and corners up to the top. Later, bolder aid climbs were established, with big reputations and requiring specialist skill. The first major line to be free climbed was Salathé by Paul Piana and Todd Skinner, a real breakthrough achievement in 1988. In 1993, Lynn Hill broke a huge barrier by free-climbing The Nose
American climbers haven't monopolised pioneering here, however: the Bavarian brothers, Thomas and Alexander Huber, were extremely prolific between 1995 and 2007. UK climbers have made an impact too, notably Leo Houlding, whose route, The Prophet, is still one of the most serious big-wall climbs in the world. El Cap is a vertical stage that continues to allow the elite to search out the limits of possibility. Climbers like Houlding and the Hubers have applied their Yosemite skills in more remote big walls in the Himalayas, Baffin Island and Antarctica. The extra complications of difficult access, altitude, glaciers, and little chance of rescue mean that the stakes are much higher than a climb in Yosemite.
Real-Time Climbs
While climbers have been surprised by the media storm surrounding Caldwell and Jorgenson's ascent, in some ways El Cap has always been in the public space. Tourists spend hours watching climbers in action, in a similar way to people at Kleine Scheidegg, Switzerland, who point telescopes at alpinists on the Eiger. The difference this time is that the adventurers themselves could drip-feed tweets, Facebook posts and video clips to a breathless audience, providing a blow-by-blow account of their progress.
People go climbing for many reasons: to escape the mundane pressures of work, to be close to nature, to be lost in the endeavour. Surely spending hours on social media detracts from this? Critics will doubtless claim the duo have created a media circus. But look closely at their messages and there is a self-effacing tone. I am not sure Barack Obama quite understood that sentiment, however, passing on his congratulations in another tweet: "So proud of Tommy Caldwell and Kevin Jorgeson for conquering El Capitan. You remind us that anything is possible."
Nevertheless, the spotlight on such a great achievement by two elite climbers is a positive step. The public needs to know what today's pioneers are doing. Yes, many of them are virtually unheard-of outside climbing circles, but the Dawn Wall story makes a welcome change from the usual fuss around quite ordinary climbers being guided up Everest, on a route first climbed 60 years ago, and rigged all the way by Sherpas.
Hopefully, the better-informed media pieces have educated the public in a new narrative that reveals elite climbers not to be thrill-seeking "adrenaline junkies", but as extraordinarily talented individuals who have spent hours perfecting this vertical ballet.