"My thought was I must fight this, otherwise I'm dead. Lying in bed, I'm thinking I need to focus on what it's all about. My thoughts are jumbled but my physical being, it's . . . precise."
Ten years ago, on 20 February 2005, the Scottish singer and songwriter Edwyn Collins was in a deep coma after suffering a stroke at the age of 45. He couldn't speak or move, but he could hear people around his bed in London's Royal Free Hospital trying to reach him. "Before it happens, people say they wouldn't want to live like that," says Collins in his slow halting staccato. "But when it does happen, you fight. It's just like in the film. They captured it perfectly. The scariness."
Collins, tall, alert and still able to flash his winning pop star smile, is sitting in the living room of the house he shares in north London with his wife and manager Grace Maxwell and their son Will. Maxwell, tiny and bubbly, is curled up on the floor by his side, occasionally butting in to finish Collins's sentences, sometimes being told to "shut up" by her husband. They're talking about The Possibilities Are Endless, a remarkable documentary film about their story which has now been released on DVD in the UK and is set for a US cinema release shortly.
The opening 25 minutes is challenging cinema, a painfully slow pulling back into focus as the patient rebuilds his identity. Cut to a soundtrack of snippets from audio interviews with Collins as he begins to recover his speech, mixed with ethereal music.
The film tries to capture the sensation of being in a coma. An underwater swimmer struggles in slow motion to regain the surface. Lights flash. A piano picks out a haunting melody. There are fragments of home movies and archive TV shows. Gradually the third star of the film comes into focus, the small Scottish highland fishing port of Helmsdale, 70 miles north of Inverness. The Collins family have had a house there since the 1820s and, as a young man, Edwyn spent much of his childhood with his grandfather walking the rugged coastal paths, bird-watching and dreaming. Now it's what is pulling him back from what Maxwell calls "the far away place". As he starts to re-discover the power of speech he startles everyone by conjuring up and repeating the phrase, "the possibilities are endless". "It may sound very deep," says Maxwell, "but when you hear it 85 times a day it's a little less so."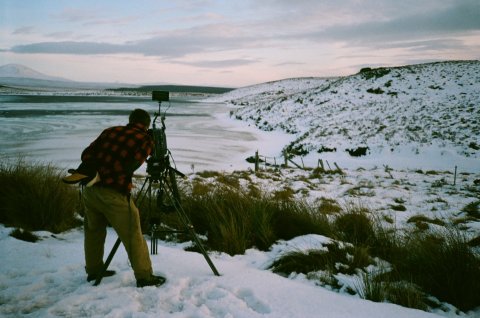 The film's directors, Edward Lovelace and James Hall, are both 30, too young to remember Collins in his pomp as the lead singer of the Glaswegian art-punk band Orange Juice in the 1980s or as the solo singer of A Girl Like You which made the UK Top 10 and the US Top 40 in 1995. They met at film school and discovered a shared vision about how to tell true stories through impressionistic cinema techniques.
Inspired by Michael Azerrad's 2006 take on Kurt Cobain, About A Boy, and Gideon Koppel's 2009 homage to a dying Welsh village, Sleep Furiously, Hall and Lovelace looked first at music being made by homeless and poor people in Werewolves Across America and followed it with Katy Perry: Part Of Me, which "described what happens when an ordinary person finds themselves in a massive storm".
Searching for a new subject, they came across Collins through interviews with one of their favourite bands, Franz Ferdinand, who hailed him as a major influence. They discovered that Collins had released a new album, Losing Sleep, and that, in spite of losing the use of his right arm, he was taking tentative steps to resume his live career.
"We liked them straight away," says Maxwell. "They knew exactly what they wanted and we trusted them." What emerges is a delicate and heart-warming portrait of a love affair. "She's my wife, maybe she's my life," says Maxwell during the opening sequence.
Constantly chiding, encouraging, cajoling and yes, nagging, Maxwell has brought back the Edwyn Collins she knew as friend, lover and husband. And it's clear that the process is ongoing. Asked how his new material is shaping up for a promised new album, Collins states confidently that the music is better but the lyrics are a struggle.
"No, no, no," Grace interrupts. "What have I been nagging you about? Read some books!" She looks at him with a mixture of love and despair. "He's feeling pleased with himself. He pats himself on the back and says well done, but I'm sick of it. He needs to improve his vocabulary. This is work!" Collins looks a little mournful. "Grace is hard on me." "
But has that ever been a bad thing?" she chips in. "Sometimes," says Edwyn as a cheeky grin spread across his face. They both collapse into laughter, his infectious braying snorts filling the room. The couple agree they are greater than the sum of their parts. "It can be tumultuous, tempestuous," says Collins, "but when the bad thing happened she came to visit me every day."
Maxwell's own account of their struggles with hospitals, therapists and each other, Falling & Laughing, is a harrowing but compelling read. What does she think of the NHS now? "Well they saved his life, but the overall stupidity levels and lack of common sense are amazing."

While she was coping with her husband's rehabilitation, teaching him to read and to write and draw with his left hand, she was also bringing up their teenage son, Will. It's not clear until towards the end of The Possibilities of Endless that the actor playing the young Edwyn during some of the flashback sequences is not an actor at all. It's Will Collins. Or Will Maxwell as he likes to describe himself when he's performing with his own band, which he does in the film. It's a touching performance which adds real drama to the documentary.
By the time they reach the 10th anniversary of the stroke, Maxwell and Collins will be fully ensconced in Helmsdale. The old house has been renovated and a nearby farm building is being converted into a state-of the-art recording studio with an attached holiday home. In the aftermath of the referendum on whether Scotland would leave the UK last year, do they feel British or Scottish?
"British," says Collins, "definitely." But they both voted 'Yes', tired of Tory England and resigned to the popularity of the revamped SNP.
Will has chosen to stay in London to be close to his beloved Arsenal football club. From his vantage point at the Emirates Stadium, high on the north bank, he will no doubt keep up his customary torrent of expletive-laden advice to players of both sides, always in a strong Scottish accent, even though he was born in England and has never lived north of Kilburn.
"He had to speak Scottish. This is a loud house," says Maxwell. "Especially you," barks Collins. More laughter.