Her blue eyes match the silk of her dress. She has flung her shawl on her chair and turned to gaze at the viewer. You can't help but stare right back at her. The Countess of Haussonville, the great French beauty of her day, has arrived. Nearly 200 years after she was painted by the French artist, Jean-Auguste-Dominique Ingres, Louise-Albertine, Princess of Broglie and Countess of Haussonville, has come back to Europe. She is just one of 36 objects being lent to The Hague by The Frick Collection in New York, its largest ever loan. As the exhibition opened on 5 February at the Mauritshuis, the queues snaked around the block.
These artworks are the legacy of the industrialist Henry Clay Frick, whose collection occupies his former home in a Beaux-arts mansion on the Upper East Side of Manhattan. A place of pilgrimage for art lovers, it's famous not only for the quality of its holdings but also because it never lends. Under the terms of the bequest, nothing acquired in the founder's lifetime has ever left New York. So the only way to appreciate Holbein's portraits of Sir Thomas More and Thomas Cromwell is to part with $20 and enter the hall where these two sworn enemies glower at each other from either side of the fireplace.
Luckily for us, that restriction does not apply to art acquired after his death in 1919. That caveat is what makes this blockbuster, The Frick Collection – Art Treasures from New York, possible. While individual works have made the odd guest appearance around the world, this is the largest number ever despatched. And we should count ourselves fortunate to see the Countess. "She is our top poster girl," says Dr Xavier Salomon, chief curator at the Frick. "She is the most sought-after painting in the entire collection. We get so many requests for her and sadly we have to turn many down."
The exhibition is the result of an unique collaboration between two world-class museums. When the Mauritshuis closed two years ago for a £25m renovation, its collection found a temporary resting place at the Frick. The resulting exhibition, Vermeer, Rembrandt and Hals: Masterpieces of Dutch Painting, opened to huge acclaim in 2013 attracting 235,000 visitors, more than any other exhibition in the Frick's history. Two years on, it's payback time – a cultural tit-for-tat. "The trigger for this exhibition is our partnership," adds Salomon. "We think of ourselves as sister institutions with paintings displayed in houses not galleries. And our collections are similar sizes." Both the Frick and Mauritshuis are often referred to as townhouse museums, "jewel-like" in their perfection. The director of the Mauritshuis, Dr Emilie Gordenker, agrees it's a marriage made in commercial heaven. "I think that the Frick comes closest to us as an institution," she says. "We both occupy buildings that were built to be lived in. It's an intimate and human scale. And this exhibition was always a quid pro quo."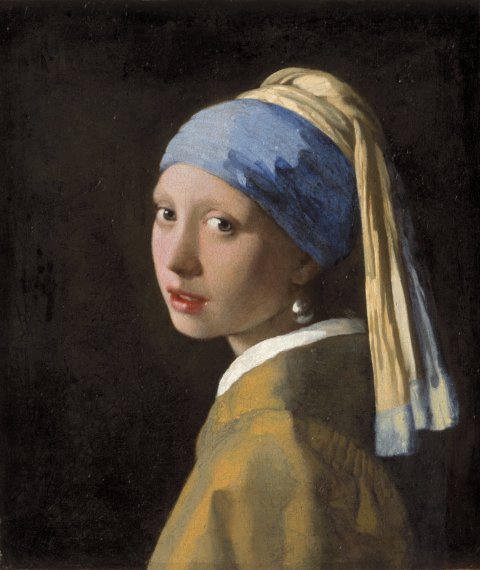 Both museums may see themselves as sisters, but there are significant differences. The Mauritshuis offers a largely royal collection in a 17th-century former nobleman's house; the Frick displays the taste of a self-made millionaire from Pittsburgh. Along with Andrew Carnegie, J P Morgan, and later Andrew Mellon, Frick was one of the most powerful industrialists in the United States. Often derided as the "robber barons", many built their fortunes in oil, coal and steel. Accumulating beautiful houses and art, they exemplify New York's Gilded Age as described by writers such as Edith Wharton and Henry James. So eager were they to ship treasures from Europe across the Atlantic, that many in the art world regarded them as robber barons, too. As one German critic wrote in 1902: "Whenever an art collection is put up for sale nowadays, one may assume it will be acquired by an American; if a fight breaks out at an auction or an art dealer's about a valuable work of art, you can be sure that an American will make off with the spoils."
What spoils they are. The Frick treasures, including Cimabue, Rubens, Boucher, Gainsborough and Constable, will be the first exhibition to occupy the new wing of the Mauritshuis. As captivating as she is, however, the Ingres portrait is facing strong competition from a home-grown beauty: the Mauritshuis has its very own poster girl in Johannes Vermeer's Girl With A Pearl Earring, often referred to as the "Mona Lisa of the North". "People are crazy for Vermeer," says Gordenker, who has seen visitors double since the refurbishment. "In the spring they come for tulips and Vermeer."
Indeed the Mauritshuis can boast not one but two paintings which have become wildly famous. It owns The Goldfinch, painted by Fabritius in 1654, the subject of a 2013 Pulitzer prize-winning novel by Donna Tartt. Meanwhile the popularity of the Vermeer portrait has soared since Tracy Chevalier's novel of 1999, Girl With a Pearl Earring, became a successful film in 2003 starring Colin Firth as the painter and Scarlett Johansson as the eponymous heroine. Still, neither poster girl will have to fight it out: serving girl and Countess will hang in separate rooms. Unlike the Ingres, almost nothing is known about the Vermeer. Thought to date from c. 1665, it was bought at auction in 1881 for two guilders (under £40 at today's prices) by a collector with a hunch. He had the picture cleaned . . . and the rest is art history.
The Countess, however, is a different story. Painted by Ingres in 1845, Louise-Albertine came from a grand political family, renowned for her beauty and intellect. As befits the granddaughter of the novelist Madame de Stael, she wrote memoirs, novels and biographies, including a study of Byron. She is said to have known Chopin. Famous for portraying the elite of French society, Ingres nonetheless found portraiture a devilish business. "It can't be done,'' he once told one of his pupils. "It's enough to make one weep.'' Yet no one could guess his struggle from his skillful rendition. You can almost hear the silk rustle. He made more 60 preparatory sketches for the Countess before casting the portrait aside. Her travels and fourth pregnancy delayed further sittings. Only three years later, when she was 27 and he was 65, did he finish. As a friend confided to her, "Monsieur Ingres must be in love with you to have painted you this way.'' Perhaps he was.
The Frick Collection – Art Treasures From New York runs until May 10. www.mauritshuis.nl