For the typical fashionista, this year's Academy Awards will present a heady mix of fantasy and frustration. The majority of gowns will carry price tags that will make potential shoppers gag – unless their surnames are Jolie or Witherspoon. For instance, at the Golden Globes last month, actress Ellie Kemper wore a bejeweled silver dress from Naeem Khan. Owing to its ornate beading, the dress, which Kemper said "weighs 500 lbs", retails for nearly £8,000. That's nearly one-third the average yearly income in the United Kingdom.
Even if viewers do have pockets lined with gold, they are unlikely to get the look, let alone get it now. "It's difficult to make the red carpet shop-able because many, if not most, of these gowns are a season ahead and are not yet available or they're fully bespoke and created especially for that actress with no plans to put into production," says Lucie Greene, Worldwide Director of JWTIntelligence trends forecasting group. "There has yet to be a perfect model of directly connecting the red carpet to commerce." But in a world where celebrities inspire us to spend, companies have ambitions to tap into the allure of awards season. Online luxury retailer Moda Operandi is at the forefront of the change. Established in 2011, its founders take inspiration from the traditional trunk show, which designers hold for elite clients who want to pre-order looks for the next season. Moda Operandi gives access to anyone with the cash and willingness to spend, and immediately after looks debut on the catwalk.
"Our online trunk show empowers the client, connecting her directly with the designer," says Laiea Smith, Moda Operandi's vice president of marketing. "Within one hour after a runway show, the collections are available on our app to wish-list. In 2014, we launched 584 trunk shows."
The company started staging red carpet trunk shows in 2012. Customers put down a 50% deposit on all trunk show orders and pay the remainder upon delivery. The average spend is $1,500 and the largest sale to date is $448,656. "Many of the looks we see on the red carpet are from a designer's latest runway collection, which builds extra excitement for our clients," says Smith. "The ability to feature these items for pre-order is exceptionally unique as most department and specialty stores do not include runway pieces in their seasonal buys."
Red Carpet Fever
Gowns seen during awards season lean towards couture, which is elaborate, whimsical and, for most women, incredibly impractical. At the recent Golden Globes, critics compared Lana Del Rey to Priscilla Presley dressed as a 1970s mermaid. Tina Fey seemed to wear a bejeweled apron filled with hot air. For the typical department store shopper these looks channel musical theatre more than night-on-the-town. Of course, some dresses do tow the line between glamorous and wearable, and Moda Operandi selects these for its website. Following the Golden Globes in January, the site ran an 11-day trunk show. The curated selection included Jenna Dewan-Tatum's $4,990 strapless yellow dress from Caroline Herrera; Rosamund Pike's $5,500 Vera Wang cream cutout dress and Anna Kendrick $7,995 Pre-Fall 2015 nude/bordeaux degrade embroidered ball gown.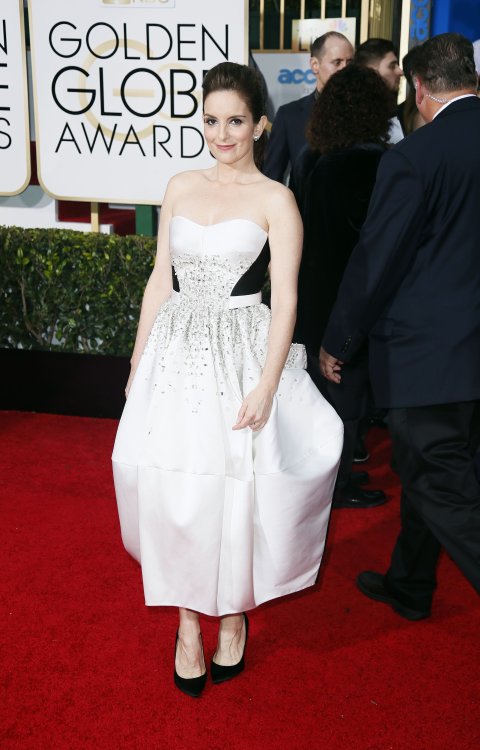 Just like consumers and the world's media, executives at Moda Operandi will be watching with baited breath as Marion Cotillard, Felicity Jones and their celebrity sisters step out of their limos on the 22nd. "We plan to launch a trunk show featuring looks from the Oscars," Smith says. "But of course you never know what stars will be wearing until you see them hit the red carpet."
E!, the American entertainment television channel, has built a cult following with its sometimes irreverent red carpet coverage. Among its zanier contributions is the now-infamous 'mani cam', which offers unrivaled views of the stars' (hopefully) well-manicured hands. Not all actresses like the idea of placing their appendages in a box to show the world their nail art, or lack thereof. At the Screen Actors Guild Awards in January, Jennifer Aniston, Reese Witherspoon and Julianne Moore all refused. Things could have been worse for the increasingly jittery mani cam hostess. At the 2014 Golden Globe Awards, actress Elisabeth Moss placed her hand in the box and gave the world a middle-finger salute.
Resistance aside, the fact that viewers want to feast on shades of nail polish hints at the immense opportunities to monetise the more affordable elements of a red carpet look. "E! has expanded from shoe cam to mani cam, yet brands have not fully harnessed how inspirational the red carpet is in terms of driving sales," says Greene. "The beauty category is the easiest to connect to commerce because lipstick, nail polish and other products are available now and at a more accessible price point."
Glamazon Gifs
Beauty giant L'Oréal made huge strides to capitalise on that during this year's Golden Globes. The night of the awards it set up a "shoppable social media beauty lab" in New York, where its team of make-up artists re-created celebrity looks on a series of models in real-time as the stars walked down the red carpet. They then created GIFs of the models for broadcast on Twitter, Instagram, Facebook, Tumblr and YouTube, with relevant e-commerce links embedded.
For instance, one Tumblr post featured three GIFs of a glamazon blowing an air kiss at herself in the mirror and applying lip liner and lip balm, along with this caption: "Can't take our eyes off Jennifer Lopez's gorgeously gilded pout? Get the bronze-lipped look." It then instructed readers to "paint on Infallible Pro-Last Lipcolor in Lasting Ginger" and to "lock in your shade with the Pro-Seal Balm". An accompanying link let visitors place their order.
A team of eight social media influencers provided commentary and insights on the major looks and trends on the night, and helped make the coverage discoverable using #LOrealParisLive. Celebrity manicurist Naomi Yasuda (82,000 Instagram followers) let her followers know that "glittered is better" and proclaimed "all hail the nail!" Esther, a blogger representing fashion site Man Repeller (233,000 Twitter followers), tweeted a picture of a piece of paper she had kissed. A follower instantly asked her for the colour (Raisin Revival). Between them, the social media team counted more than two million followers. "We live in an insta-world, so it's critical that we provide content at the speed of culture," says Malena Higuera, senior vice president of marketing at L'Oréal. "The Golden Globes gave us the platform to engage with women in the red carpet trend discussion and deliver the content we knew they wanted immediately – inspiration, education and empowerment to recreate the beauty looks seen on the red carpet at home, in real time."
It seems to have paid off. Their efforts resulted in 220 pieces of social content across the five social networks, and more than 28m online impressions. According to social media intelligence firm Crimson Hexagon, L'Oréal Paris accounted for 92% of Golden Globes chatter among its beauty competitors on Twitter during the campaign period.
Winning the Internet
As actresses work the red carpet at the Oscars, New York-based fashion blogger Claire Sulmers will work her keyboard. Sulmers runs Fashion Bomb Daily, the world's leading "multicultural fashion site". She spends her days curating celebrity looks – from candid moments caught on the street to charity galas to red carpet events – and then identifies what the stars are wearing before embedding links to purchase the actual or similar looks. She sees awards season as an opportunity to funnel readers to her other content, which features more affordable items. "Can most readers afford red carpet looks?" she asks. "No. Are they even available? Probably not. But does the hype and buzz surrounding the Oscars inspire readers to shop for their own version of glamour? Absolutely."
Sulmers and other influential style bloggers are growing rich through rewardStyle, the only affiliate marketing company in fashion to make a significant splash. The company works with a network of more than 4,000 retailers and more than 14,000 publishers, which include bloggers like Sulmers and magazines like Vogue and Elle. Bloggers can receive up to 20% commission on any items sold through their website – but purchases don't have to be immediate. After a reader clicks on an affiliate link, their computer retains a cookie for 30 days. The blogger will receive commission so long as the person makes a purchase during the period, and if they don't click on an affiliate link elsewhere.
"RewardStyle is a great source of income for me, as it allows my readers to shop celebrity looks," she says. "They may not be able to get designer gowns, but they can score more of their everyday street looks. Think Kendall Jenner's denim shirt or Beyoncé's ribbed two-piece set." Sulmers won't disclose her earnings, but it's rumoured that rewardStyle's most profitable partners make upwards of $25,000 a month. What's clear from Sulmers's Instagram account is that her blog funds a jet-set lifestyle that sees her hobnobbing with A-listers in Milan, Paris, London and New York.
In 2014, rewardStyle drove $275m to retail partners, which marks an 80% year-on-year increase. Last March it created another revenue stream with the launch of LIKEtoKNOW.it. When users 'like' an Instagram photo posted by rewardStyle publishers – often their favourite Instagrammers – they receive an email with product notes and the option to make a purchase. "What sets rewardStyle apart in the digital industry is that we utilise historical and analytical performance data to cast collaborations and educate publishers strategically," says Amber Venz Box, the co-founder and president of rewardStyle. "Each content creator has an individual audience, geographical residence and sweet-spot selling price point. It is important for every blogger and magazine on rewardStyle to leverage pop culture events like The Academy Awards to maximise their total earning potential."
Shopping the Unshoppable
Catwalks and red carpets remain largely unshoppable, but firms like Moda Operandi are slowly changing the conversation. Looking to the future, one area of promise lies in technology that allows users to shop video, and, perhaps one day, red carpet footage, more easily. Steve Callanan founded WIREWAX in 2009 as an offshoot a television production company he ran for several years. He made hundreds of hours of branded content, but identified one major problem. "You see something you want to buy in a video and you have to leave the experience, search for it elsewhere and somehow find what you're looking for," he says. "That's crazy."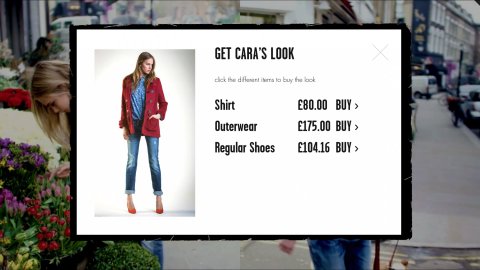 So he began experimenting with motion tracking tags, placing graphical call-to-actions over moving people and objects. When viewers decide to click on the tag, the video pauses to reveal an overlay, which can include product information, e-commerce links, behind-the-scenes-videos and more. Today he works with luxury fashion brands like Coach, Moda Operandi and Hackett, through to high street brands like Pepe Jeans, Nike and River Island. "Motion tracking tags or 'sticky hotspots' perform nine times better than non-moving, static ones," he says. "Those are numbers we can't ignore." He's found that traditional options, such as adding products to a wish-list rather than pausing the video to go research it, don't actually work: fewer than 8% of those interactive viewers ever revisit their saved list.
WIREWAX videos, on the other hand, show phenomenal rates of interaction. "Eighty six percent of all viewers will click on at least one moving tag and for shoppable content, and 16.3% of those will click-through to a product store page," Callanan says. "Those numbers are smashing any other interactive video solution and obliterating traditional ad models. What's more, they're constantly improving."
The technology works well with fashion-conscious consumers who crave instant gratification. Despite all the distractions that Academy Awards viewers face – from mani cams to makeup GIFs – WIREWAX may one day help these viewers drive home purchases. It recently created an option for users to add products straight to the cart. "The conversion process is where you want the least friction," Callanan says. "You've captured the viewer's interest and now you want a simple, seamless checkout process to minimise checkout abandonment."
Surely he deserves a gong of his own for that.