Should you happen to find yourself in the Swedish archipelago and spot something unusual in the water, it may be wise to make yourself known to Ewa Skoog Haslum. Don't worry if you've never heard of her: few people outside the rarefied world of naval combat have. But as the recently appointed commander of Sweden's 4th Naval Warfare Flotilla, this feisty stalwart of the Swedish Navy is Western Europe's ears and eyes in the cat and mouse contest with Vladimir Putin. That's because 4th Naval Warfare Flotilla, Sweden's naval rapid-response unit, keeps a strict eye along Sweden's long coast, a hugely sensitive and strategic part of the world not just to Sweden but to Nato and Russia as well.
Last October, when a suspected Russian submarine was spotted in the Stockholm archipelago, Skoog Haslum's ships sailed into action, joined by helicopters and specialist soldiers from other regiments. "Looking for submarines is a case of looking for a needle in a haystack, almost impossible if you're only acting on a reported sighting," Skoog Haslum says. "You have to be present all the time. We're doing what we can with our resources, but we need more money. What I'm doing now is focusing on training. We're a good force, I think, but there are not many of us."
The Swedish armed forces are tight-lipped about how many Russian submarines have paid unwelcome visits to the Swedish coast in recent years, but according to Joakim von Braun, a well-connected Swedish intelligence analyst and co-author of a new book about Russian special forces, there have been sightings off Gothenburg and the northern city of Sundsvall as well as the strategic island of Gotland. Submarine traces have also been identified on the Swedish seabed.
The difficulty of the task doesn't deter Skoog Haslum, who has previously commanded a United Nations naval mission catching terrorists and smugglers off the coast of Lebanon. Indeed, the 46-year-old married mother of two young boys, who entered officer training after completing voluntary military service, is a tough commander who dismisses notions of female solidarity. "Ewa is robust, stable and knows what she wants," says retired navy captain Göran Frisk, Sweden's top submarine hunter during the final decade of the Cold War. "She's a knowledgeable and versatile naval officer, and was an excellent ship commander. She's also very compassionate towards her crew and subordinate officer, and is a good leader at sea."
In the past, Skoog Haslum has said that commanding a ship is the best career she could ever imagine. She told the Swedish daily, Svenska Dagbladet, that she "doesn't have a need for female companionship", neither on the ship nor in civilian life, adding that she is "not interested in the female networks [in the [armed forces].''
During her six-month terrorist-hunting posting in Lebanon, Skoog Haslum only had one break at home, otherwise contending herself with phone calls to her family.
Russia denies having military vessels off the Swedish coast, but the unexplained sighting of Professor Logachev – which specialises in seabed reconnaissance and features a compartment for underwater vehicles – in October raised eyebrows. More witnesses to the October incident have come forward, with one having spotted a radio antenna that, according to the Swedish daily Dagens Nyheter is used for communications with individuals on shore.
Unlike Vladimir Putin, who is secretive about his personal life to the extent that the identities of his two daughters remain a mystery, Skoog Haslum happily posts family pictures on Facebook. She's reported to be well-liked by her fellow officers and sailors alike.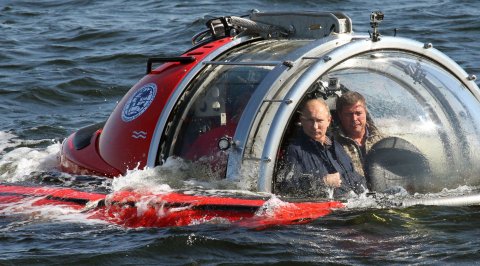 During the Cold War, Sweden's submarine-hunters went after intruders with corvettes, minesweepers, patrol crafts, depth charges, anti-submarine warfare (ASW) helicopters, grenades, subsurface sensors and strings of mines placed around naval bases and major ports, thus making their mission harder.
Today the Swedish Navy features impressive combat ships but only has nine of them, down from 34 during the Cold War, and its fleet of 12 attack submarines has been reduced to five. And, like many other countries, Sweden no longer owns any ASW helicopters, the most useful vehicle in submarine hunts. Meanwhile, between 1998 and 2013 Russia more than quadrupled its defence spending.
Indeed, Russian activities in the Baltic Sea region serve to intimidate its neighbours. "The Russians are showing the rest of the world what they're able to do and that they're willing to do it," says rear admiral Nils Wang, commandant of the Royal Danish Defence College.
"That's what they did during the Cold War as well. But now, with Nato right outside their door, they're highly sensitive to Nato activities." But major Carl Bergquist, Sweden's leading military blogger, says "the Russians don't send subs to the Stockholm archipelago for intimidation purposes" because there is only one way in and out and "it would be a disaster if they were caught and bombed there". The October submarine, then, is likely to have been spying.
Norway, a Nato member, has also reported submarine sightings, and Finland is thought to have been visited. In recent months, suspected Russian submarines have also been spotted near Britain's Faslane nuclear submarine base on the Scottish coast. The October incident amounted to a wakeup call for Swedish politicians, who have promised increased defence spending. Previously ordered helicopters will arrive in 2018, but new equipment orders can take up to ten years to be delivered.
For now, Skoog Haslum will most likely increase crucial training and even staff her ships in double shifts. And push for more equipment.
"Yes we have sensors and weapons, but of course I feel that we need more. The waters are so shallow along our coast, from three metres to around 450 metres, and so depth charges, which we have, don't work very well when you're hunting for submarines. Another important thing we need is helicopters."
Thus prepared, and aided by citizen's observations captured by mobile phone cameras, Skoog Haslum has a good chance of sinking intruding U-boats or at least foiling their missions. Whether she can sink Putin is another matter – but the chances are that her work will at least result in the Swedish navy strengthening its capabilities to control its 2,400km coastline.