Once the green van screeched to a halt, doors swung open and the blindfold was removed. Words were irrelevant. Teary eyed, Slavik clutched his mother tightly, before reaching for his father, the chief architect of his extraordinary release. His first words, when they eventually came, were simple: "You don't understand how much I've dreamt of the forest, fried potatoes and the chance to play my guitar again." Twenty four hours later, Slavik was back on Ukrainian-controlled soil, 15 days after being taken prisoner at Donetsk airport.
When 22-year old Slavik volunteered to join the ill-fated Wednesday 14 January airport rotation, he had little idea of what to expect. On Thursday and Friday, however, he realised the life-changing significance of his decision. Over the second and third days, the balance of the battle shifted dramatically in the rebels' favour, as they responded hard to the unexpected rotation, and established strategic positions in the floors above the Ukrainians in the new terminal.
The deterioration, which was evident via increasingly panicky cellphone calls with this reporter, required a quick response from Ukrainian commanders. "We needed just two tanks and two APCS dispatched at the right time, and we'd have held the terminal," recalls Slavik. The tanks never came and rebel forces were instead able to gain access to the third floor of the terminal, from where they threw grenades and tear gas at the Ukrainians below. Without gas masks, the Ukrainians were forced into a smaller, more open section of the western side of the terminal. This would help them when the first of two explosions destroyed walls in the eastern side of the building on Monday.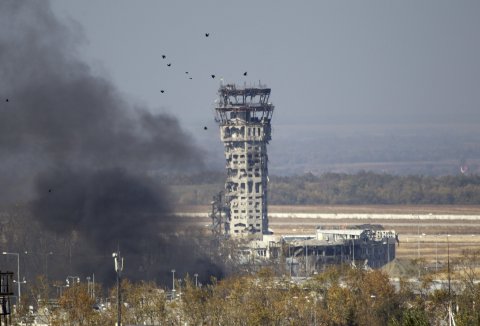 Tuesday began in silence. Slavik says he had anticipated a second explosion, and moved to a new position in the basement. When the blast came at 15.30, it took most of the structure of terminal with it, and crushed two thirds of the 50-odd Ukrainians who remained inside. Slavik was saved by reinforced concrete in the basement. "We managed to pull a few guys out, but there were many more buried deep within," he says. "Despite their cries, we couldn't help them." Slavik still receives calls from desperate relatives trying to find out what happened to their loved ones.
Several attempts to rescue the seriously injured were made over the final days of the airport battle, but, crucially, no decision was made to evacuate. The convoys that came on Sunday and Monday, insufficient to remove even the lightly injured, were also, it seems, used by senior officers to flee. "Both our commanders left in the Monday convoy, and I know only one of them was injured," says Slavik. The young paratrooper never considered leaving. "Who would have looked after the injured, the bleeding? I'd have been ashamed to jump into that convoy." On Tuesday evening, the remaining commanders left under the cover of darkness.
A further six soldiers died over the night of Tuesday and Wednesday, leaving only 16 (relatively) fit soldiers and "enough munitions for five minutes resistance". On Wednesday morning, having lost all communication with their commanders, it was clear the fight was over, and a sergeant walked out of the terminal waving a white flag. Some of the soldiers tried to dissuade him. "We didn't want to be taken prisoner by Chechens," says Slavik. He says he was not the only soldier to consider shooting himself.
What turned Slavik's thoughts against suicide was a realisation that, by wit and luck, he had escaped the bloodiest of battles without a single scratch. "I started to think I could live through whatever they threw at me: beatings, even if they cut something off." In the end, his Chechen fears were unfounded. "There were one or two of them, but most of the soldiers were locals, and they had probably only been shouting 'Allahu Akbar' to intimidate us," he said.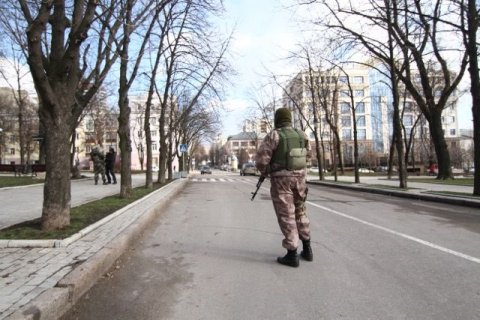 Having fallen into the battalion of the infamous rebel commander Givi, Slavik's fate was still in the balance. "They said we would be put through seven circles of hell," says Slavik. On the first day, the rebels beat the prisoners; Slavik was beaten on the back of his head with a metal pipe. Once they were transferred to more senior authorities their treatment improved. Slavik's head wound was stitched up and he was offered food, cigarettes, and clothing – "warm, if not exactly stylish". Slavik certainly didn't look his best the next day when, with other prisoners, he was marched in front of angry locals in an ugly "parade of disgrace". But, head humbly bowed and propping up an injured comrade, Slavik was able to convey a different form of style. "You wouldn't see this kind of behaviour in Lviv," admits the soldier, "but I understood it as the Russian way of showing anger. Russia isn't a territory, Russia is a state of mind". Ukrainians should forget about controlling Donbass, he said.
Following an emotional appeal for clemency, and secret negotiations with rebel leaders via journalists and mediators, Slavik's parents arrived in Donetsk last Tuesday. His father, also called Slavik, admits he did not know what to expect – whether he would be able to even see his son – but he says he anticipated another forced parade. "My appeal was calculated and I knew there would be a price to pay, but our eyes were bone dry and we had to take the risk", he says. In the end, rebel leader Aleksandr Zakharchenko limited the family's ordeal to an inspection of civilian injuries in the local hospital. "We were taken from ward to ward, and of course most were not happy to see us. One woman was appalled that I should think of collecting my 'bastard son'," recalls Slavik Snr.
Aside from media publicity, the only condition Zakharchenko set was that Slavik didn't return to fight in Donbass. He also offered political asylum in the new republic – suggestion that was politely declined. For Slavik, a new, civilian life beckons. He says he was changed by the experience and no longer wishes to be a soldier. "I wanted to live so much and realised I'd be happy if I was to spend the rest of my life as a docker. The dirtiest, hardest life is better than death." His father looks at him with a smile of pride. "My son is a hero. Simply for staying alive," he says.
This article has been updated to show that Slavik's rotation beagn on Wednesday 14th January, rather than Wednesday 11th.