The British architect smiled patiently. Having spent more than 25 years doing business on the eastern side of the Iron Curtain, he had become accustomed to aggressive negotiating techniques. Even so, Philip Hudson had hoped that working with a company called Roshen would be different.
A Western-looking, progressive, multimillion-dollar confectionery manufacturing company, that had gone to great lengths to give back to the local community in its hometown of Vinnytsia, Roshen was supposed to represent the realisation of Ukraine's business potential. Last week, Ukraine's national stock and securities commission announced that Roshen had posted profits nine times greater than in 2013: $34.8m.
Instead, its president, the oligarch Vyacheslav Moskalevskiy, was about to set off a chain of events that would lead, more than two years later, to Hudson taking on a company owned by the president of Ukraine in a Ukrainian court. "We believe in mafia management methods," Hudson recalls Moskalevskiy telling him, "and we aren't going to pay."
During that tense meeting in September 2012, neither man could have imagined that Roshen's owner, an English-speaking Ukrainian with aspirations of growing his burgeoning business in Europe, would later ascend to the Ukrainian presidency off the back of the country's bloody Euromaidan revolution.
So when Hudson's architecture firm, Jones East 8, files papers next week suing Roshen for $140,000 plus costs, they will find themselves up against the head of a corrupted state. The architects say that Roshen stole their design for the company's milk processing plant in Vinnytsia. Roshen argue that they paid for Hudson's initial sketches, giving them authorship rights. Roshen's owner Petro Poroshenko, valued at $1.3 billion in March 2014 and known as the "Chocolate King", swept into office in May 2014 with a mandate to reform Ukraine's decaying kleptocracy while simultaneously fending off a Russian invasion.
A former minister of foreign affairs in 2009 under Yuschenko's Orange government and minister for trade and economic development under ex-president Viktor Yanukovych in 2012, Poroshenko is one of only a few political players in Ukraine who has been able to cross party lines. During the elections, he was considered by many to be a pragmatist who might be able to hold his rapidly-fragmenting country together.
More important in a nation where politics is synonymous with unbridled corruption, Poroshenko appealed to voters as a relatively clean candidate. Although accused of "misplacing" 47 million Ukrainian hryvnia, the national currency of Ukraine, (then about $8.9m) from the budget in 2003, while head of the parliamentary Budget Committee, the accusations didn't stick. Corruption allegations made against him in 2005 during a feud with then-prime minister Yulia Tymoshenko were never proved, the saga ending with both of them being dismissed from government.
He managed to steer clear of further scandals in the decade leading up to his election, persuading many Ukrainians that he had cleaned up his act. Indeed, Roshen's business dealings and Vinnytsia roots appear transparent when compared to the murky off-shore ownership structures of other Ukrainian conglomerations, whose shares are often held by holding groups in Cyprus and Belize, concealing their ultimate beneficiaries.
Many of the Ukrainians who braved ice, batons and bullets to protest against Yanukovych's oppressive government welcomed Poroshenko's support, citing Roshen's fair wage policy, transparent ownership structure and tax payments to Ukraine as evidence of an honest oligarch. He even promised to sell Roshen if he won the presidential election. "If I am elected, I will be honest and sell the Roshen concern," he told German newspaper Bild on 2 April 2014. "As president, I want to take care and I will take care only about the welfare of the state." Poroshenko rode Roshen's reputation, and his promise to sell it, into the presidency.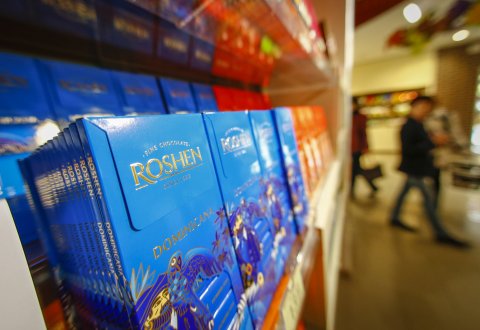 Yet back in 2012, sitting in Roshen's heaquarters in a bleak five-story office block in Kyiv, Hudson was already realising the company's business attitude differed little from that of the other Ukrainian companies he had battled with over the past two decades.
He describes the display of arrogance with which Moskalevskiy, Poroshenko's right-hand man and owner of Roshen's 9%, wanted to make sure he had understood that attitude clearly. Yes, Hudson's designs had been commissioned, yes they had signed three acts of completion certifying the work had been done, but they simply weren't going to pay any more than the 60% installment they had already paid, he says.
Hudson's building designs already in hand, Roshen had decided to pocket 40% of the payment due to the architect's company. Expecting the meeting to be about haggling over price and additional payments, Hudson was dumbstruck. He left the meeting aghast. "I was absolutely shocked, I couldn't believe it," Hudson says. "We did a good job for them, and they just decided not to pay us, because they feel they're bigger and stronger than us. It was a case of might and not right. With all their good works in Vinnytsia, it doesn't take a genius to work out they will have very good connections with the courts down there. We didn't have the resources to fight a really major company like Roshen in its home territory."
So his company filed papers preserving their right to take action against Roshen, but decided to leave the case. He played with the idea of causing a rumpus during Poroshenko's election campaign, but decided to wait and see how the promised reforms played out. In the meantime, the architect's company suffered. Not only had it lost several months' work, but had to pay VAT on the amount commissioned because Roshen had certified it was completed. To a small company dealing in Ukraine's steadily devaluing currency, losing close to $50,000 was a big hit. "We've had to lay people off and even now we have some people who desperately need to be paid," says Hudson.
Continuing to struggle with the corrupt bureaucracy of Ukraine's planning and construction system on other projects, he grew increasingly disillusioned with the country's new administration. "Hearing all the talk about reform and the way forward, it's become increasingly frustrating to us. In our dealings with the authorities we expect them to be looking over their shoulder. But they just carry on as before. The corruption cash flow hasn't stopped, it just appears to have been redirected to Western-leaning officials."
By August 2014, Roshen had completed construction of Hudson's design, having changed only a handful of elements. In the architect's stylish, streamlined and refreshingly modern Kyiv office, he pulls up his plans and compares them to the finished building. The sweeping steel façade of the Vinnytsia plant is identical, as are the shape and arrangement of the outlying buildings. "No question about it, our scheme's been built," Hudson exclaims. "Now let's see if Roshen will actually do the right thing and pay up. To a certain extent it's a test case for Mr Poroshenko and his company, to see what their true standards are."
Over in Roshen's offices, a team of earnest young employees laugh nervously as they defend their company's reputation. "[Mr Moskalevskiy] is an extraordinary person and he doesn't use language as a common person, but is using some expressions, all the time joking, giving some quotes, he is not a very specific person," says Inna Petrenko, Roshen's head of public relations. "Maybe some words were said by his side, but not directly implied to Mr Hudson."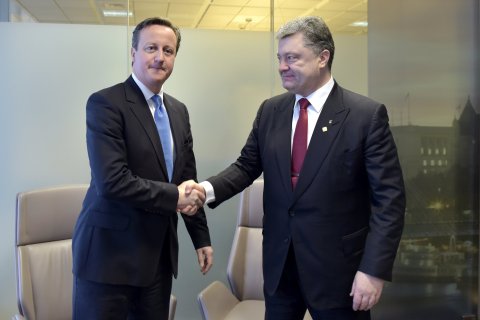 Roshen argues that it paid for Hudson's initial sketches, giving them authorship rights, but refused to pay for his working drawings because they were flawed to the point of being unworkable. The company says that the contract gave it the right unilaterally to withdraw from it after deciding that the quality was inadequate, and that the work was submitted later than the deadline. Although Roshen admits to signing an act of completion accepting the work, the company insists that it did so on condition that the plans were revised. "I signed it [the act of completion] as accepted for revision, but then we have not changed drawings, so we decided to stop the contract relationships and find another organisation which makes this working package," says Kirill Matyash, who was Roshen's chief architect for the project.
Hudson argues that his firm went to great lengths to address all the problems raised, despite becoming suspicious that minor details were being raised as an excuse to withhold payment. In fact, signed and stamped copies of the contract and acts of completion provided to Newsweek by the architecture firm show that Roshen accepted the architect's work without any complaints. The company even waived the right to make any counter-claim against Hudson's firm relating to the design. The documents further show that a new deadline had been drawn up and agreed with Roshen after the company had failed to provide information to the architecture firm on time.
In a functioning democracy with an independent judiciary, Hudson would be confident of victory. But in Ukraine, little has changed since Poroshenko took office. Despite his promise to sell and Ukraine's constitution expressly prohibiting the president from running a profitable business, a recent investigation revealed that in addition to Roshen, Poroshenko still owns at least 10 other multimillion dollar companies, including Bogdan automobiles, which manufactures most of Ukraine's public transport buses.
Western governments hail Poroshenko as a reformer, but rights groups working inside Ukraine don't share that view. "I can't see any tangible reform inside the judiciary," says Arkadiy Buschenko, executive director for the Ukrainian Helsinki Human Rights Union. "All the efforts are focused on lustration, expelling judges. The real intention is to have a judiciary controlled by the executive and by the parliament. The new government and new president ignore the rule of law as much as the previous ones."
Poroshenko's reputation has long been tied to the company he built, which even takes its brand from the middle two syllables of his name. Once a string to his bow, the threat of court exposure now renders it a poison chalice. Either he wields undue influence to have the case dismissed, or he faces having his reputation under the microscope as the company he built is dragged through the courts. The third option – finally making good on his promise to sell Roshen – may come as too little too late.